At Old Navy, shopping success is practically guaranteed. Who can resist cute staples, trendy designs, and affordable prices?
But no matter how much you love a store, you easily can walk away with (or place an order for) clothing that's not quite right for you, whether the problems lie in the fit, the color, or your own shifting style.
So, what is Old Navy's return policy?
Old Navy makes it straightforward to return most unworn clothing. Does that apply to your latest purchase? In short, it depends. Read our smart shopper guide to understand the fine print and make the most of your shopping experience.
Old Navy Returns 101: What, Where, and How
Old Navy is not exactly a local boutique. This national brand has over 1,100 store locations and receives over 4 million website visitors per year! To handle such a high volume, their returning process is pretty lenient.
Let's break down the Old Navy return policy basics.
Acceptable Items
Some good news off the bat? Almost every Old Navy item is eligible for returns, with a few exceptions. Just make sure your item fits these return quality standards:
Original condition – A returned Old Navy item should be unwashed and unworn, as if it's never left the store.
Zero damage – Rips, stains, and dirt are all major red flags. Like most stores, Old Navy does not accept any damaged items for return.
Special Exceptions – Final Sale items and masks are never returnable. Similarly, you can only return swimwear with the original price tags and hygienic liner still intact.
Timing
Letting that new dress marinate in your closet? That's alright. Old Navy offers customers 45 days to make returns.
The only exception is their holiday shopping policy. Any items purchased between November 1st and December 24th can be returned by January 18th or after 45 days—whichever time period is the longest.
Location
One upside to Old Navy returns? Location flexibility. With online purchases or gifts, you can often choose whether you want to return by mail or in-store! However, there are a couple of exceptions to this rule, too:
Mail-only items – Certain online purchases are mail-only, requiring them to be returned via mail.
Social media purchases – We don't blame you for clicking on that cute Instagram ad. But if you buy from Old Navy's Instagram or Facebook Shop, the purchase can only be returned via mail.
In-store purchases – Anything bought in-store must be returned or exchanged in-store.
Types of Reimbursement
Switching out your red blouse for blue? Or returning your grandma's necklace gift on the sly? Whether bought online or in-person, Old Navy sorts returned items three reimbursement categories:
Direct returns – Old Navy will refund the price of your item (not shipping costs) to your original payment method. This includes anything from your credit card to Paypal to Super Cash reward points.
Exchanges – Sometimes, you just need to shift one size up. Old Navy can help you trade your purchase for an item of equal value. When exchanging for a differently priced item, you'll be refunded or charged for the difference.
Gift returns – Old Navy gift returns are slightly more restrictive. For both mail or in-store returns, gifts are refunded only by gift card or merchandise voucher.
Mail Returns at Old Navy
Finally! Those new Old Navy fall boots you've been waiting for just arrived (thank you, free shipping). You rip open the package, slip them on, and—stop-any-disease.com are squished. Oh no.
Have no fear. With ready-to-go shipping labels, returning Old Navy items by mail is a breeze. Consider these guidelines for mailing Old Navy returns:
Direct returns – Every Old Navy online purchase comes with a prepaid mailing label (either UPS or USPS). Simply pack the item in the original box or a new box, attach the label, and drop it at your nearest US post office or UPS location.
Exchanges – Changed your mind to the brown boots? Contact Old Navy by phone for an online exchange. Your original item should be returned by mail, as described above.
Gift returns – Not every sweater Aunt Sally sends is a hit. If returning a gift from Old Navy, hang onto the gift invoice or receipt—it's necessary to include with mail returns. Then, use the prepaid mailing label included in the gift box, and ship it like any returned item.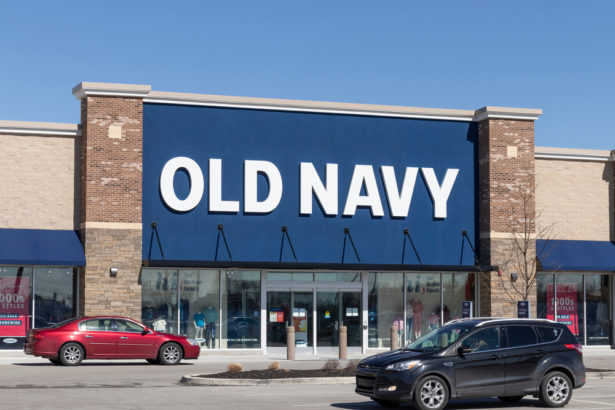 In-Store Returns Old Navy
Sometimes, the on-sale dress that looked fabulous in the changing room has no place in your wardrobe. C'est la vie! But at Old Navy, you can still get your money's worth from their in-store return policy:
Direct returns – To return a store purchase, simply bring the paper or email receipt for a full refund! When returning online orders at a store, you'll also need your purchasing credit card or shipping confirmation email.
Exchanges – In a store, exchanges are easy-peasy. After processing your return, an Old Navy associate can immediately help you check out with your new item.
Gift Returns – When it comes to gift returns, your proof of purchase determines your refund. Invoices will get you a gift card of equal value, while receipts get you a merchandise voucher.
Keep Saving at Old Navy with RebateKey
Easy returns are just one more reason to shop at Old Navy.
Once you've dropped off or shipped your return, you'll be ready to restock your wardrobe with something better. And with RebateRebateKey, you can save even more when shopping at Old Navy!
To access the latest discounts, sale items, and cash-back rewards, you can't beat our exclusive deals with major retailers. Sign up for RebateKey, and watch the savings roll in. 
Sources:
Old Navy. Refunds and credits. https://oldnavy.gap.com/customerService/info.do?cid=82724&cs=refunds_and_credits&mlink=82724,27656656,csLink_82724&clink=27656656
Old Navy. Returning or exchanging items bought online. https://oldnavy.gap.com/customerService/info.do?cid=82724
Old Navy. Stores. https://oldnavy.gap.com/stores