Blonde hair looks nice but without proper maintenance, it begins to turn yellow. Purple shampoos contain purple pigments that get rid of the brassy tones, leaving your hair looking fresh and bright.
Purple shampoos are ideal for both natural blonde hair or dyed hair. Whether you have dark or platinum blonde, these shampoos work well for all shades.
Quick Summary: Best Purple Shampoos for Blonde Hair
Here is a quick summary of the best purple shampoo for blonde hair:
Reviews: Best Purple Shampoos for Blonde Hair

Fight your hair's warm tone with the BIOLAGE ColorLast Purple Shampoo. This extra-gentle shampoo doesn't leave your hair patchy.
Coloring your hair weakens its bond. This shampoo is handy at solving this issue.
The paraben-free shampoo neutralizes yellow and brassy tones. Purple pigments combined with orchid and fig keep your blonde hair healthy.
On top of giving your hair a silky shine, it also makes it smoother and reduces breakage. The shampoo corrects the hues of your hair and restores its natural, brighter color.
Apply the shampoo on wet hair, lather it nicely, leave it in for about 3-5 minutes, and then rinse. For the best outcome, use the shampoo with the ColorLast conditioner.
Advantages:
Great scent
Tones down brassiness
Good moisturizer
Reduce hair breakage
Disadvantages: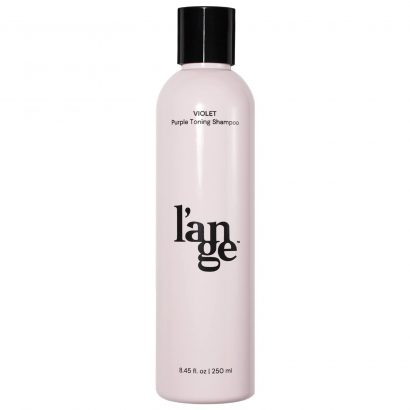 Keep your hair soft and smooth with the L'ange Hair Violet Purple Toning Shampoo. Use it to strengthen delicate hair.
This tone-correcting shampoo removes brassy, orange, and yellow tones. Moreover, it provides UV protection.
The shampoo is rich in botanicals that make it perfect for over-processed hair. Not only does it make your hair healthy and soft but also preserves its color.
It contains borage oil with omega fatty acids to restore moisture in your hair. Vitamin E offers anti-inflammatory properties.
Use it 2 – 4 times a month.
Advantages:
Impressive hair softener
UV protection
Preserves hair color
Anti-inflammatory properties
Disadvantages: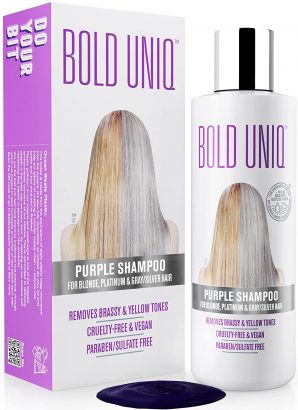 In addition to being sulfate and paraben-free, the Bold Uniq Purple Shampoo for Blonde Hair is PETA-approved. It works well on silver, bleached, highlighted, grey, and blonde hair.
Powerful violet pigments remove brass and yellow hues. It enhances blonde hair color and neutralizes brassiness. Vitamin B5 softens hair strands.
Enjoy effective UV protection with the included UV filters.
Advantages:
Neutralizes brassiness
Vitamin B5 to soften hair strands
Sulfate-free
Paraben-free
Disadvantages:
It can leave your hair patchy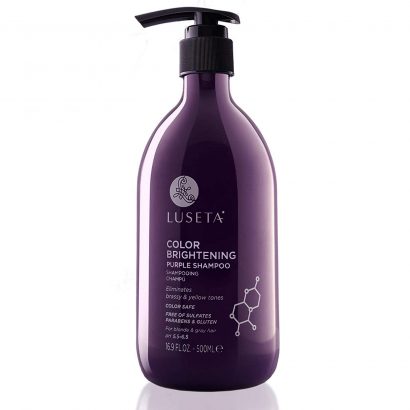 The Luseta Purple Shampoo for Blonde works well for damaged, dull, dry, color-treated, chemically-treated, and curly hair.
On top of neutralizing brassy tones, it also eliminates dull, yellow color in grey hair, and makes it glossy. Use it to repair split ends.
Applying it to your hair is effortless. Whether you have keratin-treated or color-treated hair, it will work well for you.
It contains coconut oil that hydrates your brittle hair, dry scalp, and fragile hair. The shampoo also has vitamin E that promotes healthy hair growth, repairs hair follicles, and gives your hair a glossy look.
Advantages:
Organic formula
Highly versatile
Great shampoo for color toning
Easy to use
Disadvantages: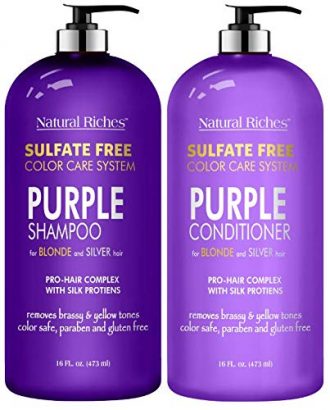 The Natural Riches Purple Shampoo hydrates nourish, smoothens, and prevents hair loss. Achieve brighter and healthier blonde hair courtesy of its natural oils.
Essential vitamins restore your damaged hair leaving it strong and moisturized. The set comes with a purple toning conditioner for luscious and silky feeling hair.
Both the shampoo and the conditioner are ideal for color-treated hair. They work well for silver, highlighted brown, blonde, and bleached hair.
Natural botanical oils help with hydration and toning. For a better outcome, use the shampoo and conditioner 2 – 3 times every week.
Advantages:
Lathers well
Nice shine
Paraben and sulfate-free
Natural botanical oils for hydration and toning
Disadvantages:
Room for improvement on scent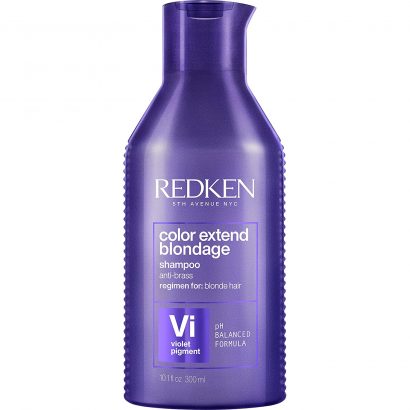 The Redken Color Purple Shampoo contains a pH-balanced formula. It is good for both blond and color-treated hair. Citric acid neutralizes brassy tones.
Color strengthening and toning abilities ensure your blond hair remains healthier and brighter. Ultra-violet pigments preserve hair color and remove undertones.
Key ingredients like salicylic acid repair and strengthen hair from the core. High-quality ingredients are ideal for all types of hair.
Advantages:
pH balanced formula
Citric acid to neutralize brassy tones
Pleasant smell
Salicylic acid for strong hair
Disadvantages:
Can turn your hair purple if you overuse it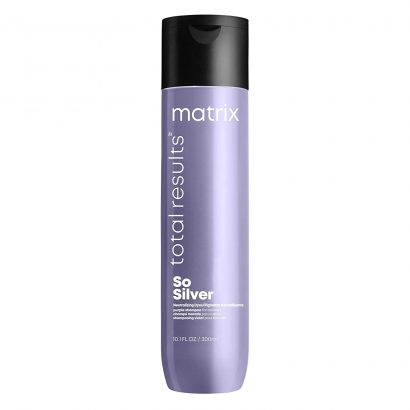 The MATRIX Total Purple Shampoo is a product from one of the leading professional haircare brands. It is ideal for both men and women.
This color-depositing shampoo neutralizes undesired brassy hair. It removes the yellow tones in grey and blonde hair leaving your hair with its natural blonde color.
It doesn't strip your hair. Combining it with the Matrix conditioner gives you porous, hydrated, and healthy hair.
Advantages:
Thick
Ideal for both men and women
The shampoo doesn't dry your hair
Washes out easily
Brightens your hair in just one wash
Disadvantages:
Doesn't work well for white hair

Correct brassiness in gray or blonde hair with the UNITE Hair Blonda Shampoo. This toning shampoo leaves your hair brighter and lighter.
The ultra-violet formula purifies, cleanses, and neutralizes the undesirable brassy tones.
Unlike other purple shampoos, it lasts longer, especially if you use it together with the Blonda daily shampoo. Not only does the shampoo cleanse but also tones your hair.
It contains high-quality, safe ingredients for your hair. You don't need to worry about harmful elements such as sodium chloride, parabens, or other chemicals.
Advantages:
Natural ingredients
Doesn't dry your hair
Paraben-free
Wonderful smell
Disadvantages: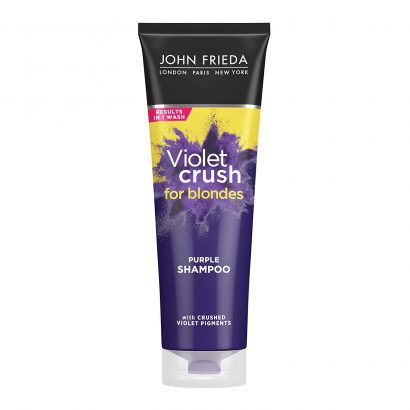 Eliminate brassy tones and refresh your hair with the John Frieda Violet Crush Purple Shampoo. The shampoo leaves deposits of crushed violets in your blonde hair to remove yellow tones.
The violet pigments produce a white-blue glow to absorb UV. In the end, your highlighted blonde or color-treated hair achieves a brighter and cool look in just one use.
An advanced and stronger formula neutralizes brassy tones. For best results, pair this shampoo with the John Frieda Violet Crush conditioner.
Advantages:
Great if you need lavender highlights
Removes yellow hues
Reasonable pricing
Natural formula
Disadvantages:
Buyer's Guide: Best Purple Shampoos for Blonde Hair
Consider the following factors when in the market for the best purple shampoos for blonde hair:
Staining
Certain purple shampoos can stain your blonde hair. When left on your hair for long, they leave a blue-purple tinge.
Before buying a shampoo, check the instructions for the time they should be left in the hair.
Ingredients
Some purple shampoos can dry your hair and scalp. Pick a product with nourishing and moisturizing ingredients. Popular hydrating ingredients include shea butter, keratin amino acids, and argan oil.
Sulfate-Free
Sulfate-free shampoos are particularly good for dry hair. In addition to being gentle, they're also effective in removing brassy tones.
Purple Shade
Shampoos with a lighter shade of purple provide a more subtle outcome for your hair than denser shades.
If your hair is warm brunette or brassy orange, you might need to consider blue shampoo because purple will be too light.