Pre-ground coffee beans, due to their convenient and quick-to-prepare nature are preferred by many coffee lovers. They save you from grinding the coffee beans yourself.
Although many coffee experts recommend coffee beans over ground coffee, the latter also offers a cup of fresh and flavored coffee just as much as whole bean coffee delivers.
An important factor that you must always consider when it comes to coffee is the type of coffee maker. Different grind sizes require different types of coffee makers.
For instance, espresso is best prepared by fine grinding, while pre-ground coffee needs just a medium grind size. Coarse grind size is best for French Press and Chemex users.
Quick Summary: Best Ground Coffee
Reviews: Best Coffee Grounds
Let us now look at reviews of the best coffee grounds: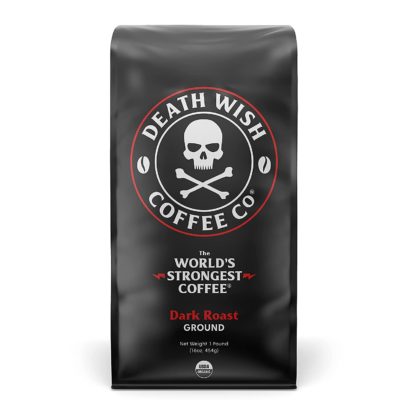 Death Wish is a popular coffee brand in the world. Its unique irresistible flavor continues to draw customers from all over.
Death Wish guarantees a high-quality drink whose unique taste cannot be compared to that of the common coffee. This makes the coffee to be completely worth its expensive price.
Its caffeine content is 2 – 4 times higher than that of normal coffee.
Although Death Wish is rich in caffeine, it still has a smoothly sweet taste of chocolate and cherry flavor to constitute a delicious and irresistible drink.
The coffee is packaged in 1 – 5 pounds coffee packs. It is also available in whole bean packs.
Drinking this cup of coffee in the morning is enough to transform your day as it loads you with lots of energy. It also keeps you alert all day due to its remarkable amount of caffeine.
The coffee has a bold taste although it is not bitter due to the cherry and chocolate flavor.
Once you have had a taste of this magical drink you can never go back to the common unflavored coffee.
Death Wish coffee is fair and organic. This has been tested and proven by Fair Trade and USDA certification.
It is a blend of Arabica and Robusta coffee beans to ensure you enjoy all the goodness of both coffee varieties.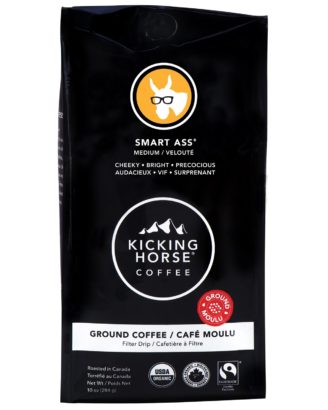 Kicking Horse Coffee is a medium type of roast that has been finely balanced between a dark and a light roast.
This smart blend comes in six different flavors. A striking attribute about this coffee has to do with its sweet, rich milk chocolate flavor. You'll also love its fruity aroma.
Although the coffee's price is higher compared to others on this list, it is worth your hard-earned money due to its delicious nature. The coffee is organic.
The Kicking Horse is playfully bright and sweet. It has a chocolate taste that is great for anyone busy, as well as those relaxing in the afternoon.
For best results, use a drip machine or pour over to make a cold drink. You can also experiment with different flavors such as sugarcane, red currant, and milk chocolate to enjoy the coffee's maximum goodness.
It is packed in one size of 10 ounces per bag of coffee.
The best part about this company is that they buy their raw coffee at a price that is fair to the farmers. In the end, farmers are empowered and improve their way of life as a result.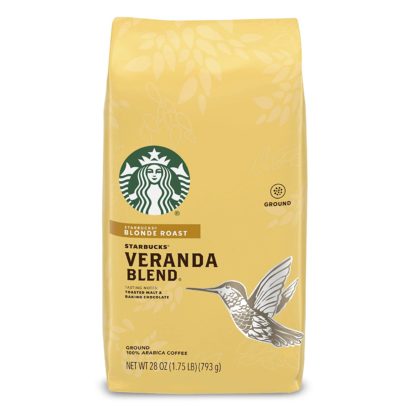 People differ in opinion concerning the strong bold taste of Starbucks coffee. Some consider it to be too bitter and unpleasant.
The new Veranda blend is much sweeter and more mellow than the original Starbucks taste.
The coffee is affordable and is packed in coffee bags of 12, 20, and 28 ounces.
Veranda coffee blend is blonde in color. It has a flavor of soft cocoa and nuts.
The coffee is toasted in malt and baking chocolate.
The coffee beans used are specifically obtained from Latin America with a flavor of nuts, cocoa, soft spices, and more.
When roasting the beans, brewers give it a perfect balance of time and temperature to achieve the highest possible level of aroma, taste, and quality in general.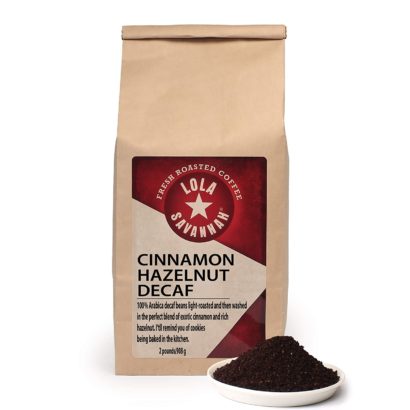 Most people have come to prefer flavored coffee over standard unflavored coffee. Lola savannah cinnamon and hazelnut is the perfect choice of flavored coffee.
It does not have caffeine, which is an added advantage to some. It boasts different flavors, such as cinnamon, hazelnut, cinnamon stick, vanilla pecan, and winter's night among others.
All these flavors are a great choice for you to experiment with the goodness of this wonderful coffee.
The only disadvantage of this product is that it is packed and transported in paper bags which may tear along the way. Additionally, the flavor and taste may get lost if the paper opens up and remains open for too long.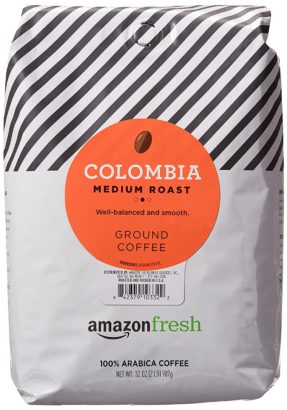 As most people upgrade to buying their household stuff online, one of the coffees you can purchase online is the AmazonFresh coffee.
The coffee is packed in sizes of 32 oz. vacuumed packages that are airtight to preserve its taste and aroma. The coffee's origin is Colombia, one of the best-known producers of high-quality coffee. It is then packed in the USA.
The packaging size is best for a large coffee-loving family, or for someone who wants to share it with friends.
If you are into medium roasted coffees, then you should consider this one. It is smooth and tasty leaving you highly satisfied.