Drinking enough water every day is important because it helps in food digestion, regulating body temperature, and transporting nutrients among other benefits.
The easiest way you can ensure you drink enough water is by having a functional and big-capacity water bottle. If you don't want to keep refilling your small bottle or cup, the best 64 oz water bottles make a good choice.
These bottles are great for hiking, camping, traveling, and other indoor/outdoor activities.
Quick Summary: Best 64 oz Water Bottles
Here is a quick summary of the best 64 oz water bottles:
Reviews: Best 64oz Water Bottles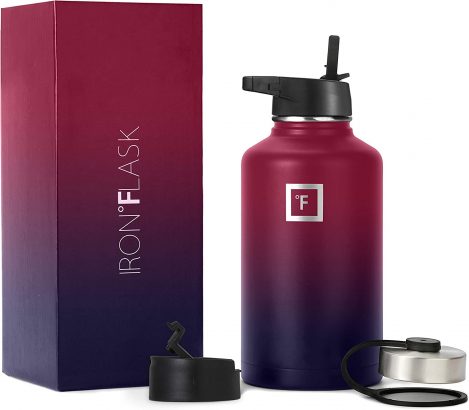 The Iron Flask Sports Water Bottle is an insulated water bottle that keeps your drink hot for 12 hours and cold for 24 hours. It comes with three lids which include a stainless steel lid, flip lid, and straw lid.
It features plastic construction on the inside and stainless steel on the outside. The entire flask has 18/8 premium stainless steel which is non-toxic and BPA-free.
With this bottle, unlike with many others, you don't have to worry about the metal taste or the flask rusting. Cleaning is easy, just hand wash it with hot soapy water.
The water bottle has a powder coating on the exterior for durability and elegance. An attractive-looking laser-engraved logo further enhances its beauty.
Advantages:
Functional design
Leak-proof lid
Easy to clean
Durable stainless-steel construction
Disadvantages:
Room for improvement in insulation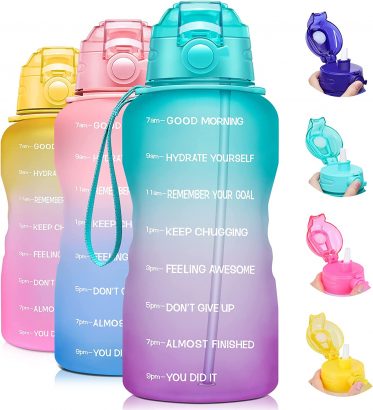 The Giotto Large Half Gallon/64oz Water Bottle is a half-gallon water bottle that holds enough water to avoid constant refilling.
A time marker and inspiration quotes inspire you to improve your daily water intake.
A secure lock keeps it leak and dust-proof. A hidden loop handle and anti-skid grip make it easy to carry the bottle anywhere.
You can opt to use the straw or remove it. The eco-friendly plastic material used to make the bottle is non-toxic and BPA-free.
Advantages:
Wide mouth
Big capacity
Available in different colors
Eco-friendly
Disadvantages:
The included straw is too short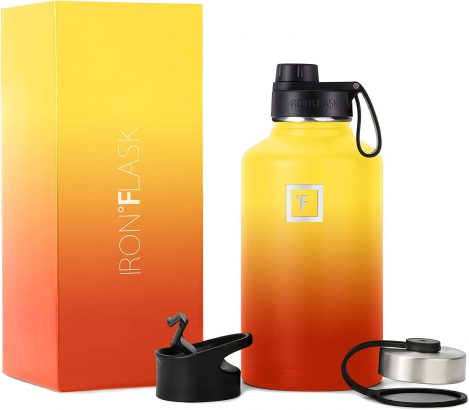 The IRON °FLASK Sports Water Bottle is another insulated water bottle made of stainless steel. This durable water bottle has a wide mouth to make refilling easy.
Featuring BPA-free material, this bottle has double-wall insulation to ensure it is sweat-free. It can keep your drinks cold for up to 24 hours and hot for up to 12 hours.
Its elegant design is another notable attribute. It has a classic finish on the exterior.
The Iron water bottle comes with three lids for versatile application – a flip lid featuring a handle, spout lid, and a stainless-steel lid.
Advantages:
Double-wall insulation
BPA-free
Elegant design
Three lids
Disadvantages: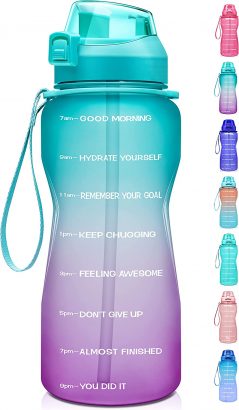 Whether you are into running, yoga, fitness, or cycling, you need a functional water bottle like the Fidus Large Half Gallon/64oz Motivational Water Bottle.
Featuring BPA-free material, the bottle has a dust cup for dust-free water. A convenient locking lid doesn't leak. A comfortable strap makes it easy to carry the water bottle anywhere.
Stay hydrated and track your water intake with a time marker and inspiring quotes.
Advantages:
Dust-free water
Beautiful
Convenient locking lid
Available in different colors
Disadvantages: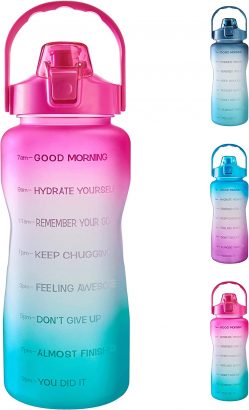 The EYQ 64oz Leakproof Water Bottle has a convenient one-hand open design so you can open the bottle almost instantly. This feature is handy when you need to drink water after engaging in a high-intensity workout.
An ergonomic handle makes it easy to carry anywhere. The handle is sturdy, durable, and comfortable to hold.
It is made of food-grade material for safe water. Whether you are on vacation, traveling, in sports, or in fitness, this bottle will enable you to meet your hydration needs.
Advantages:
Food-grade material
Easy to clean and carry
Sturdy
Open-hand design
Disadvantages: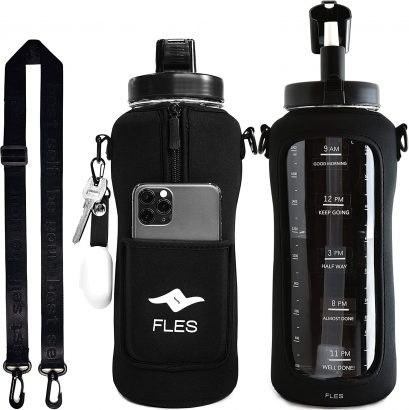 Track and improve your daily water intake with the FLES 64 oz Water Bottle. Holding the bottle is comfortable because it has a hot water-patented sleeve.
Adjustable straps make portability to the gym, picnic, hiking, or camping easy. A quality lid with silicone prevents leaks.
The bottle's straw is made of food-grade silicone to make it safe to use.
Advantages:
Quality lid to prevent leaks
An adjustable strap for easy carrying
Durable
Protective cover
Disadvantages: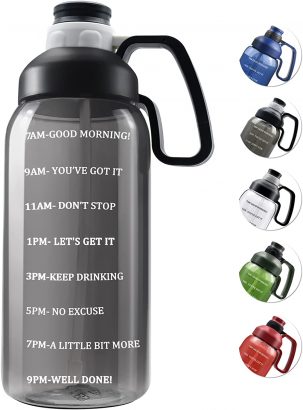 The Vitscan 64 OZ Water Bottle can hold up to two liters of water to take you throughout the day. Its removable and reusable straw is made of eco-friendly plastic.
You can carry this water bottle conveniently anywhere, thanks to the tough and wide handle. It is comfortable to hold even when it is full.
Leak-proof lids seal the opening tightly. You can use this water bottle for camping, biking, traveling, gym, and other outdoor activities.
Advantages:
Easy to clean or fill
Motivates you to stay hydrated
Tough and wide handle
Eco-friendly
Disadvantages:
Starts leaking after one month
Buyer's Guide: Best 64 oz Water Bottles
Consider the following factors when in the market for the best 64 oz water bottles:
Purpose
While we all need to take in adequate amounts of water, everyone has a different lifestyle. It helps to know how you want to use the water bottle.
Do you need it for office, cycling, camping, gym, or hiking? Are you into style or simplicity? These are some of the few questions you should ask yourself to help you pick the right water bottle.
Material
When choosing the right material, think about the weight and insulation. Some of the common materials you can choose from include plastic, glass, stainless steel, and aluminum.
Design and Style
When buying a 64 oz water bottle, it is good to think about the design and style. Consider the shape, color, graphics, or patterns of the bottle depending on how aesthetically pleasing you want your water bottle to be.
You can also pay attention to things like clips, straps, and clasps. Water bottles are available in different styles and designs to suit your needs or lifestyle.