Having been in use for centuries as traditional medicine, ginseng has many health benefits. It is widely recognized as an immune system booster, which decreases incidences of cold and its severity. According to some studies, it also lowers blood sugar levels.
An exciting benefit of ginseng is that it helps boost your concentration levels. Ginseng is a short and slow-growing plant with fleshy roots. It can be classified into red, fresh, or white, depending on how long it takes to grow.
Ginseng is found in the market as a powder or in capsules that you mix with your food. Below are the best ginseng herbal supplements on the market:
Quick Summary: Best Ginseng Herbal Supplements
Here's a quick rundown of the best ginseng herbal supplements:
Reviews: Best Ginseng Herbal Supplements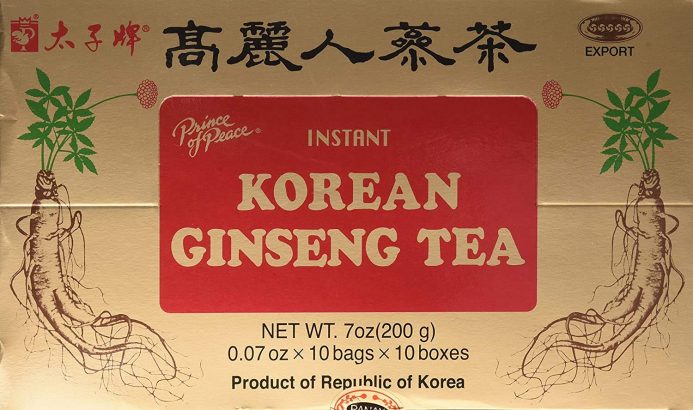 The oldest way of taking ginseng extracts is through tea. Prince of Peace Instant Korean is presented as a tea bag that you can use in cold or hot water. It is made from authentic Panax ginseng roots carefully selected, processed, and packaged for your drinking enjoyment.
It is easy to prepare. Just dissolve one tea bag into a glass of hot or cold water, then sweeten it with glucose or honey. It has many health benefits, including immunity and energy boost, fights fatigue, reduces stress, and promotes healthy blood circulation that improves brain function.
Korean Ginseng has been used over centuries for its many health benefits. Unlike its American Ginseng counterpart, it has a different chemical structure that is more stimulating. It is carefully processed, non-GMO, and vegan-friendly for optimal results.
Advantages:
Easy to prepare
Help reduce stress
Non-GMO and vegan friendly
Improves blood circulation and brain function
Disadvantages:
Complaints of added glucose; not suitable for diabetics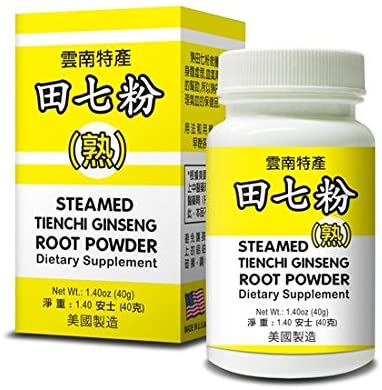 Are you looking for a natural boost in your focus and energy? Steamed Tienchi Ginseng Root Powder gives you a gentle surge of energy, helping you naturally increase productivity, stay concentrated, and get things done. Skip caffeine and jitters and adopt a natural energy booster when fatigue kicks in.
It is an authentic and traditionally grown herb that is carefully hand-selected when mature. When grounded, it results in a highly potent and powerful powder packed with ginsenosides. For better results, mix one teaspoonful with warm water two times a day.
Its additional benefits include high memory drive, boosted stamina, and increased performance. This product is lab-verified as vegan and non-GMO. It is made from natural, vegan, non-GMO, and gluten-free ingredients. As such, it is safe for everyone.
Advantages:
Gluten-free
Natural energy booster
Has high potency ginsenosides
Vegan and non-GMO lab-verified
Disadvantages:
Complaints of a toxic smell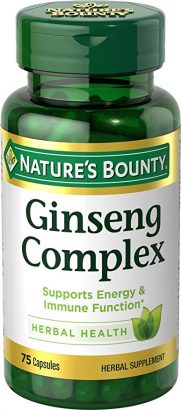 Nature's Bounty mixes several herbs that, when combined, helps improve your energy levels and immune system. Ginseng by Nature contains naturally occurring flavonoids and ginsenosides. It is a blend of Chinese and American Red Ginseng that forms a powerful supplement that improves immunity and supports vitality.
Blood circulation is vital for a healthy you. Taking two capsules a day helps you maintain a healthy cardiovascular and circulatory system. If you have dry skin and unhealthy hair, taking this ginseng nourishes your skin and promotes the growth of healthy and good-looking hair.
Its production follows a well-designed process subjecting it to quality tests and assays to verify its full potency and purity. Note, if you are pregnant or nursing, you should not use this product. Likewise, if under medication, consult your doctor before ingesting the capsules to prevent any adverse conditions that may arise.
Advantages:
Helps in supporting and improving your circulatory system
Supports healthy nails, hair, and skin
Promotes sleep and relaxation
Supports bone formation
Disadvantages:
Complaints of gelatin; not suitable for vegans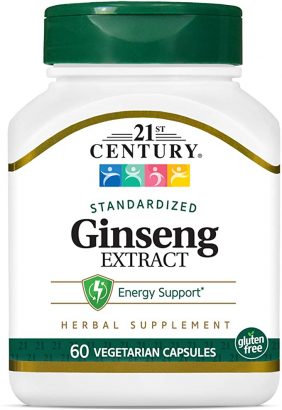 Want improved stamina and brain function with an added mood enhancer? The 21st Century Ginseng Extract Veg Capsules will work their magic. Each capsule contains 200 mg ginseng extract in vegetarian capsules. This extract helps improve brain function and blood flow.
It is made from the oldest herbal extracts in natural health. The ginseng root is grown for four years to allow full maturity and formation of ginsenosides. This extract helps in nutrient and oxygen absorption in the brain. A well-nourished brain helps you stay focused, improves your mood, and helps you think clearly.
Each capsule is formulated based on scientific research and contains natural flavanols and ginsenosides. This herbal supplement also helps decrease appetite as it is a diet supplement. The ingredients used are all-natural, gluten-free, and non-GMO.
Advantages:
Has mood-enhancing properties
Improves mental and brain function
Gluten and GMO-free
Improves blood circulation and nutrient absorption in the brain
Disadvantages:
Complaints of nausea, headaches, and dizziness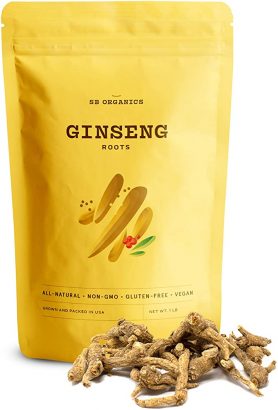 Want the whole root? SB Organics Premium American Ginseng is a renowned brand for its aromatic taste, traditional health benefits, and rich flavor. It is an antioxidant ginseng extract that helps you stay healthy and energized. It comes as a whole, unprocessed root.
It has high potency levels since chemical extracts affect the natural ginsenoside ratio and health benefits. Instead of ginseng extracts, SB Organics uses the whole ginseng root to maintain a high ginsenoside concentration in each root chipping.
Use the root to spice up your ginseng tea or chicken soup. It is anti-inflammatory and improves energy levels. However, don't use the product if you are under eighteen years, pregnant, nursing, or under medication.
Advantages:
Contains 100% ginseng
Has anti-inflammatory benefits
Contains no chemical extracts
Improved energy levels
Disadvantages:
Headaches and sleep problems after ingestion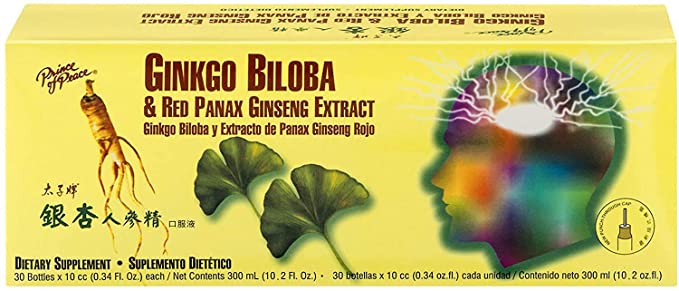 Most supplements are presented in either capsules or tablets, which some people find difficult to swallow. Prince of Peace Ginkgo Biloba & Red Panax Ginseng Extract is presented as a tasteless liquid that you can ingest directly or mix with drinks.
Prince of Peace Ginkgo Biloba & Red Panax Ginseng Extract is widely known for its immune-supporting properties. It contains ginsenosides that have anti-inflammatory properties. This extract is good for you if you tend to feel weak and tired. It can be used by people of all ages, including the elderly, to provide healthy aging and improved cognition.
The extract is non-GMO and is very helpful during the cold season as it offers year-round anti-inflammatory benefits. It is effective in suppressing coughs and sore throat. Other benefits include an improved immune system, brain, and energy boost. It is a perfect choice for whole family health.
Advantages:
Has anti-inflammatory benefits
Non-GMO
Promotes brain and energy boost
It can be ingested directly or mixed with beverages
Disadvantages:
Complaints of the liquid crystallizing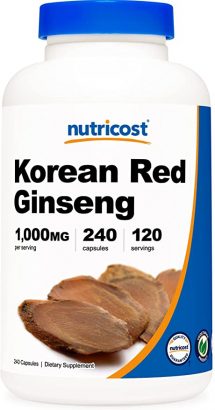 This is a great capsule ginseng extract made from organic and vegan-friendly ingredients. It is an organic Red Korean Panax Ginseng capsule containing a high ginsenosides value. Each tablet contains 1000mg of pure Korean ginseng.
Each bottle contains two hundred and forty capsules lasting a hundred and twenty servings. When ingested, the capsules dissolve into the bloodstream, quickly releasing steady bursts of energy. Its benefits include boosted immune system, increased libido function, and contains antioxidants.
It is manufactured in a GMP-compliant facility duly registered by the FDA. For effective results, consume two capsules a day. The ingredients are free from preservatives, additives, flavors, colors, and are gluten-free.
Advantages:
Has high absorption rates
Boosts the immune system
Contains antioxidants
Gluten-free and vegan-friendly
Disadvantages: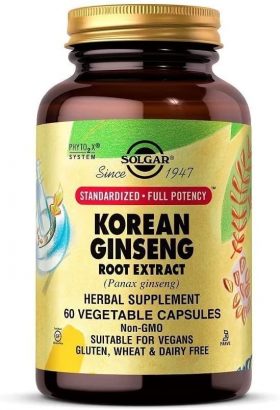 Solgar has for over seventy years been committed to creating the finest nutritional supplements for quality health and well-being. They use a unique standardized process that integrates traditional herbalism ideologies and herbal technology. They isolate controlled amounts of crucial active plant compounds to maintain reliable and consistent phytonutrient levels.
Solgar Korean Ginseng Root Extract is made from naturally occurring components resulting in a highly potent, premium-quality ginseng extract with proven beneficial qualities. It supports and improves the immune system. Each capsule contains two forms of ginseng; standardized Korean ginseng extract and Korean ginseng powder.
It is non-GMO, gluten-free, wheat, and dairy-free, thus suitable for vegans. Other health benefits include an energy boost, increased brain activity, and enhanced productivity.
Advantages:
Non-GMO
Increases brain activity
Improved productivity
Gluten-free
Disadvantages:
Awful taste in the mouth after swallowing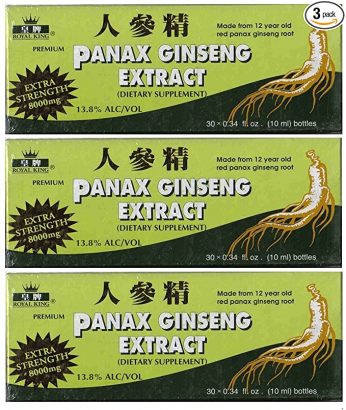 Do you find tablets and capsules hard to swallow? Royal King Panax Ginseng Extract is a liquid herbal ginseng extract that will boost your energy levels and increase your productivity. To ensure high ginsenoside levels, it is made from twelve-year-old ginseng roots.
Its ginseng root extract effectively promotes and supports cognitive function as it boosts blood circulation to the brain, which increases brain activity. Other benefits include increased metabolism, energy boost, and promotes sexual health.
You can mix the liquid with juice, milk, water or add it to a smoothie. It has a high solvency nature that increases your ginseng intake. It is packed in small-size stand-up pouches for portability. Its active ingredients include spirulina, magnesium citrate, zinc citrate, and vitamin C.
It is manufactured in a highly controlled lab process that involves testing through each stage to test its quality and potency. It is made in a facility duly registered and inspected by the FDA.
Advantages:
Supports cognitive function
Promotes sexual health
Increases metabolism rate
Highly soluble
Disadvantages:
Benefits of Using Ginseng Herbal Supplements
The following are some of the benefits of using ginseng herbal supplements:
Anti-Inflammatory Effects
Ginsenosides, the active ingredient in ginseng, contains anti-inflammatory compounds that counter the inflammation of body parts. They target the immune system pathways that combat inflammation.
Natural Stimulant
Ginseng acts as a natural stimulant that boosts focus and concentration. It improves blood circulation to the brain, which increases brain activity. A nourished brain grows the cognitive process that helps it stay alert and, in turn, improves one's concentration and focus.
Increased Brain Activity and Cognition
The brain requires sufficient oxygen for optimal functioning. Ginseng herbal supplement increases blood flow to the brain that supplies enough nutrients and oxygen. This often increases brain activity, making it hyperactive, which greatly improves its cognitive processes.
Improves Sexual Performance In both Men and Women
Erectile dysfunction and reduced sexual performance are a nightmare to men and women. Decreased sexual performance can be caused by stress, poor dieting, and lack of physical exercise.
Ginseng contains cortisone compounds that stimulate the adrenal cortex, promoting the production of sex hormones. This has been used as a natural remedy in boosting sexual performance and treating erectile dysfunction.
Helps Prevent Flu
With the ravaging coronavirus and the flu season, ingesting ginseng will help you control its effect on you. Research has shown that ginseng is effective in preventing and combating certain strains of flu. It also helps reduce coughing and sore throat.
Red ginseng extract has been found to improve the survival of epithelial cells of the lung infected with the flu virus.
Boosts Energy
Ginseng helps stimulate mental and physical activity in people who feel tired and weak. When ingested, it increases the metabolism rate that releases steady bursts of energy that keeps you active.
Buyers Guide: Best Ginseng Herbal Supplements
Consider the following factors when in the market for the best ginseng herbal supplements:
Which Ginseng Species?
Original and fake ginseng supplements are common in the market. How do you know which is fake or original? Ginseng extracts belong to the Panax genus and ginseng species (Panax ginning). When purchasing one, ensure you read its description and look out for the "Panax" genus.
Part of Plant Used
Ginsenosides, the active ingredient in ginseng, is largely found on the roots and leaves of the plant. Roots have the highest levels of ginsenosides that boast more significant health benefits.
White or Red Ginseng?
The main types of ginseng are white or red. The color is dependent on how long they take to mature and be harvested. White ginseng takes around four years, from planting to harvesting, while red ginseng takes six years. The method of production changes the white ginseng to red. By heating the white ginseng, it turns to red ginseng, which affects its properties and general composition.
Active Ingredients Content
When choosing a ginseng product, always check its ginsenosides content levels. It greatly varies due to the method of extraction, the part of the plant used, the age of the plant, and the analytical and processing method.
Dosing by UV spectrophotometry results in higher concentration. High-Performance Liquid Chromatography (HPLC), on the other hand, results in lower concentration levels. HPLC enables a more refined qualitative and quantitative analysis.
Quality Inspections
Counterfeit and substandard products have become rampant in the market, and people are falling prey. They end up losing money, or worse, suffer other ailments like cancer. Before settling on a supplement, ensure that it has gone through all the necessary quality inspections to avoid any health risks.
Check if the product is gluten-free and non-GMO before ingesting it. Diabetic persons and those allergic to particular compounds stand a higher health risk if they use counterfeit herbal supplements. All ginseng products are subjected to quality checks in every step of production to ensure quality and high potency.