A doctor toy kit, when thoughtfully selected, can bring a lot of fun to your child. Additionally, these kits benefit a child's cognitive development. The right medical equipment and toys help nurture imagination and enhance creativity.
You can play your part by choosing the best toys, then let your child's imagination do the rest.
Quick Summary: Best Doctor Playsets For Toddlers
Here is a quick summary of the best doctor playset for toddlers:
Reviews: Best Doctor Playset For Toddlers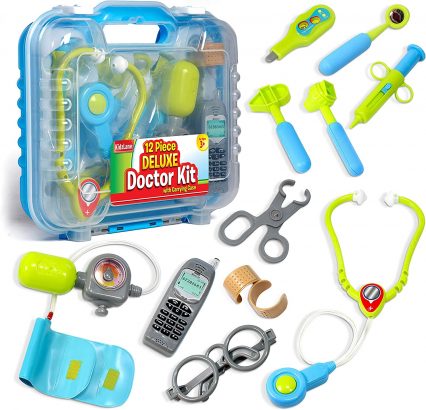 Kids love to imitate professionals. Playing a fake doctor can be so much fun for them. With the Kidzlane Durable Kids Doctor Kit, your child can take playing to the next level.
The kit contains 12 pieces that mimic common medical equipment. Some of them include a syringe, reflex hammer, electronic stethoscope, and thermometer.
With this toy set, both boys and girls who are eager to learn more about a doctor's job get that chance. All the pieces are tested for durability. Each piece is made to look and sound real.
The toys are not only safe in terms of their material but also boast a child-friendly design. Everything is put in a sturdy, lightweight carrying case with plenty of interior space.
Advantages:
A lightweight carrying case that closes securely
Tested for safety and durability
12 pieces to choose from
Realistic designs and sound effects
Disadvantages:
The stethoscope is not flexible enough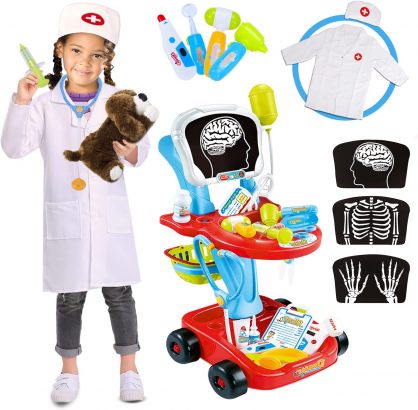 The Tsomtto Doctor Cart Kit for Kids is a two-layered doctor cart with enough space for storing a variety of doctor tools and equipment.
Some of the tools in the cart include an x-ray, pulse, hammer, and thermometer. It also comes with a doctor costume, including glasses and a doctor coat with an ID tag, to further attract your kid's interest.
All the tools and equipment are designed to mimic real ones. Whether your toddler wants to dress up for Halloween or just role-play at home, this kit is perfect.
Advantages:
Four rotatable wheels make it easy to move around
A portable basket is included for keeping more equipment
Multifunctional
Child-friendly material
Disadvantages: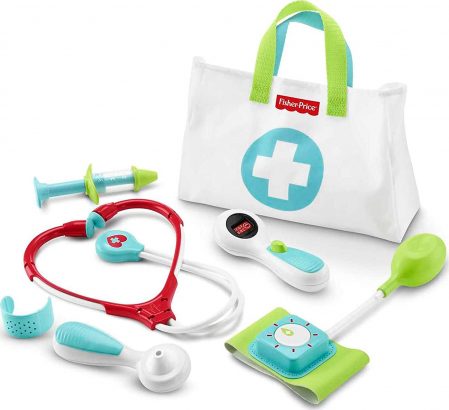 The Fisher-Price Medical Kit would make a great educational gift. It comes with 7 play pieces, which include a thermometer, stethoscope, syringe, and pressure cuff. All these and more come in a fabric doctor bag that provides easy storage and transport.
Each piece of equipment is designed to mimic the real one, including how they function. For instance, when you press the button on the thermometer, it moves from 'sick' to 'well.'
Similarly, when you check your patient's blood pressure, the gauge spins. Preschool kids from age three years to six years will find this toy set fun.
Advantages
Doctor bag for easy storage
High-quality materials and construction
7 play pieces
Ideal for 3-6-year-old toddlers
Disadvantages
Poorly made blood pressure checker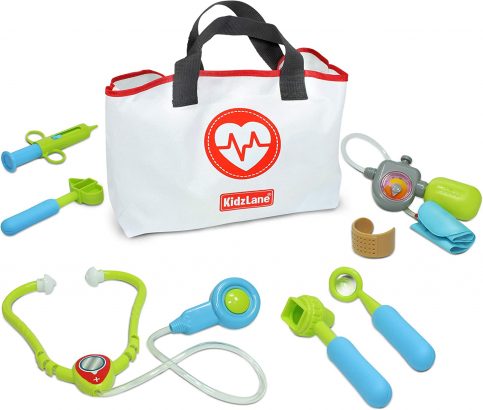 Inspire your child's imagination with the Kidzlane Play Doctor Kit for Kids. The Kidzlane Play Doctor Kit for Kids is designed to not only help kids learn but also stay entertained.
The set is an amazing collection of well-chosen realistic tools and a medical bag. The child-friendly doctor kit comes with a battery-operated stethoscope, an otoscope, and a dental mirror.
When your kids play with this doctor's playset, they develop empathy and vital social skills. The classic and innovative toys capture your child's curiosity.
You can keep your child busy with hours of fun and entertainment. It is 100 percent safety-certified and contains no BPA or other harmful chemicals.
Advantages
100 percent safety-certified
Reasonable pricing
Age-appropriate
A variety of pieces to play with
Disadvantages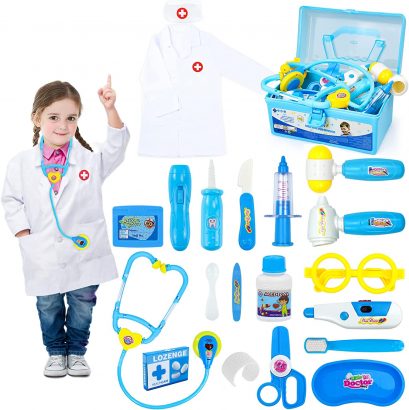 The giftable Fajiabao Doctor Kits for Kids is another impressive doctor playset for toddlers worth buying. The kit helps your toddler have a clearer understanding of medicine.
It comes with a wide range of medical kit toys to make playing more engaging and complete. The equipment is also more real than what most kits have to offer.
As a parent watching a child play with these, you feel the satisfaction of having given your child the best. Every single piece is made of the utmost quality.
Advantages
There is a coat to dress up as a doctor
Easy carry and storage
Long-life batteries
A wide variety of toys
Disadvantages
The glasses are too small for some toddlers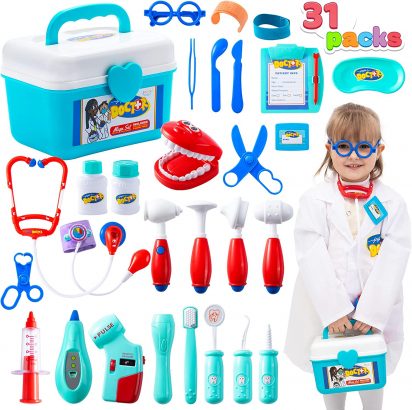 The JOYIN 31Pcs Kids Doctor Playset offers great value for money. With 31 pieces of common medical tools and equipment, your child has enough to kill boredom and play doctor.
A child's creative skills and imagination get better with more learning courtesy of this toy kit.
The quality of each item is superior and provides tools for various branches of medicine. Whether you want to play dentist, nurse, or surgeon, there are tools for all that.
Advantages
Batteries are included
31 pieces of quality equipment
Superior quality
Safety-test approved
Disadvantages
May not survive rambunctious toddlers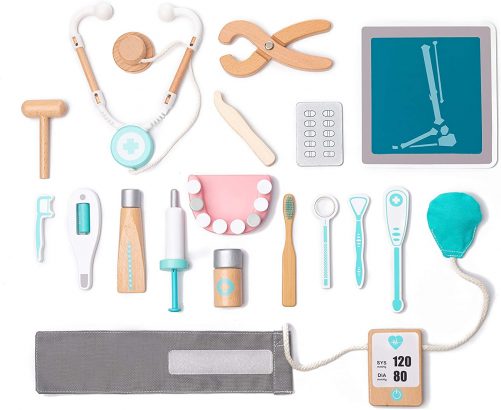 The umu Wooden Kids Doctor Playset is ideal for toddlers that love wooden toys. It is not only vintage but also beautiful.
Its stethoscope is more real; you can even hear a heartbeat. A removable set of teeth, ID, and prescription that has a place for the child to fill out with information are also included.
If you are looking for the perfect toy set to completely take your child's attention, this would do just fine. Every piece is made from renewable resources.
Each toy is designed or constructed with the utmost care. The pieces have soft and smooth edges making them safe for even the youngest child.
Advantages
Soft toys
Vintage quality
Durable wooden material
Kid-friendly
Disadvantages
Quality could have been better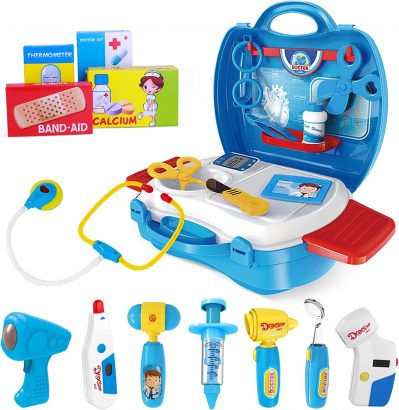 Nurture talent and enhance doctor skills in your young one with the iBaseToy Doctor Kit for Kids. It has a case that plays a big role in supporting neatness and ensuring there's no mess in your house.
The multipurpose case looks presentable to carry dressed up as a doctor. It is a great gift if you want to inspire your child to embrace medicine as a career.
The kit gives your kids something to keep them busy and entertained.
Advantages
Child-friendly design
Promotes a child's cognitive development
Safe materials
Reasonable pricing
Disadvantages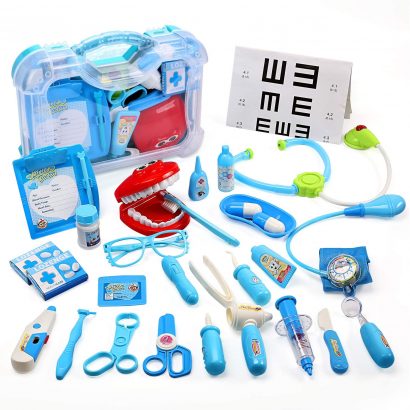 In addition to helping your child play and pretend to be a doctor, the CUTE STONE Toy Medical Kit is also an excellent option for promoting parent-child interaction. It contains 35 realistic pieces of amazing toys.
Some of the toys help you teach your child how to clean and protect teeth. By extension, the equipment will assist in stimulating the imagination of your child.
They make realistic sounds and have attractive light effects. That way, the child will not get bored with them that easily.
Advantages
Attractive light effects
The case encourages neatness
35 pieces
Enhances early child cognitive development
Disadvantages
Challenging to put the toys back into the case
Buyer's Guide: Best Doctor Playsets For Toddlers
Consider the following factors when in the market for the best doctor playsets for toddlers:
Quality
A quality playset is not only durable but also grabs your child's attention and inspires interest.
Safety
Just like with any other toy, safety is paramount. Ensure your choice is 100 percent safe for kids.
Safe ones are often made of high-quality plastic. They are BPA-free and non-toxic.
Check if the products have adhered to the safety standards set by the relevant authorities in the country.
Realistic Qualities
When shopping for toys that mimic a doctor's equipment, the more real they are the better. Your child will have a more real experience if the equipment resembles the real ones.
For instance, the stethoscope should make a sound that resembles a heartbeat. A thermometer should make some movements in its reading or calibration.
Colorful Design
A colorful design is enticing to toddlers. The design should be attractive and made to inspire interest in kids. Different toys have a different impressions of colorfulness in their design.