Everyone loves getting a good deal on new duds. After all, who wants to spend more money than they have to?
Retailers know that savvy shoppers are on the lookout for deals. In fact, some of them offer deals that look too good to be true, tempting you to load up your cart with cheap jeans, tops, and sweaters. They hope you'll overlook the fact that these stylish finds come from the fast fashion industry.
What is fast fashion? In short, it's a method of designing and churning out large quantities of cheaply made clothing to get them into consumers' hands ASAP.
If you're wondering about the hidden costs that aren't reflected in a $5 price tag, this is your guide.
The Problems With Fast Fashion
Fast fashion is so alluring because the manufacturing process allows consumers to buy on-trend clothing for prices that seem like a good deal.
Why is fast fashion bad? In short, the hidden costs of fast fashion make the lower price of the clothing a losing deal for the environment. Producing clothes in this manner creates a number of sustainability issues across the board.
Water Overuse and Pollution
Though you might not think of water as an essential element of the clothes manufacturing process, it's a key ingredient.
The world uses roughly 24.56 trillion gallons every year to produce textiles
Making a t-shirt requires 700 gallons of water, while jeans require 1,800
Some countries use so much water for textile production not everyone has access to it
And using water in fast fashion manufacturing also pollutes that water. It does so with two main pollutants: wastewater and microfibers.
Wastewater – Wastewater has numerous harmful chemicals that are bad for us and bad for the surrounding environment. Unfortunately, improperly disposed wastewater can wind up loose in the environment where it can be toxic to marine life.
Microfibers – Fast fashion clothes shed tiny plastics every time you run them through the wash. These plastic particles then wind up in our water, where they're then consumed both by animals and by us!
So even though fast-fashion retailers can offer you low prices, keep in mind that compromised water safety is part of the cost.
Deforestation
Fast fashion manufacturers frequently use rayon fabric when making their clothing.
Rayon can be derived from various natural sources including bamboo, cotton, and trees.
Unfortunately, 30% of the rayon used in their clothing comes directly from endangered forests that are cut down to produce this fabric. And as fast fashion continues to grow as an industry, so will deforestation.
High Emission Levels
Companies that mass produce clothes also contribute to the world's carbon and greenhouse gas emissions.
10% of human-caused greenhouse gas emissions come from the fashion industry
Fast fashion uses more energy than shipping and aviation put together
These emissions are directly contributing to global warming
And this emission problem is only getting worse as fast fashion grows! By 2030, estimates predict that fast fashion will be responsible for 2.8 billion tons per year of CO2 emissions—an increase of more than 60%.
Increased Clothing Waste
The number of clothes that end up in landfills as a result of fast fashion is staggering. But this problem doesn't just rest with the companies that manufacture the clothes. It's also caused by the frequency with which we throw away our clothes and replace them with new ones.
Company waste – When you return fast fashion clothes, don't assume they get repackaged and resold. More often, companies will just dump them in landfills or throw them in an incinerator to get rid of the extra stock.
Consumer waste – Fast fashion is designed to be replaced. This means that customers are encouraged to get rid of their clothes and replace them with new ones either by necessity (because the clothes fall apart) or because they've gone out of style. In America, we send about 13 trillion tons of clothes to landfills annually.
Before you put that used top in the trash can, remember that fast fashion contributes significantly to clothing waste on both sides of the equation.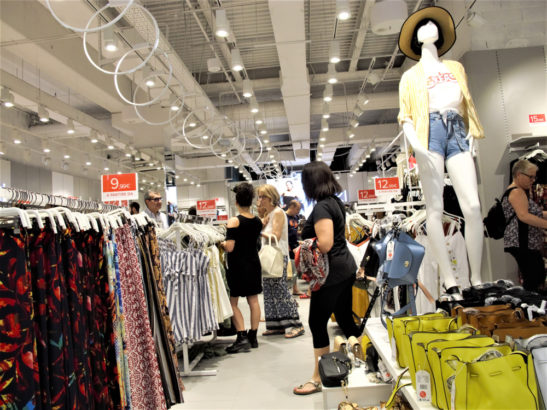 Make Clothes Affordable with RebateKey
So now that you know the problems with fast fashion, how do you move away from it without hurting your bank account?
That's where RebateKey comes in. We partner with brands to offer rebates on your purchases, so you'll never have to pay full price again. And we make it super easy for you to claim your rebate—all you have to do is enter your order ID on our site, and you'll get cash back!
When you get better prices on high-quality clothes, it's that much easier to bid adieu to fast fashion. So get started with RebateKey today and create the long-lasting wardrobe of your dreams! Your closet and the planet will both thank you.
Sources:
https://www.greenbiz.com/article/just-dye-it-how-apparel-company-developing-water-and-chemical-free-textile-tinting
https://cen.acs.org/articles/93/i41/Cutting-Textile-Pollution.html
https://www.theguardian.com/sustainable-business/zara-h-m-fashion-sustainable-forests-logging-fabric
https://www.bbc.com/future/article/20200310-sustainable-fashion-how-to-buy-clothes-good-for-the-climate
https://www.huffpost.com/entry/why-is-fast-fashion-a-bad-thing_b_59bc331fe4b0390a1564dd5b