Olive oil is the most versatile cooking oil on the market. Often, it is used in Mediterranean and European cuisine.
A healthy fat, olive oil is touted in a restaurant and home kitchens all over the world. You can use it to craft your pasta or salad, bake, sauté, or even fry.
The fact that it features a low smoking point means it's best for non-cooking uses or those that only need low-to-medium heat.
Quick Summary: Best Olive Oils
In a hurry? Here is a quick summary of the best olive oils:
Reviews: Best Olive Oils

This extra virgin olive oil from the California Olive Ranch is popularly described as pressed juice.
The oil is extracted by mechanically pressing the fruits. This ensures that the oil is pure and does not lose its flavor to heat, or the solvents used in other methods of extraction.
The oil is a perfect blend with a combination of different varieties of olive fruits. This gives the oil flavors featured in each fruit type. These flavors include fruity taste, herbal, and grassy, all finely combined.
From its name, you can tell that the oil is good for your everyday baking, roasting, and even for preparing salads. The oil has a separate blend, which is mild. This is favorable to customers who do not like bold tastes. This special blend comes with a sweeter buttery taste.
California Olive Ranch Extra Virgin Oil is sent to an external lab that certifies that the oil is pure and safe for consumption. It is also certified as a non-GMO and is sealed by the OOCC (Olive Oil Commission of California). This company is known to have the best measures of quality.
The oil is a bit costly as compared to other oils, but it is worthy of its price because it is of high-quality taste and flavor.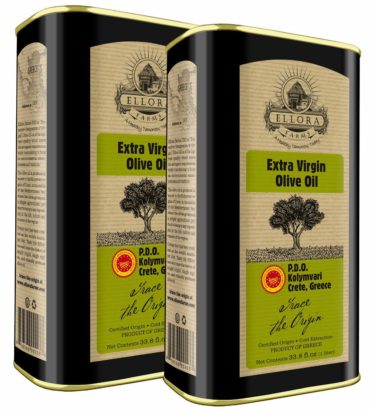 Ellora Farms have earned the title for the best cold-pressed olive oil for some seasons. They use olive fruits from one region, which is Crete in Greece. This is different from other companies, which blend olives from different areas.
The olives are produced under the right cool conditions and cold-pressed, maintaining the natural aroma and taste. The oil has an outstanding fruity aroma and a peppery flavor. These qualities resulted in winning a gold medal at the Mediterranean International Olive Oil Competition in 2019.
This oil is best for finishing or drizzling, but it can also be used for cooking on low heat.
You will be satisfied by its perfect balance of flavors.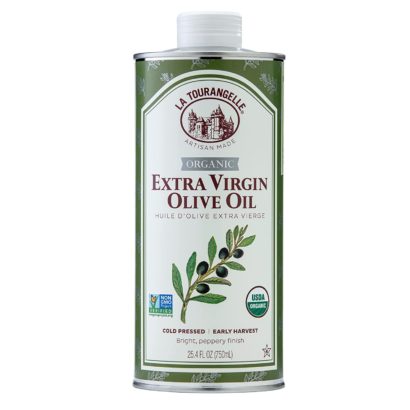 This oil is the best type for dipping because it shines brightly onto a crusty piece of bread. It can also be perfectly used for cooking.
The olive fruits are picked and pressed on the same day to ensure that the oil has a fresh taste of almond, olive leaves, freshly cut grass, and pepper.
The olives are obtained from Andalucia, Spain.
Having the olives pressed the same day they are picked greatly reduces the loss of aroma, taste, and antioxidants.
The oil is certified to be 100% pure and organic, non-GMO, and the container used is free of BPA.
The only problem with the oil is that it drips down the sides of the bottle, leading to wastage.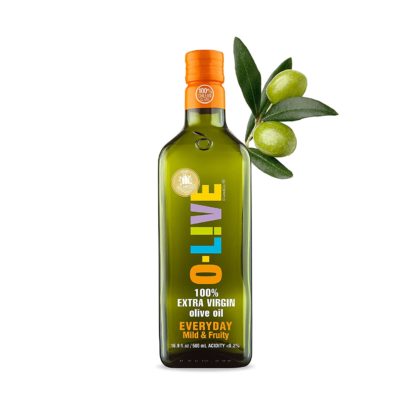 This type of virgin oil is your best choice if you are interested in cooking oil. It has a smooth flavor and does not have a bitter after-taste.
It is categorized among the purest olive oils. It works well for cooking food, and also for finishing. The oil has a mildly fruity, peppery flavor. If you want a bold flavor, the Robust Extra Virgin Oil is your best option.
The olives are obtained from Chile. The oil is certified to be 100% organic and approved by the International Council of Olive Oil.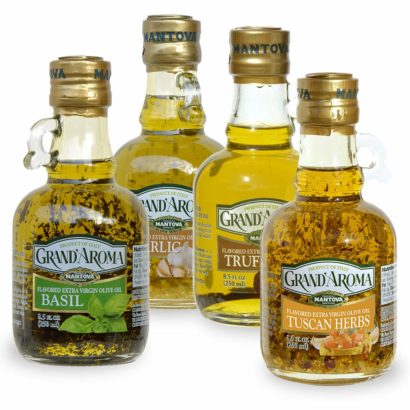 Mantova Extra Virgin oil is the best option if you love flavored oil.
It has a flavor combination of chilly, lemon, garlic, and basil in an infusion of 8.5 ounces.
The olives for each flavor are from Italy and are extracted through cold pressing.
Use this oil for cooking, marinating, finishing, and even dipping. If you prefer one flavor over the others, you can buy the specific flavored oil instead of the variety pack.
The oil is certified to be organic, does not have any preservatives or artificial flavors, and is 100% natural olive oil.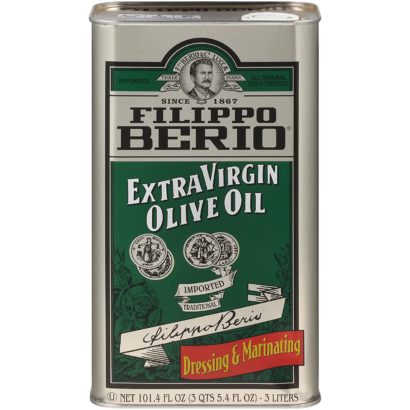 Filippo Berio Olive Oil is surprisingly affordable, yet of great quality. It is packed in 25.3 ounces and its price is pocket-friendly for anyone to enjoy.
The oil is extracted through cold pressing in Italy. It is a blend of olives from Italy, Greece, Tunisia, and Spain. The resultant oil is bold and rich in taste. It is best for cooking, marinating, and dressing.
Although some people have second thoughts about the oil, those who have used it confirm that it is a unique, versatile oil that carries the goodness of each of its constituent olives from various origins.
The oil comes in various flavors to suit the needs of all customers. The Robusto variety has a peppery taste and is best for those who love bold flavors. The California variety has a blend of fruity and peppery; and the other variety is 100% Italian, which is light with a fruity and spicy taste.
Napa Valley Naturals is a brand of Stonewall Kitchen and it started as a small company but has gained popularity all over the world earning North California a place among the regions that produce olive oil. Napa Valley was known before for the production of wine only.
The oil is a blend of olives around the Mediterranean region and is extracted through cold pressing. The oil has a mild, buttery, and fruity taste. It has been recommended as best for dressing salads.
The oil is 100% organic and does not contain any preservatives or artificial flavors.
It is packed in wine bottles, which make it look fancy and classic, and bottle sizes range from 12.7-128 ounces.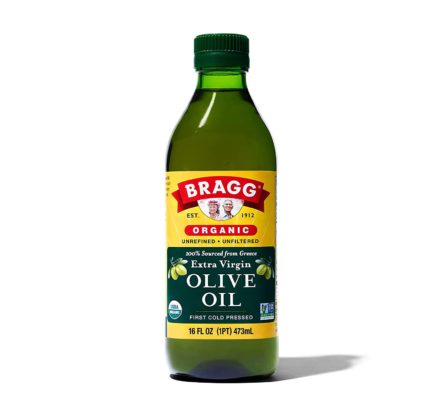 Bragg is widely known for the production of raw apple cider vinegar. They are also producers of high-quality olive oil.
They obtain the olives from the Koroneiki orchards in Greece and extract the oil by cold pressing. The oil has a smooth profile, which makes it a perfect choice for sautéing and finishing salads.
It comes in different sizes, although the perfect one is a gallon of 128 ounces.
The oil is slightly more expensive than other oils on the market, but the great quality makes it worth the extra bucks
It is certified to be 100% organic, non-GMO, and kosher. It has a USDA seal.
An ounce is sold at 40 cents.
Types of Olive Oils
There are different types of olive oils, which we have summarized for you here:
Extra Virgin Olive Oil
Extra virgin is the best type of olive oil because it retains most of the natural flavor and quality of unprocessed olive oil.
This is made possible by the method of extraction used. It is extracted by cold pressing, rather than using heat. This is because high temperature is known to change the content of olive oil.
The oil has a lower level of acidity as compared with other types of olive oil.
It is the most preferable oil for medicinal use and one can even take it without adding anything else to it because it still contains all the olive oil goodness.
Virgin Olive Oil
This type of olive oil is not as refined as extra virgin oil, and it is also extracted through cold pressing.
It still has most of the olive oil aroma and taste as compared to refined oils. It is slightly acidic with the acidity level ranging from 1-4%.
Its taste is milder than that of extra virgin olive oil and it is heat-resistant. This means that it can be used for cooking in low heat.
Refined Olive Oil
As compared to other types of olive oil, the refined one has very little content of natural olive oil. This is because refining the oil gets rid of most of the natural aroma and taste of olive oil.
The oil is extracted from the ripe black fruits of the olive tree.
Although the oil is known to prevent colon cancer, most people consider it to be of low quality because it lacks the aroma and taste of natural olive oil. For this reason, it is only considered best for cooking.
The oil is not heat-resistant, which means it can be used when cooking food that requires a high amount of heat.
Regular refined olive oil is sometimes considered to be of lower quality than other types, but its level of fats and calories are the same as the other oils. The only difference is the aroma and taste.
Pure Olive Oil
This oil is a blend of either extra virgin or virgin oil with refined oil. Blending is done when the quality of the oil is below the standard quality.
It is not 100% pure even after blending the different oil types.
The only advantage of this oil is that it has a high amount of Vitamin E and an improved taste and aroma.
Olive Pomace Oil
This oil is considered to be of the lowest quality. This is because it is extracted from residues after the fruits have been pressed and the oil extracted.
Water is filtered out from the residues and they are pressed again to remove the remaining oil.
To improve its quality, it is mixed with virgin olive oil.
It is the cheapest olive oil and is only best for cooking under high heat.
Best Olive Oil Buying Guide
These are the factors that you should consider when you are buying olive oils:
A Tinted Glass Container
The bottle or container holding the oil should be tinted since light and heat reduce the quality of the oil.
The container should be made of glass instead of plastic.
Make sure to store the olive oil in a cool place away from direct sunlight.
An Extra Virgin Label
If you want the olive oil with the highest quality of aroma and taste, then you should go for extra virgin.
Ensure that you carefully read the label to differentiate it from virgin and refined oils.
The Expiry Date
Unlike wine, time does not improve the quality of olive oil. Do not buy the oil if it has been two or more years after processing. Chances are that the quality of the oil has lowered over time, and you do not want to buy expired products.
Name of the Estate that Produced the Oil
It is important to check the name of the estate that produces the oil. This is to avoid buying imitations or fake products posing as olive oil.
As much as you would not recognize the company name, its presence is a mark of quality.
Checking seals also serves the same purpose. Examples of seals that assure the product is of good quality are the PDO of the European Union and the DOP from Italy.
USDA Organic Seal
This is an American certification that shows the product is organic and has been produced and processed without the addition of harmful additives. It also shows that the product is pure and safe for use.
It is costly to have this seal that most small companies are not able to afford it. In such a case, do not be alarmed, but check out for other seals as described above.
Benefits of Olive Oil
Here are some notable benefits of olive oil:
Rich in Monounsaturated Fats
These fats are healthy and good for your body. About 14% of the oil is saturated fat and polyunsaturated fat takes up to 11%. They include omega 3 and 6 fatty acids.
The monounsaturated fat takes up the remaining 73% of the oil. This oleic fat is known to reduce inflammation and prevent cancer-growing genes from accelerating.
These monounsaturated fats are heat-resistant making the oil safe enough for cooking purposes.
Rich in Antioxidants
The oil is generally nutritious. Its value ranges from healthy fats too, presence of Vitamins K and E, and it also has loads of antioxidants. These antioxidants help your body to reduce the risks of having chronic diseases.
They also reduce inflammation and protect the cholesterol level of your blood against oxidation.
Rich in Anti-Inflammatory Properties
Inflammation is known to be a cause of many chronic diseases, such as heart disease, diabetes (type 2), Alzheimer's disease, cancer, and obesity.
The antioxidants present in olive oil help reduce inflammation, in turn, preventing the diseases mentioned above. The antioxidant that is most abundant in olive oil is oleocanthal, which prevents inflammation as much as the ibuprofen drug does.
Olive oil antioxidants also inhibit and inactivate genes that accelerate inflammation.
Prevention of Stroke
Stroke is caused by a clot, extensive bleeding, or any other condition that interferes with the flow of blood to the brain. Stroke is second to heart disease in causing the most number of deaths in the world today. 
The monounsaturated fats present in olive oil are known to reduce the risks of heart disease and stroke. This was proven through a review of 841,000 people who use olive oil.
Another review was later carried out and it was found that the participants who used olive oil had a lower risk of having a stroke than those who did not use olive oil.
Prevention of Heart Disease
This is known to be the greatest cause of death in the world today. However, this was not the case in the Mediterranean region.
Studies showed that extra virgin olive oil is one ingredient for preparing Mediterranean dishes. The magical oil prevents blood cholesterol from being oxidized, reduces blood clotting, lowers blood pressure, and many other conditions that may result in heart disease.
If you have risks that expose you to heart disease, it is important to take the consumption of olive oil more seriously.
Prevention of Alzheimer's disease
This is a neurodegenerative condition that is caused by the presence of beta-amyloid in the brain. Olive oil has a substance that fights the formation of these plaques, resulting in a lowered risk of contracting the disease.
An earlier study of the Mediterranean diet showed that olive oil helps to increase the brain health of those who used the oil. More research in studying the relationship between olive oil and Alzheimer's disease is still ongoing.