Amazon offers seemingly limitless options for every kind of product, ease of purchase and delivery, and a generous return policy. They make online shopping effortless but when it comes to shopping for clothes online, there's always a question that can't be answered until the package arrives—will it fit and will I like how I feel in it?
We all know the struggle of buying certain things online and being weary because you don't know if it's going to fit or if it's going to be the exact item you were looking for. Without being able to see the item in person, it's nice to have a sort of reassurance that you aren't going to be completely stuck with an item that you don't want or need.
So, how long is the Amazon return policy?
For most items that come from Amazon.com, Amazon's warehouse—and many other sellers on Amazon—there is a thirty-day return policy from the date of delivery.
Amazon's 30-Day Return Policy: The Fine Print
This means that from the date that the receipt says it was delivered, you have thirty days to return your item. The item doesn't have to reach the warehouse within thirty days—the return just needs to be scanned in for return within those thirty days.
Keep in mind, this does not always apply for every item. Some products have policies that don't include a thirty-day return policy. Be sure to check an item's return policy before purchasing, Amazon tells you on the product's page exactly what each item's return policy is.
Can You Return Items From Amazon After Thirty Days?
It happens. Sometimes you lose track of time and all of a sudden, the pair of pants you were trying to return have been sitting on your dresser for months.
Luckily, Amazon does offer an extended return policy in certain cases.
What is Amazon's Extended Return Policy?
Getting a refund on an item after thirty days have passed is slightly tricky but it can be done. For the best shot at getting your refund process follow these steps:
Log into your account
Click on the help button
Click on the contact us button
Type in what you're looking for: "refund a pair of pants"
You will be assigned someone to chat with, tell them what item you want to return and why.
If you have a good reason for returning and for why you didn't return within the window, they're likely to cut you a break and still process your refund.
Ways to Make Your Return Go Smoothly
Here are a few pointers for getting your return ready to send back. Follow these steps to ensure a smooth return and to make sure your box has the best chance of getting to the warehouse securely.
Make sure you have the correct shipping label.

Make sure the shipping label is well-affixed to the box, sticking it in a clear plastic covering is recommended so that the label is not damaged during transit.

Make sure you put the correct item into the box.

Make sure you include all of the items that came with the package.

Make sure you put the items into sturdy packaging that can withstand travel (it does not need to be the original packaging).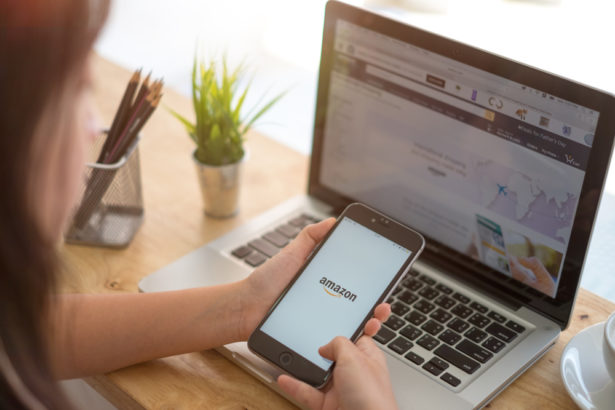 Options for Returning on Amazon
Amazon offers a few different ways to return your items. These options will vary slightly depending on your location and which item you are returning:
Amazon drop-off –Depending on where you are located, you might be given the option to drop off your package at an Amazon location, either a store or a locker. You don't need to print your return label or even package your item, they will take care of it for you after you drop the item.
Dropoff at UPS – After you process your return, Amazon will send you a barcode, you take the barcode and your packaged item into any UPS location and they will process your return for you.
Don't be surprised if they tell you to keep the item – This one is kind of funny, sometimes Amazon doesn't even want the item back. It's not worth them paying for the shipping to have it sent back to the warehouse so they will still give you your money back but tell you to just keep the item. You can then give it to a friend or donate it, whatever you want.
Return to Kohls – After you process your return, you will receive a return barcode. Bring the barcode and your item to your nearest Kohls. They will package your item and print out the return label. Sometimes Kohls will even offer you a five-dollar coupon with your receipt to use in-store.
To process your money's return faster, Amazon offers to have it refunded into your Amazon Account Balance for future Amazon purchases. If you want the money back ASAP, that's your best option. If you'd rather the money go directly back to the original purchasing method that process can take about three to five business days.
How RebateKey and Amazon Make Shopping Easy
Shop with ease knowing that you can return any items that don't fit your needs. RebateKey partners with Amazon to bring you some of the absolute best deals around. You can shop for Amazon items on RebateKey and put money back into your pocket to use on your next purchase. It's a win-win, hassle-free, no coupon clipping process that'll keep you coming back for more.
Find your favorite items for the best price, start saving with RebateKey Today!
Sources:
Amazon. About Our Returns Policies. https://www.amazon.com/gp/help/customer/display.html?nodeId=GKM69DUUYKQWKWX7
Big Tech Question. How Do I Get a Refund From Amazon After 30 Days? https://bigtechquestion.com/2017/12/24/online/how-to-get-refund-from-amazon-30-days/