Once your baby hits a certain mark, it is time to introduce them to solid foods. Your little ones require dishware that stands up to their eating learning curve. Just like getting the tiny bites into their mouth, figuring out how to store their food and prevent it from getting to the floor can be challenging.
Fortunately, toddler and baby plates and bowls are tailored with these obstacles in mind.
Reduce the stress and mess of mealtimes with our choices of smartly designed baby dishes and utensils.
Quick Summary: Best Baby Bowls And Plates
Here is a quick summary of the best baby bowls and plates:
Reviews: Best Baby Bowls And Plates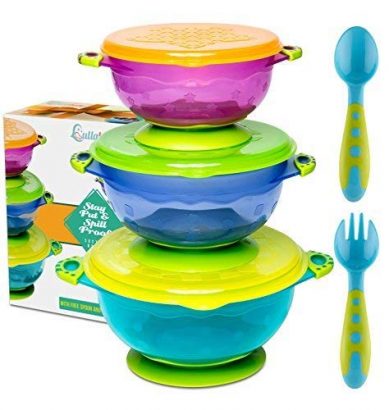 The Lullababy Best Suction Baby Bowls bring with them secure lids that make them suitable for toddlers. The BPA-free suction plates come in 3 different colors and sizes. A bonus fork and a feeding spoon are also included.
Unlike other bowls, these have improved suction. They are inspected and approved to be free from harmful chemicals. The bowls are all cadmium-free, and lead-free.
They feature snap-tight lids that make them perfect for storage. You can easily stack them on top and take them wherever you want. They are great for family picnics or beach trips.
Advantages:
3 different sizes to choose from
Secure lids
BPA-free
Lead-free
Disadvantages:
The suction doesn't work well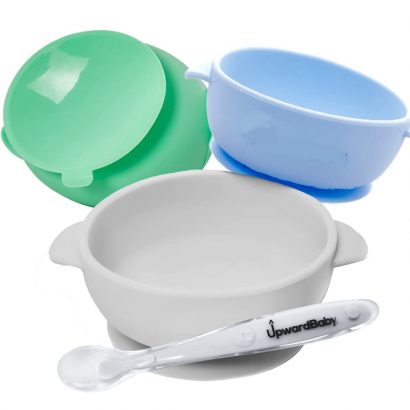 This 4-piece silicone baby set is ideal for toddlers and babies beginning their solid food journey. The bottom of the bowls has improved suction on different flat surfaces.
They are all made of baby-safe materials that are BPA-free, phthalate-free, and lead-free. Unlike other competitors, these silicone bowls are strong and heat-resistant.
To bring convenience, the set comes with a spoon which makes feeding your baby easier. If you need a nice gift for a baby or parent, this bowl set is a great choice.
Advantages:
Spoons provide a large feeding angle
Heat-resistant
BPA-free, phthalate-free, and lead-free
Durable
Disadvantages: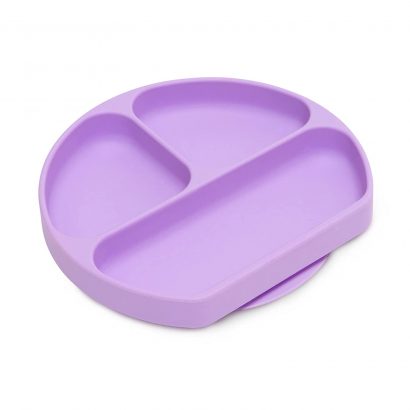 Help your baby learn self-feeding fast with the Bumkins Silicone Grip Dish. It is microwave and dishwasher-safe. This lavender toddler plate is BPA-free.
The plate has strong suction at the base to ensure it remains firmly in the place where you put it. Its flat surface allows mess-free eating.
This plate is platinum cured meaning it features the highest quality of silicone. It can withstand high and low temperatures making it ideal for the freezer, microwave, and oven.
The silicone material is bacteria-resistant which offers a hygienic and safe solution for the baby.
Advantages:
The sections are deeper to eliminate messes
Sturdy enough for kids to handle
A large suction cup makes it difficult for kids to remove the plate
Functional and stylish
Disadvantages:
The plate retains soap residue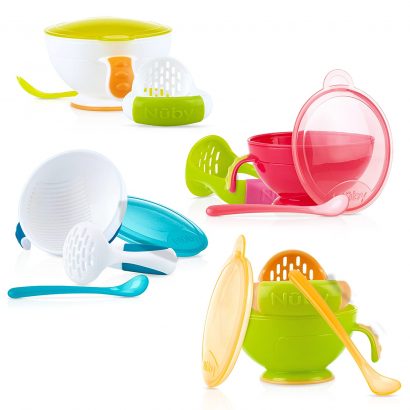 Mash, prep, or store food with the Nuby Garden Fresh Mash N' Feed Bowl set. It comes with a food masher, sealing lid, mashing bowl, and a long handle spoon.
The interior of the bowl is textured for efficient pureeing and for the right consistency of your baby's food. These items are BPA-free and dishwasher safe. Different colors are available.
Wash the bowl and other items in the set before initial use. After use, clean with mild soap and warm water. They are safe if you want to do microwave sterilization.
Advantages:
Versatile
Excellent interior
BPA-free
Available in different colors
Disadvantages:
Size is small for some users
The Kirecoo Owl Silicone Suction Plate features 100% food-grade silicone that is safe for your baby. It doesn't contain BPA, PVC, lead, and phthalate.
Its unique owl design captures the attention of your baby. The suction base ensures the plate remains in place to reduce slipping or tipping.
The bowl's ergonomically curved edges allow your toddler to self-feed. Its dividers and sides are deep enough to allow your baby to dig the food with their hands.
Cleaning is effortless with a dishwasher or using warm soapy water. The silicone material is strong enough to handle high and low temperatures.
Advantages:
The plate sticks well on the feeding surface
Easy to clean
Heavy-duty
Durable and lightweight
Disadvantages:
Gets moldy in the dishwasher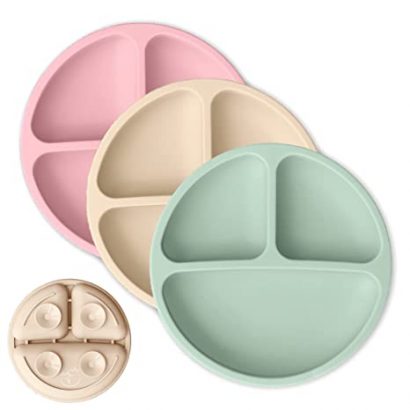 The Hippypotamus Toddler Plates with Suction is a set of 3 toddler plates with strong suction. These baby plates are made of 100% silicone material. They are not only BPA-free but also safe for microwaves.
The plates are designed with a new suction bottom that stays in place to prevent spills. The bottom features 4 suctions to keep it in place while your child learns how to use the utensils.
These non-toxic plates are travel-friendly. They feature separate sections for different foods. Their round and deep edges make scooping easy.
Advantages:
100% silicone material
Remarkable suction
Travel-friendly
Great quality portion plates
Disadvantages:
They absorb soap which makes cleaning hard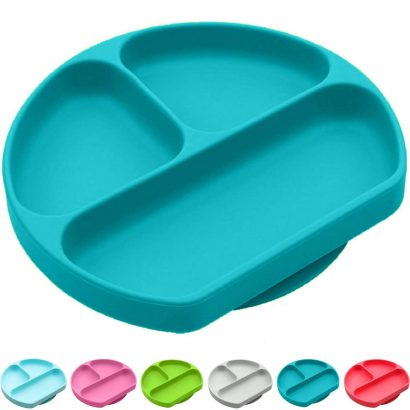 Just like many plates and bowls in this list, the Silikong Suction Plate for Toddlers is also made of 100% food-grade silicone. Its material is PVC, BPA, lead, and phthalate-free.
This toddler plate makes a great addition for weaning, thanks to its powerful suction. It attaches itself safely on any smooth surface which allows kids to train how to feed themselves.
The plate is oven, microwave, and dishwasher safe. It also resists stains and odors making it the right one for your baby.
Advantages:
It sticks well on different surfaces
Effortless to clean
Durable
Incredible design
Disadvantages: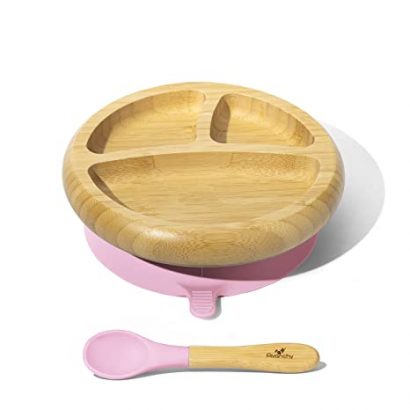 Enjoy a mess-free feeding process with the Avanchy Bamboo Baby Plate. This bamboo plate sits on a silicone ring to provide better suction on tables.
It has three sections for healthy carbs, veggies, and proteins to give your baby balanced meal portions. The versatile plate is suitable for children from 4 months to 72 months.
It comes with a complimentary silicone spoon that matches the color of its silicone suction.
Advantages:
Sticks perfectly on the table
Three sections for balanced meal portions
Stain-resistant
Aesthetically pleasing
Disadvantages: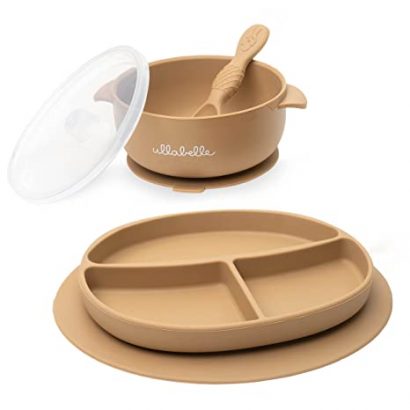 The Ullabelle Toddler Plates & Bowls Set is made of non-toxic silicone grade material. Enjoy mess-free feeding with this easy-to-clean set. An extra lid is available to store leftover baby food.
The bowl and plate are ideal for weaning or self-feeding. They make transitioning to solid food easier for the baby.
The pieces are dishwasher, microwave, and freezer safe. Use the set to store and keep baby food warm.
Every piece in the set is made of 100% silicone material that is free of lead, PVC, BPA, and phthalate.
Advantages:
Beautiful and functional
Easy to clean and use
Safe silicone material for babies
Lead-free
Disadvantages:
The spoon is too deep for little ones to grab all the food at once
Buyer's Guide: Best Baby Bowls And Plates
Consider the following factors when in the market for the best baby bowls and plates:
Material
The first thing you should consider when buying baby bowls and plates is the material. You can choose baby bowls and plates made of plastic, bamboo, stainless steel, or suction-divided plates.
Microwave and Dishwasher Safe
If you want microwave-safe bowls and plates, avoid plastics. Warming baby food with plastic bowls is not recommended because too much heat and scratches can cause damage to the material.
Bamboo and wood are also not safe to put in the microwave. The best material that is microwave safe is glass or silicone.
You should also consider whether the material is dishwasher safe. Avoid exposing your baby's bowls and plates to high heat by putting them on the top rack of the dishwasher.
Alternatively, you can choose to clean them by hand.
Your Baby's Behavior
Your baby's behavior determines the type of baby bowl to choose. For instance, if they're active, suction bowls are the best. Those with a nonslip base prevent them from sliding from the baby's high chair or table.
Health and Safety
When buying baby bowls and plates, consider the health of your baby. Always select feeding items that are bacteria resistant. The material of the bowls and plates should not contain toxic chemicals and petroleum-based plastics.
Choose FDA-approved bowls and plates. They should be BPA, PVC, and lead-free.
Divided Sections
Feeding your baby in different bowls can be stressful. It is advisable to buy plates or bowls with divided sections to put different types of food. This helps you balance your baby's meal portions.
Durability
Kids love throwing and dropping anything they put their hands on. Their feeding plates are not an exception. For this reason, buy durable baby plates and bowls that can withstand wear and tear.
Snap-on Lids
Sometimes, your baby might not finish his or her meal. Plates and bowls with snap-on lids allow you to keep the baby's leftovers fresh. Choose bowls and plates with air-tight lids to ensure air doesn't get inside.