In the summer, most kids want to have fun outdoors. However, the heat outdoors can be limiting. Swimming pools might be too deep and beaches too crowded.
You can make your kid's summer better with splash pads as they offer similar cooling effects during hot days.
Splash pads provide your toddler with the utmost relaxation. Unlike pools, you don't need intense supervision with these.
Quick Summary: Best Splash Pad for Toddlers
Here is a quick summary of the best splash pads:
Reviews: Best Splash Pads for Toddlers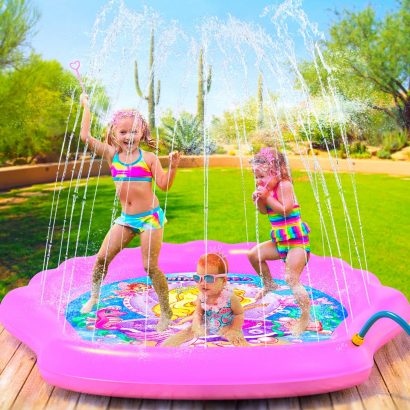 Create exciting and memorable outdoor moments for your toddler with the PRINCESSEA Emma USA 4-in-1 Splash Pad. This inflatable swimming pool is suitable for toddlers from 12 months and above.
Place the 70-inch diameter splash mat in your backyard for kids to relax during hot summer days. It comes with extra toys for more fun.
The splash pad is easy to install. You only need to connect the faucet to the mat's valve with a hose and it'll be ready to use.
The outdoor pool is made of child-safe materials. It features sturdy and tough construction to handle heavy use.
Advantages:
Spacious to accommodate 3 kids
Easy to set up and drain
Child-safe materials
Sturdy design
Disadvantages: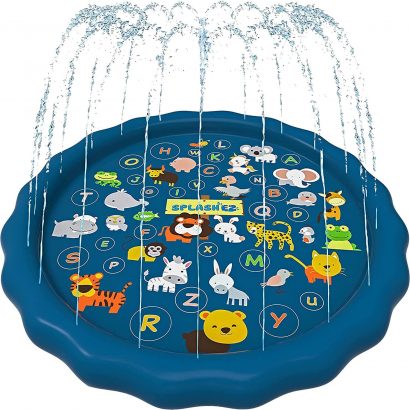 Make learning easier and fun with the SplashEZ 3-in-1 Splash Pad. It has a learning mat for base ensuring your toddler soaks up knowledge as he or she plays.
The splash pad is ideal for children from 12 months and above. The splash pad is made of quality materials free of phthalates or BPA.
This splash pad creates confidence, inspires creativity, and helps kids develop emotional and social skills.
This child-friendly splash pad has a diameter of 60-inches which can hold you and your kids in the pool.
Advantages:
Spacious
BPA-free material
Easy install
Pet-friendly
Disadvantages:
Accumulates mold on the inside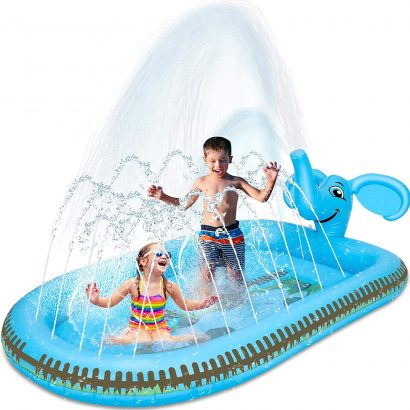 The Desuccus Splash Pad Sprinkler is ideal for boys and girls from 3 to 10 years. It is made with kid-friendly materials that adhere to international safety standards. It doesn't contain phthalates or BPA.
An elephant trunk that sprays water splashes gives it a nice design. Setting up the splash pad in your backyard is simple.
It inflates in less than 4 minutes. However, it doesn't come with an electric pump. After inflation, screw the water hose and adjust the water pressure accordingly.
This water splash pad is shallow to minimize risks. They can play with minimal supervision.
Advantages:
Safe material
Easy inflate
Stylish design
Shallow to minimize risk
Disadvantages: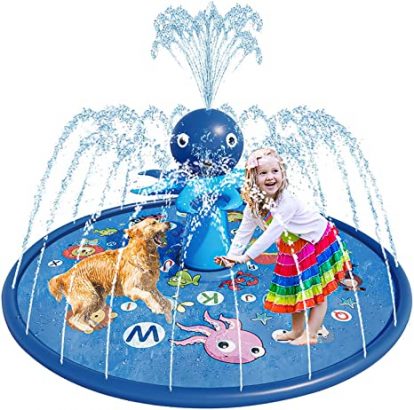 The Blasland Splash Pad has an octopus design for a classy look. Kids enjoy sitting on the pad and holding the octopus.
Boasting ample space, it is made with vivid and rich colors that stimulate the kid's brain creativity. The base has a learning mat so your kids will gain knowledge while having fun.
This splash pad is made with non-toxic materials for your kid's safety.
You can set it up easily outside without trouble. You only need to inflate it and connect a garden hose then adjust the water pressure to the desired level.
Advantages:
Non-toxic material
Brightly colored to attract your kid's attention
Easy to assemble and takedown
Durable
Disadvantages:
It doesn't stay inflated for long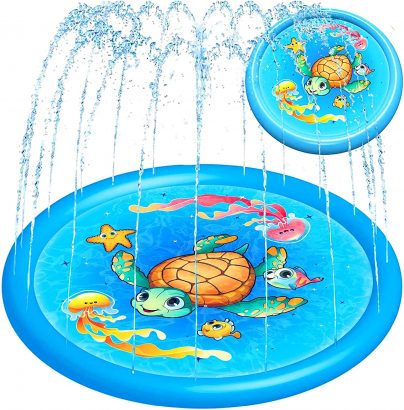 Create an alternative swimming pool for your kids in the backyard with the Splash Pad Water Toy Sprinkler Mat Pool. It is ideal for children from 2 – 10 years.
Made of quality and safe materials, it makes a great backyard trampoline for playing lawn games without hazards. This 68-inch splash pad is large enough for kids who are not big enough to swim.
Advantages:
Quality construction
Beautiful design
Easy to inflate
Spacious
Disadvantages:
Leaks after a couple of use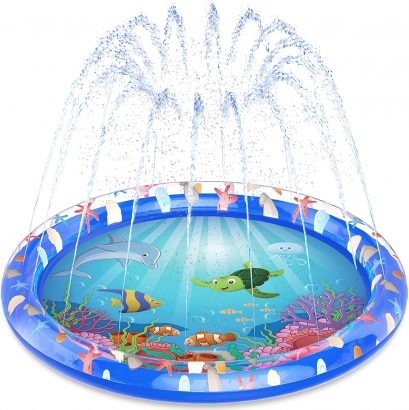 Create fun outdoor moments for your kids with CHUCHIK Splash Pad for Toddlers.
Apart from fun, toddlers can learn a lot while playing on it. The big water splash pad has bright colors and sea animals that trigger your child's development.
Graphics arouse curiosity. Simple installation is another striking feature of this pad.
It is made of premium material for great functionality. The PVC material is thick, durable, nonslip, and non-toxic.
Advantages:
Thicker and durable
Fits any garden hose
Wonderful size
Easy setup
Disadvantages: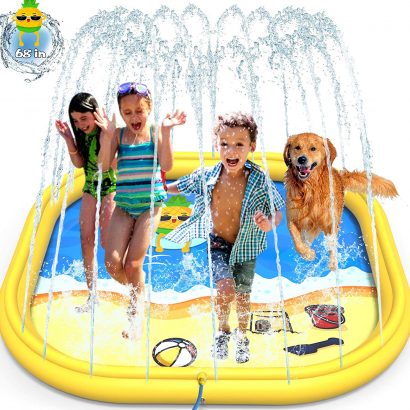 The GINMIC Kids Splash Pad features beautiful patterns that your little ones will find exciting. It measures 68 inches which can accommodate up to four kids and their water toys.
Use it for outdoor water parties, beach parties, or backyard lawn parties.
This safe, durable and inflatable splash pad is made of non-toxic and BPA-free PVC material. It has a strong seam so it doesn't burst when in use.
Installing and using it is easy. The pad folds well for convenient storage. It inflates in less than 4 minutes but you need to buy an electric pump separately.
Advantages:
Made of thick PVC material
Nice size and easy to inflate
BPA-free material
Large enough to hold up to 4 kids
Disadvantages: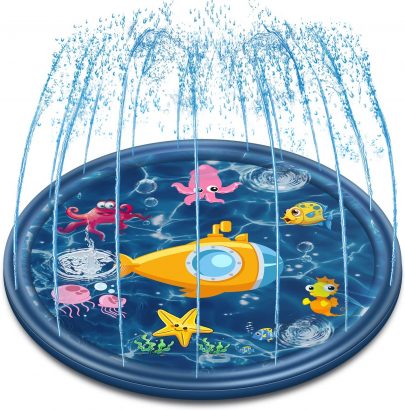 The Neteast Outdoor Sprinkler Mat is a 68-inch splash pad large enough to hold more than two kids together in your backyard or garden.
The splash pad is not only durable but also safe for kids. In addition to having colorful patterns that attract your kid's attention, the splash pad is easy to set up.
Kids from 1 to 5 years can slide, jump and play on this sprinkler mat. Its sturdy construction can withstand heavy use.
The outer part of the splash pad sprays water continuously under pressure to make the experience more enjoyable and interesting for all toddlers.
Advantages:
Spacious
Colorful patterns
Easy inflation without leaks
Shallow enough to suit toddlers
Disadvantages:
Cannot handle high water pressure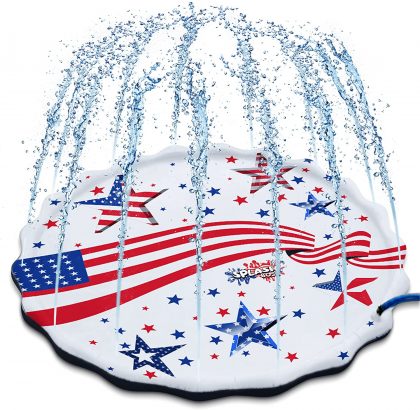 The 4th of July Patriotic Splash Pad is a huge sprinkler pad made of thicker material. It suits kids from 1 year to 5 years old.
The splash pad is super-safe for both kids and pets. It provides your little ones with a cooling effect as they enjoy great moments outdoors during summer.
Setting up the splash pad takes minimal time. You can hook it up to a garden hose without struggle.
You can adjust the water height to match your toddler's height. All you need to do is to turn the garden hose pressure up or down.
Advantages:
Plenty of room for 3 kids
Adjustable water height
Thick and sturdy
Durable
Disadvantages: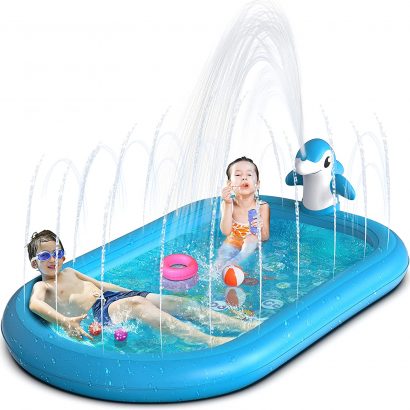 Kids from 1 – 12 years old can enjoy playing on the OEVES Inflatable Splash Pad. The 68-inch splash pad has pictures of marine creatures to entertain toddlers.
It is safe, reliable, and convenient for kids to use. The splash pad eliminates the risks of taking small kids to the swimming pool or the beach.
Its unique 3-in-1 design sprinkles water in a circular motion. A dolphin head that sprinkles water also adds to the exciting look.
Setting up the splash pad is easy. You only need to inflate it and then connect a garden hose to the water injection section. After that, increase or decrease the water pressure.
Advantages:
Unique 3-in-1 design
Easy set-up
Durable construction
Dolphin spout makes it fun for kids
Disadvantages:
Buying Guide: Best Splash Pads for Toddlers
Consider the following factors when in the market for the splash pads for toddlers:
Size
Splash pads come in different sizes. The number of kids is the chief determinant of a pad's size. Choose splash pads big enough to accommodate several kids and adults.
Adjustable Spray
A good splash pad should allow you to adjust the pressure and water height for comfort. Younger kids don't need hard sprays or a higher water volume compared to older kids.
Some allow you to control the water volume in the pool. Others enable you to control it at the hose coupling or faucet.
Durability
When selecting splash pads for toddlers, durability is crucial. You want to get a quality splash pad that can withstand use for many seasons.
Get one with PVC material as it can withstand bouncing kids and dog toenails. Additionally, consider a splash pad that comes with repair kits.
Kid's Age
Lastly, consider your baby's age. Most splash pads are designed for toddlers aged between 1-3 years. These pads are shallow compared to kiddie pools.
If you need a splash pad that your toddler can grow up with, consider one with a higher water capacity. The rims need to be high. It should have several sprinklers to shoot the water up.