Introducing a toddler to a toothbrush can be challenging. Some babies love it from the word "go" while others detest it. With the right toddler toothbrush and effort, they will slowly but steadily develop good oral hygiene.
The key to keeping your baby's pearly whites bright and clean is by brushing them early on. Toddler toothbrushes make the little one's brushing sessions not only fun but keep them entertained and engaged.
Quick Summary: Best Toddler Toothbrushes
Here is a quick summary of the best toddler toothbrushes:
Reviews: Best Toddler Toothbrushes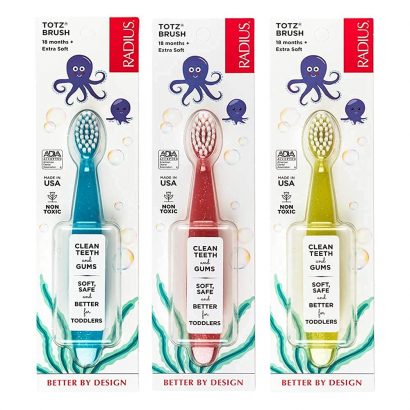 The RADIUS Totz Toothbrush is perfectly suited for young delicate teeth and gums. This is a pack of three beautiful toothbrushes each with a different color. Choose from blue, coral, and yellow.
Use any of the toothbrushes to make the teeth-brushing experience fun for toddlers. They are easy for small hands to grip, and teach children how to take care of their health.
The bristles are soft and gentle.
Advantages:
The handle design is easy for small hands to grip
Make teeth brushing fun
Soft and vegetable-derived bristles
3 color options
Disadvantages:
Bristles fall out in clumps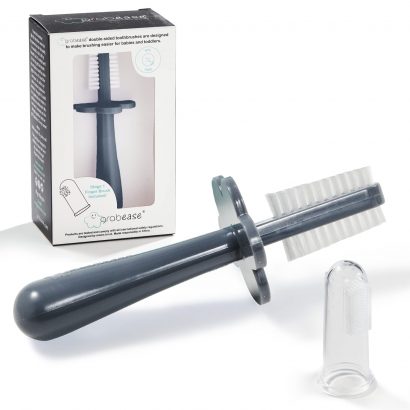 Encourage good dental hygiene in toddlers with the Grabease Double-Sided Toothbrush. With the 2 bristle sides, your child will be able to brush all teeth thoroughly without your help.
Its easy-to-grip handle makes it easy for a child to hold firm without stress. The toothbrush massages sore or delicate gums gently.
The brush is FDA and mom-approved and therefore safe for your baby.
Advantages:
Double-sided
FDA and mom-approved
Massages sore gums
Super soft bristles
Disadvantages:
Bristles discolor after months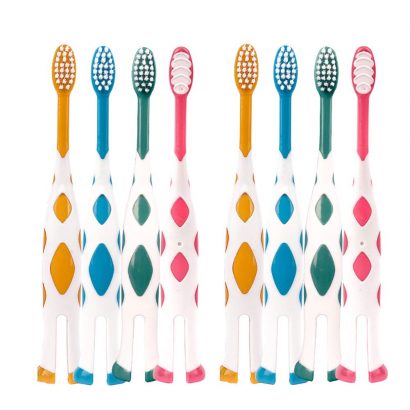 The Newrichbee 8 Packs Kids Toothbrush is a great toothbrush choice for 2 to 8-year-olds. Its ultra-soft and fine bristles clean up little teeth and young gums well.
This 8-pack of kids' toothbrushes has four color options pink, orange, blue, and green. Toddlers will find the lovely deer design fun and exciting.
The toothbrushes make brushing easy and bearable even for the youngest possible users.
The small head is comfortable in their mouth. Its base design makes it easy to stay in an upright position for more organized storage.
Advantages:
Pack includes 8 toothbrushes
4 color options
The base design makes it easy to store in an upright position
The small head is comfortable in a child's mouth
Disadvantages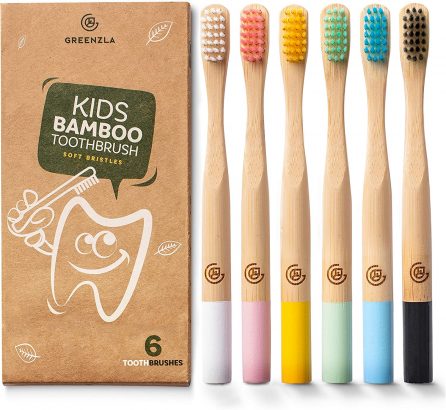 The Greenzla Kids Bamboo Toothbrushes are made of bamboo. Help your toddler maintain oral hygiene in an eco-friendly manner with these bamboo toothbrushes.
The set has six BPA-free, eco-friendly, and biodegradable toothbrushes. These organic toothbrushes are soft on young children's teeth and gums to encourage more brushing.
Their small size fits perfectly in a child's hand. The toothbrush is usable for up to one year.
Advantages
High-quality manufacturing
100 percent natural materials
Cool design
Eco-friendly
Disadvantages
Can attract molds in a damp environment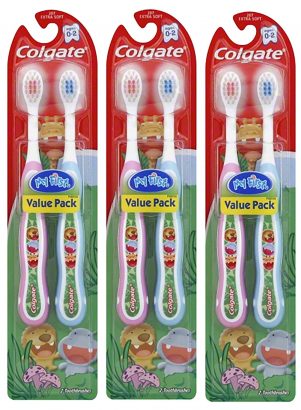 Colgate is a reputable brand in the dental space. The Colgate My First Baby and Toddler Toothbrush is a good option for toddlers.
You can use this on a baby even when they have only one or two teeth. The non-slip handle fits in their hand nicely.
The head of the toothbrush is small enough to fit in a baby's mouth. The bristles are extra soft for gentle brushing.
The toothbrushes are made to deliver safe and the best performance.
Advantages
Safe and convenient
Non-slip handle
Small head
Reputable brand
Disadvantages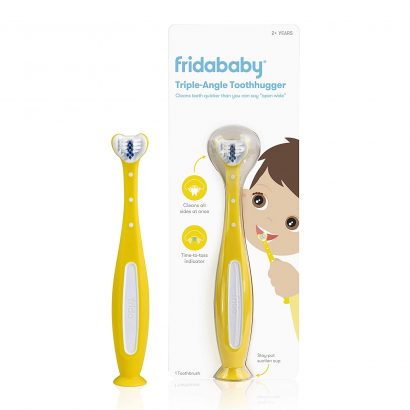 The FridaBaby Triple-Angle Toothhugger Training Toothbrush is another cool toddler toothbrush. Innovatively designed, this triple-angle brush features a unique head that cleans all sides of the tooth simultaneously.
It is dentist-recommended for toddlers two years old and above. A baby who is still learning to brush would find it appropriate for learning proper brushing techniques.
It's easy-to-hold nature gives your child great control.
The brush features soft, rounded bristles that will take great care of your baby's teeth. When the blue bristles fade to white, you know it is time to replace them.
Advantages
Soft and gentle bristles
Innovative design
Head cleans all sides of the tooth
Easy to hold
Disadvantages
Grows mold after several months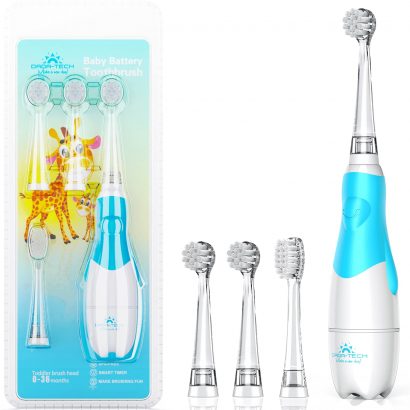 Teach your child dental hygiene with the DADA-TECH Baby Electric Toothbrush. This toothbrush helps your child learn the right brushing habits early on.
They are designed specifically for babies, protecting their gums from scratching or bleeding. The toothbrush is innovatively designed with Sonic Technology.
The head is designed to perfectly suit a baby's oral and dental characteristics.
A smart time and pulse reminder are handy to instruct your baby to brush another quadrant of the mouth.
Advantages
Easy and fun for toddlers to use
Cute handle
Small head
Innovatively designed with Sonic Technology
Disadvantages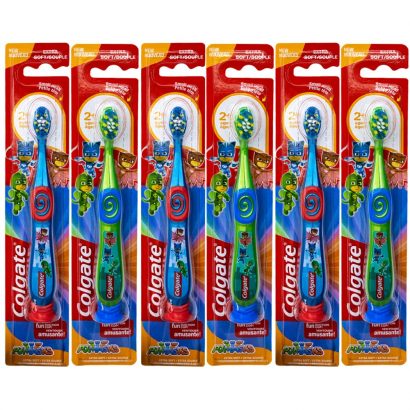 Even the elegance and the decorations on a toddler's toothbrush should be able to attract them. The Colgate PJ Masks Toothbrush for Toddlers is all attractive and elegant.
'PJ Masks' characters are a huge plus. They come in two color options, blue and red, that represent the superman colors.
Brushing your baby's teeth is fun with these toothbrushes. A suction cup at the base makes it easy to store them in an upright position.
Its small head is comfortable in a child's tiny mouth. A thumb grip and a round handle are handy for a comfortable grip.
Advantages
A suction cup at the bottom for upright storage
Fascinating kid-friendly decorations
A small head easily accesses the child's mouth
Easy to hold
Disadvantages
The bristles are a little bit too stiff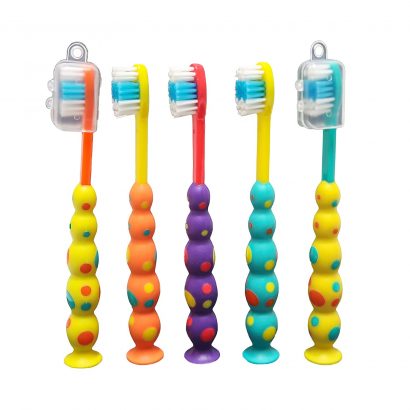 The Stesa Kids Toothbrush is irresistible for kids. The toothbrushes feature bright colors that make them even more attractive to kids. On top of being BPA-free, the toothbrush doesn't contain phthalates, which makes them very safe for your child.
The toothbrushes are designed to give your child an effective yet gentle cleaning. The bristles are soft as you would expect, and will not injure young gums and teeth.
Each toothbrush comes with a free dust cover to protect the bristles when the brush isn't in use. A fun suction cup bottom makes them easy to store.
Advantages
BPA and phthalate-free
Bright attractive colors
Soft bristles
Thorough yet gentle cleaning
Disadvantages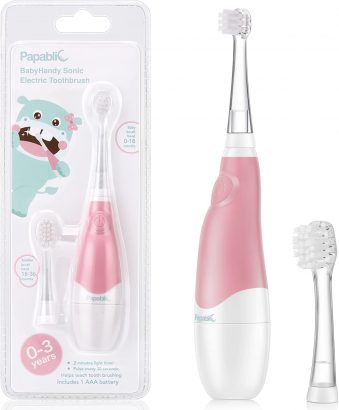 The Papablic BabyHandy 2-Stage Sonic Electric Toothbrush has LED lights and vibrates gently to fascinate a child. The light and vibration encourage oral sensory engagement and long brushing.
It is equipped with a two-minute timer and a thirty-second pulse reminder. The features signal users when it is time to move on to brushing another quadrant of their mouth.
Unlike other toddler toothbrushes, this one is 75 percent effective at removing plaque. This is also one of those toothbrushes that can access the hard-to-reach parts of a child's teeth.
Advantages
Comes with replacement heads
Several innovative features
The compact brush head is easy to use
LED light and gentle vibration
Disadvantages
Buyer's Guide: Best Toddler Toothbrushes
Consider the following factors when in the market for the best toddler toothbrushes:
Size
Consider the small mouth of a toddler when choosing a toothbrush for them. If the head of the brush is large, it can be challenging to use.
One with a small head is not only comfortable but also ensures easy maneuverability and safety.
Bristles
Toothbrush bristles are usually made of food-grade silicone or nylon materials. If the bristles are too hard and stiff, they can injure the young gums and cause bleeding.
A toddler's toothbrush should have soft and gentle bristles. They should also clean their teeth more effectively and safely, even if the child brushes often.
Storage
Some models come with additional storage features. Suction cups at the bottom of toothbrushes are a common storage feature that allows you to store them in an upright position. Some have loops at the base for hanging the toothbrush.
Technology
Kids love fascinating features such as LED lights and vibrations. Toothbrushes with such features encourage your toddler to brush their teeth frequently.
Handle
The design and size of the handle should guide your choice of a toddler toothbrush. The size and design of the handle should be such that it fits in their hands perfectly and comfortably. The handle should be soft, with rubberized material for grip.