Side sleeping is preferred by most people over other positions, as it reduces pressure points all over the body and promotes even spinal alignment, according to this study, side sleeping accounts for 55% of all sleeping. Your hip and shoulders are well supported when lying on your side rather than sleeping on your back or stomach.
The type of pillow you choose for support can improve or decrease comfort levels when sleeping on your side. Your choice of pillow should be moderately thick to fill the space between the head and shoulders.
Since sleeping on your side causes strain on your back, shoulder, and hip joints, it's essential that your pillow is the right type for this style. The best pillow for a side sleeper should be firm and have enough 'loft,' which keeps your upper back and neck well aligned.
Quick Summary: Best Pillows For Side Sleepers
Here's a quick rundown of the best pillows for side sleepers:
Reviews: Best Pillows For Side Sleepers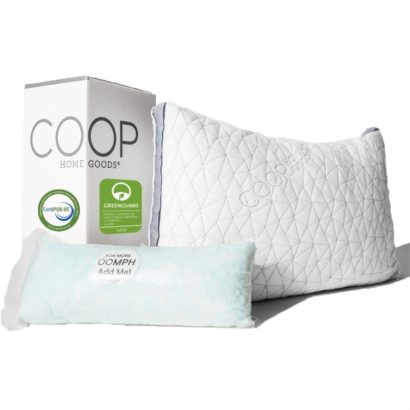 This pillow is filled with shredded memory foam and covered in polyester and bamboo-derived rayon for added side sleeper comfort. The Coop Home Goods Shredded Memory Foam Pillow is fully adjustable and contains hypoallergenic gel for extra coolness and firm support.
The Eden pillow offers sufficient spinal alignment with the open-cell solid structure, 3rd generation memory foam while providing total neck support. On top of being naturally dust, mite, and mildew resistant, this memory foam pillow is washable alongside its zippered covering.
Advantages
Fully adjustable
Comfortable with sufficient head and neck support
Hypoallergenic, mildew, dust, and mite resistant material
Maintains supportive firmness
Disadvantages
It can be a little too puffy for some side sleepers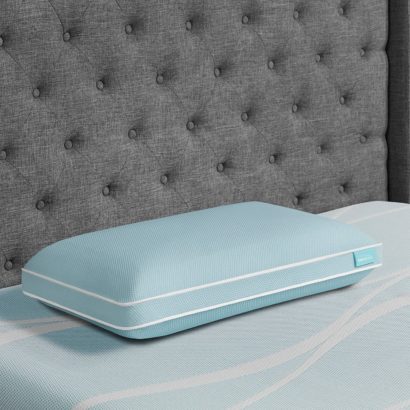 Anyone who's a side sleeper and experiences muscle pains, joint aches, or head and neck pressure points needs this pillow to improve their sleeping experience. The Tempur-Pedic TEMPUR-Cloud + Cooling ProHi Pillow offers the benefits of memory foam in a contoured shape that ergonomically supports your head by cradling it from the neck.
This pillow for side sleepers reduces discomfort and alleviates pressure buildup by improving your body's natural curvature and alignment. The pillow is made with proprietary foam technology for extra firmness, preventing your head from sinking while retaining its shape.
Advantages
High-quality materials with a long-life expectancy
Breathable polyester covering that can be removed and cleaned regularly
Available in small, medium, large, and travel-ready sizes
Reasonably priced with defects warranty
Disadvantages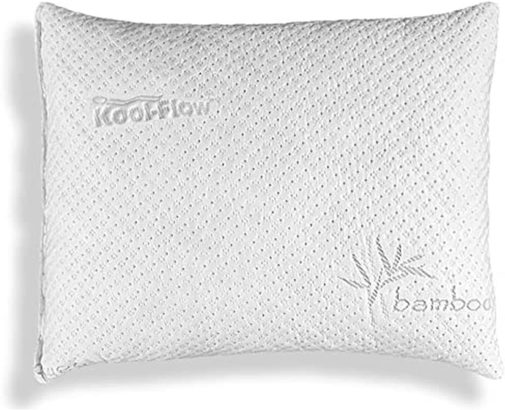 If you have allergy problems, this adjustable loft bamboo memory foam pillow is an ideal choice. The Xtreme Comforts Hypoallergenic Bed Pillow for Side Sleeper is dust and mite-resistant as well as hypoallergenic, thus keeping watery eyes and sneezes at bay.
This pillow remains uniform due to its premium shredded memory foam while being adjustable. You can remove filling to achieve your preferred density. The pillow's foam conforms to your neck, head, and shoulders' contours, promoting proper spine alignment for ultimate comfort.
Advantages
Fully adjustable pillow with inner zipper to fluff or flatten
Shredded memory foam that doesn't flatten and conforms to body shape
Soft bamboo cover that regulates night temperatures
Hypoallergenic for allergy suffering side sleepers
Disadvantages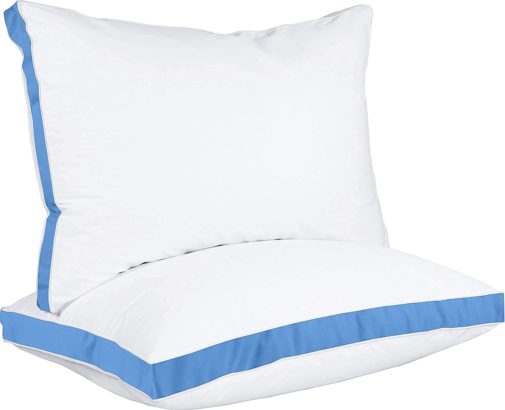 This is the plushiest pillow for side sleepers. It is an excellent choice for those that appreciate the higher loft for cradling the neck and head while sleeping. The Utopia Bedding Gusseted Pillow is soft and supports you with its thickness to sleep comfortably.
Gusseted sides give this pillow for side sleepers a stylish look, while its double stitching improves durability. The poly-fiber-filled pillow enhances comfort with its soft cuddliness, utter breathability, and sleep-inducing cuddliness.
Advantages
Extra fluffy and cuddly
Gusseted cotton-blend that's durable and stylish
It comes vacuum-sealed
Available in six colors
Disadvantages
Room for improvement on filling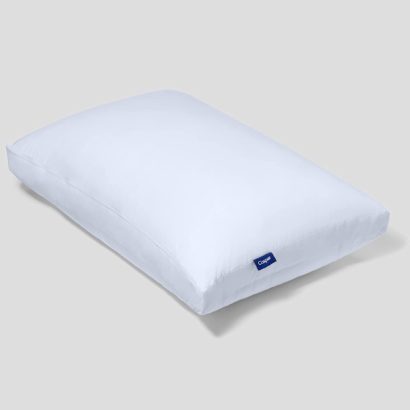 This pillow serves to eliminate your side sleeping woes of the back, neck, or head pain, not to mention fatigue from lack of sleep. The Casper Sleep Pillow for Sleeping features a 100% breathable cotton percale weave covering that increases coolness while you sleep.
Microfiber fill support is integrated into this innovative pillow for a resistant-to-clumping bounce, improving rest and comfort for side sleepers. Proper neck alignment is possible with this pillow's 2-inch gusset that acts as a backbone of its construction.
Advantages
Pillow-in-pillow design involving layers of low and high-density foam
Breathable 100% soft outer covering for cloud-like comfort
Cradles head and neck to relieve shoulder pressure
Medium-firm support for neutral spine alignment
Disadvantages
Larger sizes are fluffier with less support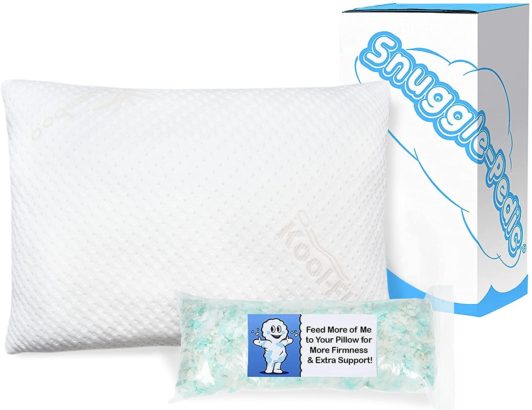 The Snuggle-Pedic Memory Foam Pillow uses GreenGuard gold certified 3rd generation memory foam and KoolFlow proprietary technology that keeps your ears cool at night. Besides its innovative polyester and bamboo cover, this pillow's micro vented extra breathable covering is machine washable.
You can rely on this pillow to offer neck support with the ability to stay firm due to the shredded memory foam stuffing that can be removed or added to adjust 'loft.'
Advantages
Fully adjustable by adding or reducing shredded memory foam
Kool-Flow Technology with bamboo cover keeps your head, neck, and shoulders cool all night long
Available in standard, queen, and king sizes
Maintains buoyancy even after long term use
Disadvantages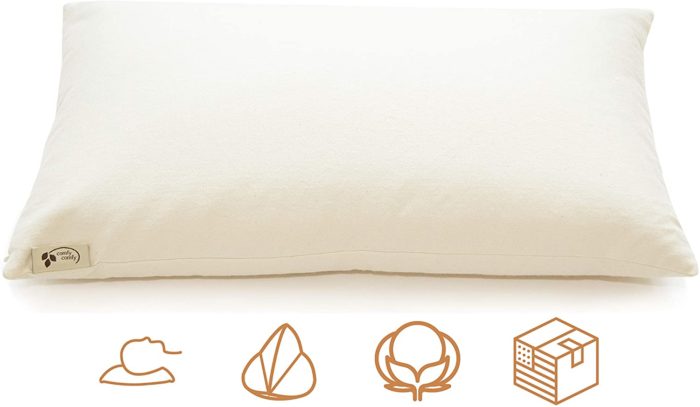 Natural buckwheat hulls, which are caned without chemicals or fumigants, make up this pillow's composition. The ComfyComfy Premium Buckwheat Pillow is made in the USA and is covered with organic cotton twill that dampens the buckwheat.
An extra pound of buckwheat hulls accompanies this product, augmenting the five pounds used to fill a queen-sized pillow. You can adjust the firmness and fluffiness of this pillow according to your preference. The buckwheat and top cover are extra breathable.
Advantages
Natural buckwheat, cotton, and cotton twill cleaned chemical-free
Breathable materials that allow comfort and coolness
It comes with additional buckwheat filling
Hand-woven in the USA
Disadvantages
It might be too hard for some users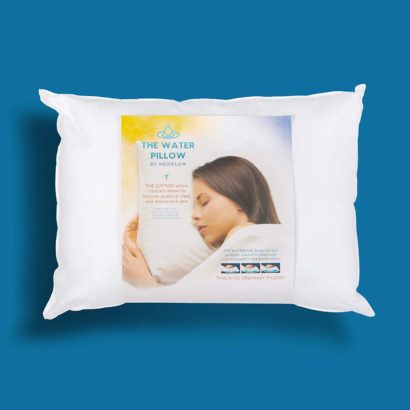 This therapeutic pillow is clinically proven to reduce neck pain and improve sleep for side sleepers seeking proper neck support. The Mediflow Fiber Water Pillow is made from a fiber layer that sits on a water pouch base, whose contents can be customized to suit your preferred head, neck, and shoulder support.
As you move around while sleeping on your side, this pillow adjusts itself as the water maintains the firmness around your head. You are guaranteed proper spine alignment with this Fiber Water Pillow that's cool and clinically proven to reduce neck strain.
Advantages
It is customizable by adding or removing water
Self-maintaining water supported firmness as you sleep
100% hypoallergenic cotton shell covering, insulated water pouch
Clinically proven to reduce neck pain
Disadvantages
Outer material discolors fast
Buying Guide: Best Pillows for Side Sleepers
Your head and neck are the main parts of your body that need support if you are a side sleeper. The best pillow doesn't sink too deep as this interferes with the alignment of your spine; neither does it feel too thick; otherwise, you strain neck and shoulder muscles resulting in blaring aches.
Every pillow is designed to provide distinct support and feel for the different sleeping positions adopted by people. No material or construction makes a pillow suitable for all sleepers as there are personal preferences and body types to consider.
When choosing the best pillow for side sleepers, take a keen interest in factors such as material composition, loft, and firmness.
Loft
This is the most vital consideration for a side sleeper, as it's the thickness of the pillow broadside that provides cushioning for your neck and head. Medium to high loft is a requirement that the best pillow satisfies, but if your preferences are variable, an adjustable thickness pillow will suit you fine.
Support
This refers to the firmness the pillow provides your neck and head, considering if the surface is even or uneven. Solid or shredded memory foam pillows and latex ones offer the best firm support for side sleepers.
Softness
A good side sleeper pillow should be soft but not too much, as this allows your head to sink and misalign your spine. A hard pillow will have your ears aching and your neck muscles stiff, and mid-level softness is the best option for a side sleeper as it balances and supports contouring.
Shape
Your pillow's shape and filling materials should be consistent, not the type that will compress with time. A pillow that you keep fluffing and puffing at night to achieve the correct shape won't be promoting comfort and rest, and it's not best for side sleepers.
What Materials Make the Best Pillow for Side Sleepers?
Taking your pillow for granted is detrimental to the comfort and satisfaction you should get from sleep, especially if you are a side sleeper. Pillows are essential to sleep quality, and keeping your spine in alignment trickles down to your health, fitness, and mood.
To enjoy better sleep, your local supermarket may not have the best pillow for side sleeper solutions. You'll need to look a bit further, focusing on the internal materials, weight, thickness, and outer covering.
Materials that make the best pillows for side sleepers include:
Memory foam
Water
Buckwheat
Gel
Down
Memory foam
Memory foam is an innovative product that's derived from injecting gas while a polymer matrix solidifies. This space-age material is now in its third generation, incorporating gel within the matrix for heat absorption and improved softness.
Pillows made from memory foam are durable, although, after years of taking your head's weight, they do tend to flatten and become hard.
Water
Water is an excellent material when used to make pillows for side sleepers, as they are adjustable by letting water in or out. While providing consistent neck and head support, aqua pillows also stay cool throughout your sleep and will rarely leak.
The only downside to sleeping on a water pillow is you can barely move it around at night if you're a restless sleeper. It takes more than a gallon to fill a pillow to consistent firmness, and a gallon of water weighs approximately eight pounds.
Buckwheat
The hulls of buckwheat make natural filler material for pillows that display firmness and the desired height or 'loft' for the side sleeper. One tremendous advantage is that being a cheap replaceable waste product, buckwheat is affordable, bringing these pillows' prices considerably down.
Buckwheat is non-toxic and conducts heat better than synthetic fibers, which helps to keep your head and neck cool throughout the night. You can also adjust the firmness of your buckwheat pillow by adding or removing some of the stuffing.
One downside of buckwheat is the noise, making crackling and whispering sounds as hulls rub together during your sleep.
Gel
Gel material for your side sleeper pillow is a great idea as long as it keeps together and doesn't separate. A good gel pillow offers firm support for your back, shoulder, and neck, while this material is superb when it comes to heat absorption.
It's no wonder that the best pillows for side sleepers made of 3rd generation memory foam incorporate gel to make these products firmer and cooler.
Down
Down are the softer inner feathers of ducks or geese, a material for pillow filling that's been in use for as long as anyone can remember. Pillows for side sleepers filled with down have excellent support while new, but the material eventually loses shape.
A flat-down pillow is retrogressive for a side sleeper, and you can bunch it together for more 'loft' or replace the stuffing. Down is also not cheap, seeing as poultry aren't willingly offering it, but the benefits of its natural, non-toxic softness often outweigh this fact.
What Are the Benefits of Sleeping on Your Side?
As the most popular sleeping position, side sleeping has a few benefits over stomach or back sleeping. One such is snoring, that ever-present bother that keeps your bedfellows awake and grumpy since sleeping is proven to prevent the tongue from falling back into the throat.
For the same reason, sleep apnea and acid reflux sufferers can benefit from side sleeping, while pregnant women often feel less strained when lying on their sides. Bolstering your position with a good pillow at your head and another between your knees provides additional comfort to pregnant side sleepers.
As depicted with the pillows reviewed, side sleeping is a significant contributor to preventing a misaligned spine or discomfort at the hips, shoulders, and back. However, the development of pressure points is contingent on how supportive your pillow is and how much it helps relieve this pressure.