Many people use a body wash several times throughout the week. Traditional body washes might contain harsh chemicals that not only dry and irritate the skin but also cause premature aging. Some contain synthetic chemicals that cause redness, and breakouts, among other issues.
Going natural or "green" when it comes to body wash gives you clear and healthier skin. The nourishing power of organic body washes offers essential oils and plant extracts that gently exfoliate the skin and deliver penetrating moisturization.
Quick Summary: Best Organic Body Washes
Here is a quick summary of the best organic body washes:
Reviews: Best Organic Body Washes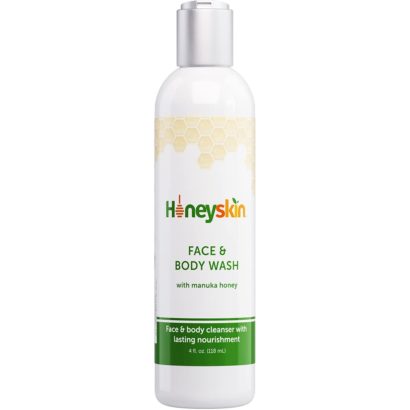 If your skin is sensitive or dry, the Honeyskin Face and Body Wash might be the right purchase. This face and body wash doesn't irritate and is hypoallergenic. It gives you a gentle exfoliating wash while moisturizing your skin.
The body wash doesn't deprive your skin of its natural oils. It features a well-balanced pH formula to give you a perfect wash without leaving your skin dry.
Unlike other body washes with chemicals, this organic body wash is safe. It contains organic and natural ingredients. It is free of fragrances, sulfates, parabens, and other chemicals.
The body wash protects your skin to give you a youthful look. It has a quality formula to prevent aging signs and ensure your skin doesn't get acne marks or dark spots.
Using the body wash is easy. You need to apply a small amount to your face and enough to cover your body. Lather the body wash on your skin gently, and then rinse well.
Advantages:
It features only natural ingredients
It leaves your skin soft and fresh
It gives you a radiant and nourished skin
Works well with sensitive skin
Disadvantages:
Not suitable for all skin types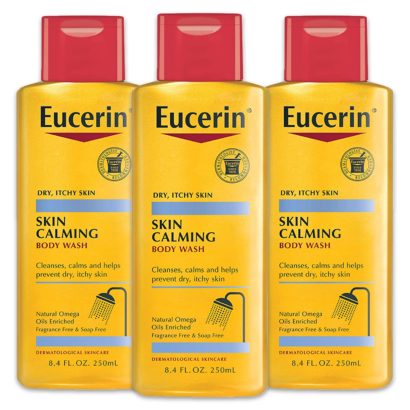 The Eucerin Skin Calming Body Wash is perfect if you have itchy and dry skin. This product not only calms but also soothes and cleanses your skin. You will get an ideal cleansing without depriving your body of moisture.
It doesn't contain dye or fragrance, nor does it cause skin irritation. This mild body wash features natural ingredients and omega oils to moisturize your skin. Therefore, you will retain the natural oils on your skin.
You will also love the mild lather of the body wash that gives you an excellent rinse without leaving some residues behind. If you have itchy skin, you will get relief after using this mild body wash. It is ideal for sensitive and inflamed skin. You can also use it in dry and cold weather to hydrate your skin.
Advantages:
Great for itchy and dry skin
It doesn't irritate or over-dry your skin
It gives you a comfortable and calm skin
Dye and fragrance-free
Disadvantages: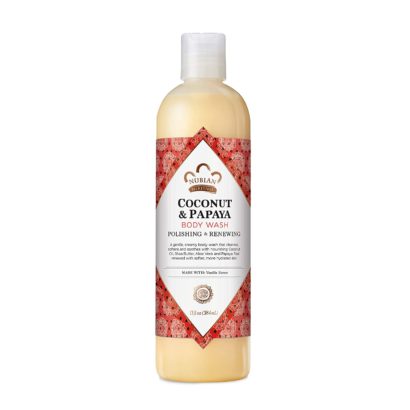 Don't stress your skin too much with harsh soaps that do more harm than good. Try the Nubian Heritage body wash for fresh and clean skin.
This body wash hydrates your dull and dry skin giving you smooth and soft skin. You can add this body wash to your regular skincare routine and maximize its benefits.
It has a coconut and papaya fragrance with vanilla extract infusion that gives your bathroom a pleasant smell. It also has healthy ingredients like coconut oil, papaya, aloe vera, and shea butter. All these give your skin a glowing look.
This hydrating cleanser leaves your skin moisturized and soft, thanks to coconut oil. The papaya also rejuvenates your skin.
It can be a great gift to a loved one who's into taking care of their body.
Advantages:
It has a pleasant smell
Cleanses and hydrates your body
It makes your skin smooth and soft
Great rejuvenating properties
Disadvantages:
The formula and the ingredients changed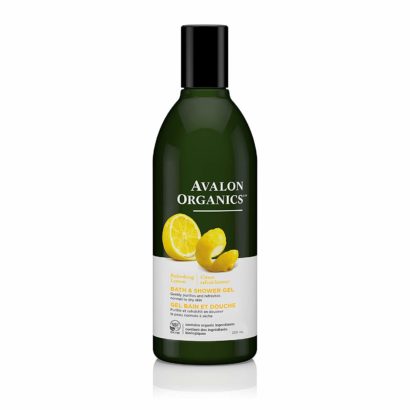 Enjoy a refreshing shower with the Avalon Organics shower gel. The lemon gel removes impurities on your skin and keeps you refreshed. It is certified organic, and it contains plant-based ingredients with essential oils and organic botanicals.
Unlike other shower gels you will find, this one doesn't contain synthetic fragrances, colors, parabens, sulfates, or harsh preservatives.
You can use the Avalon shower gel if you have dry or normal skin. It will nourish and replenish your skin, keeping it healthy. The shower gel also has a lovely refreshing lemon scent that elevates your mood.
Advantages:
It leaves your skin clean and soft
It only contains natural and organic ingredients
It contains essential oil and vitamin E to nourish your skin
The shower gel has a pleasant fragrance
Disadvantages: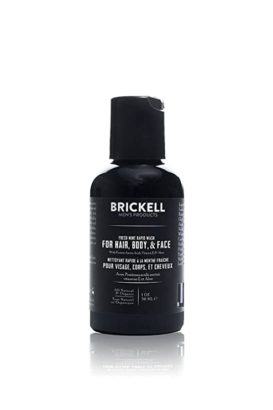 Surprise your man with the Brickell Men's Rapid Wash. This is a great male body wash with a fresh mint scent that any man will love. Not only does the body wash to cleanse, but it also hydrates your hair and body.
It works well for men of all ages with different skin and hair types. The performance of this body wash is incredible because it removes all grime and oils in your face, body, and hair without leaving them dry.
It contains vitamin E and aloe to moisturize your skin. Therefore, your skin will always stay hydrated. The key ingredients in this body wash are all organic and natural.
The body wash contains vitamin E, protein amino acids, aloe vera, and coconut cleansers, all organic and natural.
Using the body wash is easy. Apply some amount on wet face, hair, and body. Get a netted washcloth if you want to get a maximum lather, and then rinse it off well.
Advantages:
Removes oil and impurities without drying your skin
Works well for all men regardless of the skin or hair type
Cleanses and moisturizes your body
A pleasant fresh mint scent that energizes you
Disadvantages:
Great but not long-lasting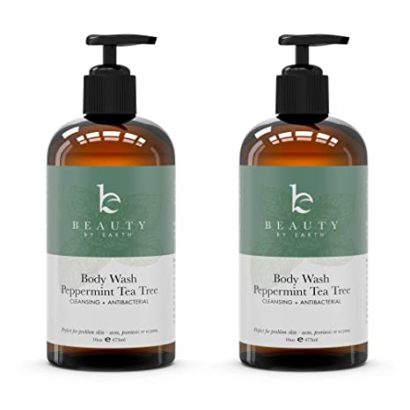 The Peppermint Tea Tree Body Wash is excellent for both men and women. This body wash works well in soothing blemishes on your skin. Additionally, it is ideal for people with oily skin or those prone to acne.
All the ingredients in this body wash are USA-certified, so you will not expose your skin to any harmful component. It includes powerful ingredients like peppermint essential oil, tea tree oil, and saponified organic oils. All these are great to eliminate impurities on your skin.
The body wash works well for people with various skin types. So, if you need a body wash for your family, this will work fine. It gives your skin a natural balance whether you have acne or oily skin.
Dispensing the body wash is effortless because it has an easy-to-use pump. You can use it daily, and it will last longer.
Advantages:
Works best for acne and oily skin
It has a fantastic fragrance
Great body wash for men and women
It cleanses and removes impurities
Disadvantages: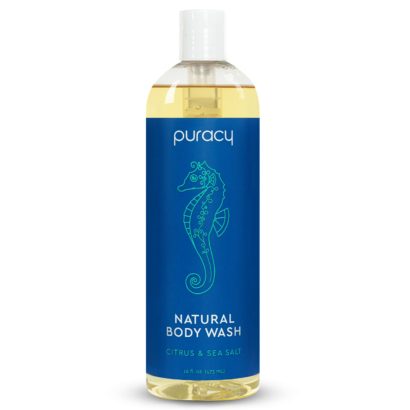 The Puracy Natural body wash is a unisex body wash that utilizes plant-based ingredients. It gives you a luxurious foam and a good cleansing. The body wash doesn't contain dyes, perfumes, sulfates, and parabens, among other harsh chemicals.
It contains vegetable-based moisturizers to hydrate your skin. Moreover, sea salt purifies your body and balances your pH. You can add this body wash to your daily skincare routine, and it will work well with all skin types.
After using the body wash, your skin feels silky, clean, soft, and smooth. The sea salt also gives you a nice ocean breeze air.
Advantages:
It lathers well, leaving your skin clean
It doesn't leave your skin dry
Rinses easily without irritating your skin
Made with plant-based ingredients
Disadvantages:
Some ingredients can react with your skin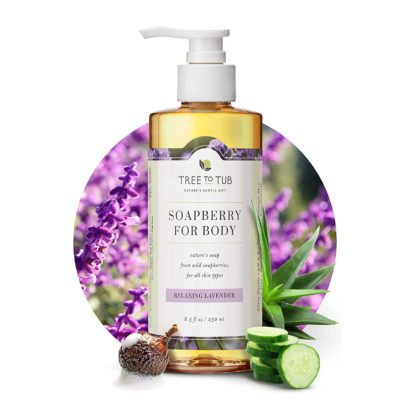 If you have sensitive skin, you should pay attention to the skincare products you buy. Get the Tree To Tub Moisturizing Body Wash which is purposely made for sensitive and dry skin.
This body wash contains wild ingredients that give your skin a refreshing cleaning without drying it. It leaves your skin soft, calm, nourished, and well-hydrated. The body wash is excellent for kids, men, and women.
The lavender shower gel contains soapberry that maintains the acidic pH close to 5.5. Other ingredients are chamomile, coconut cleansers, cucumber, aloe vera, and shea butter.
Dermatologists recommend this body wash because it is chemical-free, safe, and gentle on your body. So, if you suffer from winter dryness, sensitive skin, and dry skin, this organic body wash will hydrate your skin.
Advantages:
Lovely body wash for dry and sensitive skin
It doesn't contain harsh ingredients and irritants
It cleans and hydrates your body
The wild soapberry balances the skin pH
Disadvantages:
Not ideal for skin with eczema
Brickell is a top brand that specializes in premium skincare products for men that contain natural ingredients. If you need a cleansing shower without dryness or skin irritation, get the Brickell Men's Invigorating Body Wash.
The men's body wash contains natural and organic ingredients, which gives you a deep cleansing. It works well to get rid of sweat, grime, and oil without leaving your skin dry.
The glycerin enhances the maturation of skin cells, and it gets air moisture to leave your skin soft. The jojoba oil maintains the protection cushion on your skin after cleaning oil, grime, and bacteria. Your skin will also remain moisturized with the aloe vera included.
It doesn't contain parabens, silicones, gluten, synthetic fragrances, sulfates, and other chemicals. Men love the refreshing mint scent and the longevity of the body wash. If you use it daily, it can last for up to 45 days.
This refreshing body wash contains essential vitamins and extracts that moisturize your skin. It also has tea trees and coconut cleansers that remove grime and oil.
Advantages:
Has aloe vera to moisturize your skin and hair
Made with powerful and natural ingredients
No irritation or dry skin
It has a pleasant scent
Disadvantages: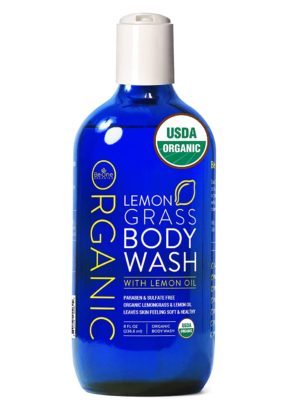 Men and women with sensitive skin or eczema will appreciate the USDA Organic Lemongrass Body Wash. It is all-natural and contains essential oils and other high-quality ingredients.
Using this body wash will repair and revitalize your skin. It has organic lemongrass oil combined with organic lemon oil to refresh and rejuvenate your skin. On top of that, it contains nourishing botanicals that work well on all skin types.
This USA-made body wash contains ingredients you are familiar with, and they are all organic. It has organic oils like sunflower, coconut, jojoba, olive, and shea butter, which leave your skin soft and beautiful.
Anyone can use this body wash regardless of gender, age, or skin type. It also works well for the whole body and is good for daily use. 
This safe and gentle body wash suits people with acne, psoriasis, and eczema. You can also use it if you have an active lifestyle. You can use the body wash with your ideal brush or loofah.
Advantages:
It doesn't dry or irritates your skin
Works amazing for sensitive skin
Refreshes and keeps your skin soft
Lovely scent and natural ingredients
Disadvantages:
Buying Guide: Best Organic Body Washes
Consider the following factors when in the market for the best body washes:
Type of Skin
This should be your first consideration before you pick any organic body wash. Choose a body wash that works best with your skin.
You will find all kinds of body washes to suit all skin types. The fact that you are going natural doesn't mean there is no room for allergic reactions.
So, know your skin type first, and then select a body wash designed for that skin type. You should always check the labels to establish the kind of skin recommended for a particular body wash.
Ingredients
What ingredients are used to make the body wash? Take your time and find out which components are present. You can consider quality and healthy ingredients like avocado oil, honey, turmeric, and olive that offer your skin plenty of benefits.
Be keen on harmful ingredients like colors, fertilizers, fragrances, and other things that can cause adverse effects on your skin.
Lathering and Cleaning Properties
We all want a body wash that lathers well. However, the lathering can vary from one body wash to the other. The more the lathering, the better the feeling.
Apart from lathering, you also want to consider the cleaning properties of the body wash. Fundamentally, the combination of various ingredients can make a formula with higher or lower cleaning properties. It is excellent to research well to get the best product.
Don't permanently settle for big brands because this doesn't mean the cleaning properties of their body washes are better. Sometimes even smaller brands can make quality body washes with excellent cleaning properties.
Colors and Fragrances
A body wash with a lovely fragrance will improve your mood and relieve stress. You can choose from various scents ranging from lavender, mint, coconut, and papaya, among others. When buying an organic body wash, make sure it contains natural fragrances and colors.
Certification
Lastly, you should consider brand certification. It is crucial to buy organic body washes from reputable brands. Some brands on the market can include a single organic ingredient and other chemicals and claim their organic products.
So, be keen and check the certification to ensure you are buying an authentic body organic body wash.