Magnets fascinate both adults and children. In addition to arousing curiosity, they also feed our imaginations and stimulate our creativity.
Magnetic toys foster early learning in kids while providing them with hours of fun. They are simple and fascinating to play.
Quick Summary: Best Magnetic Toys
Here is a quick summary of the best magnetic toys:
Reviews: Best Magnetic Toys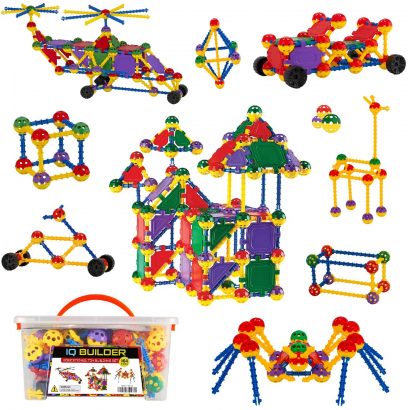 Looking for a comprehensive toy kit that would help build your child's IQ? Empower your child with the IQ BUILDER | STEM Learning Toys.
Any child from age 3 to 10 years old can use this kit. The set helps kids acquire the necessary skills needed to be bright and innovative. They are created with a strong emphasis on STEM learning.
The toys are designed to flex your child's mental muscles and promote the development of their critical thinking. They are suited for both home and classroom use.
The set comes with three instructional eBooks for beginner, intermediate, and advanced users. Help your child demonstrate concepts of physics, mathematics, and geometry with these toys.
Advantages:
Ideal for STEM learning
Effective for critical thinking
Each ball has 26 connection points
Fun IQ builder
Disadvantages:
Room for improvement in durability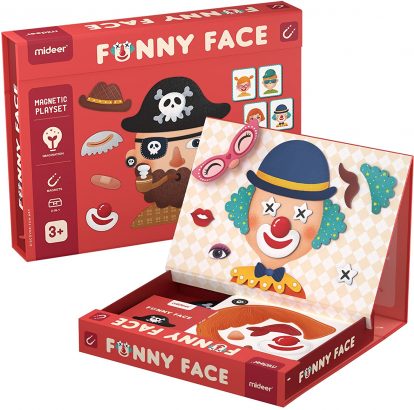 The MiDeer Magnetic Jigsaw Puzzles are designed to help your child grow skilled and ingenious.
Featuring an array of creative activity games, these giftable toys can be used as teaching tools at the kindergarten level. Joining them helps nurture the imagination and curiosity in kids.
The magnetic jigsaw puzzle includes 10 high-quality instruction cards and 50 premium magnets. The durable set also has a puzzle board with a drawer.
Made from eco-friendly materials, strong magnets, and soy-based ink, they are safe for everyone.
Advantages:
Highly durable
Nurtures curiosity and imagination
Magnets can be used on the fridge
Made from eco-friendly materials
Disadvantages:
Duplicate and missing magnets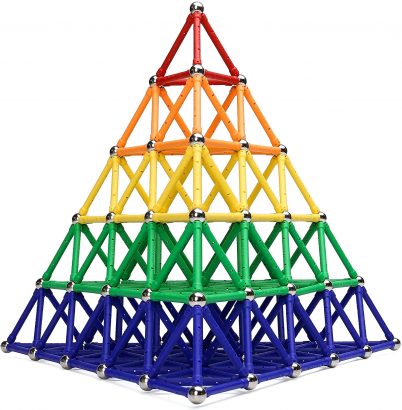 Foster your kid's creativity and imagination with the WITKA 200 Pieces Magnetic Building Sticks Block Toys.
The package includes 200 pieces of magnetic building sticks and non-magnetic steel balls. Every piece is safe for kids ages 6 and up.
Your child can make countless models and designs with 128 pieces of magnetic sticks and 72 non-magnetic steel balls.
Use the set to keep your kids busy, entertained, and learning new skills. Kids can learn more about color, counting, as well as flat or geometric modeling construction.
Advantages:
Great for STEM learning for kids
Safe materials
Ideal for making countless models and designs
Teaches children about color, counting, and construction
Disadvantages:
Room for improvement on sturdiness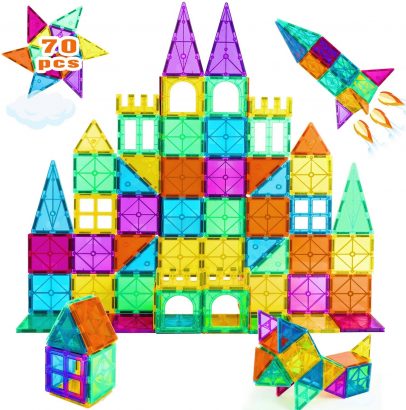 The Neoformers Magnetic Building Tiles will make life enjoyable and entertaining for your children. These 3D magnetic building sets are designed to engage young minds. The set improves your kid's geometric, mathematics, science, and architectural skills.
The tiles are a combination of fun and education for kids. Children get to enjoy hours of fun and activities that improve hand and eye coordination and fine motor skills.
The set helps your kid improve their teamwork ability and enjoy a sense of teamwork accomplishment. They are made from safe high-quality ABS plastic.
Advantages:
Safe materials
Improves fine motor skills
Improves hand-eye coordination ability
High-quality ABS plastic
Disadvantages:
Not ideal for small children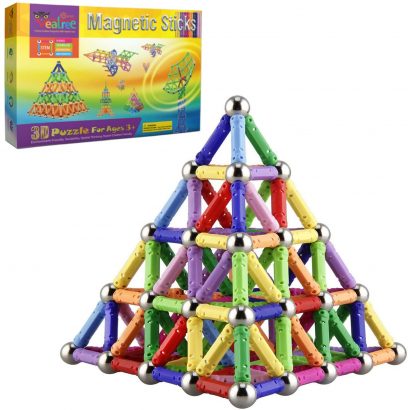 Engage your kids in a fun and educational activities with the Veatree 160 Pcs Magnetic Building Sticks Blocks Toys. The Veatree 160 Pcs Magnetic Building Sticks Blocks Toys are an excellent choice of entertaining and educational toys.
The environmentally-friendly toy set is made of odorless PP material. The 160 pieces are enough to create a variety of models and shapes. Your kid's graphic cognition and spatial thinking will improve drastically.
The sticks come in a variety of beautiful colors. Therefore, besides helping your kids acquire problem-solving skills and enrich their creativity and imagination. The set boasts colorful construction.
Advantages:
Colorful construction
3D puzzle toys
Helps develop brain thinking
No harmful substances
Disadvantages:
Children should use them under supervision because of their small size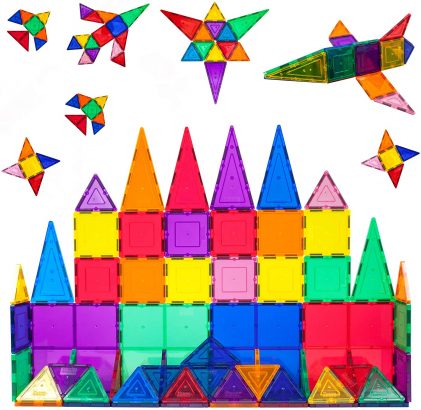 Your children can learn an array of things by playing with the inspiring PicassoTiles 60 Piece Set. They help kids build a strong sense of geometry, color, and numbers.
Since this set is enough for a variety of kids, playing together will help them bond with each other. They are suitable for children of all ages.
With a toy set like this, you realize that no child is too young to start developing creativity. They are designed to inspire ingenuity.
Advantages:
Perfect for pretend play and more
Reasonably priced
Ideal for children of all ages
Entertaining
Disadvantages:
Buyer's Guide: Best Magnetic Toys
Consider the following factors when in the market for the best magnetic toys:
Appropriate Age
One way of landing an appropriate toy is by considering your child's interests, skills, and age. With older kids, the process is easier as they already know exactly what they want. Generally, their peers or advertisements they've seen influence their choice.
Here are different ages and how to make a suitable choice:
1 – 2 Years Old
Kids at this age are curious. They feel, touch, and explore things. For this reason, opt for colorful and large magnetic toys. Settle for responsive toys that talk or sing when touched.
3 – 5 Years Old
Preschoolers, who mostly constitute this age group, are curious, imaginative, and energetic. Simple magnetic drawing boards and tile sets are appropriate for this age group. These not only inspire creativity but also introduce your kids to basic math and art.
6 – 8 Years Old
Children in this age group are into inventing things and figuring puzzles out. Open tile sets are ideal as they are educational and encourage invention.
9 – 12 Years Old
Older children in this age group desire toys that are a reflection of their personality. Magnetic dart boards and STEM toys will benefit kids in this age group greatly.
Type
Magnetic toys are available in different types. Each type serves a different purpose. Generally, the various types available are designed to provide kids with both entertainment and educational value.
Whether you need toys for building puzzles, doll toys, Lego games, or assembly models, settle for high-quality ones.
Purpose
Magnetic toys serve purposes such as entertainment, social, and education. Some are used to tell stories, make models, and solve mathematical, science, and geometry puzzles.
Safety
Generally, magnetic toys are safe for kids. However, those with accessories such as high-powered magnets can be dangerous.
Material
Refrain from toys made with low-grade plastics, especially if they contain BPA, lead, and phthalates.