Wearing a face mask has become a routine. While face masks cover your mouth and nose, they don't give 100% protection because your eyes are still exposed.
If you need more protection, getting the best safety face shield can be a great addition. Face shields protect your eyes, mouth, and nose from respiratory droplets and other foreign items.
If a person sneezes near you, the respiratory droplets will not get into your eyes. Additionally, they prevent you from touching your eyes or face when in crowded places.
Quick Summary: Best Safety Face Shields
Here's a quick rundown of the best safety face shields:
Reviews: Best Safety Face Shields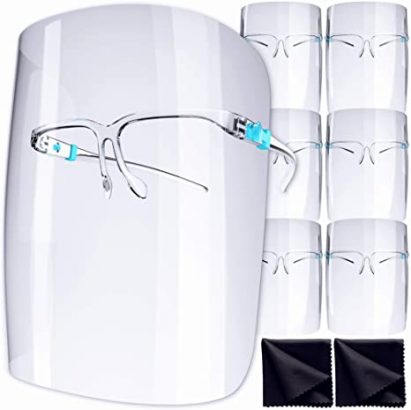 The Vizor Clear Face Shield is an adult-sized (11-pack) protector suitable for men and women. It is crystal clear since it is made with an anti-blur and anti-fog coating meaning you will always get the best clarity. These face shields also feature durable material and a nice look.
They provide adequate protection and a fantastic user experience. You will also love the lightweight design.
While it is lightweight, you will be surprised by its sturdy design and level of protection. The shield gives you total protection from other people's droplets when in crowded places.
Additionally, it is designed to offer a comfortable fit through its supportive goggle. After all, the fact that you want to be safe doesn't mean you should feel uncomfortable.
Advantages:
Durable
Lightweight
Includes two bonus microfiber cleaning cloths
Protective and sturdy design
Disadvantages:
Room for improvement on visibility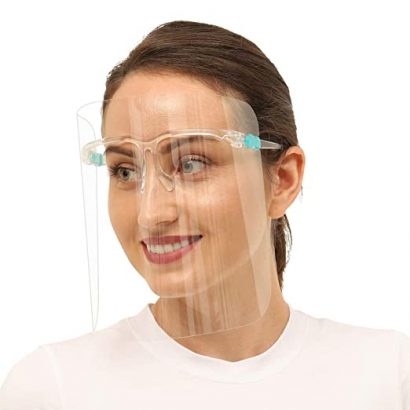 The EVanth Face Shield allows you to use it in different scenarios. It is made with anti-saliva, anti-dust, and anti-oil material. This face shield has one-size-fits for both men and women.
It gives you the best protection while maintaining crystal-clear vision. The shield gives you a full-face protection coverage of up to 180 degrees against splashes.
The face shield is durable and reusable. However, always remember to disinfect it before you wear it.
It is made of PET material that is lightweight and gives you all-day comfort. If you wear glasses, there is ample space between the lens and frame.
Advantages:
Made with quality PET materials
Splashproof
It gives 180 degrees of protection coverage
Breathable
Disadvantages: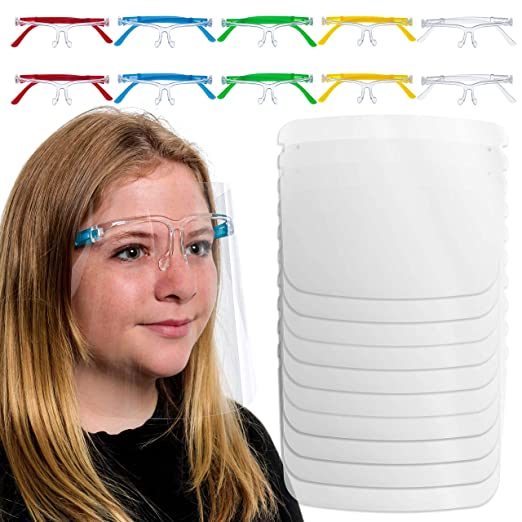 Protect your kid's mouth, nose, and eyes with the TCP Global Salon face shield. The package has ten face shields in various colors.
Kids find them comfortable to wear because they have mounted acrylic glass frames. They are also durable and provide premium protection to your little ones.
The easy-to-use shields are made of thick plastic. You wear the shield as you do with youth glasses over the ears and the nose bridge. Your kids can also wear glasses under the shield.
Kids get complete protection without necessarily using a headband. The safety shield features a flexible wrap-around construction to protect the front face and the sides too.
They give 180 degrees of protection, fully shielding the mouth, nose, and eyes. Therefore, no room for sneezes, coughs, saliva, and other substances from reaching your kid's face.
Apart from protection, the shields also offer clear visibility. They are anti-fog and ultra-clear. Even after extended use, you will not experience fogging.
Before you use this crystal clear shield, peel the protective film on both sides. Disinfect the shield, and you can reuse it several times. You also need to do some assembly.
Advantages:
Superior optics for better visibility
Made with a thick plastic material
Flexible wrap-around design for comfort
Protective and inexpensive
Disadvantages:
Assembling the face shield is difficult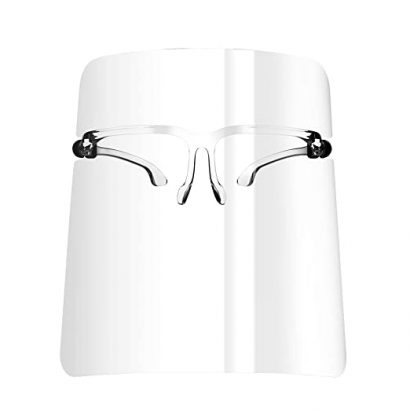 The XDesign Safety Face Shield is an effective six-pack safety face shield you can buy for your family. Each of the shields has a frame face shield. They are designed to suit all wearers.
It protects your eyes, mouth, nose, and face from dust, splatters, and other external sprays. Before you use the face shield, remove the protective film on both sides.
The shield has an excellent design to accommodate and support your eyewear. You will also get enough space on the inside, coupled with a supportive hook. The frame is super lightweight.
Like other face shields in our list, this one gives 180 degrees of coverage. It has a broader visor to provide you with more space and comfort throughout the day.
You will also get clear visibility every time you wear this face shield. It is made of anti-fogging materials to ensure no condensation or fogging builds up inside the shield.
Protect yourself while seeing all activities happening around you.
Advantages:
Great for professional and casual use
The glass frame is lightweight
Extra-wide visor makes it spacious enough
Reusable and offers a universal fit
Disadvantages: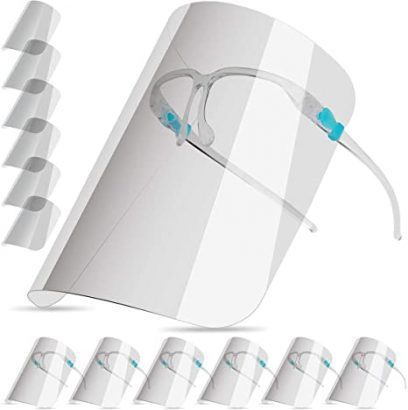 If you need professional protection, get the Salipt Anti-fog Reusable Face Shields. These transparent shields feature a large area from the eyebrows down to the chin to give your face complete protection.
Your face will not come into contact with saliva, dust, oil, droplets, and other substances. The glasses feature quality PET and acrylic material for long-lasting use.
You will receive acrylic glass that fits snug, even for eyeglass wearers. This face shield is clear, so it will not obstruct your vision. It features an anti-fog design and antistatic coating to give you the needed vision.
You will not feel fatigued even after using the shield for many hours due to its lightweight design.
The shield also gives 180 degrees coverage hence protecting your entire face drop foreign droplets.
You can also use these face shields for various purposes at home, outdoors, at work, or in your car. They feature an ergonomic design which makes them a top choice for most users.
Advantages:
Cover your face completely
Highly breathable and transparent
They offer multi-purpose application
It has an incredible ergonomic design
Disadvatages:
The rubbery pegs could have been more secure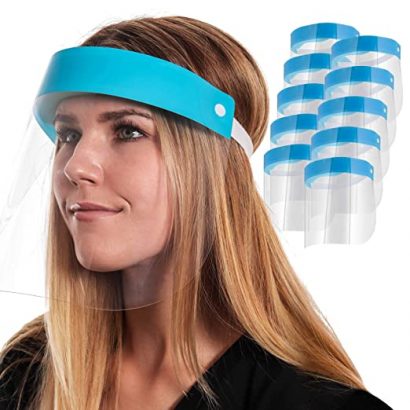 Salon World Safety Face Shields are a durable and suitable option for people who need sanitary face shields. They give you premium protection because they have an extra-thick plastic construction.
Every face shield in the package includes an elastic headband and forehead foam padding for comfort. You will get ample space between the face to eyeglasses, hats, and masks.
The face shields come in one size that fits all users regardless of their head size. Their flexible wrap-around construction provides 180 degrees of coverage to protect your face.
You can use the face shields in many workplaces like restaurants, schools, offices, indoors, and outdoors. They prevent you from getting foreign substances to your face.
These face shields are not only protective but also crystal clear. Enjoy better visibility since they allow maximum light transmission.
Advantages:
180-degrees of coverage
One size fits everyone
Feature a foam headband for comfort
Made with a thick PET plastic for total protection
Disadvatages:
They are not entirely anti-fog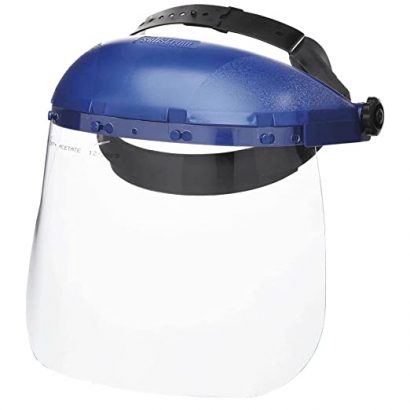 Protect your eyes and face from workplace injuries with the Sellstrom Single Crown Safety Face Shield. This is a scratch-resistant shield that gives you complete protection.
It is easily adjustable to provide users with a custom fit. You can adjust the twist knob and the ratchet suspension headgear to gain the flexibility and fit you prefer.
The shield is made of premium material to give wrap-around coverage. It covers your facial contours perfectly to protect you against splashes and other particles.
You will also get good above-head coverage with enhanced air circulation thanks to the blue
Advantages:
Ideal for construction and manufacturing workers
It gives you a pleasant facial contour
Scratch-resistant and easy to assemble
Easy height and fit customization
Disadvatages:
Buyers Guide: Best Safety Face Shields
Consider the following factors when in the market for the best safety shields:
Rigidity
A good face shield should maintain a proper shape. While they do not necessarily need to be thick or rigid, they should have the right shape.
You should also buy a face shield that matches your workplace requirements. Some organizations have a specific thickness needed for the face shields.
Coverage
Apart from protecting your face, a face shield should give you the best coverage. It should cover your face at least an inch from your eyebrows to the chin.
Additionally, it should have a nice curve to protect the sides too. Most of the safety face shields available are one size. So, if your head is larger than the average, you might not get the desired coverage.
You can also find face shields for kids, which are relatively smaller.
Design/Type
You can either choose a face shield that fits your head using an elastic band. Other types allow you to clip them on your glasses.
If you wear glasses, it is good to choose clip face shields because they enable you to fit your glasses under the shield.
For those who don't wear glasses, the band type is good for you. They offer a proper fit and versatility for many users.
Anyone can wear a band face shield because the elastic bands can stretch to fit various head sizes. However, you should consider a solid band that cannot skip and is easy to adjust.
Comfort
In a situation where you will be wearing your face shield for many hours, it should be comfortable. You can consider a face shield with foam padding on the forehead to maximize your comfort.
Type of Coating
The coating can vary in different brands, but most of them have an anti-fog layer. This is to ensure your face shield doesn't steam up hence hindering your vision.
You can find other types of face shields with UV-protective and antistatic coatings.
Disposable Or Reusable?
Based on your liking, you can choose a disposable or a reusable face shield. Whichever option you pick, you should follow the proper instructions.
For instance, if you choose a disposable face shield, wear it only once. On the other hand, disinfect reusable face shields. You should also keep your hands clean before and after taking off the face shield.