Proper lighting is essential in the kitchen. While many kitchens have overhead lighting, it is also a great idea to install the best lights in the cabinets.
Under-cabinet lights not only provide the best lighting for cooking, chopping vegetables, or stirring food, but also improves the ambiance in your kitchen.
You can also use them as evening light if you need something dimmer.
Quick Summary: Best Cabinet Lights
Here is a quick summary of the best cabinet lights:
Reviews: Best Cabinet Lights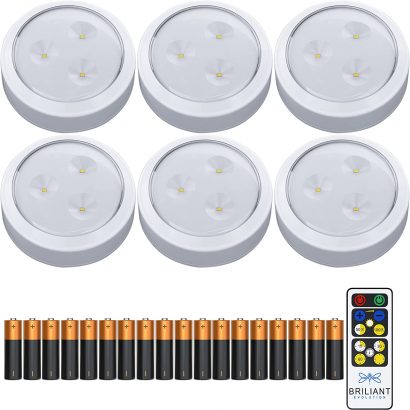 Improve your kitchen's ambiance with the Brilliant Evolution LED Puck Light. These battery-powered under-cabinet lights come with remote control and dimmer.
An auto-off timer is effective for the utmost control. It can turn it off in 15, 30, 60, or 120 minutes. With a wireless remote, you can control close to 12 puck lights when you're 15 feet away.
These LED puck lights produce 55 lumens which are sufficient to illuminate your entire kitchen. You don't need to replace the LED.
A selectable dimmer helps you regulate brightness. You can control the brightness by pressing the remote's 50% or 100% button.
Advantages:
Affordable and easy to use
Warm light
Solid construction
Long-lasting battery life
Disadvantages: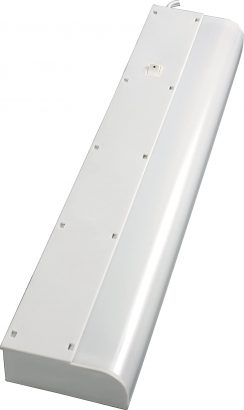 Give your kitchen, garage, or office warm, white light with the GE 16466 Basic 18 Inch Fluorescent Light. These plug-in electric lights work well as under-cabinet lights.
The easy-to-use cabinet light provides instant operation, thanks to the electronic ballast system. It is energy-saving and flicker-free.
This under-cabinet light comes fully assembled so it's ready for installation. The package includes an on and off rocker switch and a 5-foot cord.
It is made of sturdy plastic material for long-lasting use.
Advantages:
Suitable for different places in the house
Energy-efficient
Flicker-free
Easy to use
Disadvantages: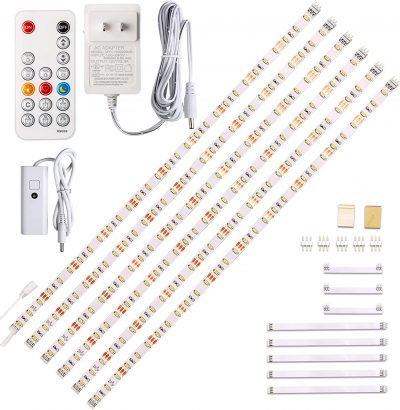 If you need a dimmable light for your kitchen cabinet, shelf, counter, or TV back, the WOBANE Under Cabinet LED Lighting Kit can be a great addition. The compact light has a modern and fashionable design.
You can achieve different types of connections with the 6-piece precut strips. Although the light is super-bright, you can adjust the brightness through the RF dimmer to suit your lighting needs.
The cabinet light delivers up to 1,500 lumens. You also get an RF wireless remote with hot buttons, dimming, timing off, dynamic, and rematch function.
The light is easy to install. You don't need any tools. You can easily set up the light bars without professional help. It comes with adhesive tape to protect your furniture.
Advantages:
Easy to use with the remote
Effortless to install
Adjustable brightness
Modern design
Disadvantages:
No light connectors included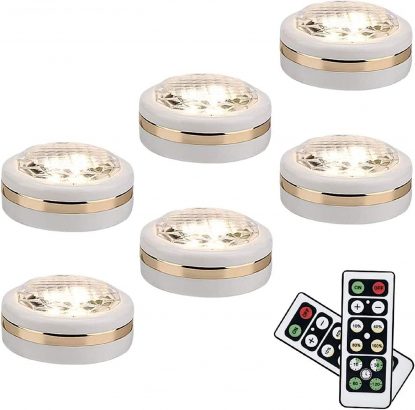 In addition to being excellent cabinet lights, these battery-powered puck lights can also work well as stick-on lights and closet lights. Emitting white light, they are easy to install and use.
The puck lights are made of plastic and electric plating which enhances their durability. They have dual control modes with the remote for on and off. The remote offers a control range of between 1.6 and 21 feet.
These lights have a selectable dimmer when you long-press the +/- on the light surface. You can use a remote to adjust the brightness from 10, 40, and 80 to 100 percent.
You can set the timer to turn off at 10, 30, 60, or 120 seconds. The lights feature an energy-saving design where that automatically turns off after 30 minutes when not in use. This lengthens battery life.
Advantages:
Dual control modes
Gives your kitchen a contemporary look
Impressive remote-control range
Energy-saving
Disadvantages:
The timer setting is not constant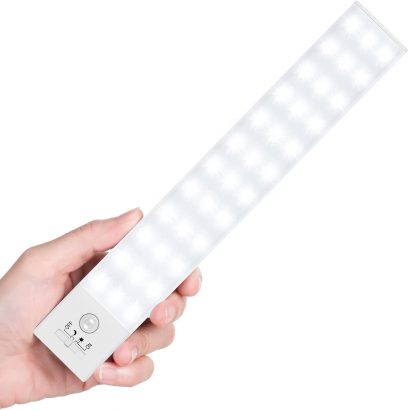 The BLS 36 LED Closet Lights boast easy installation because they have a strong built-in magnet. It features quality 3M adhesives that stick securely without damaging your furniture.
Apart from the under cabinets, this LED light also works on different iron surfaces like storage racks, shelves, and refrigerators. You don't need to use any screws, wires, or nuts to install the light.
The light has 36 bright LEDs that provide 180 lumens. It doesn't emit any harmful rays. The heat produced is minimal. The light has a long battery life which can last up to 120 days.
A motion sensor equipped with two sensor modes is ideal for various occasions.
Advantages:
Produces minimal heat
Incredible motion sensor
Easy to install
The standby time works well
Disadvantages:
Room for improvement in brightness

Light up your entire kitchen with this wireless LED light. It has a brightness of 65 lumens which is ideal for a closet light, kitchen light, or under-cabinet light.
Although battery-powered, it provides a warm white glow. You can mount it anywhere easily with screws or adhesive tape which are included in the package.
To use the light, simply press the tap lens to turn it on or off. It has a battery life of up to 100 hours. It uses 3 AA batteries which you buy separately.
The light's run time is 4 times more than other LED lights. Not only does this wireless light provide optimal illumination but is also aesthetically pleasing.
It has a sleek and powerful design. The LED bar is less than an inch thick.
Advantages:
Optimal light
Easy to mount
Sleek and slim profile
Excellent battery life
Disadvantages: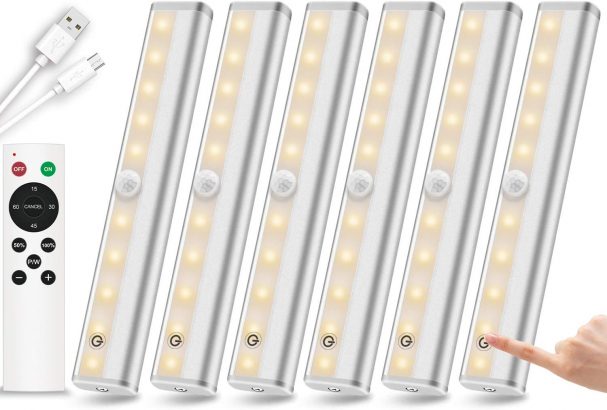 The A SZOKLED Remote Control Under Cabinet Lighting is durable under cabinet light made of aluminum material. The set has six wireless lights which are easy to install with adhesive or screws.
The light has a remote control, and timing and dimming features that make it convenient to use. It is easy to turn it on and off, adjust the brightness, set the timer, or switch LED lights on.
It offers three color modes and each light has a 20-piece bright LED. You can choose either cool white or warm light. The built-in rechargeable battery provides a run time of 2-3 hours on a full charge.
Install it in your home kitchen, cabinet closet, bookshelf, or shelf cupboard.
Advantages:
Attractive
Heavy-duty
The remote control works well
Suitable for adding light ambiance
Disadvantages: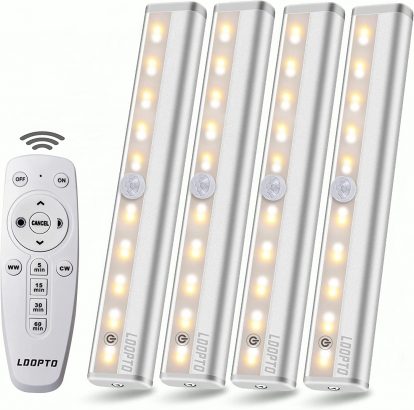 This dimmable under-cabinet light gives you two control options. You can choose to use the remote control or touch control when turning it on/off, adjusting the timing, brightness, or light color.
With the smart remote, you can control the lighting up to 50%t and 100% with the minus or plus button. Brightness is adjustable from 10% to 100%.
This light installs easily using 3M tape and a magnet. The battery life is about 15-18 hours on continuous use. If you want to reduce the cost of buying batteries, you can buy rechargeable models.
Each of the lights needs four AAA batteries. The remote uses 2 batteries but you have to buy them separately.
Advantages:
Sturdy and easy to stick
Big size
Easy to adjust the light color
Applicable in different places
Disadvantages:
Buyer's Guide: Best Cabinet Lights
Consider the following factors when in the market for the best cabinet lights:
Brightness
Brightness is measured in lumens. The higher the lumen, the brighter the light. The ideal lumen for under cabinet lights should be roughly 250 lumens per foot.
This means that a 2-foot fixture should produce around 500 lumens which is enough light across the counters. If you prefer puck lights, determine the spacing between them and the number of lumens in each.
Dimmable
It is prudent to install a dimmable under-cabinet light fixture. If you can't dim your light fixture, then you can control it using a dimmer switch. Make sure you choose a compatible dimmer.
Fixture Lenses
Fixture lenses are crucial because they create a uniform distribution of light. This minimizes glare on the counter. If you're buying xenon or halogen lighting fixtures, consider also buying a lens because they can glare.
Installation
Choose a cabinet light that is easy to install. This is especially true if you'll install yours personally. If you are installing the fixture by yourself, ensure you go through the instructions properly.
Depending on the type of light you choose, some may need wiring. Others feature a transformer that can be complicated to handle.
Energy Efficiency
The energy consumption in many under cabinet lights varies. You want to choose the most energy-efficient cabinet light. Some bulbs also burn warmer making your kitchen hotter. LED lights tend to be more energy-efficient compared to ordinary ones.
Color Temperature
Pick a light fixture with plenty of kelvin color temperature. However, if you love just one color temperature, ensure you get the one that matches your kitchen's color scheme.