Coat racks are a great way to organize your home and add a functional and classic piece to your space. With a coat rack, you can enjoy a convenient space for you and others to place outerwear once you enter the home or office.
The ones we have reviewed are durable and strong. Additionally, they have a great design and construction. Their material and capacity are impeccable.
Keep your office or home tidy by buying these coat racks
Quick Summary: Best Coat Racks
Here's a quick rundown of the best coat racks:
Reviews: Best Coat Racks

The Mind Reader Coat Rack is perfect for your home in the entry or hallway. You can also place it in the bedroom. It has three tiers of hooks with 11 organizing hooks in total.
Assembly is within minutes. The rack saves space as it keeps your things and those of your guests organized. With it, you can keep things off the furniture and floor and neatly hung.
This coat rack is a good choice for those that prefer the movable, free-standing type to the wall-mounted type. As it weighs only 5.05 pounds, it is easy to move anywhere in your office or home.
You can use this multipurpose rack to hang a coat, hat, purse, umbrella, and even clothes. With its small and large hooks, you can hang anything.

The OxGord Free-Standing Coat Rack is a 12-hook stand-alone coat rack. This versatile, modern rack is easy to assemble and disassemble into smaller functional pieces. It would be best if you used a flat-head screwdriver to assemble/disassemble in real-time. Its size makes it ideal for tight spaces.
Its three classic hall tree design looks to form a stylish decor. Place it in living and working areas such as dorm rooms, condos, apartments, offices, and homes. Position it near your front door, back door, in the bedroom, or home entry.
The OxGord Free-Standing metal coat rack is sturdy enough for winter jackets and light enough to be moved. It is a terrific storage alternative for a coat closet. The rack's lightweight nature allows mobility around your home or office.
Its sturdiness is a huge plus. Ensure you balance your coats to prevent the rack from tipping over. For stability, the rack utilizes a three-legged base.
Included in the package are hardware instructions and round hooks. A screwdriver isn't included. The package has screws to fast the rack for a safe, secure, and stable experience.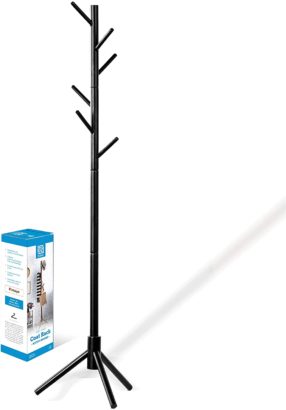 The ZOBER Premium Wooden Coat Rack has a heavy-duty construction that is super durable. It is made of 1.5-inch-thick, high-quality lacquered pinewood with three long legs for stability. With that, it can support heavy garments and outerwear.
With the instruction manual provided, you can assemble the coat rack easily with just a few steps. Its six sturdy, convenient hooks make it a multipurpose rack to hang different items, including coats, jackets, cardigans, scarves, hats, handbags, briefcases, laptop bags, and umbrellas.
With this coat rack, you will save space as it uses minimal space in foyers, living rooms, office workspace, and doctor's offices. Say goodbye to keeping coats in cramped closets.
The rack can be adjusted to your preferred height, which makes it kid-friendly. There are 2-sections for a toddler-sized rack, three sections for a kid's sized rack, and 4 for a standard, adult-sized rack.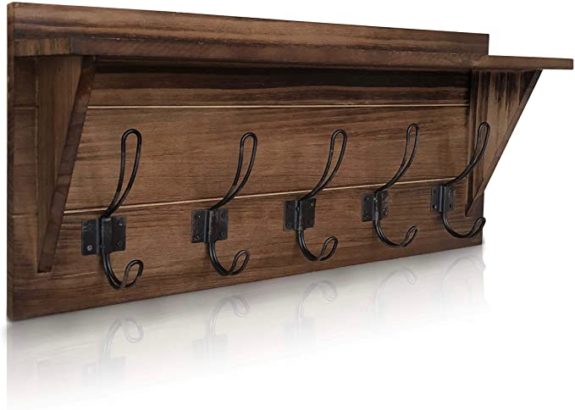 The HBC Creations Rustic Coat Rack is beautifully handcrafted with care and attention. Its toughness comes from the solid Russian pine wood. The toughness is coupled with a consistent aesthetic beauty in its design. This hand-selected design guarantees great quality and endurance.
It is built with a spacious design; the space between the rustic hooks measures approximately 5 inches. It is bigger than most common racks, allowing you maximum usability. Installing it on the wall is a breeze.
Enjoy long-term use courtesy of thick pine wood and sturdy metal hooks. It is designed in such a way that the coat will lay flush against the wall.
This 24-inch-long coat rack is ideal for all places. It has five modish hooks and a whitewashed style that matches most office and home decors.
With this rack, you can add a touch of rustic beauty to your entryway, hallway, kitchen, bedroom, and other places. The set includes screws for each coat rack, anchors, and a mini level.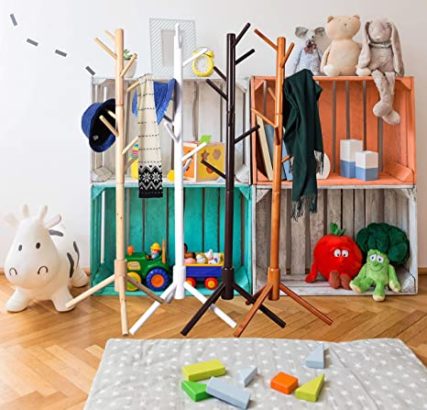 The Neasyth Wood Coat Rack brings with it not only a classy design but also a strong frame. It has three prong legs to achieve balance and stability.
This rack is designed with eight tree branches with reasonable angles, making it effortless for you to hang your items. Assembling it is a walk in the park as no tools are required.
It is made with high-quality, eco-friendly, solid wood that is sustainable, waterproof, anti-corrosive, and sturdy. Its wooden surface is polished, sanded, and painted using environmentally friendly paint. The surface is extremely smooth and without a burr.
The rack's tree design is ideal for your little one's room, hallway, adult bedrooms, entry room, hotels, and much more. You can hang multiple items such as hats, bracelets, skirts, and satchels with this rack.
With its stability, this rack can hold a weight of more than 80 lbs. The coat rack is adjustable to three heights – 68.5 inches for adults, 53.5 inches for kids, and 38 inches for toddlers.
If you have children, you can choose a rack with 4 or 8 hooks. Its design brings smooth and bright colors to the surface of the coat rack, thus making the whole thing look perfect.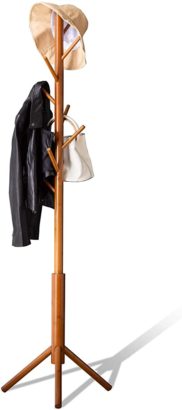 The BMOSU Bamboo coat rack has three adjustable heights and eight hooks. The eight hooks, which are five inches long, give you ample space to hang your family's belongings.
It is made using environmentally friendly bamboo and wood material. These undergo a process of high-temperature hot pressing and multiple polishing techniques that give it a super smooth, sturdy, and durable frame. This coat rack takes minimal space in foyers, living rooms, offices, and doctor's offices.
With this rack, you get to keep your accessories out from cramped closets and easily access them within the snap of a finger.
This coat rack is effortless to assemble. You don't need any tools. In addition to being durable, it can withstand even the heaviest and largest winter clothes.
Enjoy a 100% money-back guarantee upon purchase.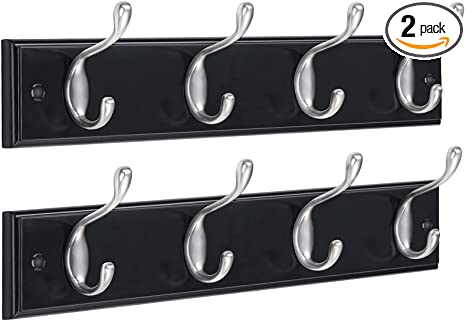 The Amanda Coat Rack is effortlessly wall-mounted with hooks. You no longer have to rummage through the house to find your clothes or accessories in a hurry.
Hang your coat, hat, backpack, scarves, purse, jacket, and keys on this rack. Mount it in your cloakroom, entryway, bedroom, kitchen, and bathroom.
The rack blends well with your home décor from its casual and modern design. It has a black medium density fibreboard with four sturdy zinc hooks that bring a charming decoration to your home.
Included in the coat rack package are two screw caps that cover the holes on the frame. Its wall-mounted design is space-saving compared to the traditional standing coat racks.
The rack's hook can hold up to 7.7lbs. It can accommodate heavy, thick coats, and even bags.
Buying Guide: Best Coat Racks
Consider the following factors when in the market for the best coat racks:
Type Of Installation
It is important to choose the right installation for your coat rack. The space available in your room determines this.
With minimal space, avoid picking a free-standing coat rack. These types take up a lot of room. For limited space, you need a fitted or hanging coat rack.
The different types of coat rack installations include:
Free-Standing Coat Rack
These are ideal for large spaces. They can be one piece of the element or several heads; it depends on the number of people using it.
A wheeled coat rack might be convenient if you want to be moving it around.
Wall-Hung Coat Rack
These are attached by fixing plugs through your wall. They are great space savers.
Hanging Coat Racks
Hanging coat racks are also incredible space savers. They can be hung on a door or wall. The fact that you only need to stick them means there's no need to drill holes.
Material
The right material for your rack is important in terms of style and quality. Some coat racks are made of untreated wood. Others feature wood that is painted or varnished.
Avoid placing them in the bathroom as water or moisture might damage them. Wooden or varnished coat racks are hard and ideal for every room.
Metal coat racks have a hard-wearing material that is suitable for all rooms. In this case, choose the stainless-steel type to avoid rust.
If it is a hanging model, ensure that it does not scratch the door, or use small feet pads to avoid rubbing.
Plastic is another material you should consider. Plastic coat racks feature a hard-wearing material. Most of them have fewer hooks.
Shape and Style
Coat racks can be used as decoration to match your home's décor. Hooks come in various styles and shapes from u-shape, spindles, round, square, and flower. Choose a style and shape that complements the scheme in your room.
The same applies to the fixing plate that is used to hold hooks. They also come in different shapes, from traditional rectangles to modern zig-zags.
In the case of a single hook, the hooks may be installed alone. They may also be fixed onto a plate.
Choose a coat rack that blends well with the décor of your home for a seamless decoration.
Different styles of coat racks include:
Traditional Coat Rack
It has a basic design of one or several pegs. Generally, it is made of painted wood.
Industrial-Style Coat Rack
It features a mixture of wood and dark metal.
Scandinavian-Style Coat Rack
It is a light wood that gives you an inviting feel.
Designer Coat Rack
This is full of finesse with modern designer shapes and curves.
Children's Coat Rack
It is colorful with different children's shapes, such as princesses and animals.
Position In Your Room
This is a great consideration when choosing a coat rack to suit a specific room. You can place your coat rack in different positions, including:
Hall Coat Rack
Coat racks placed in the hallways are practical and come in the form of a small cupboard with a hanging rail at the top and a small bench. They may also have fitted storage boxes, depending on the model you have.
A Coat Rack In The Living Room
You can have so much fun with coat racks tailored for the living room. They may be free-standing or wall-hung. Movable ones are also available.
A Coat Rack In The Bedroom
To save space in your bedroom, choose the hanging style coat rack.