Calling all steak lovers, tannins enthusiasts, and fruit-forward palettes! It's time to talk about your favorite drink of choice—a beautiful glass of red wine.
With so many makers on the market, you might think a pricier red wine means higher quality, right? Not really (thank the wine gods). From luscious pinot noirs to spicy malbecs, there are plenty of affordable and tasty reds out there.
Get ready to have your taste buds blown away with our best cheap red wine bottles.
The Dry Side
Most drinkers associate "dry" with white wines or rosé. But red wines can also range from mouth puckering bone-dry to pretty sweet. And with a rich meal (think lasagna or burgers), a dry red wine is the perfect pair. Let the natural flavors shine through with these top dry reds.
#1 Dow: Vale do Bomfim Douro (2019)
Red wine beginners, start here. This Portuguese blend is berrylicious, with enough softness on the tongue to drink alone or with food. Small notes of mineral and spice round out the flavors and add body.
Forward flavors – Blackberry, fig, mineral, light spice
Body – Medium
Region – Duriense, Portugal
Alcohol content – 14%
Bottle Price – $10 to $16
#2 Intrinsic: Cabernet Sauvignon (2019)
This isn't your typical cheap cabernet. Intrinsic balances out the usual fruitiness of American cabernets with an incredible array of side-flavors—everything from cooked tomato to whiffs of violets. A light smokiness and acidity brings an edge to each sip. It's maximum taste for minimal cost.
Forward flavors – Blackberry, plum, tomato, florals, oak
Body – Full
Region – Washington, USA
Alcohol content – 14.5% ABV
Bottle price – $19 to $22
#3 Fossil Canyon: Syrah (2018)
Oak undertones, dark fruits, a palette-cleansing dryness—what's not to like about Fossil Canyon's bold Syrah? This particular year is especially favored, carrying the earthy flavors that California is known for. Even better, you can score this special Syrah for a steal with our Vinesse Wines discounts—see all the cash back deals for yourself.
Forward flavors – Blackberry, oak, mushroom, soil
Body – Medium
Region – California, USA
Alcohol content – N/A
Bottle Price – $18 to $20
#4 Doña Paula Estate: Malbec (2018)
Looking for something really dry? Look no further than Doña Paula Estate's malbec. Everything smokey and sour informs this Argentinian wine's palette, flushed with dried fruit and tobacco flavors. But with Doña's high-altitude vineyards, the acidity stays low and smooth. You'll be left puckering and coming back for more.
Forward flavors – Plum, currants, leather, tobacco
Body – Medium
Region – Mendoza, Argentina
Alcohol content – 14.5% ABV
Bottle price – $12 to $15
#5 Bodegas Ontanon Crianza: Tempranillo (2015)
Affordable doesn't always mean super young. The Rioja region offers a selection of vintage reds for incredible prices, one being this Tempranillo. Spice and fruit lead the way in flavor, but notes of balsamic, truffles, and minerals follow with a smoothness that only age can provide. Also you won't be able to look away from the wine's ruby shade.
Forward flavors – Ripe berries, plum, cinnamon, tree bark, truffles
Body – Medium to Full
Region – Rioja, Spain
Alcohol content – 13.5%
Bottle Price – $14 to $18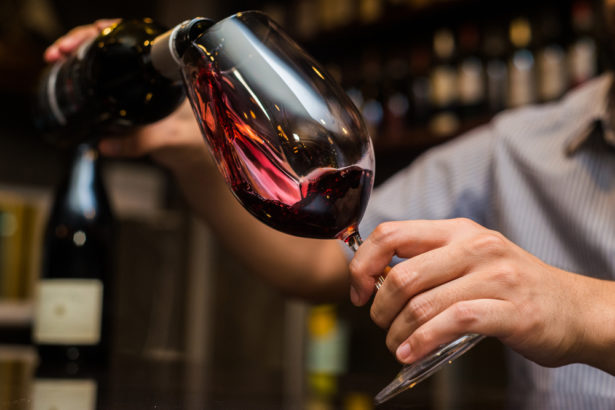 The Sweet Side
Sweet red wines can actually be quite nuanced, building off the delicious berry and spice flavors found in many grapes. Not to mention, they make a pretty stellar partner for salty snacks. And we promise one thing—these wines won't taste anything like juice. Start with our best cheap sweet red wine bottles for easy, budget-savvy sipping.
#1 Zo Wines Dry Creek: Zinfandel (2017)
The warm California climate makes for some lively Zinfandels, and this one is no exception. Zesty licorice flavors and peppery spice give that extra "zing" to the grape's natural sweetness. And with RebateKey's amazing WineLibrary deals, this special Zinfandel will please both your senses and wallet.
Forward flavors – Blueberry, cranberry, licorice, peppercorn
Body – Light
Region – California, USA
Alcohol content – 13.8% ABV
Bottle price – $19 to $23
#2 Grounded Wine Co: Public Radio (2017)
Looking for a red that's equal parts bitter and sweet? Grounded Wine Co. combined the powers of Shiraz, Petite Sirah, and Grenache grapes to produce this rich blend. Each sip starts with fruit-forward jaminess, rounded out by notes of baking spices and cocoa. By the end, you'll sense traces of tannins and smokiness on the tongue—a full-bodied experience that's well worth the price.
Forward flavors – Berries, dried cranberry, chocolate, cinnamon
Body – Full
Tannins – Medium
Region – California, USA
Alcohol content – 14.4% ABV
Bottle price – $25 to $30
#3 Bodegas Borsao Tres Picos—Garnacha (2019)
Fire up the grill, because you've got the perfect BBQ drink on the deck. This blend is sweet enough to temper a dish's spice, but acidic enough to cut through any fat. From a winning grape trifecta of Grenache, Malbec, and Syrah, it's got maximum body and a winning hint of sugar (not to mention, a decent ratio of alcohol per sip).
Forward flavors – Bitter cherry, blackberry, vanilla, peppercorn
Body – Full
Region – Campo de Borja, Spain
Alcohol content – 15%
Bottle Price – $8 to $16
#4 Cantele: Salice Salentino Riserva (2019)
The best way to describe this Italian blend? Darkly sweet. Made from 100% Negroamaro grapes, its deep color and bitter yet fruity taste make it the sensitive goth kid of wines. A spike of acidity helps the flavors sparkle, perfect for cutting through a meaty pasta sauce.
Forward flavors – Cherry, spice, florals, vanilla
Body – Medium to Full
Region – Puglia, Italy
Alcohol content – 13.5%
Bottle Price – $14 to $18
Keep Your Glass (and Shopping Cart) Full with RebateKey
It's true—we offer some pretty sweet discounts when it comes to wine. But drinks are just one tiny part of RebateKey's savvy shopping deals. Our incredible coupons, deals, and cash back programs will save you money across all store aisles, from electronics to shoes to delicious red wines! Sign up today, and watch the savings stack up tomorrow.
Sources:
Doña Paula Estate. Doña Paula Estate Malbec. http://donapaula.com/dona-paula-estate-malbec-2018-receives-92-points-from-james-suckling/
Food & Wine. Best Affordable Red Wine, $15 and Under. https://www.foodandwine.com/wine/red-wine/best-15-dollar-and-under-red-wines
Liquor.com. The 13 Best Cheap Red Wines to Drink in 2021. https://www.liquor.com/best-cheap-red-wines-5094897
VinePair. The 20 Best Cheap Wines Under $20 for 2021. https://vinepair.com/buy-this-booze/20-best-cheap-wines-under-20-2021/