Whether you refer to them as activity gyms, play gyms, or baby playmats, the idea is the same – an interactive and brightly colored mat for your little one's playtime.
Baby play mats come in an array of materials, themes, shapes, and sizes to offer a comfortable, safe spot for your baby to play and relax while at the same time work on developing skills.
Because of today's hectic, busy schedule, being with the little ones 24/7 is next to impossible. He or she can relax on an activity mat as you handle other things, such as making dinner, using the bathroom, or answering the phone.
Most of the ones we have reviewed in this primer provide an array of textures, sounds, and visuals that help babies:
Develop motor skills
Strengthen their shoulder and neck muscles
Prevent the development of a flat head
While you can use a baby play mat from day one, babies between 3 – 6 months old enjoy it the most.
Quick Summary: Best Baby Play Mats
Here's a quick summary of the best baby play mats if you happen to be in a hurry:
Reviews: Best Baby Play Mats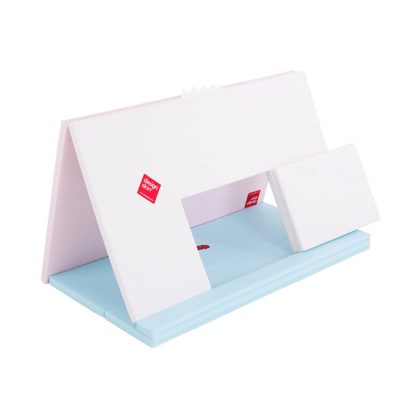 This mat, made from high-quality material, is non-toxic, soft, and smooth. The non-toxic material has an unrivaled noise and sound reduction.
Its environmentally-friendly material is compressed with a cross-linking interior and an aircell pad. It comes covered with handmade non-toxic polyurethane fabric.
The fabric boasts a unique softness that does not peel even after prolonged use. The different designs of the mat available complement your home's décor.
The accompanying tumbling mat is handy for older kids. On top of being more durable, they are thick and safe, meaning your kid can even do some somersaults on them.
Most of the mats in the market have boring, ordinary colors, but this one from Design Skin features a soothing pastel palette.
This mat is ideal for babies ages 2 months and above.
Advantages
Harm-free and soft corners
Attractive design to complement your home's decor
Non-toxic material
Doesn't peel
Disadvantages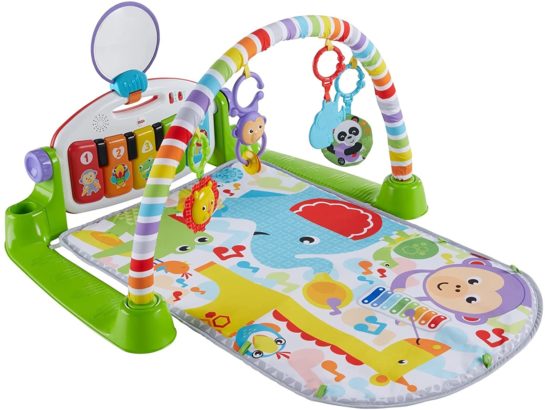 This deluxe activity gym features piano keys, a repositionable toy arch, and four musical settings to keep your child engaged.
As he or she grows or develops from lying to tummy time to sitting up, you can change some settings, such as the piano, music, and learning. This is all courtesy of the activity gym's smart stage technology that allows you to change the content to match the needs of your child's age.
Its piano notes allow you to create your own tunes. You can also detach the keyboard to have more fun.
This colorful play mat's repositionable toy bar has five activity toys that are handy throughout your baby's development stages.
The light-up piano has three smart stage levels with a freestyle piano play-mode to rock your baby throughout.
Advantages
Variety of textures and colors
Gross motor to strengthen muscles
Playful sounds, lights, and music
Lightweight
Disadvantages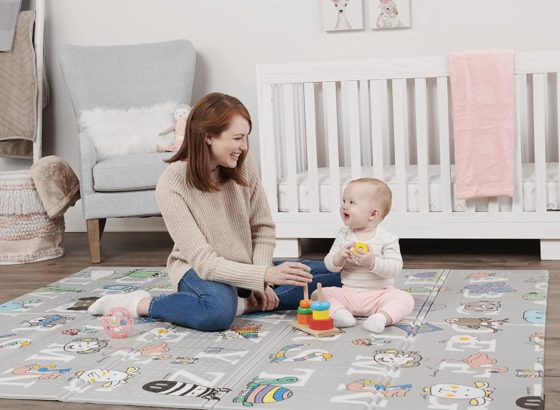 This is a super lightweight, foldable play mat ideal for home, outdoors, or even traveling. It creates a playing space by covering the hard surfaces.
You can fold it effortlessly to be tucked away for later use.
It has adorable alphabet characters on one side with a grey chevron pattern on the opposite side.
The mat is made from soft foam, which you can wipe easily with a wet cloth. It measures 77" x 71".
As your baby plays, he or she hears phrases and songs and watches different shapes and colors.
Choose from an array of bright colors, textures, and exciting songs to stimulate your baby's developing senses.
Advantages
Easy to set up and foldable
Effortless to clean and carry
Great for both small and large spaces
Ideal for outdoor and indoor use
Disadvantages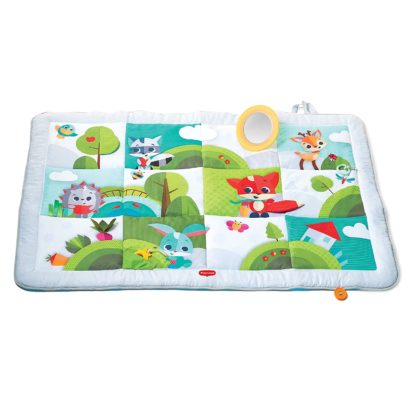 A striking attribute about this mat is that it is spacious to give your child more space to play. It brings with it various engaging activities to help your child's development.
You can fold it effortlessly, making it a breeze to carry to the beach or park.
The mat brings with it fun and engaging textures. It enables tactile and motor skill development.
A soft padded mirror promotes facial recognition, and a teether helps soothe your baby during playtime.
Advantages
Enhances facial recognition via soft padded mirror
Engaging and fun playful textures
Folds effortlessly into a compact size
Comfortable, plush padding
Disadvantages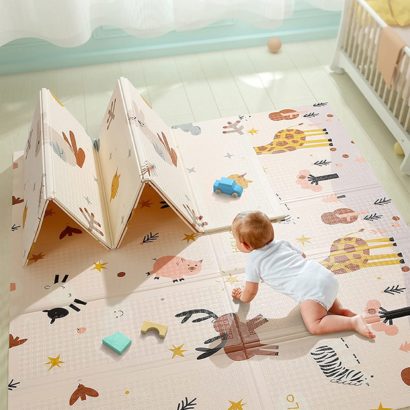 When it comes to babies, health and safety are always a priority. This mat brings with it a host of safety features that ensure your little one isn't harmed in any way when relaxing or playing on it.
It is made from high-density XPE foam to absorb impact in case your baby falls. The mat features cute patterns printed with vegetable oil ink, and it has grids with numbers and letters on its anti-slip surface.
It is BPA-free, non-toxic, and does not fade. The mat does not have a chemical odor. It is comfortable and safe for baby crawling.
Folding it is a walk in the park. This double-sided design mat has images of antelopes and giraffes playing in a forest on the front side, while on the backside, chicks and rabbits are playing on a farm. This is beneficial for visual development.
In terms of size, it is slightly bigger compared to many others on the market today (measures 77 x 70 x 0.4 inches). The 0.4-inch-thick mat protects your baby as they pass through the different stages of development.
The fact that it is lightweight means you can carry it almost anywhere you go.
Cleaning this waterproof mat is very easy. All you need to do is wipe it with a wet cloth and mild detergent.
A high-quality storage bag is available upon purchase to make carrying easy when on the move.
Advantages
Double-sided and foldable
Super lightweight
Thickened foam
Non-slip and waterproof
Disadvantages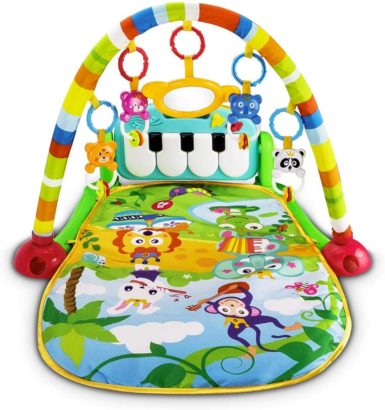 This mat not only boasts soothing music but also helps your baby increase hand-eye coordination and cognitive development. By playing with the multi-functional piano keys, he or she develops gross motor skills, self-awareness, hearing, sight, and sensory.
The activity gym, featuring an electronic piano, will entertain your child from infancy to toddlerhood.
It has early development toys for the baby, such as 5 detachable, colorful hangings, and piano music to stimulate the baby's sensory and physical coordination skills.
The kick and play piano activity gym have different play modes. They include lying, sitting, tummy time, kick, play and take-along.
The piano attracts the baby to touch it by making melodious sounds to raise his or her curiosity.
When it comes to music, it has three music modes. These are tailored to improve your child's listening, shooting, grabbing, grabbing, and kicking abilities.
It produces different tunes and flashlights upon touching.
In addition to having a smooth surface, it is also effortless to clean. The surface is edgeless, making it effortless to fold up and take outdoors.
Advantages
Highly interactive
5 different modes of play
3 music modes
Effortless to clean
Disadvantages
Room for improvement on its thickness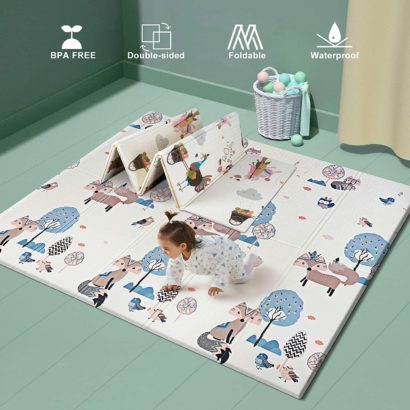 This is a very good type of mat to take care of your baby's needs when busy in the house or at the office. Its thick and soft material provides the greatest comfort for babies.
Its high-density foam reduces the impact to protect the baby in the event he or she falls. The foam is also handy at reducing noise.
It is waterproof, so you can easily clean it with a wet cloth.
The mat has vibrant colors to attract the baby. The different colors enable visual development and early education as the mat also has numbers.
It is ideal for babies ages 6 months and above.
Advantages
Healthy and safe
Foldable and reversible
Waterproof
Colorful design
Disadvantages
Not ideal for small babies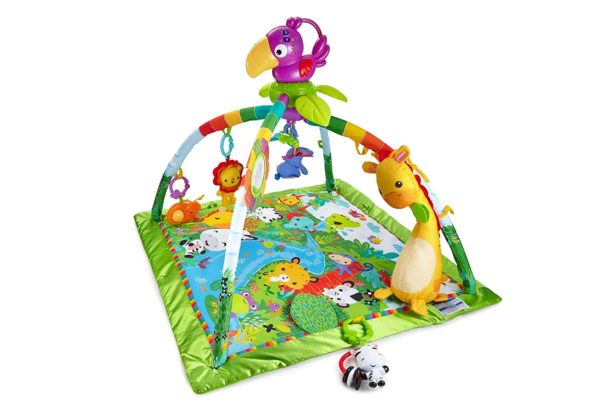 A great attribute about this mat is that it has impressive features to boost your baby's key development skills. Ultimately, he or she will be stronger in different facets.
Through kicking to activate the music, sounds, and lights, your baby learns how to operate things. Battling and kicking boost your child's muscles and gross motor skills.
Featuring more than 10 toys and activities, this deluxe gym is loved by many parents. Some of the notable toys to look forward to include a bat-at lion, soft monkey, rollerball snail, and clacker zebra.
The music plays for up to 20 minutes with soothing, baby-tailored tunes.
It has a self-discovery mirror, a multitude of colors, numerous textures, and sounds to delight your baby's senses.
Advantages
Removable toucan
More than 10 repositionable toys
Variety sounds, textures, and colors
Machine washable
Disadvantages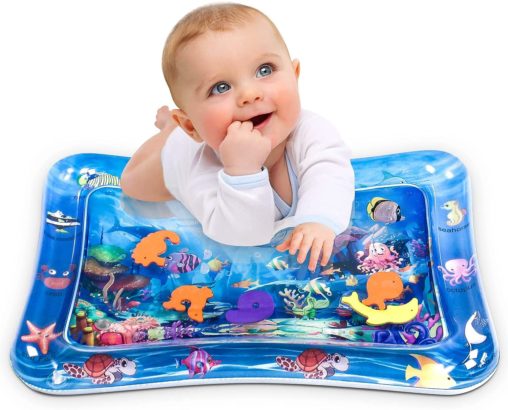 Allow your child to have the utmost fun and relaxation with the Infinno Inflatable Baby Play Mat. In addition to being high quality and safe, this activity gym is bigger compared to many of the others we've reviewed.
Its larger size coupled with other features, ensures your child has a fun time strengthening the arm, back, and neck muscles.
It's made from BPA-free materials. This mat is useful for sensory stimulation and improving motor skills.
The colored background picture is designed with underwater world creatures, like fish and octopuses, to tickle your baby's brain and enhance its growth.
It is ideal for infants ages 3 to 24 months old.
Advantages
BPA-free material
Easy to carry
Usage hints
An exclusive design featuring intense colors
Disadvantages
Why You Need A Baby Play Mat
Here are some of the reasons you need a baby play mat.
Improves Hand/Eye Coordination and Motor Skills
Baby play mats help your child to develop an array of skills, including but not limited to, hand/eye coordination and motor skills. This is made possible by an array of objects, designs, and music tunes.
Some have designs on the mat for your child to enjoy during tummy time.
Your baby will enjoy small hanging objects, such as a rattle, beanie, or teethers while playing on the mat. Grabbing these items develops hand-eye coordination and motor skills.
Stimulates Senses
Different colors and designs on a baby's play mat not only attract your baby's attention but also stimulates their senses.
Various patterns improve his or her visual development. This is especially with the black and white colors as these contrasting shades also stimulate their senses.
Listening to various sounds improves your child's auditory skills.
Sense stimulation is also achieved from textures that feel unique and interesting to their little hands.
Interesting Diversion to a Daily Routine
After swaddling and holding your child, he or she needs some diversionary activities to break the monotony. Babies need time to entertain themselves.
A baby gym is not only an interesting diversion to your baby, but also improves certain facets of their body as they grow.
The different types of characters featured on the playmats, coupled with the sounds they make, enhance communication between parents and guardians with their babies.
These entertaining diversions keep your child occupied for a given time as you tend to other activities.
Boosts Cognitive Development
Play gyms help in the intellectual development of your child.
They boost cognitive development through patterns, colors, shapes, sounds, imagination, and self-discovery.
Through the gym's play language and communication, your child can benefit from improved brainpower.
He or she can also benefit from problem-solving skills and critical thinking.
Boosts Freedom and Movement
It won't be long before your baby becomes active and enjoys freedom once he or she starts to play on an activity mat.
Infants need the freedom to move and have independence. They can achieve this by kicking, scooting, and rolling around, which encourages activity.
Ultimately, your baby grows confidently and securely without being attached to you.
Portable Activity Center for Families On the Go
It is easy to fold play mats and their attachments and travel anywhere. They are compact, lightweight, and portable.
Best Baby Play Mats Buying Guide
Consider these important features to land the best baby play mat:
Tummy Time Incentives
Building stability and core strength are highly important to your baby. One way of ensuring your little one enjoys core strength and stability is by buying a mat with plenty of tummy time incentives.
Choose a playmat featuring toys that you can place at eye level when the baby is on their stomach.
Interactive Toys
Your choice of mat should have interactive toys and features, such as lights and some music to engage the baby and help him or her grow.
Elements to Keep Baby's Attention
Choose a mat with high contrast colors, varying textures, and baby-safe mirrors to help with baby attention.
Spacious
Spacious mats give you the chance to be on the ground with the baby and explain everything that is happening, thus promoting their sense of curiosity.
Easy Care and Maintenance
Cleaning is a crucial part of a baby play mat. Choose one that is washable. This goes miles to maintain proper hygiene levels for your baby.
Modifications to Grow With the Baby
Most play gyms lose their appeal over time. You need a mat that you can modify as your young one grows. The modifications help meet the needs of your growing baby.