When you get engaged, your first feelings might be excitement, joy, and pure euphoria—you found the person you're going to spend the rest of your life with, it's amazing!
Then, the wedding planning begins, the wedding budget starts to form, and elopement starts to sound pretty tempting. From the moment you say "Yes" until the day of the event, it can feel like there are a thousand details to work out and a million things to spend money on.
Luckily, there are plenty of ways to cut your wedding cost down. This guide will lead you through tips and tricks on how to save money on a wedding every step of the way. With your plans organized and your money well spent, all you'll have to focus on is saying "I do."
Picking the Date the Cost-Effective Way
There are two key decisions that go into picking a budget-friendly date for your big day: the month and the day of the week.
#1 Selecting a Month
As you probably know based on the comment section of your official "We're engaged!" social media post, there's one question everyone wants answered about your wedding planning process: When's the big day?
It can be tempting to try for a spring or summer date, but the nicer weather may also mean significantly higher costs. Here are a few wedding date planning tips to ensure your saved date also saves you money:
Shoot for the off-season – The off season for weddings is November to March, most wedding venue dealers will typically shave off a considerable amount off of the rental fee during this period.

Try a winter wedding – IIf you're willing to risk chilly weather, a date in the winter months can be even cheaper. Plus, velvet gowns are extremely stylish and would be perfect for a brisk winter celebration.

#2 Selecting a Day of the Week
Weekends are the most popular choice for a wedding day as many people have off from work and have more flexibility for travel. So, weekends, and particularly Saturdays, are more expensive than weekdays.
If you're looking to save on rental fees, go for a weekday if possible. Or, maybe opt for a Sunday instead of the highly lucrative Saturday.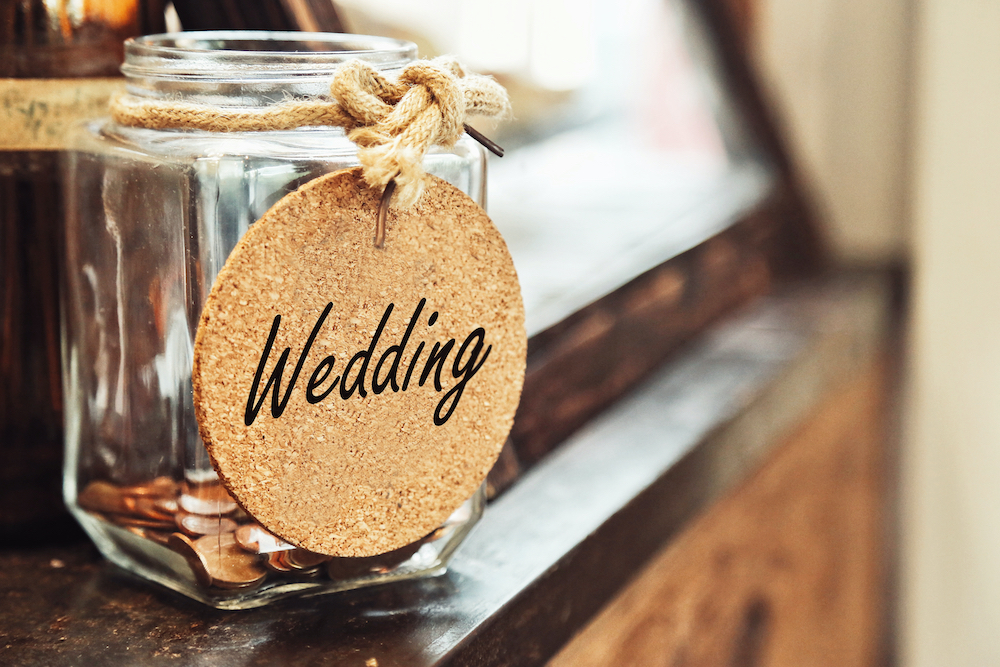 Save Money on Invites and Paper Goods
Your wedding stationery can be budget-friendly in every aspect, from the paper to the postage.
Here are a few easy ways to save money on wedding stationery.
Skip the inner envelope – The inner envelope is a traditional—but not strictly necessary—component of the invitations. You can opt for a colorful or decorative outer envelope instead of the interior envelope liner.
Choose your paper wisely – The heavier the paper, the more expensive the total. Using a heavier cardstock for all aspects of the invite will very quickly add up. Use single-ply rather than double for some (or all) of your insert cards—it will significantly reduce the cost.
Use a reply postcard – Rather than an RSVP card with its own envelope and postage, use a postcard. Postcards have reduced postage costs and do not need an additional envelope.
Print all at once – If you have multiple batches of items to print, such as your wedding invitation, save-the-dates, menus, ceremony programs, print them all at once. It can be significantly cheaper than multiple print jobs.
DIY assembling and addressing – Instead of paying to have your invites assembled and addressed for you, grab a pen and a few friends!
Finding Discounts on The Dress
The wedding dress can be one of the single most expensive items involved in your wedding planning. As the bride, starting as soon as possible can help avoid any rush fees or costly last-minute alterations. This tip also applies when shopping for bridesmaid dresses!
Once you and your bridal party start dress shopping, pay attention to sample sales, trunk shows, or promotions. Following local bridal salons on social media or frequently stopping in to see new designs can help you to take advantage of limited time offers for savings.
If you want to cut wedding expenses and you're still hesitant about buying your wedding gown, jewelry, or veil, consider making one or all of them your "something borrowed." Enlist the help of your family, friends, or wedding apparel rental company to help you find pieces you love at a much lower cost.
Reducing Costs on Florals and Centerpieces
Flowers are everywhere at a wedding: bouquets, centerpieces, wedding decor, boutonnieres, and even in hair-dos. Here are a few tips to help you save money on your floral funds:
Order a few wedding flowers in bulk – If you're wondering how to save money fast, buy your flowers in bulk. By ordering just a few kinds of flowers in bulk, you can save multiple dollars per stem which adds up enormously. Choosing in-season blooms will also help.

Fill out your centerpieces (without roses) – Instead of the traditional roses, consider choosing larger flower options like hydrangeas or sunflowers which only need a few stems to make a piece look full.

Make fillers the star of the show – Making full arrangements out of "filler" flowers such as carnations or daisies can be just as beautiful for a fraction of the price.

Lean into green – Adding in greenery, which is typically cheaper than flowers, can create a lush atmosphere in your wedding at a much lower cost. 
After you've chosen each floral arrangement, consider where you'll be using them. Have your blooms play double duty and reuse your flowers and centerpieces at both the wedding ceremony and the reception. There's no need to double buy!
Budget-Friendly Food and Drink Tips
Weddings are famous for their scrumptious foods and delectable drinks. But wedding food can also be a significant part of your wedding tab. Here are a few tips to keep things inexpensive and every wedding guest happy:
The Cake
The wedding cake is another iconic staple of weddings. But, you don't need to break the bank on a dessert that can feed hundreds. Choose a smaller, more decorative cake for wedding photos and cutting then have several less extravagant, and less expensive, sheet cakes for your guest list.
For decorating the cake, to cut wedding expenses, go for buttercream over fondant icing. Although fondant may be a bit sturdier and more decorative, buttercream is less expensive, just as beautiful, and tastes better.
The Drinks
If you're serving alcohol at your wedding reception, opt for a beer and wine bar rather than a full-service open bar. If you're planning to have a signature cocktail, reserve it for cocktail hour only and switch to a more limited menu for the wedding party dinner.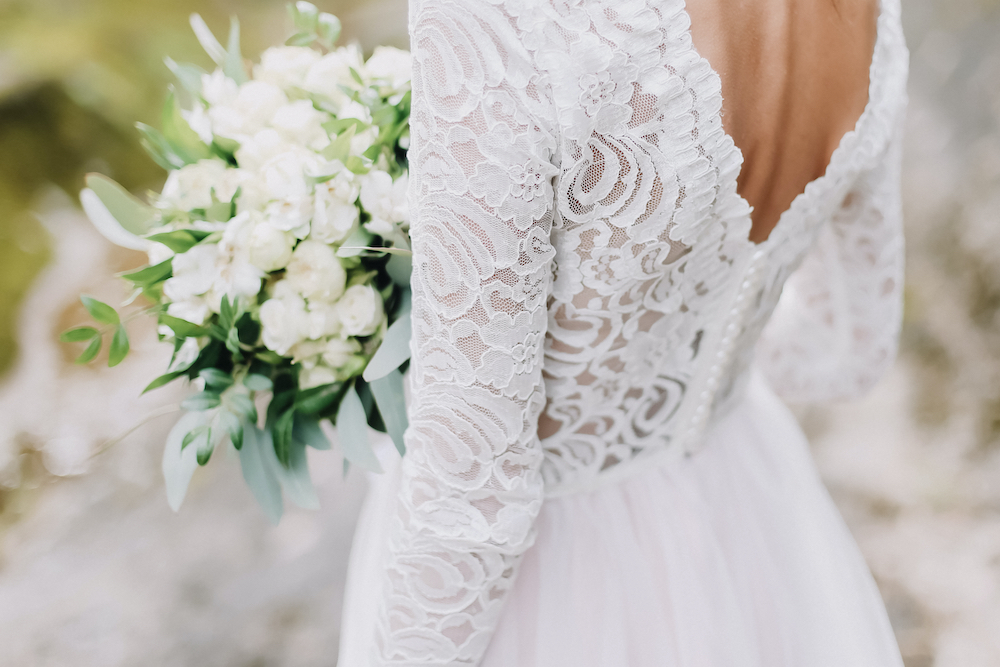 Never Pay Full Price Again with RebateKey
When your wedding day finally arrives, you want to feel good about every dollar spent. If you're organized and careful about where your money is going, you're sure to have an incredible, budget-friendly experience.
If you're looking for places for wedding savings, consider RebateKey your personal wedding planning hack. RebateKey is a cashback website that offers coupons and rebates on items you need for your wedding like decor, shoes, and so much more. But no need to clip coupons. RebateKey makes it easy to put cash in your pocket ASAP. 
Sign up today and say "I do" to a new world of savings!
Sources:
https://www.brides.com/save-money-on-wedding-invitations-5190339
https://www.brides.com/bridal-salon-shopping-guide-5191894
https://www.brides.com/story/how-much-do-wedding-flowers-cost-carmel-valley/