Sure, it's the thought that counts—but sometimes you're given a gift that you just don't want to keep. This could be for many reasons: it doesn't fit, you don't like it, you already have it, or you simply don't need it.
So, how do you return the item if you don't have the receipt?
If the item was purchased on Amazon, you're in luck. Amazon makes the gift return process straightforward as long as the item was purchased as a gift and you have the order ID number.
In this guide, we'll explain how to return your gift to whence it came and cash in on the credit for something you'd like better.
To Return A Gift As The Gift Receiver
Returning gifts can be a delicate situation—after all, you don't want to offend the gift-giver by letting them know you want to return the item. But as long as you have your order number and can confirm that the gift receiver purchased the item as a gift, you should be able to return it without their knowledge.
Follow these steps to possess your gift return as a gift receiver:
Log in to your Amazon account. If you don't have an account, you can create one for free using your email address.
Click on the "returns center" button.
Enter the seventeen-digit order number or order ID for the product that you want to return. This can be found either on the packaging slip that came with the package or on the receipt that was emailed to you.
Hit the search button.
Click the item that you want to return.
Submit the reason that you want to return the item.
Choose how you would like to return the item (UPS, Amazon Locker, etc.).
Continue through the rest of the prompts on the screen until they tell you that the return process is complete.
Depending on which return method you chose, you will either be sent a return barcode that you will scan at the location you are returning the item to, or they will provide you a return shipping label for you to print and affix to your return box.
Once the item is returned and processed, the refund amount will get added to your Amazon account gift card balance for you to use on future Amazon purchases.
Did your friend or family take advantage of 1-day shipping to get the item shipped to their door before wrapping it up? In that case, your best option is to have the gift-giver process the return for you through their account.
To Return A Gift As The Gift Giver
Wondering how to return gift on Amazon after purchasing the wrong item or getting some less-than-thrilled feedback from the giftee?
It's easiest if the item is still in your possession. But if it's still in the hands of the giftee, you can complete most of the process online before sending them the information for how to drop off or ship the item.
Otherwise, the process for returning is simple, since the order will be processed like a typical Amazon return.
Follow these steps:
Log into your account and go to "my orders."
Find the item that you would like to return.
Click "return or replace items."
Select the item you want to return.
Say why you would like to return the item.
Choose where and how you would like to return the item.
Receive either a return barcode or return shipping label.
After you (or your giftee) has returned the item, Amazon will give you the choice of how you would like to receive your refund. You can have it automatically put onto your Amazon account balance or it can be put back onto your original form of payment, which takes a few days to process.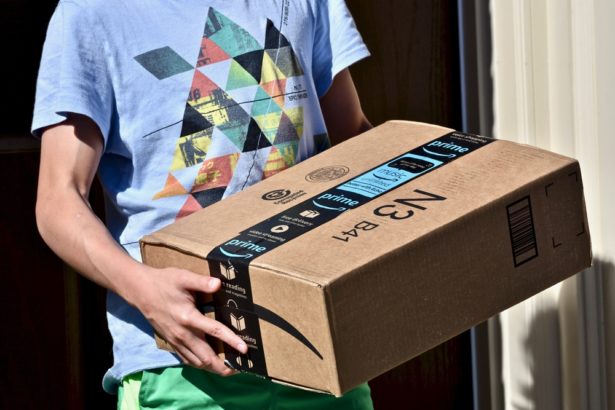 Tips For Returning Gifts On Amazon
To make sure your return is processed without a hitch, follow these steps for maximizing the chances that your package is safe during transit.
Be smart about your packaging. Make sure it is durable enough to hold the items you pack and is sealed well.
Remove all other labels from the box before you affix the new return label.
Put the return label in a visible spot and protect it from getting damaged during its trip by covering it in plastic tape or inserting it into a clear plastic mail slip.
Don't include items from multiple orders in the same return package. This may seem efficient, but it can delay the return process.
Return the item in the same condition that you received it in.
Use RebateKey To Unlock Amazing Savings
Once you've safely returned the gift to Amazon, you'll naturally need to order a new gift (whether for yourself or your disappointed gift recipient).
If you want to stretch your money on Amazon, add RebateKey as your online rebate finder. Get ready to save money while you shop and find the best gifts for your family and friends for the best prices.
And promo codes from RebateKey can snag you some pretty spectacular deals on Amazon. Start shopping and saving today!
Sources:
Amazon. Help: Return A Gift. https://www.amazon.com/gp/help/customer/display.html?nodeId=GMTDJ6XPUMN7NWNB
Good House Keeping. How To Return Gifts From Amazon Without the Sender Knowing. https://www.goodhousekeeping.com/holidays/a34330053/how-to-return-gifts-on-amazon/