Most car owners want to enjoy quality, crisp, and deep bass in their rides. If you don't like the subpar sound of your speakers, you can upgrade with the best bass speakers for cars.
The type of speakers you choose can make a huge difference when listening to the radio or streaming music. Choosing bass speakers for a car can be overwhelming with the multitude of models available on the market.
If you are considering swapping your current car speakers with more powerful ones, choose any of the below ones.
Quick Summary: Best Bass Speakers for Car
Here is a quick summary of the best bass speakers for cars:
Reviews: Best Bass Speakers for Car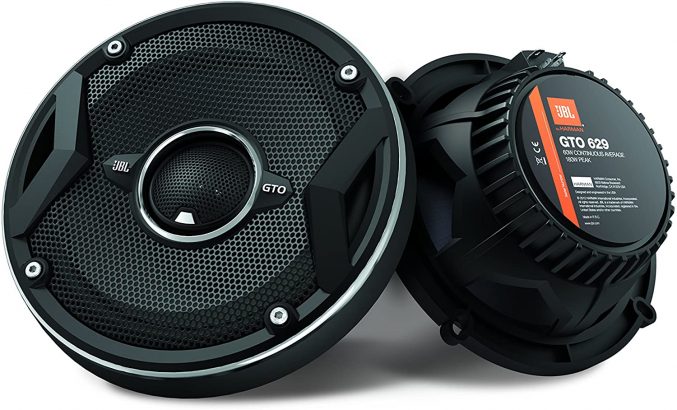 JBL boasts a record of accomplishment when it comes to the production of high-quality audio systems. This one is no different.
Transform the audio experience in your car with the JBL GTO629 Premium 6.5-Inch Co-Axial Speaker. Installing these durable speakers is effortless.
They come in popular factory sizes and hence great for upgrading or replacing. The speakers are not only carbon-injected but also have one larger cone to produce more bass.
The patented Uni-pivot tweeter makes it easy to direct sound to your ears. Additionally, adjusting the volume with a dual-level tweeter is easy.
Advantages:
Durable construction
Easy to install
Uni-pivot tweeter
Easy to adjust the volume
Disadvantages:
Requires an amp for more power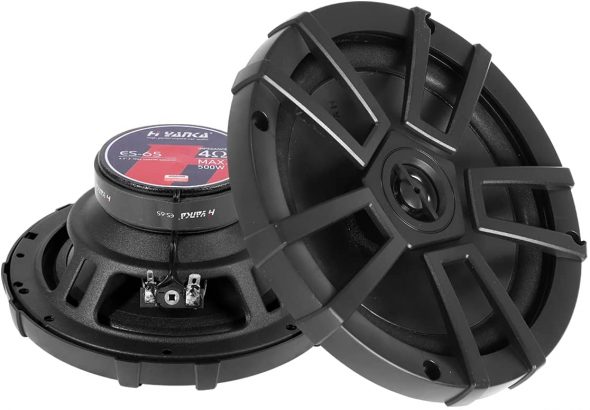 Enjoy rich and warm sound with the H YANKA ES-Series 6.5 Car Speakers. They have a maximum power output of 500 watts coupled with stereo audio mode.
The speaker set includes two 6.6-inch coaxial speakers with 0.5-inch tweeters.
Unlike other car speakers, this one has a new design for crisp sound. It is equipped with a neodymium tweeter that ramps the volume up at higher frequencies.
A treated rubber surround combined with a woofer UV-treated polyester minimizes the chance of damage. EVC technology enhances the woofer's performance.
Installing the speaker is easy and fast.
Advantages:
Neodymium tweeter for volume ramp up
UV-treated polyester
500-watt power
EVC technology
Disadvantages:
The tone should be deeper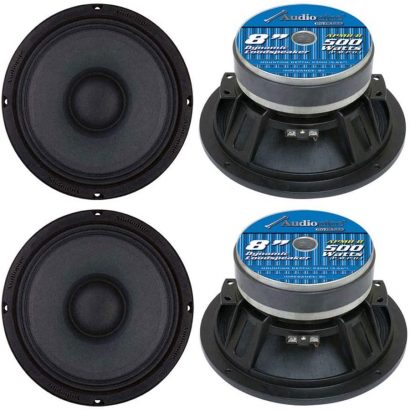 A striking attribute about these high-quality bass speakers is that they can handle higher RMS power with little distortion. The Audiopipe APMB8 Car Audio Loudspeakers use up to 250-watts of continuous power for top-notch sound.
Regardless of the type of music you listen to, you can always get the best sound quality from these speakers. They have a die-cast aluminum basket that can handle beating.
The speakers have a frequency response of 656,000 Hz and a sensitivity of 95 dB.
Advantages:
High-quality amplifier
Die-cast aluminum to handle beating
Provide distortion-free sound
Higher RMS power
Disadvantages:
Room for improvement in durability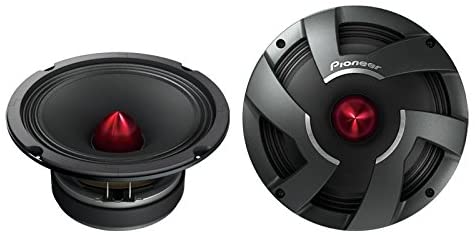 Pioneer, just like JBL, is a reputable brand in audio systems. The Pioneer TS-M800PRO 8-Inch Car Speaker is an 8-inch speaker with a power handling peak of up to 1400 watts in each pair.
Each speaker has 700 watts and 180 RMS of 180 watts each. They feature an optimally blended cone construction for great sound.
The speaker's surround is corrugated. An oversized magnet motor makes it effortless to boost the sound quality.
Advantages:
Oversized magnet motor for a boost in sound quality
Great power handling peak
Heavy-duty construction
Reasonable pricing
Disadvantages:
Room for improvement on the noise level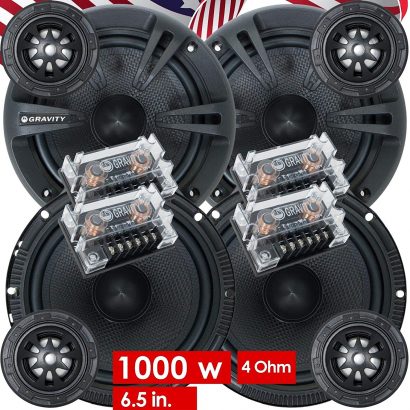 The Gravity 600C Car Audio Component Speakers System has a maximum power output of 500 watts and 170 watts RMS. This is enough power to produce high, lower, and mid-level sound.
The set has a 6.5-inch 2-way component speaker that includes 4 tweeters, 4 bass, and 4 crossovers. They are equipped with an aluminum voice coil and IMPP cone that features a butyl rubber surround and carbon fiber finish.
The speakers have a transparent professional 2-way crossover. They have separate and balanced dome tweeters that enhance the precision and clarity of high-range music notes.
Advantages:
Remarkable power output
Carbon fiber finish
Separate and balanced dome tweeters
Quality aluminum voice coils
Disadvantages:
Seems weak with the stock head unit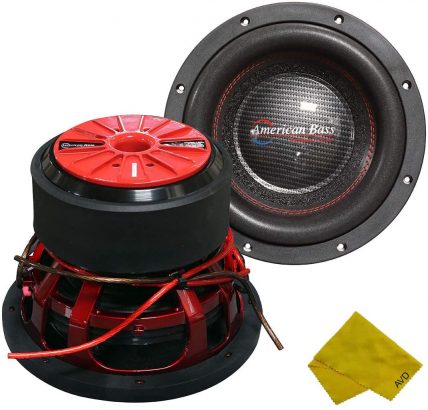 Enhance your car's sound system without breaking the bank with the American Bass 10″ Competition Car Subwoofer. The speaker has 3000-watts maximum power and a dual 4-ohm voice coil.
It produces excellent sound resonance. The 240oz heavy triple stacked magnet provides an amazing sound experience.
A mounting depth of 7.8 inches makes installation easy. It can fit in many cars, boats, and RVs.
Advantages:
Great sound without distortion
Fits in different car models
Heavy-duty
Produces high sound resonance
Disadvantages:
Lots of popping when connected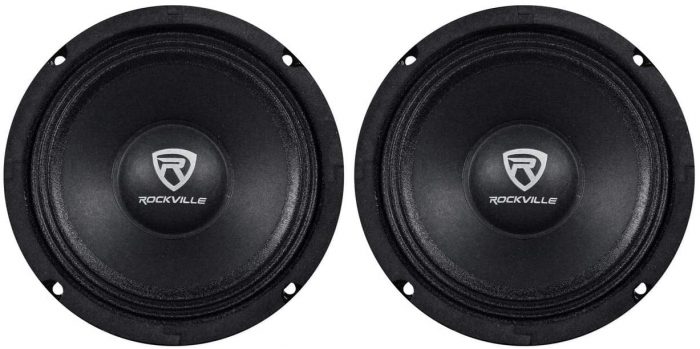 The Rockville RM64PRO Midrange Car Speakers have a peak power of 200 watts and RMS of 100 watts. You can power the speakers with an external amp to get the best experience.
The speakers provide amazing frequency response and definition. You can install them easily without compromising on the sound quality. It features a Kevlar cone and dust cap which make it unique.
The cone surround has a nicely treated cloth to enhance better control. This guarantees improved sound quality even at higher volumes.
An expanded high tinsel steel basket reduces vibration for clear sound.
Advantages:
Great aesthetic appeal
Notable frequency response and definition
Expanded high tinsel steel basket
Reduced vibration and crisp clear sound
Disadvantages:
Too big for the liking of many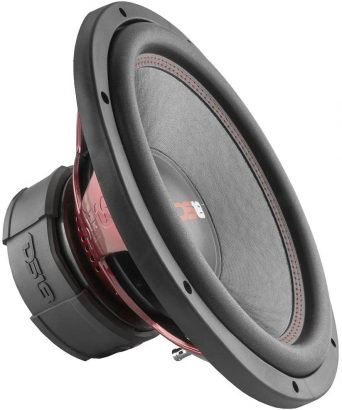 The DS18 Elite Z10 Subwoofer in Black has an impressive surround audio output mode. Its 10-inch subwoofer offers the power needed to handle lower frequencies.
This speaker also works well for high-power applications. With 600 watts maximum power and 300 watts RMS, the speaker can handle even higher volumes.
It is equipped with a dual voice coil that offers plenty of options and the needed flexibility to wire it either independent, parallel, or series.
A high-quality magnet produces different tones even at higher power output. The speaker comes in a unique design with reliable double-stack magnets, a Kevlar dust cap, foam edges, and dual voice coils.
Advantages:
Suitable for high power applications
Unique design
Produces tight and clear bass
Impressive surround audio output mode
Disadvantages:
The terminals are bigger for the boxes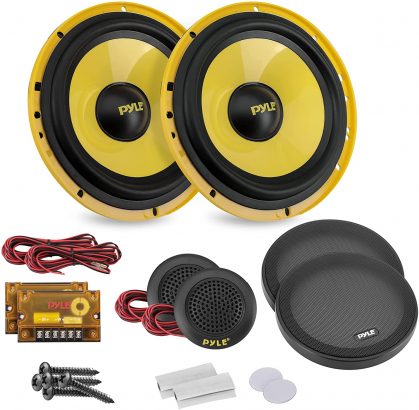 The 2Way Custom Component Speaker features an attractive yellow color. The speaker has a non-fatiguing butyl rubber surround that ensures it is secure and lasts longer.
It produces excellent sound quality so you can listen to your favorite music on the go. This speaker features a high-temperature ASV voice coil that offers rich sound with no distortion.
The speaker has a 40 oz magnetic structure, 0.5-inch silk dome tweeter, and electroplated plastic basket that all contribute to 90 Hz-20 kHz frequency response.
Unlike most car speakers, this one provides 3 mounting options for angle, surface, or flush. It also comes with a wiring kit.
Advantages:
Attractive color
Non-fatiguing butyl rubber
3 mounting options
It comes with a wiring kit
Disadvantages:
The plastic construction feels cheap
Buying Guide: Best Bass Speakers for Car
Consider the following factors when in the market for the best bass speakers for cars:
Power Handling
The more power the speaker can handle the better.
Sensitivity
Sensitivity refers to the ability of the speakers to produce sound at various power levels. The majority of car speakers have low power. Therefore, select speakers with sensitivity to match your car's power levels.
Frequency Range
If you need a speaker with more bass, look for one with a lower bottom frequency. The frequency range of a speaker determines the audible frequencies they produce.
For instance, speakers with low frequencies of 20kHz produce stronger bass.
Speaker Measurements
Your choice of the speaker should fit in your car.
Crossovers
If you choose a speaker without crossovers, you get mixed frequencies and signals. This compromises their performance. Speakers with crossovers give you fine-tuned sounds making it easy to use an equalizer to achieve the best mix of bases you need.
Woofer
The type of base you get on your car's speakers depends on the type of woofer you have and its construction. The role of the woofer is to handle low sound frequencies to produce the bass.
Woofers with rubber materials are flexible and create excellent bass. Woofers with polypropylene cones are also worth considering.
Component or Coaxial?
You should also decide if you want component or coaxial speakers for your car. Component speaker setups produce more amazing sound quality than coaxial speakers.
However, they need custom installation and cost more. In most cases, coaxial speakers require OE replacements provided you get the right size.
Two-way or Three-way Speaker?
This is another essential thing you should have in mind depending on the type of bass you need. Two-way speakers have a woofer and a tweeter.
Three-way speakers have a tweeter, woofer, and mid-range components that bring about a higher frequency range. This makes the sound crisp regardless of what you are listening to.