Want to breathe better indoors? Breathing in clean and fresh air is vital to our health now more than ever.
With smart air purifiers, you can take control of the quality of air in your room. These intelligent machines banish tiny pollutants such as pet dander, odors, and allergens.
Smart air purifiers provide the best way to reduce symptoms such as headaches, sneezing, irritated eyes, and coughing which are related to tiny pollutants.
Quick Summary: Best Smart Air Purifiers
Here is a quick summary of the best smart air purifiers:
Reviews: Best Smart Air Purifiers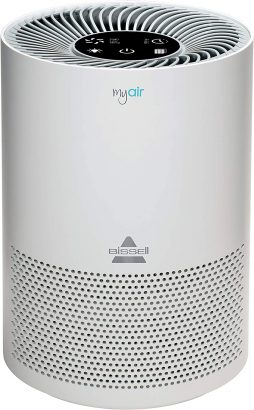 Capture outdoor smoke and indoor smoke particles with the BISSELL MYair Air Purifier. It has a three-in-one filter system, comprising a pre-filter layer, a high-efficiency filter, and activated charcoal.
It can capture particles as small as 0.3 microns. It is great for bedrooms or home offices.
With its quiet operation, you'll enjoy your sleep as it cleans the air. Choose between a high or low fan speed or a sleep fan speed. The latter is the quietest.
Advantages:
Quiet operation
Super efficient filter to grab even the smallest airborne particles
Activated carbon to absorb indoor odors
Highly portable
Disadvantages: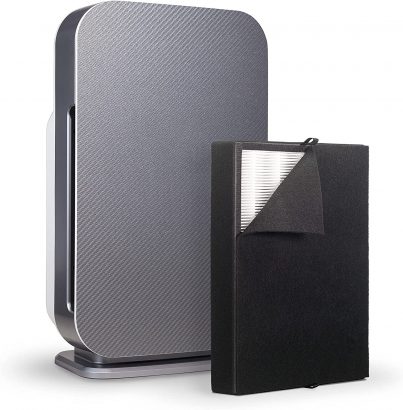 Alen FLEX Air Purifier is the best air purifier for volatile organic compound (VOC) fumes from aerosol sprays and chemicals, smoke from wildfires and cigarettes, household odors, pet dander, etc.
Use it to eliminate allergens like fur, pollen, and dust. Its sleek design makes it fit well with your home decor. Although small, it helps clean air even in large rooms.
This air purifier is packed with about 0.6 pounds of activated charcoal, which helps absorb toxic smells thus preventing respiratory problems.
It cleans up to 700 square feet of air in under 30 minutes. Since it is a true HEPA filter, it can remove up to 99.99% of aerosolized viruses and bacteria.
Advantages:
Effective HEPA filter
Low energy consumption
Sleek design
Activated charcoal to absorb toxic smells
Disadvantages:
Room for improvement in terms of power consumption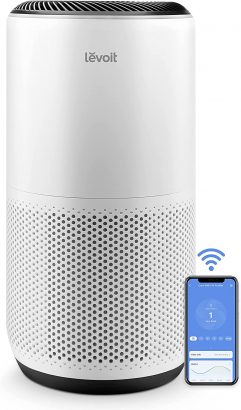 The LEVOIT Air Purifier is effective due to its 360-degree air intake circulation. This combined with VortexAir 3.0 Technology ensures it cleans air not only efficiently but also quickly.
QuietKEAP Technology is handy for quiet operation. Rubber pads help absorb sound produced by vibrating fans. The noise levels can be as low as 24 dB.
The air purifier is a great energy saver. It only draws 38W when operating at the highest fan speed.
This filter boasts a three-stage filtration system that is 100% ozone-free. Use it to neutralize smoke and odors, as well as capture allergens and 99.97% of tiny particles.
Advantages:
Low noise levels
360-degree air circulation
Saves energy
Three-stage filtration
Disadvantages: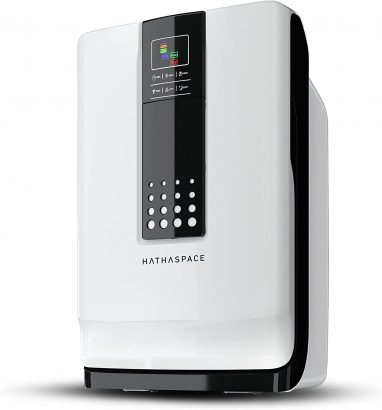 The Hathaspace True Smart Air Purifier protects you and your loved ones against pollutants like VOCs, smoke, odors, pet hair, dander, pollen, and dust.
This 5-in-1 air filter captures even the tiniest of particles. Its one-of-a-kind honeycomb filter made of activated carbon efficiently gets rid of smoke and odors.
It features an auto mode that can detect pollutants and automatically adjust the fan speed. It will help with common allergy symptoms like irritated eyes, coughing, and sneezing.
This air filter can clean air in rooms as large as 700 sq ft, and filter 100% of the air every 60 minutes.
Advantages:
5-in-1 air filters
Removes odors, VOCs, and smoke
Automatic pollutant detection
Approved by CARB and ozone-free
Disadvantages: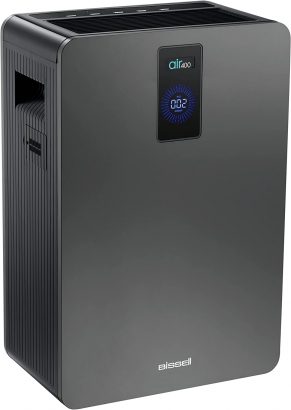 The Bissell air400 Professional Air Purifier has a 3-stage filtration system to eliminate even the tiniest particles (0.3 microns). Its filtration system comprises a HEPA filter, an activated carbon filter, and a pre-filter.
The HEPA filter clears 99.9% of small particles in the air, including pet dander, hair, smoke, dust, pollen, etc.
The activated carbon filter has a honeycomb structure to combat VOCs and gases and smells from different areas of the home.
An automated CirQulate System helps it respond to changes in indoor air quality. The system is supported by a PM 2.5 sensor that monitors air quality and adjusts the fan speed accordingly.
Advantages:
Cleans a larger area
Three-stage filtration system
Honeycomb design activated carbon filter
PM 2.5 sensor
Disadvantages: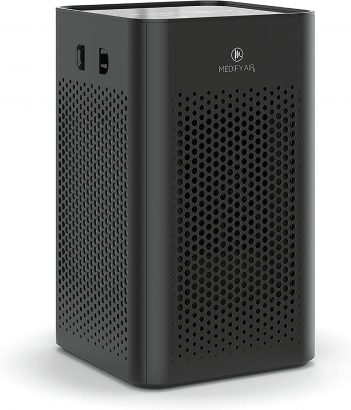 The Medify MA-25 Air Purifier is among the most powerful air filters in the market today. It can clean up to 1,000 sq ft in 60 minutes, making it ideal for offices, living rooms, restaurants, universities, etc.
An ultra-quiet operation is a notable attribute. It features three fan speeds with the lowest speed being virtually silent.
A HEPA H13 filtration system can effectively remove up to 99.9% of offending particles in the air, including dust, pet dander, smoke, and odors.
This easy-to-use air purifier has a sleek touch screen featuring a 0 to 8-hour timer, child lock, filter replacement indicator, sleep mode, and fan speed.
Advantages:
Captures up to 0.1-micron particles
Energy-star certified
Compact and lightweight
Sleek design
Disadvantages:
Lacks AHAM verification and optional ionizer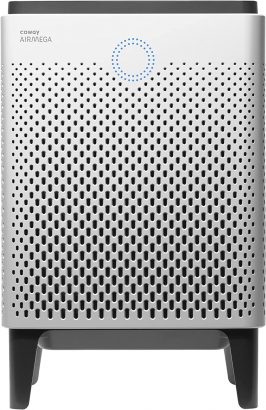 Create healthier, cleaner indoor air with the Coway Airmega 400 Smart Air Purifier. It has several smart filters and features that will meet your air cleaning needs on a budget.
The air purifier cleans up to 1,560 sq ft of air space, making it suitable for large places such as spacious living rooms, offices, or bedrooms. This energy-efficient purifier eliminates up to 99.9%.
Use this air filter for odors, smoke, allergies, or asthma-causing pathogens. The unit weighs only 25 lbs. It measures only 14.8 by 22.91 by 8 inches.
Handles make it easy to move from one room to another. It is Wi-fi compatible.
Advantages:
Energy-efficient
Suitable for large spaces
Quiet operation
Wi-fi compatible
Disadvantages:
Pricey replacement filters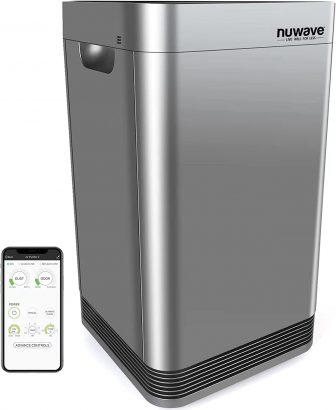 The NuWave OxyPure Large Area Smart Air Purifier is an advanced 5-step filter system that offers an ozone emission removal and bioguard filter.
Its versatile design combines carbon and HEPA filters, each of which can last for up to 12 months.
These filters help to remove even the tiniest particles in the air, including bacteria and viruses. It eliminates these pathogens within the shortest time possible.
The purifier measures 26 by 14 by 14 inches and weighs only 37.2 lbs. Its sleep mode is whisper-quiet.
Advantages:
Lightweight
Washable filters
Whisper quiet sleep mode
5-step filter system
Disadvantages: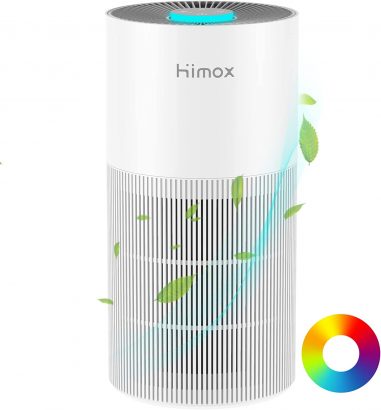 The HIMOX Air Purifiers are energy-saving, super quiet air purifiers. Their noise levels can get as low as 22 dB, making them ideal for your bedroom.
Its 360-degree design earns it a spot among the best air purifiers. It cleans your air fast (can clean up to 230 cubic meters of air per hour).
Its auto mode senses air quality and adjusts the fan speed appropriately. You can rely on this device to clear your air of all toxic airborne particles.
Advantages:
Easy to control
Wi-fi compatible
Energy-saving and super quiet
Fast purification with air quality sensor
Disadvantages:
Hard to find a replacement filter
Buyer's Guide: Best Smart Air Purifiers
Consider the following factors when in the market for the best smart air purifiers:
Your Room Size
Air purifiers are designed for specific room sizes. Small air purifiers are ineffective in purifying the air in large rooms. Check the label of the purifier to know its capacity.
Large rooms cover about 1,900 sq ft, while some rooms can be as small as 300 sq ft. A medium room can be between 300 – 700 sq ft.
Removal of Contaminants
You must consider what contaminator the air purifier can remove before you buy it. The more contaminants the air purifier can remove, the better. Some of the contaminants removed by air purifiers include:
VOCs – Chemicals and gases emitted from aerosol sprays, cosmetics, air fresheners, adhesives, degreasers, disinfectants, varnishes, paints, and other household products. VOCs cause fatigue, eye irritation, dizziness, nausea, allergies, headaches, and other health problems.
Odors – Smells from cooking, pets, smoke, etc.
Pet hair – Dander, fur, and animal hair.
Allergens – Allergens include mites, dust, pollens, and other pollutants that can cause allergies and asthma.
Smoke – Smoke comes from fireplace soot, cigarettes, burning forests, etc.
Filters
A good filter is not only durable but can also remove tiny airborne particles and pathogens. The common types of filters found in air purifiers are:
Pre-filters – Pre-filters are used alongside other filters.
HEPA filters – They are made of foam, fiberglass, or cotton. They can remove particles as small as 0.3 microns from the air.
Carbon filters – Carbon filters are mainly made of activated carbon. They are effective in the removal of gases, VOCs, and odors.
Noise level
Since you'll be using the air purifier in your office or bedroom, you need a device that's not noisy. It should not be loud enough to distract you from reading or sleeping. Establish the decibel level of an air purifier before you buy it.
Portability
Choose an air purifier that's portable so you can easily carry it from one room to another. Some purifiers come with handles while others have caster wheels for portability.
Maintenance and Energy Consumption
Choose an air purifier that is cost-effective in terms of energy consumption and maintenance.