Every day, we do plenty of work with our hands. In the process, the hands attract germs and dirt. Whether you work indoors or outdoors, the body harbors bacteria, dirt, and germs. Antibacterial soaps are handy for both the hands and body.
Antibacterial soaps clean the body effectively compared to most regular body washes or soaps that tend to saturate the skin pores. Use these soaps to rid the body of prickly heat, body odor, as well as other issues related to the skin.
Quick Summary: Best Antibacterial Soaps
Here's a quick summary of the best antibacterial soaps:
Reviews: Best Antibacterial Soaps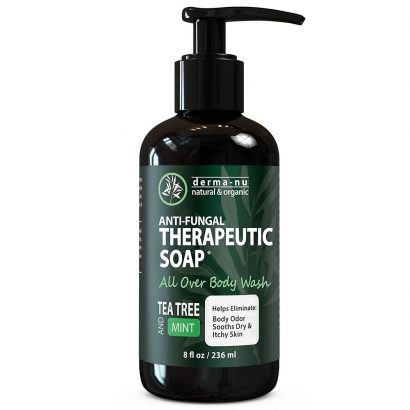 The Derma-nu Antibacterial Body Wash is an effective antibacterial soap for athlete's foot, nail fungus, eczema, body odor, and other conditions. It has a tea tree mint, peppermint, and eucalyptus scent for a fresh feel.
If you are an active person, this soap is a must-have. People who sweat in the gym or have active lifestyles can develop bad odors and bacteria that cause skin irritations. This soap will combat all these.
It is made of natural and organic ingredients with no harmful chemicals. The soap doesn't contain parabens, dyes, and synthetic fragrances. Manufactured in the USA, this product works well for all skin types.
It is rich in soothing and cooling essential oils that remove skin discomforts. Use it to manage dry, scratchy, itchy, or inflamed skin.
Advantages:
Works well for psoriatic arthritis
Eliminates fungus toes
Features a convenient pump
Provides a refreshing wash for the feet
Disadvantages:
Watery making it hard to dispense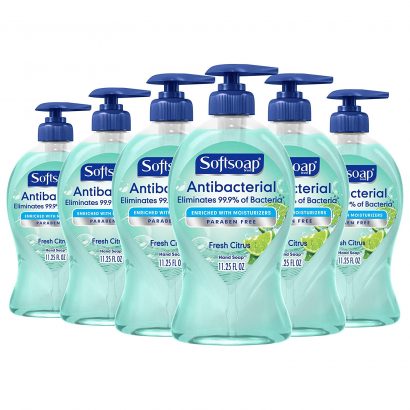 The Softsoap Antibacterial Liquid Hand Soap is a citrus fresh antibacterial soap that is ideal for sensitive skin. On top of being clinically proven to remove 99.9% of bacteria, this soap contains a moisturizer that leaves your skin protected and soft.
It is dermatologist tested to work gently on your hands. This pH-balanced soap enables your skin to retain its natural moisture.
The package includes 6 refillable hand soaps with 11.25-ounce fluid for every bottle. In total, you will get 67.5 fluid ounces. The soap is made without parabens and phthalates.
Its cleaning ingredients are biodegradable. Because of its unique formula, do not combine this soap with other liquid soaps.
Advantages:
Recyclable bottle
Soft on the hands
Fresh scent
Dermatologist tested
Disadvantages:
Complaints of inconsistent formula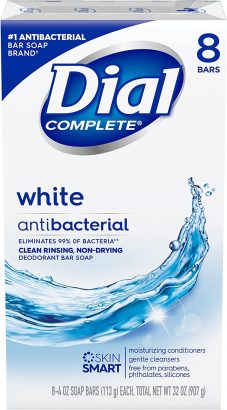 Enjoy a fresh fragrance with the Dial Antibacterial Deodorant Soap. This deodorant soap not only provides a fresh feeling but also long-lasting protection. It comes in a pack of bars you can trust.
The soap kills bacteria via its antibacterial deodorant protection technology. The tech is effective at eliminating odors that cause bacteria. Enjoy a clean and fresh feeling all day long.
This soap provides a moisture balance through its hydrating formula. It offers effective cleaning while moisturizing your skin.
The Dial Antibacterial Deodorant Soap produces moisture-rich, creamy lather to get rid of all bacteria without drying the skin.
Advantages:
Antibacterial deodorant protection technology
Efficient hydrating formula
Effective at clearing itchy rashes
Moisture-rich, creamy lather
Disadvantages:
It can cause rash or itchy skin in some people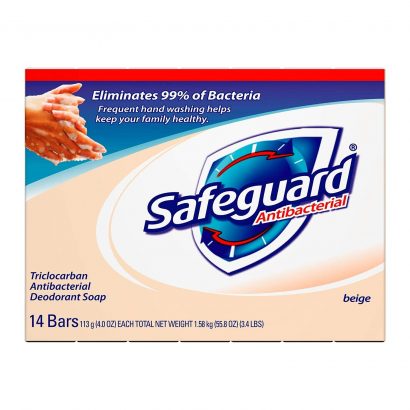 The Safeguard BEIGE Antibacterial Bar Soap is a pack of 14 antibacterial bar soaps suitable for men and women. The soaps work amazingly well to remove bacteria, odor, and dirt on your skin.
You can use it on your face, hands, and body. Using these antibacterial soaps leaves your skin feeling clean, fresh, and young. They clean your skin well while retaining its natural moisture.
Enjoy a natural and healthy feel on your skin. These great-smelling bars come in beige colors.
Advantages:
Leaves the skin clean and feeling non-greasy
Pleasant scent
Highly versatile
Attractive beige color
Disadvantages:
Room for improvement on its moisturizing attribute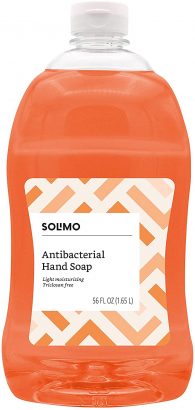 The Solimo Antibacterial Liquid Hand Soap is ideal for dry and sensitive skin. This paraben-free soap comes in a 56-ounce fluid bottle that you can refill. If you've been needing light moisturizing antibacterial liquid soap, this one is a great choice.
For the best performance, use a clean bottle that doesn't contain previous soap. Unlike many others in the market, this one doesn't dry your skin as it contains moisturizers that eliminate skin dryness.
This soap is dermatologist tested and doesn't contain triclosan and phthalate. Enjoy smoother and softer hands after using this soap. It is gentle and safe for everyone in your family.
Advantages:
Triclosan and phthalate-free
Wonderful scent
Ideal for all family members
Great soap for refills
Disadvantages: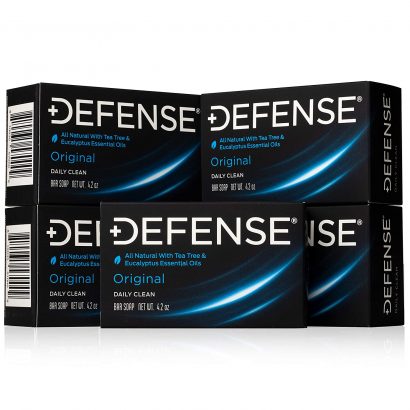 The Defense Original Tea Tree Bar Soap is efficient for sensitive skin. It contains tea tree oil and eucalyptus oil to offer your body many benefits while eliminating fungus and bacteria.
The soap provides an excellent wash with superb rinsing action. Use it to not only clean your skin but also restore its natural barrier. The soap is handy at boosting sebum production as well as getting rid of dead skin cells.
This soap is hypoallergenic and safe to use. It has gone through triple milling for consistency, quality, and longevity.
The Defense Original Tea Tree Bar Soap is ideal for removing sweat, gym crud, dirt, grime, build-up oils, allergens, and grunge. This natural soap doesn't contain any fragrances, cosmetics, dyes, alcohol, triclosan, and sodium lauryl sulfate.
Advantages:
Efficient at combating skin itchiness
Hypoallergenic
Fragrance and triclosan-free
Fresh and smooth
Disadvantages: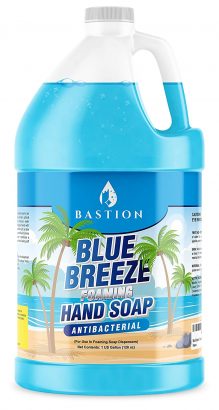 Enjoy a refreshing clean scent with the Blue Breeze Foaming Antimicrobial Hand Soap. It is thick and creamy to provide your hands with maximum protection.
The soap cleans your hands gently and provides a refreshing feel. It is formulated using grease-cutting agents combined with pH neutralizers to clean your skin without irritation.
It provides many benefits like reduced water usage and a thorough cleaning experience. Use this soap to clean your hands regularly and keep yourself and your loved ones safe.
Advantages
Great soap option for kids
Reasonable pricing
Effective grease-cutting formula
Thick forming
Disadvantages
The scent would have been better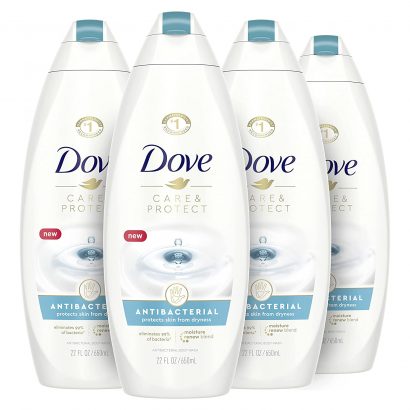 Protect your body from dryness with the Dove Antibacterial Body Wash. This soap eliminates up to 99% of bacteria. It nourishes your body and enables the skin to maintain its natural moisture.
It not only provides long-lasting nourishment but also leaves the skin softer. The soap is ideal for all skin types. Its formula doesn't contain paraben or sulfate. Use this antibacterial soap to moisturize your body.
Advantages:
Mild scent
Soft feel and lathers well
Effective at removing heat rushes
Paraben and sulfate-free
Disadvantages:
Not ideal for sensitive skin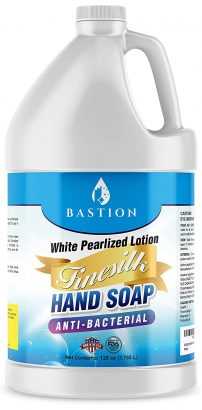 The BASTION Antibacterial Soap provides a fresh and clean scent. This soap is great for sensitive skin. It features a refreshing aroma to invigorate your skin without taking over your senses.
The soap moisturizes your hands and leaves your skin smooth and soft. This gentle soap doesn't dry your hands.
Enjoy a luxurious lather that cleanses well and removes germs and dirt from your hands easily. It has the right viscosity to provide a thick foam that rinses without problems.
It doesn't leave residues. The environmentally-friendly soap is non-irritating and non-toxic.
Advantages:
It has a sweet and soft smell
Works well on soap dispensers
Gentle yet effective
The soap doesn't dry your hands
Disadvantages:
Not ideal for foaming dispenser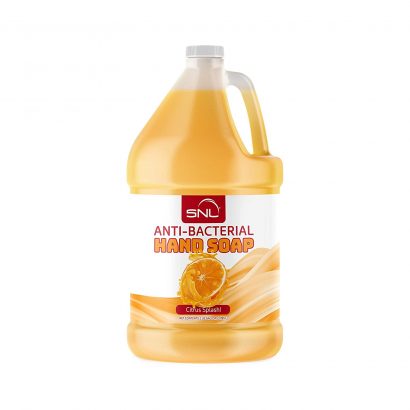 Keep bacteria at bay with the SNL Quality Anti-Bacterial Hand Soap. It comes in an extra-large one-gallon refill. A pump dispenser makes dispensing easy.
Made in an FDA-registered facility, this soap boasts a pleasant lime and lemon scent.
The soap is silky rich because it is heightened with lotion properties to leave the skin clean and smooth.
You can use this versatile soap for a soap dispenser refill or as a stand-alone dispenser. This all-purpose soap suits different applications and people of all ages.
Advantages:
Great soap for bathroom use
It has a wonderful scent
Highly versatile
Gentle on the skin
Disadvantages:
Buyer's Guide: Best Antibacterial Soaps
Consider the following factors when in the market for the best antibacterial soaps:
Ingredients
Each soap features different ingredients depending on the brand. Keenly check the ingredients to avoid buying one that'll harm your skin.
Your choice should not only be safe to use but also powerful to kill germs. Buy a soap that contains antibacterial compounds blended with other herbal ingredients.
Avoid soaps that contain gluten, mineral oil, parabens, sulfates, and other harsh chemicals.
Fragrance
Fragrances vary from one soap to another. Some soaps have a pleasant smell while others can be irritating. A good antibacterial soap should have a pleasing and strong fragrance that should last enough. The fragrance should also be mild in such a way that it is not overwhelming.
Longevity
How long does your prospective choice of antibacterial soap last? The longevity of the soap partly depends on the size. The most common sizes are 4 and 8 ounces which can last from one to two months respectively.
Skin Types
While some soaps are ideal for all skin types, others are designed for specific types. If you know your skin type, it will be easier to pick the right soap. Most soaps indicate if they are for oily, dry, or sensitive skin.
Moisturizing Effect
While antibacterial soaps should work well in reducing bacteria, they should not leave your hand feeling dry. Look for soaps with moisturizing effects to help your skin retain its moisture. You can also check if the soap is dermatology tested and safe to use.
Versatility
The best antibacterial soap should be versatile enough for use in different settings.