In the past, press-on nails were largely restricted to square nails featuring floral or line designs, or short French manicures. Many people avoided them precisely because of these reasons.
Today, things have changed. Press-on is hassle-free, easy, and quick to fix. If you aren't into going to the salon, these are a good option.
Although you cannot make your press-on nails, it is possible to customize the existing options in the market by matching and mixing different styles. For instance, you can combine a blue metallic nail from one pack with a matte purple nail from another.
Quick Summary: Best Press On Nails
Here is a quick summary of the best press on nails:
Reviews: Best Press On Nails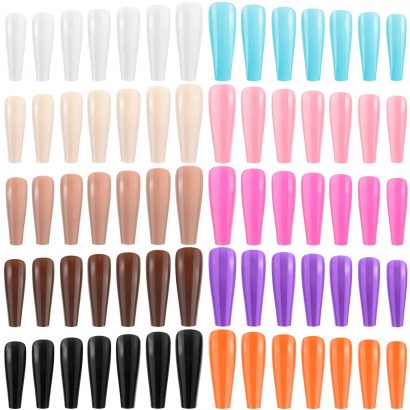 Decorated nails can be an excellent source of beauty. Stand out with the Match the Maitys Extra Long Press On Nails.
The package contains 240 various colors to suit every occasion and match different outfits. Their solid colors don't fade.
These extra-long, artificial nails have a French-style coffin shape. You can trim and file them to your desired length and shape.
Made of high-quality ABS material, they are not only gentle on your skin but also not easy to scratch.
Advantages:
High-quality ABS material
Gentle on your skin
Up to 240 pieces
Easy to use and customize
Disadvantages: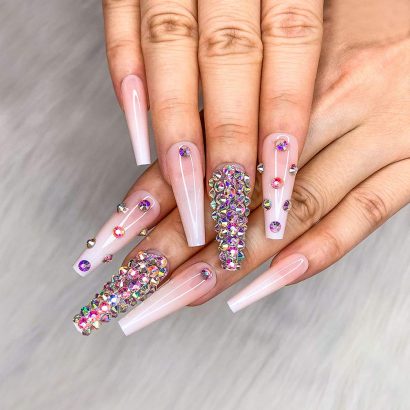 The Artquee 24pcs French Nude pack contains 24 pieces of press-on nails in twelve different sizes. Featuring quality acrylic ABS material, these press-on nails are shiny, stylish, and durable.
They are easy to put on and remove. The nails come with a sheet of glue sticker, a glass nail file, a mini file, and a wooden stick.
Advantages:
Easy to put on and remove
12 sizes to choose from
Many accessories
Giftable
Disadvantages: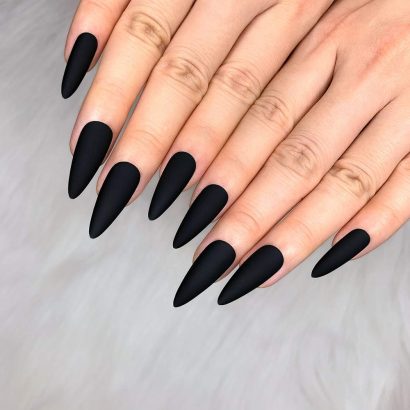 The Morily 24pcs Fake Nails features a unique design that adds thrill to the beautiful, luxurious look they give you. The pack contains 24 pieces.
Whether you are a first-time or experienced user, these nails are easy to apply. The durable nails come in different sizes.
Advantages:
Unique charming design
Non-toxic acrylic material
Highly durable
Impressive thickness
Disadvantages:
Room for improvement on adhesion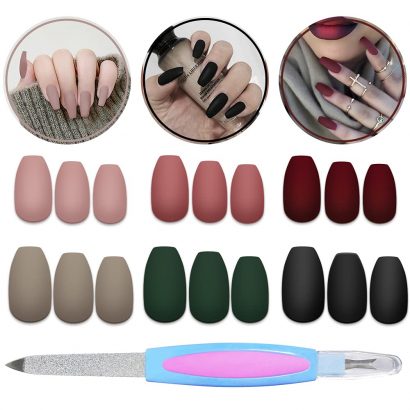 Enhance your appearance with the JALTAGO Matte Press On Nails Coffin. The set comes in different sizes in 6 pure matte colors to match your different styles.
The sizes are well balanced to help you get the right one for every finger. The set offers extra tools like a nail glue sticker, cuticle trimmer, and tips to guide you.
The artificial false nails are great for both nail art learners and professional nail artists. Their high-quality ABS material makes them safe, durable, and reusable.
Advantages:
Durable and reusable
Suitable for both nail salons and DIY nail art
6 elegant colors
Extra tools
Disadvantages: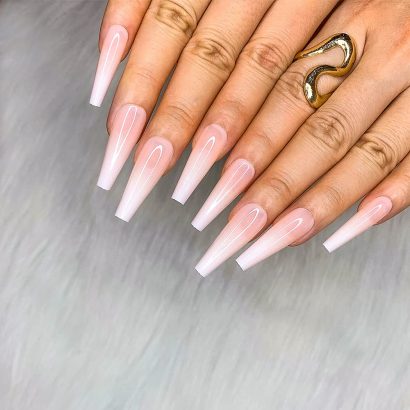 The right press-on nail set can do much more than just complement your gorgeous looks. The Morily 24pcs Fake Nails features a barely white ombre to pink design that makes it stand out from the rest. Its unique, charming design is notable.
You can apply these reusable nails using nail adhesive tapes or nail glue. If you take good care of them or apply them properly, they're wearable for over two weeks.
These nails are well-suited for occasions such as weddings, parties, and many other special functions.
Advantages:
Doesn't hurt the fingers
Effortless to apply and remove
12 sizes
Odorless and durable
Disadvantages:
Pops off within days of application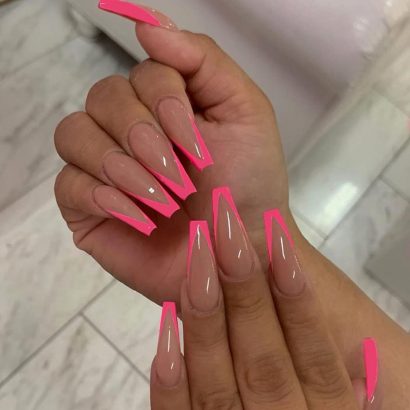 Nails are some of the first things people notice when they meet you. Make a lasting impression with the Outyua French Press on Nails.
These designer-long French nails are made for classy and stylish ladies. With these nails, you can always stay on point while stepping out.
The best part is that it is possible to trim and file them into the shape or size you desire. No matter how big or small your nail size, these press-on nails will fit.
They come in a set with 24 pieces of nails with a coffin shape that you can change when necessary. The 24 pieces are in 12 different sizes.
Advantages:
Amazing glossy appearance
Made of safe, high-quality material
Easy to trim and file
Perfect for nail fashion
Disadvantages: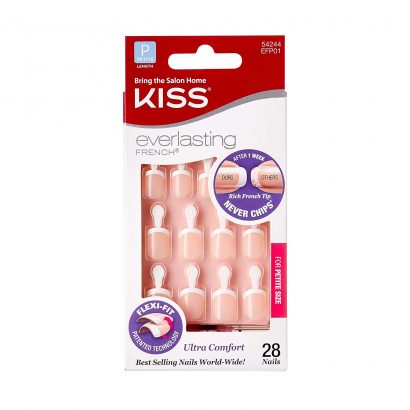 The KISS Everlasting French Nails Kit is unique and brings out elegance in you.
This single pack contains 28 French tip nails, a mini file, pink gel glue, and a manicure stick. You have everything you need to do your nails.
These nails use flexi-fit technology for maximum comfort. Once you put them on, you feel like you have nothing but your natural nails on.
Also, their clear pink color and petite length all come in handy for an extra classy look. These are easy to use and take care of.
Advantages:
Flexi-fit technology for comfort
Petite length
Gorgeous, clear pink color
Doesn't chip
Disadvantages: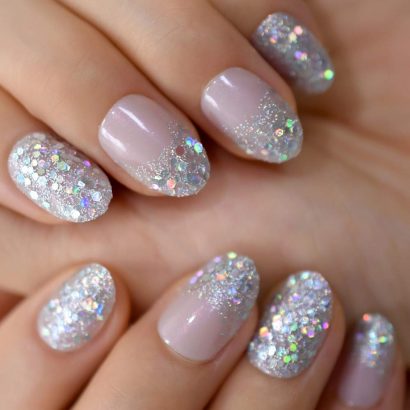 The right press-on nails for the occasion make you look and feel more confident. The EchiQ Holographic Silver Glitter Press on Nails gives you that desired spot-on look.
Once you wear them, they stick firmly for months, especially if you glue them properly. You can use glue or double-sided stickers to put them on.
The press-ons are appropriate for both individual nail practice and professional nail specialists.
These press-on nails are neither too big nor too small for average nails.
Advantages:
Gentle on your fingers
Excellent size
Stunning color
Easy to apply
Disadvantages:
Metallic sheen rubs off easily
Buyer's Guide: Best Press on Nails
Consider the following factors when in the market for the best press-on nails:
Size and Length
Different brands offer various press-on nail size options. Choose a pack that will fit on your nails.
Shape
The shape of the false nails differs a lot. Coffin design is a common shape that fits many people.
Color and Variety
Color is another factor that should inform your choice. Some packs have as many as ten different colors. Several color options allow you to put on the right color to match your outfits.
Number of Pieces
Packages containing press-on nails contain varying numbers. Some packs contain as many as 240 pieces of nails while others as few as 24 pieces of nails or less. More sets in a pack give you options for your outings.