Your puppy needs vitamins and supplements for good health. Some nutrients are minimal or lacking entirely in dog food. This is where vitamins and supplements come in.
They serve to boost your pet's immunity, increase the rate of metabolism, and promote smooth digestion. Supplements and vitamins are essential for cognitive development, proper growth, and healing.
Vitamins and supplements are available in different forms including powders, pellets, and liquid forms. Some are administered orally using syringes, and others are mixed with water or food. Chewable vitamins and supplements also exist.
Quick Summary: Best Puppy Vitamins and Supplements
Here is a quick summary of the best puppy vitamins and supplements:
Reviews: Best Puppy Vitamins and Supplements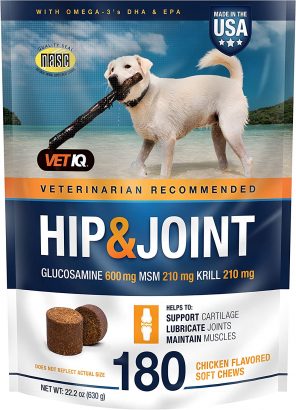 The VetIQ Hip and Joint Supplement are made for proper hip and joint growth and development. The chewable lumps come in a chicken flavor. The chewable is soft and easy on your puppy.
It is ideal for puppies and dogs of all breeds. A pack has 180 chews.
Each chew contains omega 3, 600 mg glucosamine, 210 mg MSM, and 210 gm krill per serving. The supplement helps to support bone cartilage, lubricate joints, and maintain strong, healthy bones.
Advantages:
Tasteful chicken flavor
Best for puppies of all breeds
Healthy joints and bones
Certified
Disadvantages: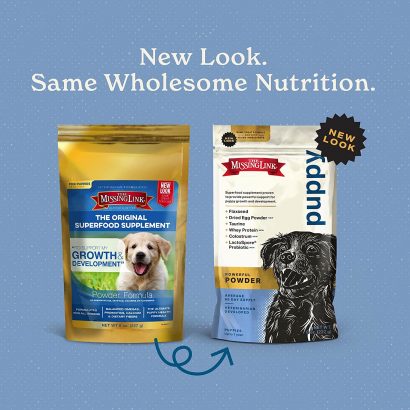 The Missing Link Puppy Supplement features Omega 2 and 6 fatty acids. These two ingredients support healthy skin, fur, ears, eyes, teeth, gums, and the immune system.
Probiotics help improve and maintain healthy digestion. Omega fatty acids are helpful for maintaining cell health and proper vitamin absorption. This supplement helps your dog maintain high, constant energy levels.
Available in powder form, this product is prepared through cold pressing to prevent nutrient destruction by heat.
The certified formula is free of artificial colors, GMOs, preservatives, and other additives.
One pack of the Missing Link formula weighs eight ounces. It contains calcium as well as other important minerals.
Advantages:
Contains probiotics
Cold-pressed powder form
Free from additives, preservatives, and GMO
Boosts immune system
Disadvantages: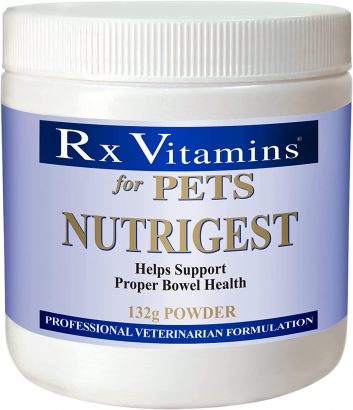 The Rx Vitamins Nutrigest for Puppies is ideal for puppies and other pets such as cats. It promotes better bowel health and smooth digestion. A package of 0.3 pounds contains 90 tablets of the formula.
For larger pets, the formula is available in powder form.
Advantages:
Suitable for cats and puppies
Promotes gut health
Available in tablet and powder form
Better bowel health
Disadvantages: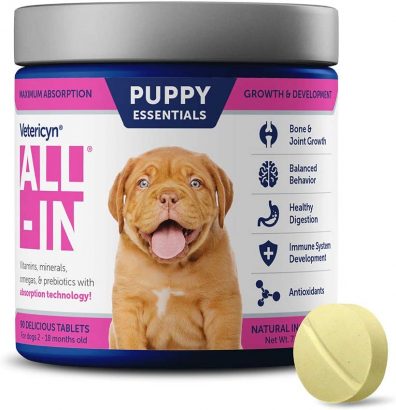 The Vetericyn Puppy Multivitamin formula provides the basic blocks for the good health of your pup. Essential nutrients are necessary for the growth and development of strong, healthy bones. This multivitamin allows the lubrication of joints and the development of cartilage.
It promotes the smooth digestion of food. This is particularly important for pets with sensitive stomachs.
The formula has antioxidants that help fight diseases, thereby keeping the immune system strong. The multivitamin enhances cognitive development and a stronger heart.
The multivitamin is in tablet form.
Advantages:
Promotes joint and bone health
Boosts immunity
Ensures healthy heart and brain
Easy-to-use tablets
Disadvantages:
Room for improvement in flavor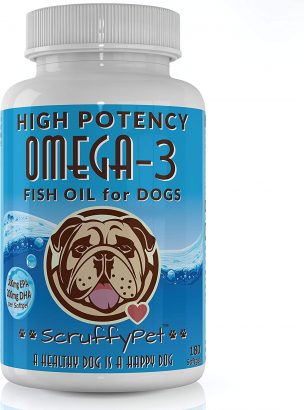 The ScruffyPet Fish Oil is a soft gel formula. It is made from GMO-free distilled deep-sea anchovy oil, vitamin E, gelatin, and purified water. It is purified of all toxins, bottled, and packed in the USA.
The oil is rich in Omega 3 which is good for both born and unborn puppies. It is; therefore, recommended for pregnant dogs.
The oil is also good for cognitive development, reducing inflammation, cartilage development, strengthening of bones, and aiding in skin and coat health.
Vitamin E and antioxidants boost the immune system. The two promote the strengthening of the body cells.
The fish oil is packed in a 7.36-ounce container with a unit count of 180.
Advantages:
Boosts the immune system
Contains antioxidants
Fights inflammation
Tested and certified by a GPM facility
Disadvantages: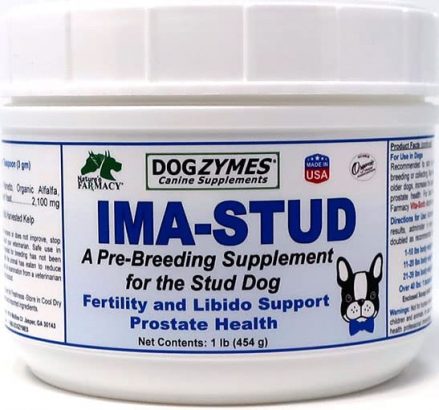 The Dogzymes Ima Stud Daily Supplement is intended for stud dogs that are meant for breeding. It is made of Peruvian maca powder, alfalfa, lecithin, Norwegian kelp, saw palmetto, and selenium yeast.
Boasting a sweet, leafy green flavor, the supplement is effective when mixed with puppy food.
The supplement boosts cell development, vitality, and libido for breeding purposes.
Advantages:
Best for breeding dogs
Increases libido
Easy to administer
Boosts vitality and cell development
Disadvantages:

The Under Weather-Ready Balance Supplement is a gel supplement measured in a syringe. The supplement promotes smooth food digestion, gut health, and appetite.
It is good for lifting your puppy's mood. Use it during stressful times. For instance, you can administer the supplement when traveling to calm the puppy down.
The gel formula is packed with vitamins, prebiotics, and probiotics. These boost the immune system, support the development of healthy bones, and enhance good gut health.
Before administering, ensure you measure the correct amount to avoid overdosing or under-dosing the puppy.
Advantages:
Promotes good digestion
Lifts mood
Boosts immune system
Ensures healthy bones
Disadvantages: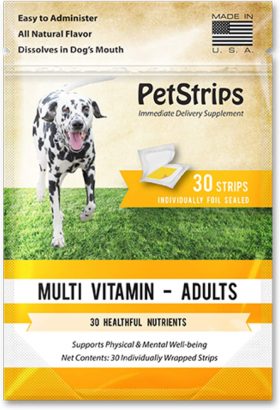 The PetStrips Multivitamin for Puppies come in a pack that contains 30 individually wrapped strips that are easy to chew. Each strip contains ingredients that ease the process of digestion. The ingredients promote a healthy gut as well as the wholesome wellness of the puppy.
The chewable strips deliver nutrients faster than other methods of administration. Give your puppy one strip a day for best results.
Advantages:
Easy to administer
Promotes gut health
Easy-to-chew formula
Faster nutrient delivery
Disadvantages:
Buyer's Guide: Best Puppy Vitamins and Supplements for Puppies
Consider the following factors when in the market for the best puppy vitamins and supplements:
Needs Of The Puppy
Puppies need supplements for various reasons. If he or she suffers from inflammation and indigestion, probiotics are the best option. Those that are low on energy need fat and oil supplements.
Vet Recommendation
A veterinarian understands a puppy's biological needs; therefore, can prescribe the best supplements.
An examination by the vet also determines whether the puppy is ill. This determines if the puppy should be treated or is suffering from a deficiency that can easily be cured by supplements.
Composition
It is advisable to understand the different ingredients of a multivitamin or supplement formula. Some ingredients are harmful to your puppy.
Mode of Administering
The supplement you choose should be easy to administer. Easy ones are mixed with food or water, while others come in chewable lumps and strips. You may also find puppy supplements in powder form and even gel.
Clear Information
Ensure you have enough information about a supplement before giving it to the puppy. Important information includes how to administer, the amount to be taken, frequency of administering, and side effects.
Taking the supplement to the vet for a thumbs-up is highly encouraged. In case you have doubts about a product or its brand, consult your vet.
Types
Different types of puppy vitamins and supplements exist. They include:
Glucosamine, Chondroitin, and MSM Supplements
These supplements are the most popular because they relieve joint pain. Glucosamine surrounds and infiltrates through joints and repairs them.
Chondroitin is a component of the cartilage. It develops strong cartilage for the growing puppy. MSM, on the other hand, is an anti-inflammatory agent.
These supplements are best for dogs of various ages and those prone to arthritis.
Calcium Supplements
Calcium is a mineral responsible for bone formation, blood coagulation, muscle contraction, and nerve impulse transmission. These supplements ensure that the little puppy has enough calcium for all the above processes.
Vitamins for Puppy Supplements
Vitamins are essential for promoting the puppy's health. Common ones are vitamin A, vitamin B1, and vitamin C. They are responsible for proper growth and development, reproduction, promoting the immune system, and overall good health.
Oil and Fats Supplements
Oils and fats provide the puppy with high energy once they are broken down during metabolism. Most dog food contains less fats and oils. Therefore, it is important to provide them with fats and oil supplements.
Antioxidants
Antioxidants help to maintain the immune system, getting rid of allergic conditions and promoting proper cognitive development.
Probiotics
Probiotics are necessary for promoting growth of digestive bacteria for proper digestion of food. They aid in digestion and improve the quality and frequency of stool. Probiotics also promote a normal response to inflammation.