Having grey hair is inevitable with age. It can also be hereditary. Thirdly, the appearance of grey hair might be because of stress. While many people counter grey hair with permanent coloring, this can end up damaging your hair.
If you have grey hair, it is great to start using shampoos tailored for grey hair. These shampoos protect your hair from getting brittle or turning yellow.
Quick Summary: Best Grey Hair Shampoos
Here is a quick summary of the best grey hair shampoo:
Reviews: Best Grey Hair Shampoos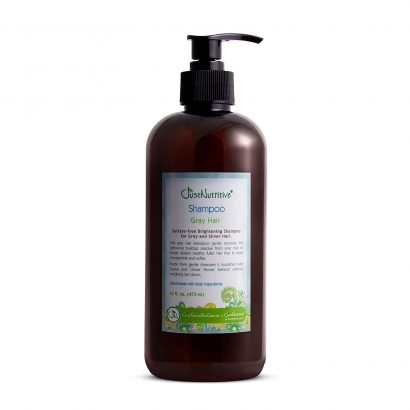 The Just Nutritive Gray Hair Shampoo is made from natural ingredients. Use it to remove buildup, oils, and dirt that cause the yellowing of gray hair. With its powerful nutrients, your gray hair becomes shiny.
This shampoo reduces the brassy look that is caused by the sun and chemical residues in water. It makes gray, silver, and white hair brighter and fuller.
The shampoo is made from gentle and hair-friendly ingredients such as avocado, pomegranate, and black currant seed oils. Aloe vera and clover extracts condition the hair.
It is rich in vitamins and antioxidants to nourish your hair keeping it healthy and moist. It also stimulates blood circulation and balances the PH levels of the scalp.
Advantages:
Good scent
Lathers well
Leaves hair softer with no yellowing
The shampoo is thick and hence lasts longer
Disadvantages:
The pump does not work properly due to the small straw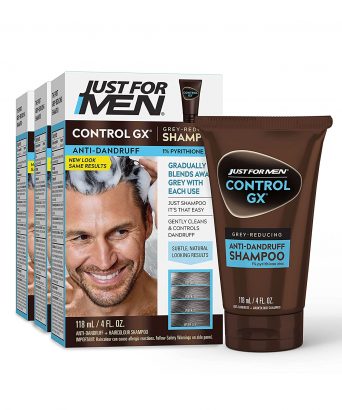 The Just for Men Control GX Grey Reducing Anti-Dandruff Shampoo is a good solution for those grappling with dandruff issues. It not only helps with managing dandruff but also retains natural color.
Cleaning your hair with this shampoo offers relief from dry and itchy scalp. It prevents flakes while cleaning. You can use it for all hair shades.
Use it to complement your regular shampoo. Unlike hair dyes, this hair color shampoo reduces grey hair by simply shampooing your hair.
Use the shampoo for healthy, fuller, and all-natural hair.
Advantages:
Does not leave color on the skin
Ideal for all hair shades
Effective anti-dandruff
Easy to use
Disadvantages:
It may cause staining on the fingernails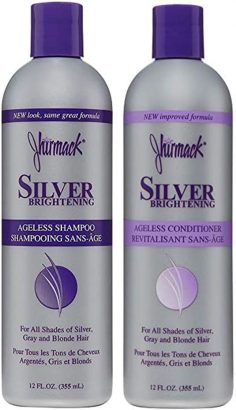 The Jhirmack Silver Brightening Purple Shampoo is formulated to clean and condition silver, gray, and blonde hair. It shines the hair by removing yellow and brassy tones.
Use it if you have dry hair and split ends. Green tea extracts and collagen soften your hair.
Macadamia nut oil strengthens and moisturizes your hair. There is no greasy residue left after use.
It is suitable for both men and women. Each pack includes a set of purple shampoo and conditioner to help you have well-nourished and manageable hair.
Advantages:
Effective for neutralizing brassy tones
Macadamia nut oil for strong hair
Does not cause any staining on the hands
Green tea extracts and collagen for soft hair
Disadvantages:
Slight instances of a burning sensation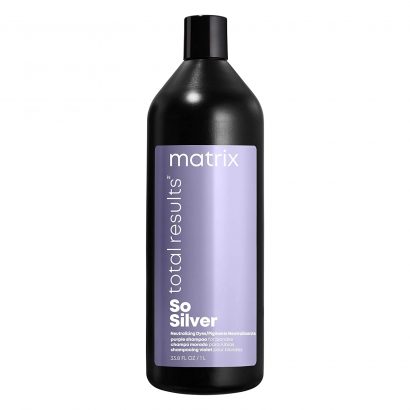 Remove dryness, eliminate yellow, and brassy tones, and keep your hair hydrated and healthy with the MATRIX Total Results So Silver Color Depositing Purple Shampoo.
Use it to restore the natural look of blonde and gray hair. It is suitable for both natural and treated hair for a brighter and shiny look.
You can use this shampoo for all types and shades of hair. Neutralizing dyes reduce brassy yellow tones.
For best results, use it 2-3 weeks after color service, then twice a week to maintain the color.
Advantages:
Removes the yellow tones in gray hair
Makes your hair brighter
Works great for treated and natural hair
Reasonable pricing
Disadvantages:
Complaints about the smell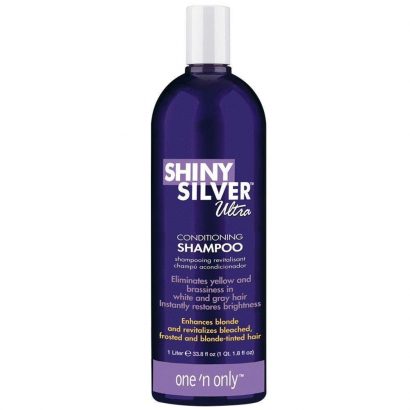 The One 'n Only Shiny Silver Ultra Conditioning Shampoo is another impressive product for removing brassy and yellow tones. It is ideal for white, gray, blonde, platinum, and highlighted hair.
Purple pigments neutralize any dullness leaving your hair bright and shiny. If you've bleached or color-treated your hair, this product helps restore its natural look.
It contains tangerine, lavender, grapefruit, lemon, and orange peel that soothe and condition your hair. It leaves your hair strong by restoring its moisture.
The shampoo softens hair texture making it easy to style.
Advantages:
Improves hair texture making it easy to style
Versatile
Keeps hair shiny and soft
Rich in hydrating ingredients
Disadvantages:
Room for improvement in packaging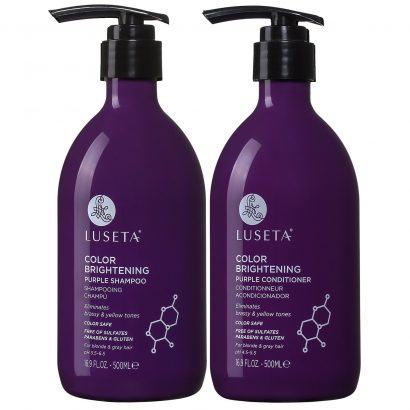 The Luseta Purple Shampoo and Conditioner Set is made from naturally sourced ingredients that are beneficial to all hair types.
The shampoo cleanses the hair and eliminates breakages and brassy tones. Moreover, it repairs split ends. Use it to moisturize your hair, restore its shine, and protect it from heat.
Antioxidants and UVA/UVB sunscreens protect your colored hair from fading.
It does not contain parabens, sulfates, or gluten. With balanced PH levels, both shampoo and conditioner are safe.
Advantages:
Safe on color-treated hair
Paraben, sulfates, and gluten-free
Does not leave residues
UVA/UVB sunscreens to prevent fading
Disadvantages:
Room for improvement on scent
Buyer's Guide: Best Grey Hair Shampoos
Consider the following factors when in the market for the best grey hair shampoos:
Hair Type
Different shampoos work differently for various hair types. Choose a shampoo based on your hair type (thin, dry, or frizzy hair).
Ingredients
Once you know your hair type, consider the type of ingredients in the shampoo. It is prudent to settle for shampoos with natural ingredients. Avoid those with harsh chemicals because they can damage your hair.
Consider Purple Shampoo
For grey hair, it is advisable to pick a purple shampoo. This is because it adds moisture and brightness to your grey hair hence giving it a shiner and a healthier look.
Moisturizing and Hydrating
Grey hair tends to be dry and frizzy. You can treat these problems if you choose a moisturizing shampoo. Another issue with grey hair is dehydration. Choose a shampoo with hydrating ingredients. Such shampoos prevent premature greying and make your hair strands healthy.