Is your toddler the kind who is into big-wheeled things that go vroom? By age 2, most toddlers go through an obsessive truck phase. At this age, on cue, they spot any massive vehicles on the road – a hauler, a dump truck, a garbage truck – name them all.
The best truck toys elicit similar excitement, joy, and fun. In addition to being entertaining, these trucks also offer an array of developmental benefits. Kids learn to recognize and name items. Toddlers begin to classify toys based on color and size.
Just like with most toys, the simpler the better. Since a truck is engaging on its own, it does not need remote controls, flashing lights, or honking horns to keep your toddler occupied.
Quick Summary: Best Truck Toys For Toddlers
Here is a quick summary of the best truck toys for toddlers:
Reviews: Best Truck Toys For Toddlers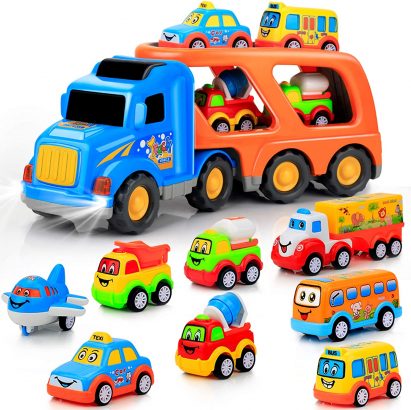 Keep your toddler entertained for long hours with the Forty4 9 pcs Cars Toys for 2 3 4 5 Years Old Toddlers. Every car is designed differently to eliminate boredom.
Their difference in appearance enhances your child's imagination and vocabulary skills. The different colors add more fun to their play.
This set of toys is ideal for kids from ages two to five. However, toddlers of 18 months will also find them entertaining. The set has a big carrier truck and eight pull-back cars.
The toys are made of high-quality, durable plastic material. Their smooth finish makes them safe and comfortable to play with.
Advantages:
Durable and sturdy
Nine pieces to eliminate monotony
Helps kids learn about different colors
Improves kids' cognitive skills
Disadvantages:
Often, the flashing headlights become faulty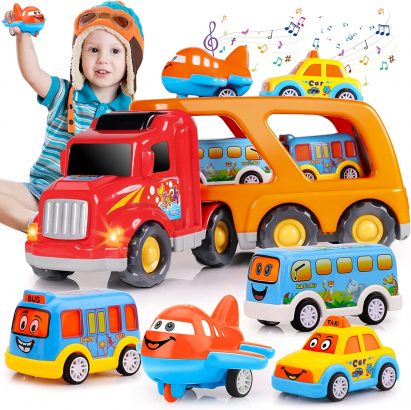 The Nicmore Toddler Toys come in perfect sizes for your kids. Their small size makes them fit well in the tiny hands of kids.
The five-in-one colorful trucks include a middle bus, small bus, small taxi, mini airplane, and one big transporter. All these keep your kid entertained throughout the day.
These toys are made of sturdy and durable plastic. Each of the cars has a very smooth outline which makes it safe to play with.
They are ideal for kids ages one to six years. The giftable set includes three pull-back cars and two inertia cars.
Advantages:
Multifunctional
Easy to play with
Safe, sturdy, and durable
Multicolored to enhance creativity
Disadvantages:
The wheels come out easily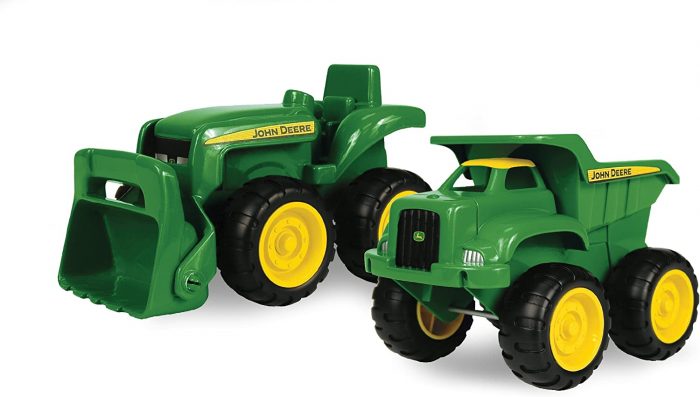 The TOMY John Deere Sandbox Vehicle has a tractor and a dump truck. This provides toddlers with an engaging sandbox.
The interactive toys include functional parts like loaders and moving dump beds to help your kid learn hand coordination.
The free-rolling wheels make these toys fun and easy to use. Durability and child-friendly design are other notable attributes.
Advantages:
Six-inch sandbox cars
Fully functional parts
Free rolling wheels
Durable construction
Disadvantages: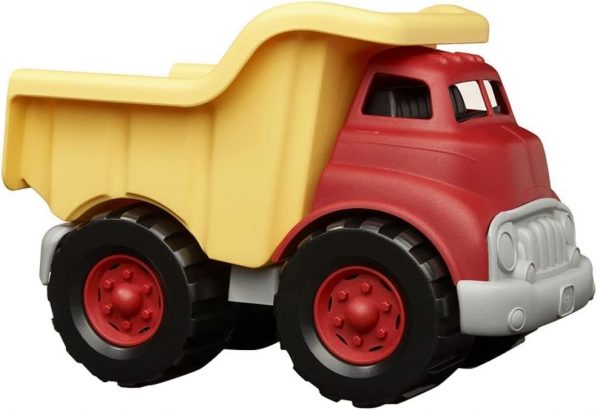 The Green Toys Dump Truck in Yellow and Red is made of eco-friendly materials that are PVC, phthalates, and BPA-free.
The red and yellow truck toy helps improve your kid's fine motor and gross motor skills. They learn stuff like how and where to dump garbage to keep the environment clean.
The truck is easy to clean. All you need is a mild baby soap or shampoo, and a sponge. The toy is also dishwasher safe.
Made from recyclable plastic, this truck is suitable for both outdoor and indoor use.
Advantages:
Made from 100% recycled plastic
Sturdy
No metal axles – fully functional dumper
Easy to clean
Disadvantages:
Has a strong chemical smell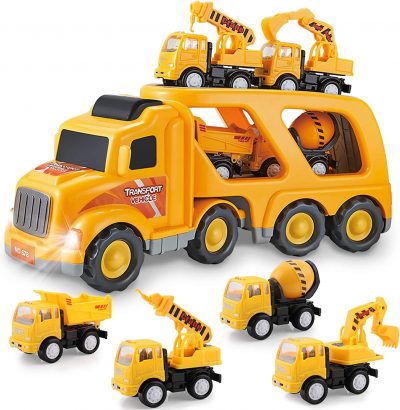 The Forty4 Construction Truck Toys is a pack of four construction trucks, including an excavator, a dump, a mixer, and a crane. Its carrier truck is friction-powered.
The truck has special effects such as headlights to keep your toddler engaged. It produces an engine sound once you press a button on the truck.
Apart from the features that enhance the gaming experience, the movable parts help toddlers learn about construction.
The set is ideal for three-year-old kids and above.
Advantages:
Giftable
Special effects for more engagement
Friction-powered
Reasonable pricing
Disadvantages:

The Cat Construction 7″ Dump Truck is a set of three construction vehicles, including an excavator, wheel loader, and a dump truck, all of which have articulation parts.
This set of toys offers a real construction experience, which is good for development and creativity. Toddlers will find the sleek design attractive.
The toys can be used both indoors and outdoors. They are built using tough plastic to withstand rough handling.
This truck encourages learning and creativity through imaginative games while building hand-eye coordination and cognitive recognition.
Advantages:
Durable and sturdy
Can be used both outdoors and indoors
Real construction experience
Educational value
Disadvantages: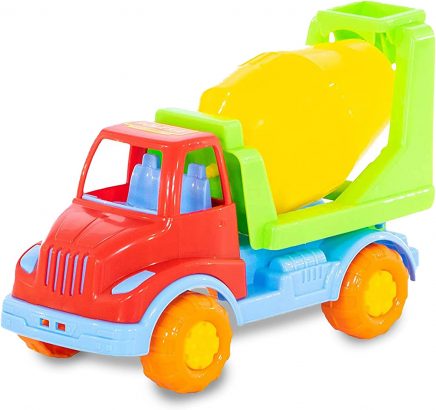 The CO-T Dump Truck Toy – Tipper – Construction Vehicle Toys are made from PVC and BPA-free materials which makes them safe for toddlers.
The attractive toys are made of European-grade material so they are suitable for use both indoors and outdoors.
The toys are made of sturdy plastic materials. All the parts are smooth and solid.
In addition to offering educational value, these toys help boost your kid's coordination and fine motor skills.
Advantages:
Solid construction
Smooth surface
Amazing gift for Christmas or birthday
Free replacement
Disadvantages: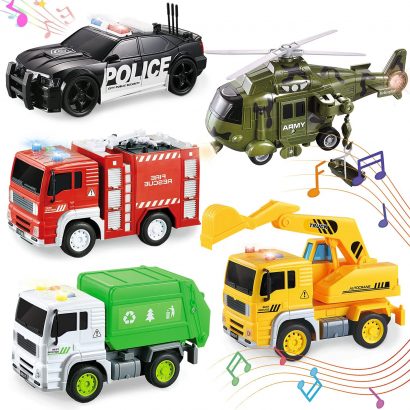 The Lesuter 5 Pack Friction Powered Truck Toy comprises 5 City Hero Themes. The set has one police car, one firefighter vehicle, one engineering truck, one waste collection truck, and one Army helicopter with a hanger and basket.
You can use the five pieces for entertainment and educational toys. Teachers can use them as classroom rewards or prizes.
They are ideal for boosting your kid's hand-eye coordination, cognition development, and motor skills.
Advantages:
Great for learning
Strong and durable
Attractive design
Big vehicles
Disadvantages:
The antenna on the police car breaks easily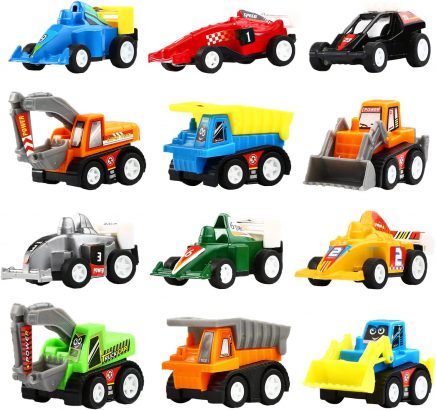 Just as the name suggests, the Yeonha Toys Pull Back Vehicles are truly pull back trucks. You just pull them back and let go, and they'll move forward on their own.
The complete set comprises six-pack construction vehicles and six-pack race cars, making them 12 cars in total.
The toys help boost your child's language and vocabulary skills through imaginative games. The assorted car and truck toys measure about 2.5 inches.
The toys are bright and colorful, making them suitable for kids ages 3 years and above. They are great for the beaches, playgrounds, daycare centers, or preschools.
Advantages:
Pull back vehicles
12 vehicles
Beautiful colors
Pocket-friendly
Disadvantages:
The release mechanism is faulty at times
Buyer's Guide: Best Truck Toys for Toddlers
Consider the following factors when in the market for the best truck toys for toddlers:
Age
Toys are appropriate for a certain age group. A toy for a one-year-old might not impress a three-year-old. If you buy a simple truck toy for an older kid, he'll get bored easily.
Likewise, buying a complicated truck toy set for a one-year-old would be a waste of money. Choose an age-appropriate toy.
Safety
The toy should have a smooth finish to prevent physical injuries. Additionally, it shouldn't have small detachable parts as they can cause a choking hazard.
Avoid toys with a strong chemical smell and those made from environmentally unfriendly materials.
Creativity and Learning
Toys aren't just for fun and entertainment. They should also provide value in terms of creativity and learning.
Choose toys that can help your kid develop their vocabulary, language, and math skills. Consider toys that boost their creativity and help them learn how to care for the environment.
Promotes Physical Fitness
Truck toys make your kid move about. While that is the case, you have to consider buying those that make them move longer distances so they can exercise their muscles.
Consider truck toys with different types of toys in the set to enable your toddler to move around while playing with them.
The Kid's Preference
Kids have their preferences. Some kids prefer construction activities or firefighting activities while others are into racing.