There's more to a day planner than just being a calendar. From tracking your daily goals in different aspects to outlining monthly objectives, having a daily planner is necessary for the focused folks.
Whether you're dreaming big, desire to do more, keep all your Zoom/Skype dates corralled, or finally get organized, a day planner is a handy tool.
Use the ones we've reviewed to organize your daily, monthly, or even annual schedule.
Quick Summary: Best Day Planners
Here's a quick summary of the best day planners?
Reviews: Best Day Planners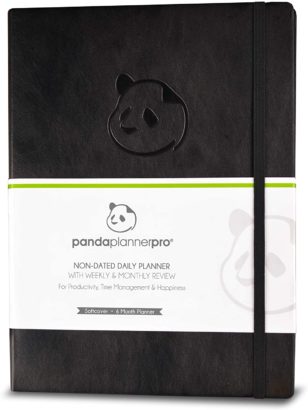 The Panda Planner Pro – Best Daily Planner will help you stay organized and excel in your daily activities. The six-month planner allows you to balance your work, life and achieve your goals.
With this daily planner, you will find it easy to keep up with modern life demands. It will also help you stay in control and flourish in all your endeavors.
Apart from the daily planner, you will also get some bonus eBooks that will help you improve your productivity.
Advantages
Has a nice layout on the inside
High-quality paper
Beautiful, black cover
Bonus eBooks
Disadvantages
Room for improvement on the layout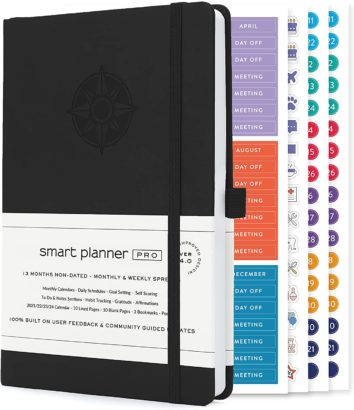 The Smart Planner Pro – Daily Planner is a high-quality planner that features thick papers for the best experience. Your pen's ink will not spread on the pages when you write. All the pages of this daily planner have quality stitching, so they will not fall apart.
The 13-month planner includes 52 weeks and 13 months of updated layouts. However, it has reference calendars from 2021-2024.
The planner's inner pages have monthly calendars, note sections, goal settings, and other great features. Stay focused and accomplish your goals using this planner. It'll enable you to stay organized to reach your potential. No more procrastination and staying disorganized, which can hinder your success.
This planner will help you track your goals throughout the year and still manage your everyday tasks.
Advantages
Has an attractive and elegant design
Helps you achieve your goals
Designed with quality paper
Quality stitching to prevent the pages from falling
Disadvantages
You have to fill in the dates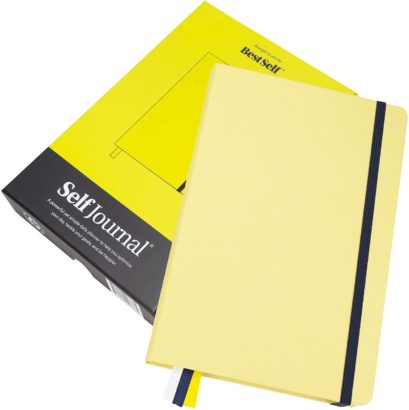 Track maximum achievement and success of your goals using the SELF Journal by BestSelf. With this day planner, it is easy to schedule your daily and monthly goals and habits to develop a positive mindset.
This 13-week planner is ideal for high achievers. It is scientifically designed to overcome limitations and procrastination. You can plan your activities and track them to help you achieve your biggest goals.
The goal planner is undated. Use it to develop gratitude and motivation daily. It features a habit tracker, 3 goal templates, motivational quotes, daily gratitude, and weekly planning.
Advantages
Durable design for daily use
It has a luxurious and professional look
Improves your productivity
Undated – start anytime
Disadvantages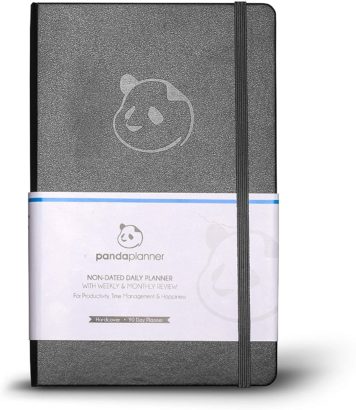 The Daily Planner 2021 by Panda Planner is a 90-day undated planner that is scientifically designed to give you a productive and happier life. It has spacious pages, so you have ample room for priorities, listing tasks, and two daily check-ins.
The Panda day planner helps you stay organized to achieve more. It improves productivity for everyone, including men, women, business people, students, teachers, professionals, etc.
Its unique system will work fine for every user. Using this planner helps you rekindle the spark in your life and be happy about what the future offers.
Advantages
Helps you stay focused on your bigger projects
Scientifically designed
Spacious pages for ease of use
Thick pages to prevent ink from bleeding through
Disadvantages
Not designed for an entire year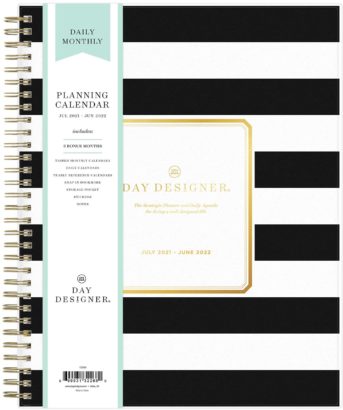 The Day Designer for Blue Sky 2021-2022 Academic Year Daily & Monthly Planner helps you stay focused on your goals. Using it makes it easier to incorporate your short-term and long-term goals in your daily, weekly, and monthly agendas.
You can effortlessly track your goals to improve your performance and the quality of your life. Additionally, it helps boost your happiness since it uses positive psychology techniques.
It has updated and unique layouts, giving you the chance to use it any time. Therefore, you will not waste the pages since you decide what to fill in the dates and months.
Advantages
Has an attractive and elegant design
Helps you achieve your goals
Designed with quality paper
Quality stitching to prevent the pages from falling
Disadvantages
The pen loop detaches easily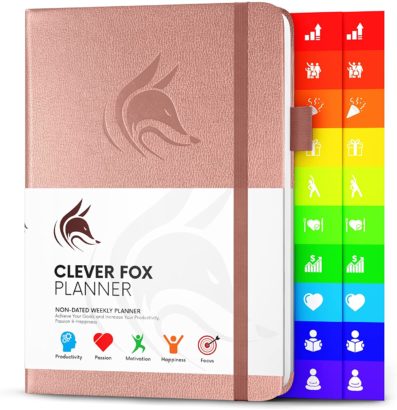 The Clever Fox Planner – Weekly & Monthly Planner has been proven to help you enhance productivity and achieve your goals. You can manage your time well throughout the week and month for improved performance.
It features a durable leather cover material for everyday use. Additionally, it has a bleed-proof paper that ensures the ink doesn't bleed on the pages. The pages also feature quality binding and stitching to ensure they stay in place.
You can easily lay your goals down and eliminate procrastination. With this smart planner, you will get a good approach towards achieving your dreams.
Advantages
It has an expandable inner back pocket
Makes a great gift for anyone
It has a durable cover
Bleed-proof pages
Disadvantages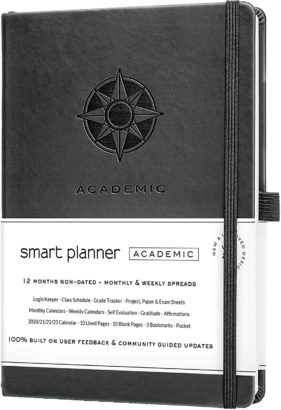 The Smart Planner Academic Planner helps you excel and succeed in your studies. It is great for students who want to keep track of their grades and assignments.
It includes different sections like a monthly goal tracker, as well as daily and hour-by-hour schedules for your classes, and exam planning.
The updated daily and weekly planner will enable you to maximize your productivity and focus. Moreover, it will help you stay organized and always aim at your target.
Advantages
It is undated, so you can start anywhere
Offers multi-section planning
Has a high-quality hardcover
Ideal for students
Disadvantages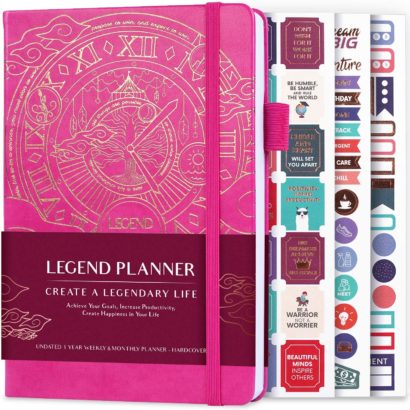 The Legend Planner – Deluxe Weekly & Monthly Life Planner is great to help you boost your productivity and make your dreams come true. It makes it easy to prioritize your weekly and monthly priorities thus ensuring you only pay attention to your most important goals.
With this planner, you plan your life as you want it to be. Coming up with your vision, long and short-term goals is effortless. It follows great techniques that have been tested to improve productivity.
Staying organized can help you create a balance between work and life. It will also be easier for you to develop new habits for a happier life. You can set and achieve your goals by listing down everything in this planner.
Advantages
It will help you turn your dreams into reality
Has schedules for deadlines and appointments
Thick and good-size pages
Brilliant color and design
Disadvantages
Room for improvement on the layout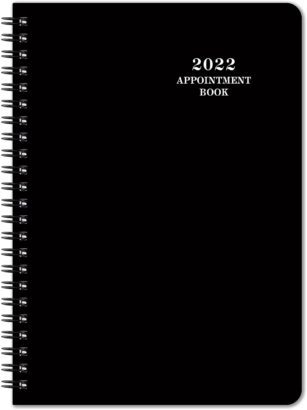 The Indeme 2021 Planner & Appointment Book is a great daily and hourly planner for all your appointments. Using it helps you live an organized life and stay focused on achieving your goals.
The pages have sufficient writing space. It is effortless to organize the entire year since it has a countdown of days. You will also love the to-do list to organize your week. Moreover, there is an extra note where you can write unexpected notes.
This tool will help you live a productive life since you can stick to ideas, notes, appointments, and meetings. All these enable you to manage your time well.
Advantages
Nice sections to write your notes
Great planner to help you focus on your goals
It has strong double wire binding
Designed with soft papers and thick cover
Disadvantages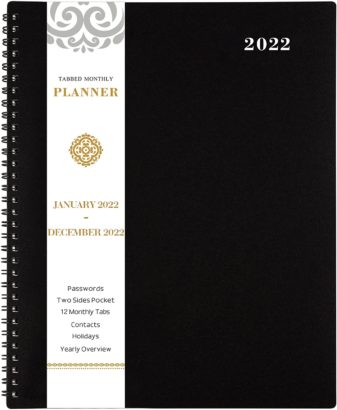 The Artfan 2021-2022 Monthly Planner is a large 18-month planner with marked holidays. Every month is separated using tabs. The planner has a two-sided inner pocket that enables you to keep loose items.
You will love the planner's professional design which is tailored for durable use. It has a twin wire binding that allows 360-degree folding over. The planner is also stylish and functional to help you achieve your goals.
It has ruled daily blocks to allow open scheduling and note columns. The planner is also made of premium quality material for the best experience.
Advantages
Made with pure white and thicker paper
It features a professional design
Spacious with a vast area to write on
It has minimal ink leakage
Disadvantages
The labels don't match the right month
Buyers Guide: Best Day Planners
Consider the following factors when in the market for the best day planners:
Duration and Format
First, it is important to note that most day planners come in different formats and designs. They range from daily to weekly, monthly to quarterly, and even annual planning formats.
There is a wider range to choose from. The question is, are you a student looking for a planner for your school schedule? Or are you a goal-oriented career person looking to improve your productivity?
Depending on your needs and preference, pick the day planner with the layouts to perfectly serve your purpose.
Does It Come With Extras?
The next thing to look for when shopping for the best day planners is whether it has extra features. For example, do you desire one with checklist sections or personal goals sections?
Or are you okay with a simple, straightforward planner with just the calendar? There is a wide range of extras that your day planner can come with.
Look for features that add value to your planning and organization. Like a to-do lists section, shopping lists, daily motivation quotes, and so on.
shopping lists, daily motivation quotes, and so on.
shopping lists, daily motivation quotes, and so on.
Budget
Besides looking for extra features when buying your day planner, you also have to consider how much cash you're willing to part with for the right product.
The good news is, you don't have to spend a fortune to get the best planner. The market is full of affordable day planner brands and designs.
Get the day planner that offers the worth you're paying for.
Size
This depends on whether you need a pocket-sized planner or a journal-like mini-book. Luckily, there are a variety of sizes and layouts available.
Again, your daily activities and lifestyle will highly determine the size of the day planner you need. For example, if your day is overcrowded with tasks and goals, you might need more than just a pocket-size book.
Cover Design
This is where you get to judge a book by its cover. If you're looking for a day planner for long-term use, you need to consider hard-covered products with durable cover designs.
For travelers or outdoor fanatics or maybe a fisherman, you might consider weatherproof, covered day planners.
Also, you might need a little artwork on your planner's cover to cheer you up. Or maybe a cool low-profile book cover works for you just fine. It's your call.