Steam cooking is virtuous. In addition to maintaining the purity of your ingredient's flavors and taking minimal time, this method of meal preparation does not require fat. This centuries-old technique retains maximum nutrients.
Steam cooking envelopes your ingredients in a vapor cloud and gently brings them up to the desired temperature. Ultimately, you enjoy faster cooking time without losing the tenderness of your meal. Even better, it is a hands-off cooking method as peeking results in loss of steam.
Although steaming is effortless enough with any vented basket and pot, if your main goal is flavorful whole fish, tender dumplings, juicy stuffed bao, or pillowy mantou buns, then you should consider using a bamboo steamer.
You will need a wok, deep-pan, or large pot to put in your bamboo steam unless you have a steamer ring. Let us look at the best bamboo steamers on the market today.
Quick Summary: Best Bamboo Steamers
Here is a quick rundown of the best bamboo steamers:
Reviews: Best Bamboo Steamers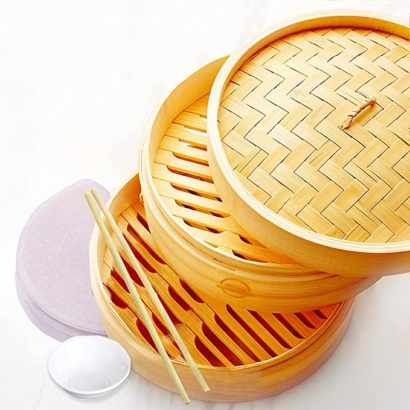 Steaming food helps preserve minerals and vitamins as it keeps the food's color, shape, flavor, and texture. This is exactly what you achieve by using the Mister Kitchenware Handmade Bamboo Steamer.
With this bamboo steamer, there is no need to use oil or fat when preparing your meal. It has a stackable layer with slatted bottoms. This multi-level steamer is highly efficient in simultaneously steaming several items.
Its two-tier baskets allow it to cook or reheat more servings at once. The tiers measure 10 inches in diameter by 2.4 inches in-depth and an interior diameter of 9.25 inches.
This steamer absorbs excess moisture, thus preventing condensation from dripping on the food. Its circular frame design that features a slatted bamboo bottom allows steam to move freely within the cooking chamber.
A domed bamboo mesh lid helps to circulate heat. For those who dislike soggy veggies, this is your best solution.
A downside is that it is not dishwasher safe. In terms of cleaning, you need to deodorize and disinfect it using vinegar. Use one-half cup of vinegar to one gallon of hot water to soak the cloth in.
Lightly squeeze out water from the cloth. Wipe the bamboo steamer with the material and repeat this method a few times until clean.
Rinse the cloth in hot clean water and wipe the bamboo steamer once more. Dry your bamboo steamer on the rack before putting it away.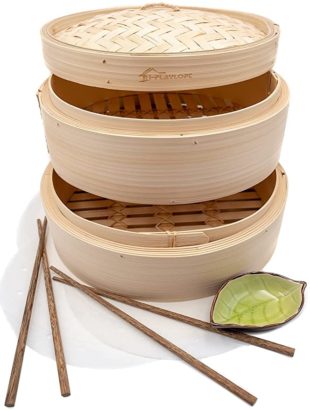 Look no further for an easy-to-use, practical, and convenient bamboo steamer that makes your cooking delicious and nutritious. Prepare an authentic and sumptuous cuisine using the i-PLAYLOFT Premium Handmade Bamboo Steamer.
Steam many types of food such as rice, dumplings, fish, and meat. It is designed with two-tier baskets, which allow you to cook multiple things at once. This steamer is lightweight and durable, ensuring you enjoy endless delicious meals.
This quality premium bamboo steamer is made with value and craftsmanship at the forefront. It comes with various tools that make it a perfect steam pot for large kitchen ideas. It makes cooking and steaming food a more pleasurable experience.
The set includes two sets of chopsticks, one sauce plate, 20 wax steamer liners, and a bamboo steamer guide on how to cook. An excellent gift for anyone you value and is just learning to cook or are looking for an alternative way of cooking.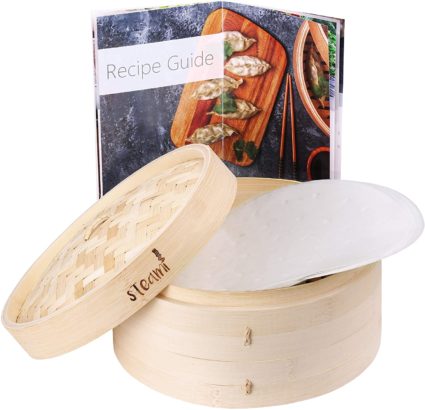 The Steam Bamboo Steamer is another great performer on our list. It measures 10 inches by circumference, making it convenient to fit most pots. The two-tier design is practical and versatile as it is large enough to cook full meals.
You can rotate the racks of this bamboo steamer during steaming to regulate the cooking time and temperature. This unit is constructed with 100% eco-friendly bamboo. BPA- free bamboo construction ensures that you have no worries concerning harsh chemicals heating as you steam.
Its inner surface is such that food does not stick. It has pre-cut parchment paper for easy clean-up. Use it to maintain fresh flavor in vegetables, such as carrots, potatoes, and cabbages.
A bonus recipe guide and ten liners are included. It has everything you need to get started as you quickly follow the steps given in the guide. The ten liners make cleaning easy.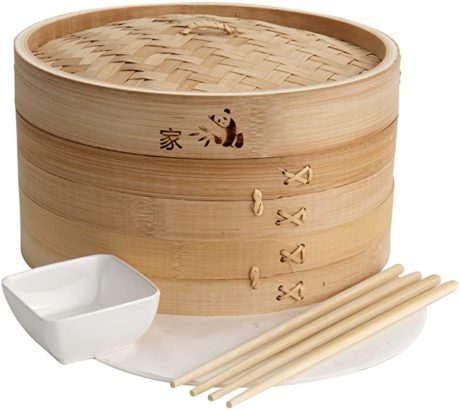 The Prime Home Direct Bamboo Steamer is made with 100% organic bamboo. The set includes a 10-inch basket, two chopstick sets, one sauce dish, and 500 liners.
This non-stick steamer is ideal for steaming vegetables, meat, and fish. It has a dynamic two-tier design that allows more cooking options. Enjoy cooking several meals simultaneously.
Two stackable layers fit on top of each other. The layers measure 12 inches in diameter and 3-inch depth to give you ample space for cooking.
Water-resistant walls and dome-shaped lids do not allow condensation to accumulate. Its firmware design distributes heat evenly to result in 100% evenly cooked food. Its design also prevents water from dripping from the lid by absorbing excess moisture.
This unit maintains the flavor and nutrient content of your food. The bamboo set includes a pair of complementary chopsticks and a wax paper liner for protection. Chopsticks can be used to cook and eat, while wax paper allows easy clean-up.
For cleaning, avoid putting it in a dishwasher. Instead, hand-wash it with warm water and soap. Leave it to air dry.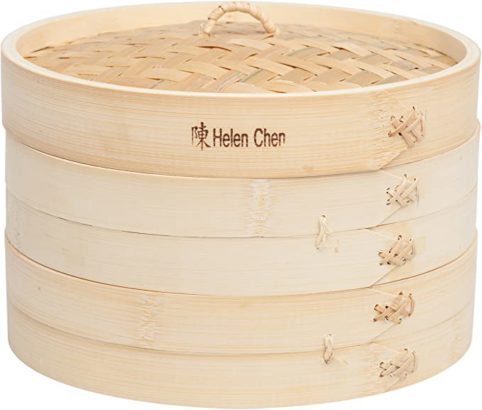 Enjoy healthy low-fat cooking with this bamboo steamer. Use the Helen's Asian Kitchen Bamboo Steamer to gently warm and cook vegetables, dumplings, eggs, meat, poultry, fish, and desserts with steam. Made from 100% natural bamboo, this bamboo steamer is lightweight and sturdy.
Foods cook and reheat gently with steam as they hover above hot water. It has two tiers that offer ample room to enable multiple servings.
When you steam food, it not only maintains textures and flavors but also preserves precious nutrients. Its bamboo material absorbs condensation, so no water drips back into the food.
Regarding cleaning, hand-wash it in warm soapy water.
Buyers Guide: Best Bamboo Steamers
Consider the following factors when in the market for the best bamboo steamers:
Size
Bamboo steamers come in many sizes in terms of diameter. Popular ones are 10, 12, or even 14 inches.
The available space in your kitchen should determine the size you settle for. Additionally, the amount of food you are planning to prepare should also inform your decision. Pick a steamer that has at least two tiers.
Quality
Your choice of bamboo steamer should be durable and sturdy. Make sure you pick a steamer that is made of high premium quality bamboo.
Storage Space
As aforementioned, a bamboo steamer comes in different sizes. Some occupy a lot of space. Before purchasing one, figure out how much storage space you have and buy an appropriate-sized steamer.
Steamer Rings
These are metal rings that sit at the lip of your pot. They protect you from burns and scratches from the steamer. It makes sure that the steamer has something stable to sit on.
Lid Type
The type of lid you are going to use determines how efficient your steaming process will be. It should fit tightly onto the body of the steamer to prevent steam from escaping. A suitable lid type makes the cooking process more efficient and faster.
Ease Of Cleaning
Once you are done cooking your meal, cleaning your cookware can be challenging. The last thing you want is to settle for a bamboo steamer that takes a long time or is challenging to clean. But the good news is that bamboo steamers are easy to clean.
For most of these bamboo steamers, you can just lift out the parchment paper and throw it away. Although many dishwashers aren't dishwasher safe, it would help if you can search and find one.
Benefits Of A Bamboo Steamer Over The Regular Steamer
Bamboo steamers are great and efficient cooking equipment. Using them is a great way to preserve all the nutrients in your food. Your food remains fragrant and bright without consuming fat.
A vast difference exists between a bamboo steamer and a conventional one. Several advantages make a bamboo steamer incredibly useful.
Here are some of the benefits of a bamboo steamer over a traditional steamer:
Have A Perfect Humidity Control
When you steam food in an ordinary pan, the chances of becoming waterlogged are high because of moisture build-up in the pan. This is not the case with a bamboo steamer as sit absorbs excess steam in its walls as you cook.
Say goodbye to soggy wet food by using a bamboo steamer.
Versatility In Product Use
With a bamboo steamer, you can not only cook Asian dishes, but also an array of other meals such as vegetables, fish, and even poultry.
Multiple Levels
With a bamboo steamer, you can set different levels when preparing your meals. You can cook fish and vegetables at the same time.
This becomes so convenient when cooking several portions at the same time. Of great importance to note is that each level should be lined with parchment.
Easy Care
Bamboo steamers get less dirty after use compared to traditional steamers. It is easy to protect different tiers from dirt and damage. Food is not in direct contact with the steamer, so cleaning will be easier.
Saves Electricity
Allows you to cook with gas and does not need electricity. Enjoy considerable savings in terms of electricity bills when you use a bamboo steamer.
Environmental Safety
Bamboo steamers are made of eco-friendly materials. Their production process is also environmentally friendly. Genuine ones feature natural materials that do not contain any harmful impurities. This assures you that you're preparing your meals using safe cookware.
Consistent Heat Distribution
Another great attribute of a bamboo steamer has to do with its consistent heat distribution. The distribution of heat is even between the different layers. All the food reaches the cooking level evenly.
Elegant Serving
While using bamboo steamers, food is served directly from the steamer. This reduces the number of dishes to be washed and makes serving traditional yet classy.