The best aqua doodle mats allow your kids to enjoy drawing, shapes, numbers, and alphabets. These mats make learning easy and fun. You can take them with you anywhere.
Using these mats is mess-free because your kids don't need to use chemicals, paint, colors, and other chemicals. These educational toys stimulate your child's imagination and help them develop creative and cognitive skills.
If you are considering buying aqua doodle mats for kids, it is prudent to understand their features and the options available.
Quick Summary: Best Aquadoodle Mats
Here is a quick summary of the best aqua doodle mats:
Reviews: Best Aquadoodle Mats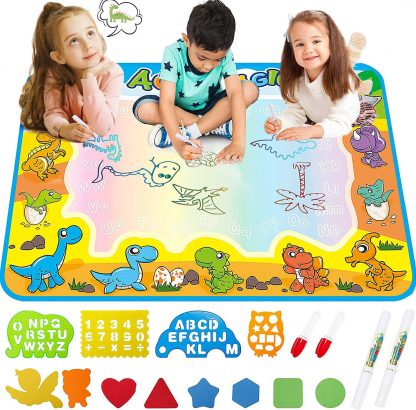 The FREE TO FLY Kids Toys Water Doodle Mat is large-sized with a fun dinosaur pattern for kids. This amazing tool keeps children busy and grows their imagination and creativity.
Each package includes a doodle mat, 4 magic pens, 8 drawing molds, 4 drawing templates, and one booklet. This is the perfect choice to gift children during Christmas or birthdays.
This magic doodle mat is reusable so kids can have unending fun by drawing on the mat again and again. All drawings disappear automatically within 3-10 minutes.
The mat is made from a water-resistant nylon material hence no worries of children getting the floor wet. You can fold it into a small size which is convenient to carry for travel.
Advantages:
Does not leave a mess
Perfect for boys and girls of all ages
Reusable
Comes with plenty of drawing stationeries
Disadvantages:
The drawing area is a little small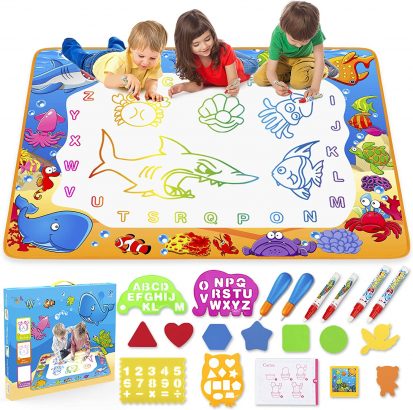 The Toyk Water Doodle Mat provides a great tool for kids to express themselves through painting. Using this mat enhances the imaginative, cognitive, and creative skills of your kid.
Children draw without being messy since no ink, paint, or chemical is used.
The doodle mat is reusable. It uses water for drawing. Once the water dries up, the drawings disappear automatically after 3-10 minutes. It is portable and hence good for outdoor fun.
The mat is 40×28 inches in size which provide enough space for kids to paint with their friends. You can lay the mat easily on the table or floor.
Advantages:
Large enough for kids to draw on together
The surface dries quickly
It comes with many writing tools
A bag for storage
Disadvantages:
Paint markers are difficult to open and close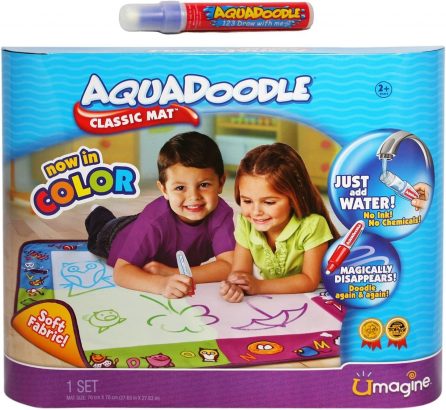 The Aquadoodle –Draw N Doodle gives children the freedom to be creative and learn with no mess. With just a pen and water, children can spend lots of time drawing and writing.
Since it uses water only, this reusable mat is safe for kids. You can use it again and again without being messy.
The package includes a basic mat, two pens, and a cap. You can use the portable mat in the house, in school, or on holiday trips.
Four color options are available that are red, blue, green, and purple. Children can enjoy the colors at different times. The soft fabric border is for comfort as they play.
Advantages
4 color options
Safe
Reusable
Takes up a small space
Disadvantages:
Users reported water leakage from the pens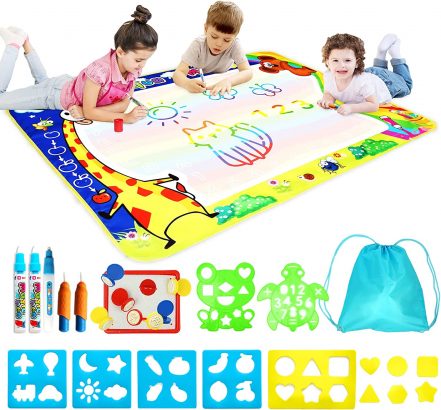 The Axel Adventures Aquadoodle Mat is extra-large providing a big surface for kids and their friends to draw and have fun.
This doodle mat is suitable for kids ages 1-6 years. It features various letters, shapes, objects, and colors that can support their sensory development. Kids become more creative and imaginative.
The mat comes with a drawstring bag to store the mat after use. The bag is large to fit the magic mat and all its accessories. This is perfect for carrying it for outdoor travels.
The mat is made from high-quality, durable, and reusable material.
Advantages
Durable and reusable material
Large size
Bright colors
Comes with lots of accessories
Disadvantages:
It may take a while to dry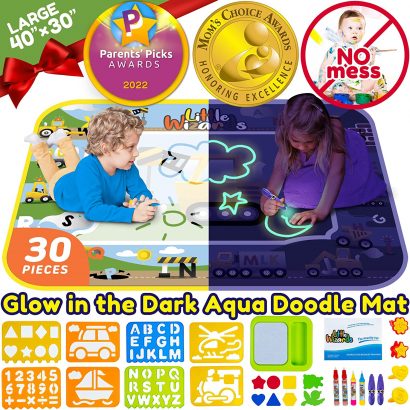 The LITTLE WIZARDS-Water Coloring Doodle Mat offers a great space for kids to learn and have fun. Measuring 40×30 inches, this mat comes with 30 accessories.
It has been tested and proven to be free from any harmful materials making it safe for children to play with while staying healthy.
You can hang the mat, and lay it on a table or floor for kids to use, provided they are comfortable and relaxed while playing. You can carry it anywhere since it is light and portable.
This aqua doodle mat is easy to use and clean. Just add water to the magic pens and let kids explore. Each magic drawing disappears automatically when it dries allowing kids to draw repeatedly.
Advantages
Extra large size
Comes with enough refillable water pens
Dries quickly
Leaves no mess
Disadvantages:
Buyer's Guide: Best Aquadoodle Mats
Consider the following factors when in the market for the best aqua doodle mats:
Age
You should consider the age of your child before buying an aqua doodle mat. If your kid is less than one year old, it is good to supervise them frequently. Many kids will enjoy using these mats after the age of 5 years.
Safety
While aqua doodle mats are fun and keep your child engaged, it is wise to consider the safety of your kid first. There are thousands of aqua doodle mats in the market. Consider durable, safe, and eco-friendly mats.
Reusable
A quality aqua doodle mat should be reusable. Most of the scribbled marks on aqua doodle mats vanish in less than 10 minutes to give your kids the chance to write, draw or doodle.
Size
The right size of aqua doodle mats accommodates at least two kids. Aqua doodle mats encourage your kids to share and enjoy mutual work. Avoid congesting mats because your kids can end up fighting.
You should consider a foldable mat as well. Look for compact-sized mats because they are easy to transport outdoors.