Sharing places like bathrooms, locker rooms, public pools, gyms, or swimming pools can lead to fungal infections. The most common fungal infections are athlete's foot, jock itch, yeast infection, fungal acne, and ringworms.
If you're suffering from fungal infections, it is important to keep them under control to prevent spreading. You can achieve this with the best antifungal body wash.
An antifungal body wash contains ingredients like ketoconazole or miconazole that fight fungus. Others have natural ingredients like eucalyptus and tea tree oils.
Quick Summary: Best Antifungal Body Wash
Here is a quick summary of the best antifungal body wash:
Reviews: Best Antifungal Body Wash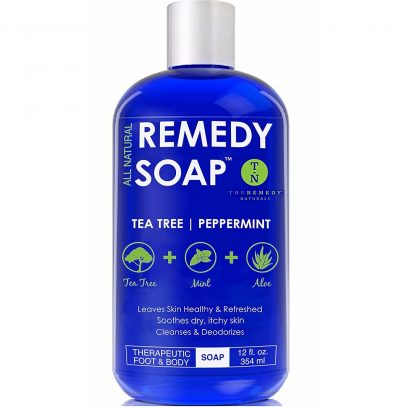 Get rid of yeast infection, jock itch, body odor, athlete's foot, and skin irritations with the Remedy Soap Tea Tree Oil Body Wash. This nicely scented body wash works well for both men and women.
This product contains organic and natural ingredients such as eucalyptus oil, botanical tea tree oil, and peppermint oil which work well for skin irritation.
It also contains coconut oil, jojoba oil, and olive oil for moisturizing. It doesn't contain preservatives, silicone, sulfates, synthetic fragrances, or dyes.
This body wash is gentle enough for daily use. It works well for all skin types. Use it to clean your skin if you are suffering from eczema or acne.
Advantages:
Great for irritation and inflammation
Excellent for body odor
Pleasant smell
Suds well and rinses easily
Disadvantages:
Burning sensation in the groin area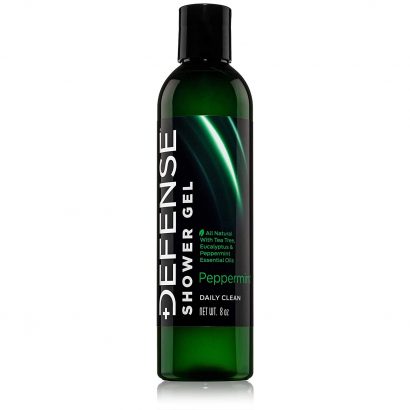 The Defense Soap Peppermint Body Wash is good for sensitive and acne-prone skin types. It contains tea tree and peppermint ingredients for a wonderful scent.
This body washes only contains organic ingredients. It is clinically proven to fight fungus and bacteria.
Using this body wash protects your body from ringworms, jock itch, foot odor, body odor, yeast, nail fungus, and other skin irritations. It offers a rich and smooth lather which makes it easy to use.
The lather penetrates well on your skin's pores to ensure the natural ingredients get deeper into your skin. The peppermint scent elevates your mood and boosts your memory.
Advantages:
Incredible peppermint scent
Contains clinically proven ingredients
Lathers well
Soothes and moisturizes your skin
Disadvantages: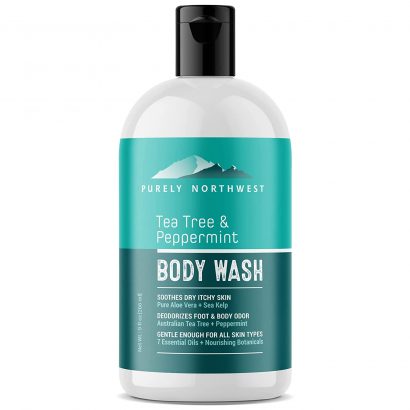 Eliminate fungal infections with the Purely Northwest Antifungal Tea Tree Oil Body Wash. This tea tree body wash contains 100% pure essential oils.
It doesn't contain artificial fragrances making it great for sensitive skin, eczema, and psoriasis. The body wash is effective for making skin clean and refreshed if you have body odor and smelly feet.
Kids and teens who engage in martial arts and contact sports can prevent fungal infections with this body wash. Use it to prevent lice from kids.
If your scalp is itchy, you can get relief after using this body wash. It works well to combat itchy, flaky, burning, and dry scalps. The body wash also eliminates clogged pores which prevent acne.
Advantages:
Eliminates clogged pores
Removes body odors
100% pure essential oils
No artificial fragrances
Disadvantages:
Room for improvement in moisturizing

The Tea Tree Body Wash is ideal for managing acne, athlete's foot, nail fungus, yeast, itchy skin, body odor, and skin irritation.
This clinically proven body wash has a combination of peppermint, eucalyptus oil, and tea tree oil to offer good relief for various fungal and bacterial infections.
This high-strength exfoliating body wash has a 5% tea tree oil concentration which is higher compared to other body washes.
The body wash doesn't contain sulfates, parabens, or alcohol. In addition to moisturizing, this product soothes irritated skin and removes impurities.
Advantages:
Works well for sensitive skin
Smells nice
Doesn't dry your skin
Great for pimples, boils, and breakouts
Disadvantages: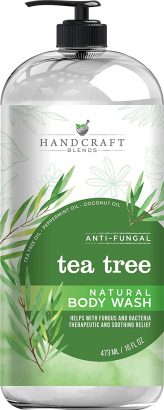 The Handcraft Tea Tree Oil Body Wash contains peppermint oil, tea tee, and benzoyl peroxide as the main ingredients. It is clinically proven to solve problems like acne, ringworms, athlete's foot, and yeast infection.
Its strong formula features a higher tea tree concentration for a delightful scent. The body wash boasts an impressive moisturizing effect.
This soap is suitable for eczema, body odors, and skin irritation. The ingredients are of high quality with no alcohol, sulfate, or parabens.
Advantages:
Gets rid of itching and irritation
Alcohol and sulfate-free
Paraben-free
Impressive moisturizing effect
Disadvantages: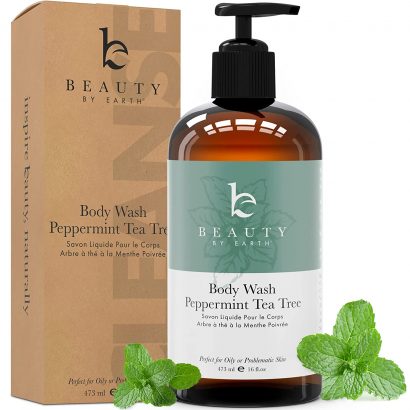 Get rid of skin blemishes, acne, and other conditions with the Peppermint Tea Tree Body Wash. It is suitable for different skin types.
The body wash contains essential ingredients that fight different types of fungal infections. All the ingredients are organic-certified and do not include sulfates, parabens, or harsh chemicals.
Enjoy the healing effect of powerful ingredients like peppermint essential oils, tea tree oil, and Saponified organic oil. All these work amazingly well to deal with skin impurities.
Using this long-lasting body wash is convenient. It comes in a generous size and its pump makes dispensing easy.
Advantages:
Great for acne and oily skin
Nice fragrance
Functional pump
Generous size
Disadvantages: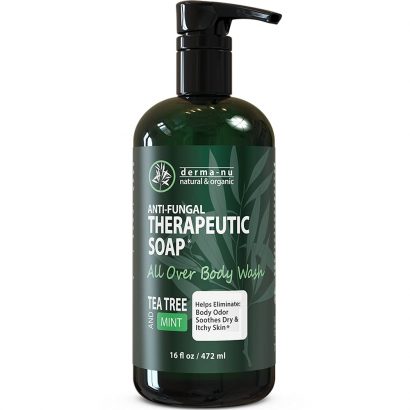 The Antifungal Soap and Antibacterial Body Wash has a fresh smell to leave your body feeling refreshed and invigorated.
It handles body odor and smelly feet excellently. Mint and tea tree oil fight the bacteria that cause jock itch, ringworm, yeast, and psoriasis.
Active people should include this body wash in their daily routine. The body wash contains natural and organic ingredients to fight all pesky germs.
It is rich in essential oils for a soothing and cooling effect.
Advantages:
Rich in essential oils
Ideal for all skin types
Soothing and cooling effect
Wonderful fragrance
Disadvantages:

Use this eucalyptus aloe skin cleanser to fight acne, dandruff, yeast infection, jock itch, nail issues, and athlete's foot. The ALL Natural Tea Tree Body Wash is suitable for all skin types.
It boasts a high concentration of eucalyptus oil and tea tree oil. This moisturizing body wash soothes your irritated skin and removes all dirt and impurities.
All the ingredients are clinically proven hence effective in dealing with many fungal infections. The natural ingredients are gentle and skin-friendly.
You can use it as your daily body wash especially if you are active in sports, workouts, or visit the gym regularly. It nourishes your skin and makes it healthy and blemish-free.
Advantages:
Great quality and quantity
Leaves your skin refreshed
Fights bacteria and fungus
Great for active people and athletes
Disadvantages:
Buyer's Guide: Best Antifungal Body Wash
Consider the following factors when in the market for the best antifungal body wash:
Ingredients
When buying any skin product, it is prudent to check the list of ingredients. Choose soaps that contain natural ingredients like eucalyptus oil and tea tree oil. These boast antibacterial and antifungal properties.
Type of Infection and Stage
Not all body washes can treat every type of fungal infection. Check the label and ensure the soap works well for your infection.
The stage of your infection also matters. Antifungal soaps are effective in treating fungus infections at an early stage. If you don't notice any improvement after using the soap, you should seek medical help.
Fragrance
Antifungal body washes come in different fragrances. Some soaps have active ingredients with strong fragrances. Consider a body wash with natural ingredients for a pleasant smell.
Skin Type
You should also consider an antifungal body wash that matches your skin type. Some soaps contain formulas that can dry your skin leading to irritation and breakout.
Although most antifungal body washes are ideal for oily skin, you can find some options suitable for a combination of dry and normal skin.
Foaming Strength
Choose an antifungal body wash that foams easily and lathers well. This not only makes the body wash easy to use but also leaves your skin feeling smooth.