Ah, wine. The glamorous, nuanced, lauded drink of choice for high society.
But don't let the reputation fool you—an expensive price tag isn't the only way to sip in style. In fact, there are plenty of white wines that are both affordable and delicious. Whether you're looking for something dry and acidic or fruity and sweet, there's a white wine out there for you.
To expand your palette (and save your cash), here are the 9 best cheap white wines to check out—plus our top tips on finding savings that stretch your dollar even further.
The Dry Side
Fruity, acidic, tannic—all common taste words used to describe wine. But what does dry white wine mean? How can a liquid even taste "dry"?
In the wine world, dry is less a distinct taste and more the absence of sweetness. Dry wines have less sugar, making other flavors from the alcohol and tannins come through. If you've always preferred salty snacks over dessert, you'll love our cheap dry white wine recommendations.
#1. Chateau Souverain—Sauvignon Blanc (2018)
Crisp, crisp, and crisper is what Chateau Souverain's Sauvignon Blanc delivers. This balanced bottle manages to combine herbal, lemony freshness with a full-body taste. It's the perfect Californian replica of that classic French white wine taste.
Forward flavors – Citrus, herbs, honeydew, savory
Body – Full
Region – California, USA
Alcohol content – 13.3% ABV
Bottle price – $11 to $13
#2. Chardonnay—Maculan Veneto (2018)
If you associate Chardonnay with an overly rich "wood-chip" taste that comes from the oak barrels it's sometimes aged in, we've got some excellent news. Maculan Veneto's bottle is unoaked, keeping the rounded fruitiness of Chardonnay grapes without overpowering their natural flavors.
Even better? You can score this uniquely balanced bottle for a bargain cost with RebateKey's Wine Library discounts. Sip on those savings with a smile.
Forward flavors – Tropical fruit, apple, stone
Body – Medium
Region – Veneto, Italy
Alcohol content – 12.6% ABV
Bottle price – $12 to $14
#3. Husch—Dry Gewurztraminer (2018)
Dry doesn't mean flavorless. This Californian Dry Gewurztraminer packs a bold punch to your palate, minus the acid. While your nose will detect sweet roses, your tastebuds will pick up on a lovely fruit basket assortment, from tropical notes to pears. It's strong enough to stand on its own but would also be divine with a light dinner.
Forward flavors – Grapefruit, pear, apricot, florals
Body – Full
Region – California, USA
Alcohol content – 13.6% ABV
Bottle price – $13 to $15
#4. Leitz Eins Zwei—Dry Riesling
But isn't Riseling always sweet? Not Leitz's kind. This uber-dry Riesling will change your mind about the grape's sugary reputation. High acidity, a medium body, and a puckering mouthfeel particularly great cocktail hour wine (paired with some yummy discounted snacks, of course). If sour candy is your jam, this is the Riesling for you.
Forward flavors – Minerals and stone, green apple, citrus
Body – Medium
Region – Rheingau, Germany
Alcohol content – 12.5%
Bottle Price – $14 to $17
#5. Alois Lageder—Pinot Grigio (2019)
There's no dry white wine list without a Pinot Grigio. From Northern Italy's sunny vineyards, this Aloid Lageder bottle is everything you want from a Pinot Grigio—light fruitiness, a crisp feel, and medium acidity. And for this price? You'll be pressed to find a better-tasting bottle.
Forward flavors – Pear, lemon, minerals, stone, spice
Body – Medium
Region – Alto Adige, Italy
Alcohol content – 12.5%
Bottle Price – $15 to $20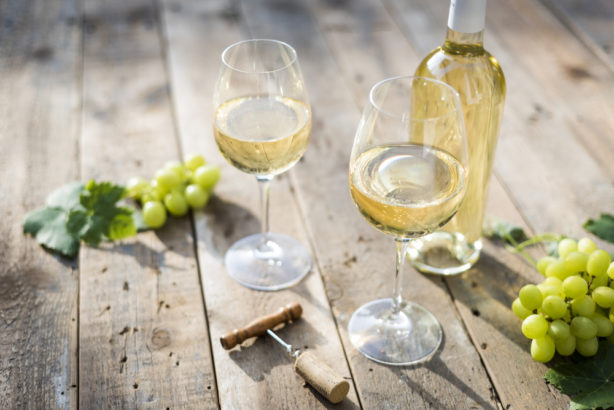 The Sweet Side
Don't let the dessert haters get you down. Sweeter white wines can be just as refined and nuanced as any dry bottle. And with RebateKey's exclusive deals at Vinesse Wines and Splash Wines, they can also be affordable.
Let your sweet tooth sing with our picks for the best cheap sweet white wine.
#1. Cousiño-Macul—Sauvignon Gris (2020)
If Sprite is your go-to soda, then this Sauvignon Gris should be your go-to sweet wine. From the dry fields of Chile, this clean wine cuts through soft fruity flavors with high acid and citrus notes. But at the end, you're left with a slight sweetness that rounds out the taste.
Forward flavors – Lemon, lime, peach, apple, pineapple
Body – Light to Medium
Region – Maipo Valley, Chile
Alcohol content – 14% ABV
Bottle price – $15 to $17
#2. Willamette Valley Vineyards—Riesling (2018)
Of course, you'll always find a low-alcohol Riesling on any sweet white wine list. But this Californian Riesling offers more than sugar on the tongue, rounding out the flavor profile with stone fruit notes and decent acidity. It's perfect for a happy hour on the patio or to accompany a summery dessert.
Forward flavors – Light citrus, peach, pear, juicy
Body – Medium
Region – California, USA
Alcohol content – 9.2% ABV
Bottle price – $14 to $17
#3. Saracco—Moscato d'Asti (2020)
With a plethora of flavors and a balanced level of sweetness, Saracco's Moscato d'Asti gives dessert wine the respect it deserves. An aerated quality and intense apricot flavor appear before a crisp, slightly acidic finish. It's the perfect finishing note to a rich dinner (with a cookie or two on the side, of course).
Forward flavors – Apricot, peach, florals, lime, minerals
Body – Light
Region – Piedmont, Italy
Alcohol content – 5.5% ABV
Bottle price – $12 to $17
#4. Dark Horse—Chardonnay (2019)
Looking for a wine that's definitely not dry, but not quite sweet? Enter Dark Horse's Chardonnay. This oaky yet fruity blend is soft on the tongue, almost like a grown-up creamsicle. A higher alcohol content cuts through the sweetness without ruining the fun. For a wine that can play at dinner or dessert, you can't beat this luxurious bottle.
Forward flavors – Oak, pineapple, vanilla
Body – Medium
Region – California, USA
Alcohol content – 14.1%
Bottle Price – $7 to $9
Savor Your Savings with RebateKey
Popping an expensive bottle adds a little glamour to any celebration. But on a casual weeknight, you don't need to shell out cash to drink some excellent white wine.
And with RebateKey's coupons, deals, and cash-back programs, you can access the best affordable wines (and more offerings) at any time! Get all the luxury taste at a fraction of the cost.
Sources:
Advanced Mixology. 25 Best Cheap White Wines For Budget Conscious Drinkers. https://advancedmixology.com/blogs/art-of-mixology/best-cheap-white-wines
Food & Wine. 9 White Wines to Serve Super-Cold When It's Blazing Hot Outside. https://www.foodandwine.com/wine/white-wine/best-white-wines-for-hot-weather
Liquor.com. The 9 Best Cheap White Wines to Drink in 2021. https://www.liquor.com/best-cheap-white-wines-5097256
Massanois. Maculan Veneto Chardonnay 2018. https://massanois.com/product/maculan-veneto-chardonnay-2018/
Usual Wines. Dry Wine: What It Is and Your Guide to the Best Types. https://usualwines.com/blogs/knowledge-base/dry-wine
Wine Enthusiast Magazine. The Best 16 American White Wines for $15 or Less. https://www.winemag.com/2020/10/09/best-budget-american-white-wines/