You can search for almost any product on Amazon. But did you know Amazon also sells luxury collectibles?

Our team has compiled this guide with a list of the most expensive gift items you could purchase through their website.
Let's take a look at them in detail to enhance your online shopping experience.
Quick Summary of This Guide
---
Our team has compiled this complete list of the most expensive things you can search for on the Amazon website.
Read to find out what you can purchase and their original prices.
The Strangest most Expensive things on Amazon – Complete Overview
You'd be surprised to see how expensive some of the things on Amazon are. Here is a list of the most strange and expensive things we found while researching.
Human-like 5.4 Inch Skull
Amongst the strangest and most expensive things we found on Amazon was this Skull made from the Brazil Quartz Rock.
You'd be surprised to know that the price of this 5.4-inch skull is approximately $6,900.
An 8-foot tall Statue of Anubis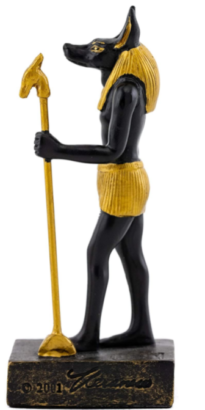 Another strange yet expensive product we found on Amazon was this 8-foot-tall statue of Anubis. It was made and designed by Toscano.
The best part about this product is that it qualifies for free Prime shipping on Amazon.
88-inch Samsung Smart TV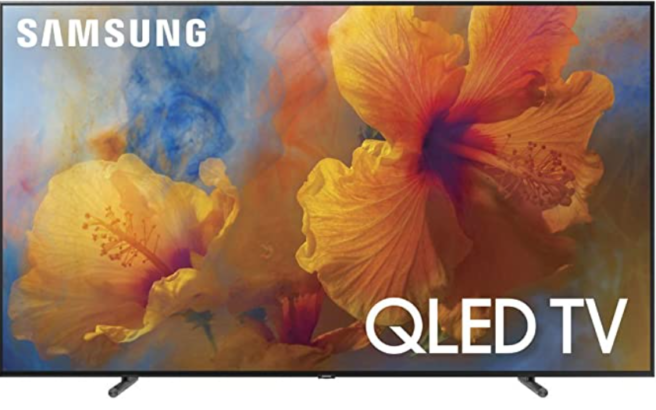 We know you can purchase TVs on Amazon, but did you know a TV could cost over $15,000?
You can get this 88-inch Samsung Ultra HD Smart TV with just one click on Amazon.
2,750 Gallons of Plastic Adhesive
Now, we're not exactly sure why anyone might need 50 drums of plastic adhesive. However, if you need 2,750 gallons of it, you can purchase it on Amazon for $87,012.08.
15 Foot Tall Bouncy Castle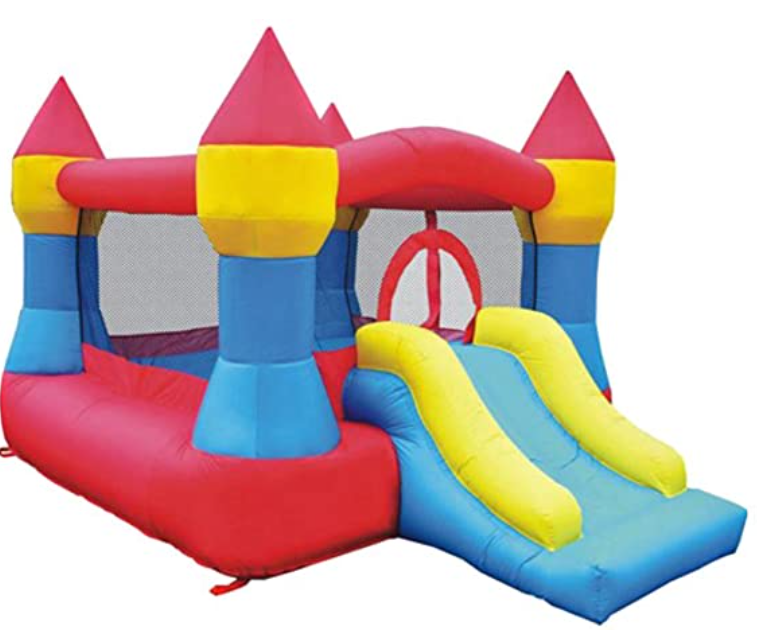 Now a bouncy castle may not sound like a strange item, but you should know it costs over $2,100 on Amazon.
However, the price tag includes a commercial-grade air blower.
The Gold Bullion Necklace
Now it may seem like it's just a bar of gold bullion, but this pendant from Traxnyc costs more than a 4-carat diamond.
The necklace is priced at $13,885.
The Most Unique And Expensive Things On Amazon – Complete List
H.M.S Sovereign of The Seas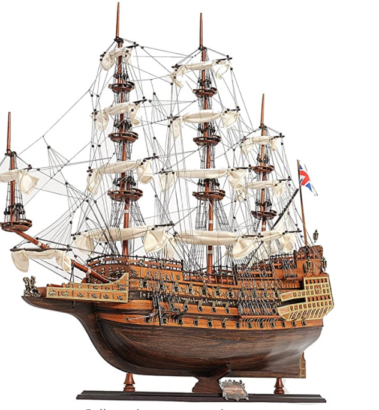 This hand-made model ship is probably amongst the most intricate things we found on Amazon. The ship was made in 1637 by some extremely skilled artists.
You can purchase this piece for $2,700.
Lladro Porcelain Chandelier
The Lladro Porcelain Chandelier has numerous fairies that are attached with optic strands. This beautiful statement piece has a price tag of $90,050.
1991 Picture Signed By five US Presidents
This is truly an incredibly cool historic piece.
The image is signed by:
Ronald Reagan
George H. W. Bush
Gerald Ford
Jimmy Carter
And Richard Nixon
You can purchase this signed autograph for $17,000 on Amazon.
Micheal Jordan's Sneakers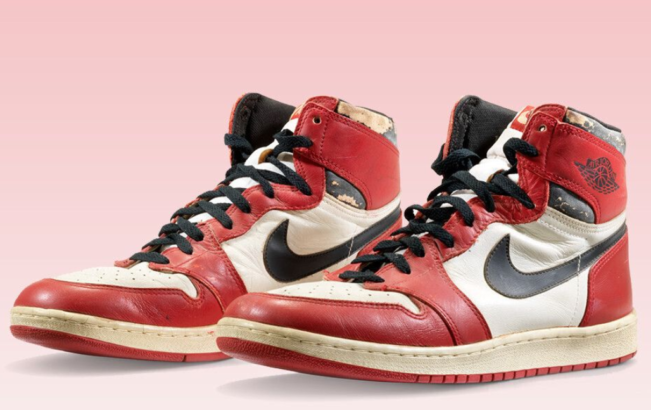 These Michael Jordan-worn sneakers were originally signed by him. He wore these Nike Air sneakers that were worn by him in the 1990s.
The pair of Michael Jordan Nike Air sneakers are priced at $31,000 on Amazon.
Most Expensive Paintings On Amazon
You can find some pretty expensive stuff on Amazon. Unfortunately, they don't sell as fast as regular items on Amazon.
Here's a list of the most expensive paintings you can find on Amazon.
The Sea Action – Oil Painting
Montague Dawson's Sea Action beautifully depicts a ship sailing on the ocean in the 18th century.
His painting was considered one of the most prominent forms of art in the Nautical Art category in the 20th century.
The painting retails at $245,000 on Amazon.
Neo-Dada Conceptual Piece of Art by Robert Rauschenberg
Now if you're looking for an acrylic painting for your living room and you have an unlimited budget, here's a vintage piece you might be interested in.
The Neo-Dada Artwork is a combination of enamel and fire wax on stainless steel. The picture is priced at a shocking $175,000.
Madonna & Child Getting Crowned by 2 Angels
The Madonna and Child Being Crowned by Two Angels are one of the most spectacular pieces of Art created by Alesso Gozzoli.
This painting shows an image of Mother Virgin Mary holding Jesus. This painting depicts classic Renaissance art.
An English Frigate Amidst Much Activity In The Bay of Naples With Vesuvius Erupting Beyond – By John Thomas Serres
This hauntingly beautiful oil painting created in the 18th century is amongst the most expensive things you can buy on Amazon.
John Thomas gained popularity when he started making oil paintings for King Geroge III. The painting comes with a beautiful vintage frame that only adds to the beauty of the picture.
Most Expensive Baseball Collectibles
Amongst the most expensive things you can buy on Amazon, you'd be surprised to know how many baseball collectibles you can find.
Here's a few of them.
1909-11 T206 Baseball Set
Amazon has 12 baseball cards with America's favorite players. This almost complete baseball set has candid side profiles of Christy Mathewson, Eddie Collins, Walter Johnson, and many more players.
The complete set contains 513 out of 524 baseball cards that were printed in 1909. You'd be surprised to know that they are still in excellent condition.
However, their estimated price is over $258,000.
Babe Ruth & Lou Gehrig Signed Baseball PSA DNA Graded Mint 8 – Autographed Baseball
If you are a Babe Ruth and Lou Gehrig fan, this original baseball is a dream come true. The National League baseball was made with a horsehide cover that was used in the year 1925.
This baseball also comes with a certification guarantee that is provided by Amazon's Sports Memorabilia Authenticity and another Certificate of Authenticity from PSA/DNA services.
In case you want to purchase this signed baseball, it costs around $56,119.49 on Amazon.
Mickey Mantle Autographed Set Four M Enterprises
Now if you're a fan of the New York Yankees, you would know that Mickey Mantle is one of the best players on the team.
You can get a set of four cards that come with the original signatures of Mickey Mantle.
The seller of these cards is Sports Memorabilia. You can verify the authentication of the cards through the certification letter by James Spence Authentication that comes with it.
These cards are amongst the most expensive items on Amazon, priced at $325,000.
Baseball Bat Signed by Babe Ruth
Another really expensive item we found on the Amazon store was the Louisville Slugger with his original signatures. To add to the cost, the baseball bat also has Babe Ruth's signatures as well.
If you want to spend on this rare collectible item, you should know it costs around $114,675.81.
The Most Expensive things Amazon Sells – Vintage Collection
If you're into history and are looking for vintage collectible items sold on Amazon, we have compiled a list of some really cool items.
1802 P Liberty Cap, Head Facing Right 1802/1 2 ½ Dollar NGC MS-64
The 1802 P Liberty Cap, Head Facing Right 1802/1 Two and a Half Dollar NGC MS-64 is one of the rarest things you can find on Amazon. This coin was minted in 1802 featuring the Liberty cap along with 14 stars on the rim.
Since coins can be extremely rare, this coin is currently priced at $225,000.
Banco De Londres Y México – 1,000 Pesos – The 'Queen Victoria' Bond
The Queen Victoria Banco de Londres Y México – 1,000 Pesos Bond is without a doubt, a collectors delight. This antique piece is amongst the rarest items and most expensive things on Amazon.
This 1,000 Pesos Bond is originally a document that represented the Uncancelled Bearer Stock Certificate that was issued by Queen Victoria herself when she visited Mexico.
If you want to purchase this bond, it comes with an original certificate issued by the Professional Authentication Services & Standards Co.LLC ( PASS-CO).
The documents were originally printed in 1905 under the provision of the American Bank Note Co.
Most Expensive Watches You Can Buy On Amazon
Now if you're shopping for watches, we have compiled a complete list of the most expensive watches from around the world.
Diamond Studded Wrist Watch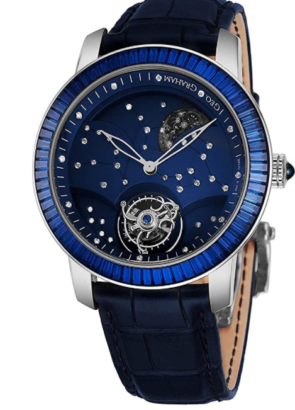 This high-precision timepiece is made by the company Graham. The watch is polished with 18k white gold and depicts the constellation with 48 diamonds scattered on the dial.
You can buy this watch for $161,000 directly from Amazon.
Patek Phillipe Nautilus 40MM – Rose Gold Watch for Men
The Patek Philippe is an heirloom jewelry piece that is the epitome of elegance and sophistication.
The rose gold watch paired with a black dial works on a self-winding power reserve that goes up to 45-55 hours.
This watch is priced at an astonishing rate of $291,559. However, it does come with free shipping worldwide.
What Is The Most Expensive Thing On Amazon – Conclusion
There are a ton of expensive things you can buy with your money from a variety of different brands through Amazon.
These range from shoes, to jewelry, and even rare collectible items. However, for obvious reasons, they do not sell fast in comparison to other products or similar technologies.
You can even get some of the items delivered to your house with free shipping.