Adding some spices to your food makes it taste better. Sometimes your kitchen cabinet can end up crowded with different types of spices if you don't have a convenient place to organize them.
The best spice racks come in handy to help you organize your spices and access them easily. They also maximize space and give you a better view of everything.
Spice racks come in various styles to suit different needs. Whether you need a spice rack to organize your spices on the countertop or in your kitchen drawer, any of the ones below should do the trick.
Quick Summary: Best Spice Racks
Here is a quick summary of the best spice racks:
Reviews: Best Spice Racks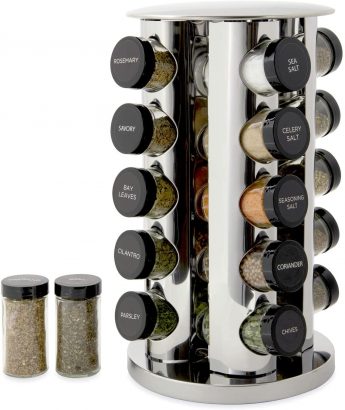 Organize and easily access your spices with the Kamenstein Revolving 20-Jar Countertop Rack Tower Organizer. This spice organizer is made of polished stainless-steel material for a nice look.
A revolving rack spins to ensure all your spices are within reach. The glass jars are well-labeled on the plastic caps.
The jars have essential spices like garlic salt, basil, oregano, rosemary, and many more. This spice rack includes 5 years of free refills for your spices.
Taking care of the spice rack is easy. You need a paper towel or dampened cloth to wipe it clean. Avoid immersing it in water.
Advantages:
An attractive design
Great size
Revolving for easy reach/access
Easy to maintain
Disadvantages:
Complaints of duplicate spices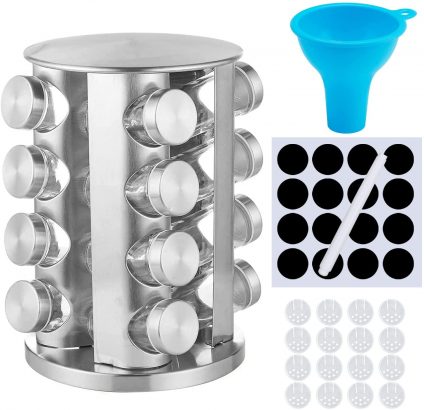 Display your spices neatly on your countertop with the DEFWAY Spice Rack Organizer. Made of stainless steel, it can hold up to 16 seasoning jars.
The spice rack has 32 labels that you can write to suit your needs. Marking the seasoning or spices on every bottle is effortless for easy access.
The organizer has a 360-degree rotating design. Moreover, it features an anti-sprinkling design meaning the jar's mouth inclines upwards so the seasoning doesn't fall.
This sturdy rack stands stable on your countertop.
Advantages:
Great stand for small seasonings
Easy to clean
Non-slip and stable base
Sturdy
Disadvantages: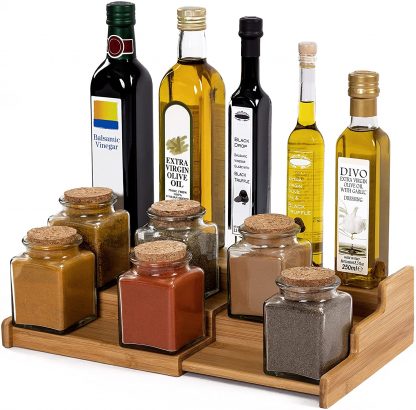 Organize your spices like a pro using the Seville Classics 3-Tier Expandable Bamboo Spice Rack that is made of bamboo material. It has an expandable 3-step design. This spice rack is ideal for keeping spice bottles but you can also use it in the bathroom, pantries, and other areas.
Its bamboo construction is not only durable but also stronger than plastic and hardwood rack organizers. Cleaning it is easy. Avoid submerging it in water.
Its design provides ample room to organize your sauces, jars, cans, jelly jars, and medicine bottles. It is multi-purpose since you can also use it to organize your cosmetic items.
Advantages:
Made of good looking and durable bamboo material
Great rack for storing small items
Highly versatile
The rack is sturdy and versatile
Disadvantages:
Doesn't level well when extended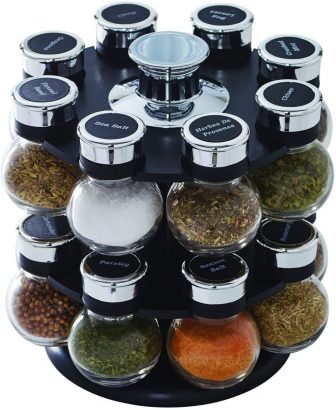 The Kamenstein Ellington Revolving Tower is a plastic, two-tiered rack with a revolving design. It has a carry handle which makes it easy to reach out for spices.
The rack comes with 16 spice jars. The jars are prefilled with a variety of spices like basil, thyme, parsley, and rosemary. They are clear for easy identification of contents inside.
The jars have sifter tops if you like light seasoning. You can remove their lids if you need to measure the spices.
Once you get the spice rack, you are eligible for free spice refills of your choice for five years. All spices are filled and sealed in the USA.
Advantages:
The rack spins smoothly
Saves space
Comes with free spice refills for 5 years
Easy to wipe the jar labels
Disadvantages:
Room for improvement in storage capacity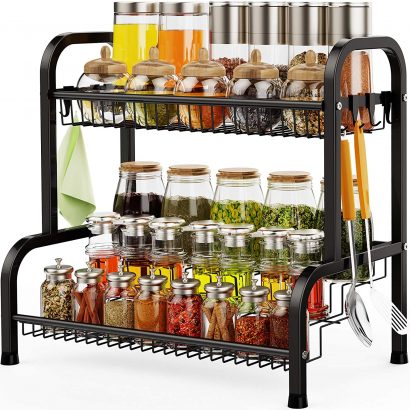 The Swedecor Spice Rack offers ample storage to free up plenty of your countertop space. It has a 3-layer stepped design to fit different sizes of spice jars.
This spice rack has 8 removable hooks on the sides. You can use these hooks to hang cutlery and other utensils in your kitchen.
In addition to using it in your kitchen, you can also use it to organize your kitchen, living room, bathroom, and bedroom.
It is made of heavy-duty steel with powder coating making it rust-proof and easy to clean. The rubber feet keep it balanced and protect the countertop from scratches.
Advantages:
Adjustable rubber feet
Highly stable
Rust-proof
Easy to set up
Disadvantages: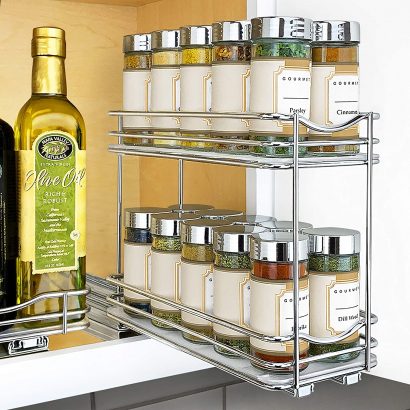 The Lynk Professional Spice Rack has a sliding feature that allows easy access to spices. It's ideal for small cabinets.
Two ball-bearing glides ensure smooth sliding. You can extend it up to an extra 2 inches to allow stress-free access to spices in deeper upper cabinets.
Installing the rack is easy. You don't have to remove the shelves. It comes with two screws for easy fixing.
The rack is made from quality steel with a beautiful chrome finish. The quality steel makes it strong and durable for long term use.
Advantages:
Beautiful chrome finish
Sturdy steel material
Easily fits in narrow cabinets
Easy mounting design
Disadvantages:
Room for improvement on adhesion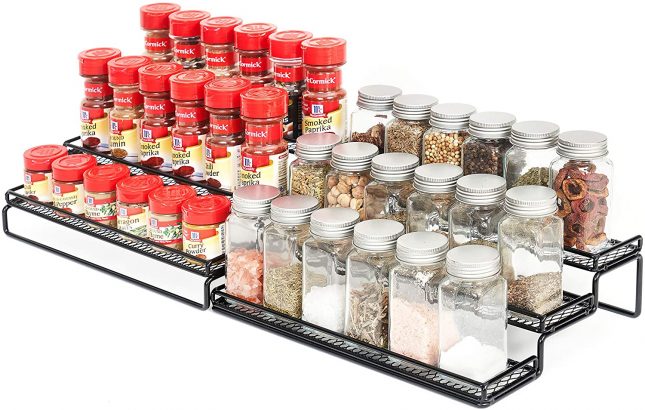 You can easily expand or detach the GONGSHI 3 Tier Expandable Spice Rack Organizer to suit your needs. It has three levels that make it easy to locate and quickly get the spices you need.
Apart from organizing spices, the rack can serve multiple purposes. You can also use it to organize items like perfume, lotions, and body sprays. Additionally, it can be used at the office to organize your desk.
This rack features steel construction for durability. The protective railing combined with a mesh board on each step ensures that items do not slip and fall off.
Advantages:
Steel construction for the utmost durability
Protective railing at the front to prevent falling
Holds a large number of spice jars at eye level
It serves other organizational purposes
Disadvantages: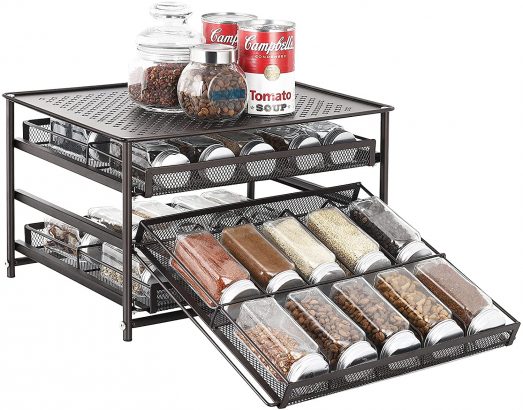 The LIANTRAL Spice Rack Organizer is ideal for standard cabinets. It features a compact design which saves more counter space.
This rack can accommodate a wide range of bottles of different sizes and shapes. You can organize up to 30 full-size spice jars and up to 60 half-size spice jars.
Setting up the rack is easy if you follow the provided instructions. The drawers slide out effortlessly and are easy to access. You can put the rack in the cabinet or on the countertop.
The organizer boasts durable construction and slides smoothly. It is made of tough iron with a mesh design. The rack has an anti-slip mat for resilience and stability.
Advantages:
It can hold many spices
Slides smoothly
Durable and good-looking
Comes with labels for custom organization
Disadvantages:
The screw slots do not match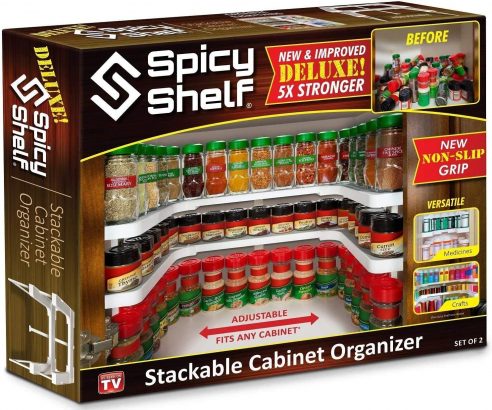 The Spicy Shelf Deluxe – Expandable Spice Rack has a unique design that allows you to make adjustments to suit your kitchen cabinet storage needs.
The rack can expand and contract to fit in any cabinet regardless of the size. Each of the spice racks is adjustable from 7.5 inches up to 17 inches wide.
It utilizes vertical space because many cabinet styles waste vertical space when storing items.
Unlike other spice racks, this one is 5 times stronger. You can add up to 64 spices. Its surface is non-slip so all the items stay in place.
Advantages:
Easy to install
Highly sturdy
Impressive capacity
Highly adjustable
Disadvantages:
Buying Guide: Best Spice Racks
Consider the following factors when in the market for the best spice racks:
Capacity
One of the main things you should consider when in the market for the best spice racks is capacity. You want a spice rack with a larger capacity to accommodate more spices.
Check the number of spice jars you can place on a rack before buying. On top of capacity, the rack should also grant you quick access.
Size
The type of spice rack you buy should fit the available space in your kitchen. It should help you maximize space and keep your items organized.
For example, if you have a tall or narrow cabinet, you don't want to buy a spice rack that will waste most of the upper space. You should also consider a spice rack that is easy to adjust.
Look
Apart from helping you organize your spices, a good spice rack should be good-looking. If you want to store the rack on the countertop, then the looks matter. However, if you want to keep it inside a drawer, you might not want to pay much attention to the looks.
Type
Different types of spice racks exist. Some of the different types available include in-cabinet spice racks, in-drawer, wall-mounted, and free-standing spice racks.
Stability and Durability
The best spice rack should be stable and durable. It should stay in its best condition for a longer time to give you better service. Stability prevents the jars from falling out.
If you choose a countertop spice rack, select a model that is designed with non-slip feet. Stainless steel material is the best material to choose because it provides both durability and strength.