A rolling pin is an essential kitchen tool. You need the best rolling pins for making pizza, pasta, biscuits, cookies, pie crust, and cinnamon rolls.
Choosing the right rolling pin is important because it makes spreading your dough easy to achieve the right thickness and shape. Rolling pins are made of different materials such as marble, wood, metal, and glass.
Hardwood is the most common because it is durable and comfortable to use. Materials such as metal and marble are often chilled before use because of their conductive properties.
Quick Summary: Best Rolling Pins
Here is a quick summary of the best rolling pins:
Reviews: Best Rolling Pins
Easily make your pizza, pasta, pie, and cookies with the QUELLENCE Rolling Pin and Pastry Baking Mat Set. The rolling pin is made of high-quality stainless steel that doesn't rust like other materials such as ordinary aluminum.
A stylish and elegant design is notable. The durable pin has four removable rings of different sizes. Choose the appropriate ring size depending on the desired thickness.
A pastry mat with easy-to-see measurements makes baking effortless. Easily roll dough of any size.
This easy-to-clean rolling pin is long enough (17 inches) to make any mixture.
Advantages:
Adjustable thick rings
Solid and comfortable to use
Easy to clean
Rust-free material
Disadvantages: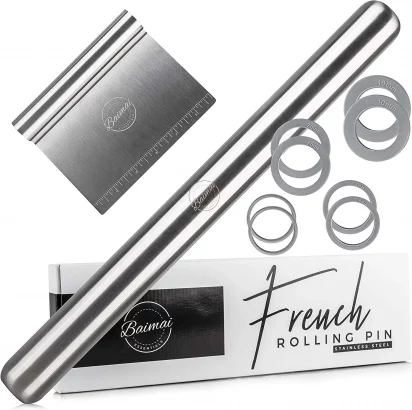 Whether you're crafting pastry, fondants, or baking cookie dough or pizza, the BAIMAI Rolling Pin is a good choice. Made of durable, stainless steel, this multipurpose rolling pin comes with a complimentary dough scraper.
Its smooth surface is not only easy to clean, but also doesn't stick to the dough. The roller glides smoothly over the dough making it easy to roll with your hands and wrists unlike those with handles.
Unlike others, this rolling pin doesn't make your dough warm, which can lead to stickiness.
Apart from making cookie dough, this rolling pin is multi-purpose. You can also use it for pastry, crafting, making cooking dough, or homemade pizza.
Advantages:
Easy to use
Non-sticky material
Super lightweight
Dough thickness rings fit perfectly
Disadvantages:
Room for improvement in durability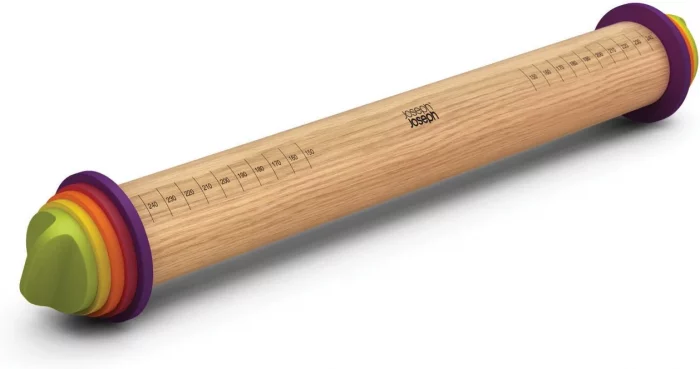 Achieve uniform dough with the Joseph Joseph Adjustable Rolling Pin. Use it to make pizza, filo pastry, cookies, crusts, and lasagna sheets.
The rolling pin has four pairs of removable discs to help you get the desired thickness. Plastic screws securely hold the rings.
A measurement guide on the surface, in centimeters, helps achieve the right size. Solid construction guarantees long-lasting use.
Cleaning it is easy. Hand-washing is recommended. Avoid submerging it in water.
Advantages:
Solid construction
Removable discs
Highly versatile
Clear markings to help achieve the right length and depth
Disadvantages:
Room for improvement in texture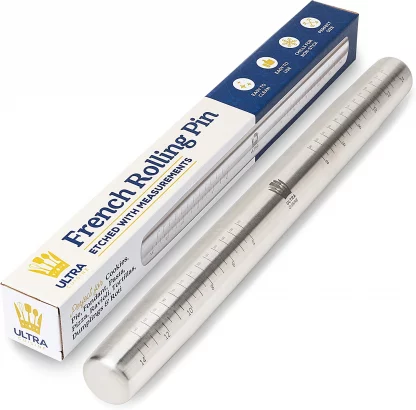 Enjoy consistent results in your dumplings, pastry, cookies, and pie crust with the Ultra-Cuisine French Rolling Pin. It is dishwasher safe, rust-resistant, and non-stick.
Unlike wooden rolling pins, it doesn't splinter or absorb odors. A tapered design makes rolling easier compared to rollers with handles. The design also provides comfort and easy maneuverability.
This multi-functional rolling pin has etched measurements that make measuring easy. It is freezable to keep your dough cool to prevent sticking and help with consistency.
Advantages:
Doesn't splinter
Elegant design
Rust-resistant and non-stick
Easy rolling and cleaning
Disadvantages:
Rusting spots after several washes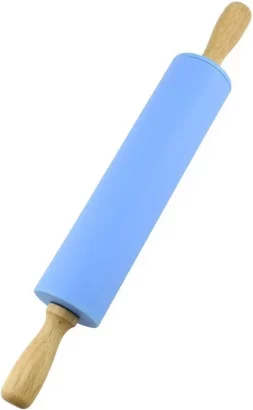 The NASNAIOLL Silicone Rolling Pin has a wooden handle and a nonstick surface for easy rolling. This rolling pin is heat-resistant to keep your dough cool.
Applying the required pressure is effortless once you secure the handles. The roller is great for making cookie dough or crushing pretzels. You can also use it for handmade noodles, bread, and pizza.
A nonstick surface makes it odor and stain-free. It is easy to clean by hand or in a dishwasher with warm soapy water.
Unlike the wooden rolling pins, this one doesn't split or leave spaces that allow bacteria and mold to grow.
Advantages:
Heat resistant
Easy to clean
Secure grip
Non-stick surface
Disadvantages: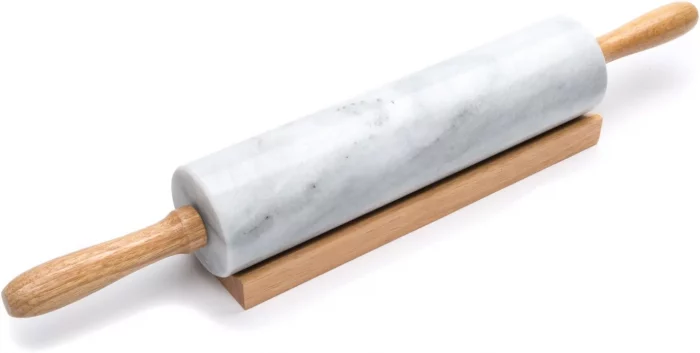 The Fox Run Polished Marble Rolling Pin comes with a wooden cradle that acts as a resting base. It has a long 10-inch barrel. The overall length with handles is 18 inches.
It is made of 100% marble which has an elegant design, colorations, and patterns. However, the color can differ slightly due to the natural variables in marble.
A smooth-rolling surface coupled with nonstick properties makes rolling easy. Nylon ball bearings also contribute to smooth rolling.
Advantages:
Smooth surface
Elegant design
Reasonable pricing
Nonstick surface
Disadvantages: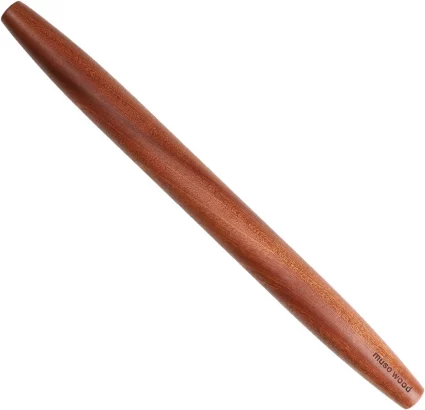 The Muso Wood Sapele Wooden French Rolling Pin rolling pin is made of Sapele wood that features a special treatment to prevent the breeding of bacteria. The wooden material is hand-polished for the utmost smoothness.
Both ends of the rolling pins are tapered to make it easy to clean and maintain. Simply use a damp cloth and water and then dry.
Coat the rolling pin with olive or mineral oil twice a month to improve its texture.
Advantages:
A special treatment to prevent the breeding of bacteria
Easy to maintain
Simple design
Effortless to hold
Disadvantages: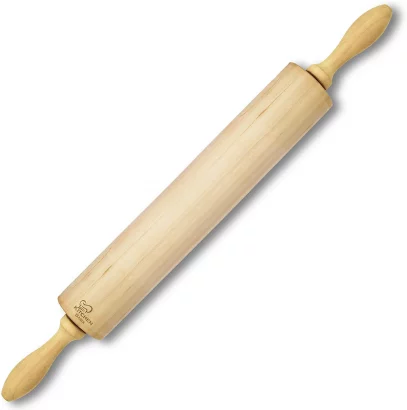 Boasting a nonstick surface, the K BASIX Classic Wood Rolling Pin is great for baking, and rolling professional dough for cookies, pasta, pastry, pizza, chapati, and fondant. You can also use it to crush crackers and breadcrumbs.
The rolling pin is made of classic wood which is strong and moisture resistant. It has a length of 16.5 inches which makes it easy to knead dough to the desired thickness.
This rolling pin is great for both experts and beginners. Its ergonomic design enhances comfort. The surface provides smooth rolling without leaving dents. Bearings also aid in a smooth movement.
Long handles help achieve a good balance.
Advantages:
Rolls smoothly
Nice finish
Long handles
Moisture resistant
Disadvantages:
Handle constantly pops out of place
Buyer's Guide: Best Rolling Pins
Consider the following factors when in the market for the best rolling pins:
Feel
How does the rolling pin feel in your hands? Your palms and wrists should rest comfortably on the pin's edges.
Material
As aforementioned, different materials are used to make rolling pins. Some are better than others. Read more on different rolling pin materials here.
If the pin features tapered sides, then it should be even and symmetrical.
Surface
The surface should provide smooth rolling without too much effort. The rolling pin's surface should not be too slick to stretch the dough below. It should also not be too coarse such that it creates messes.
Ease of Cleaning
Cleaning your rolling pin after use is necessary. Your choice should be easy to clean. Rolling pins with handles have crevices and nooks which are tough to clean when dough gunks up.
Weight
Heavier rolling pins need more strength than lighter ones. Often, they crack or dent your dough. With lighter pins, you might not achieve the necessary thickness. The prudent thing is to consider a medium-weight rolling pin.