Just like humans, dogs need mental stimulation. When your dog is bored, he/she engages in inappropriate behaviors like chewing and tearing sofas, clothes, and shoes.
Introducing interactive toys is an effective way to keep your best friend busy. The best puzzle toys for dogs offer mental and physical stimulation for both small and large dogs.
While nothing can match playing with your dog, puzzle toys are the best alternative when you are not around.
Quick Summary: Best Puzzle Toys for Dogs
Here is a quick summary of the best puzzle toys for dogs:
Reviews: Best Puzzle Toys for Dogs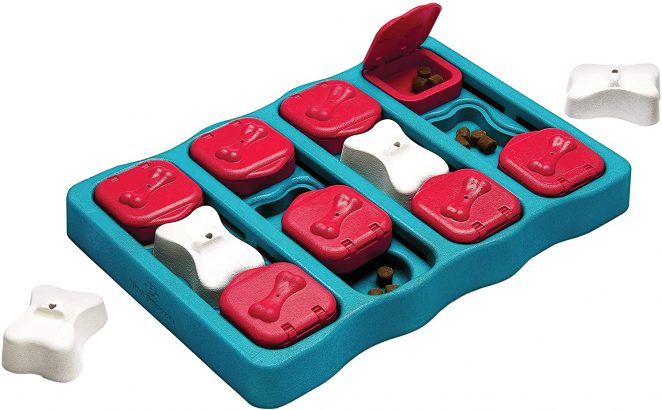 Keep your dog busy with the interactive Outward Hound Nina Ottosson Interactive Puzzle Game Dog Toy. The toy is a good choice for pet owners looking for intermediate-level toys to engage their dogs.
It has different compartments to hide your dog's treats and access his skills. The toy is made of BPA, phthalate, and PVC-free materials.
It works well with kibble or small treats. Clean with warm water and soap after use.
Advantages:
Indestructible
PVA, BPA, and phthalate free
Easy to clean
Fun for all ages, sizes, and breeds
Disadvantages:
Some of the pieces are small and sharp posing a choking hazard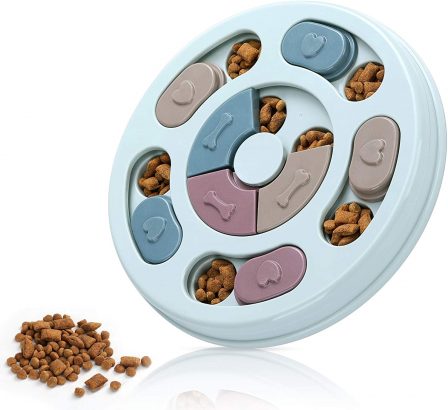 Enhance your pet's mental enrichment and IQ training with the DR CATCH Dog Puzzle Toys, Dogs Food Puzzle. You can use the toy for both cats and dogs to keep them engaged when you're not around.
A great companion for your pets, it acts as a slow feeder for your pets thus promoting easy digestion. Use it to give your dog a wide range of snacks.
This educational toy exercises your dog's brain by training its sense of smell. Your dog can move the feeder with paws or nose for fun feeding.
The toy is made of safe material free from PVC and toxins. All the materials are environmentally friendly and indestructible.
Advantages:
Suitable for both cats and dogs
Indestructible materials
Environmentally friendly
Promotes easy digestion
Disadvantages:
Some dogs get an allergic reaction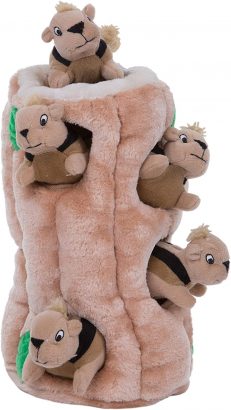 The Outward Hound Hide a Squirrel Plush Dog Toy Puzzle is ideal for all dog breeds and sizes. Simply put 6 squeaky squirrels in the trunk and let your dog enjoy many hours of fun.
The toy enhances your dog's natural instincts. It stimulates your pets mentally since they can't resist the squeaky sound from the squirrels.
Regardless of your dog's size, this toy is gentle on their gums and teeth. It is made of a stuffed plush texture which is soft enough for both puppies and adult dogs.
The trunk is compatible with other fun refill animals like birds. Fill them and allow your dog to find them.
Advantages:
Safe for puppies and adult dogs
Gentle on gum and teeth
Available in multiple styles
Plush texture
Disadvantages:
Can be a choking hazard since it comes off easily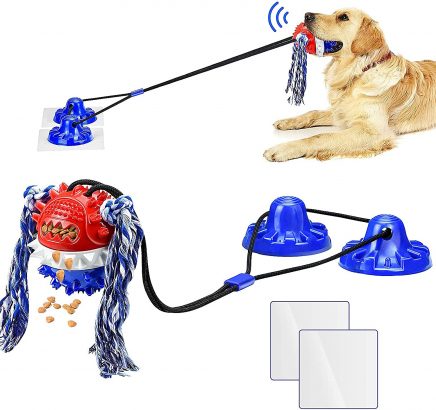 The ELOPAW Dog Toys for Aggressive Chewers is appropriate for aggressive or large dog breeds. The indestructible toy has dual suction cups to withstand up to 200lb pulling force.
The toy features natural TPR material that is safe and environmentally friendly. Its reinforced design resists dog bites for an extended time.
The rope is wear-resistant, durable, and has an attractive color. It also features a molar ball with different-sized molar granules.
When your dog bites the toy, it cleans its incisors, molars, and cuspid by removing dirt and residues. Whistling and squeaking sound at the molar ball boosts your dog's attention.
Advantages:
Tugging satisfaction
Ideal for aggressive chewers
Attractive color
Water-resistant
Disadvantages:
The rope is not chew-proof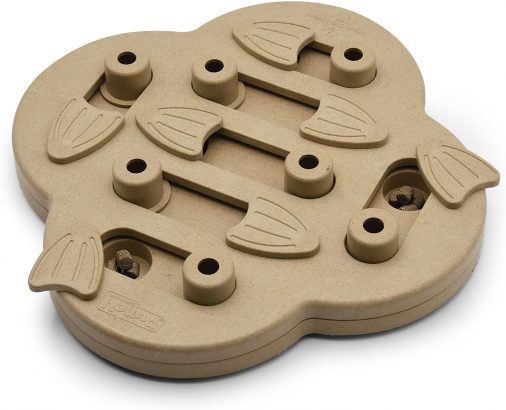 The Outward Hound Nina Ottosson Interactive Puzzle Game Dog Toys is an intermediate level one dog toy. However, you can choose easy, advanced, or expert levels.
It offers a fun hide-and-seek challenge for your dog where he needs to know how to combine actions that lead to his treat. The challenges eliminate boredom and bad behavior.
You simply need to swivel to hide the dog's treat below the flippers. Alternatively, you can place them on the blocks via the top opening to make it more challenging.
It is made with pet-friendly materials. The durable, composite wood features a non-slip base. It has non-removable parts for easy cleaning.
Advantages:
Made of durable materials
Easy to clean
Pet-friendly materials
Non-removable parts for safety
Disadvantages:
Room for improvement on design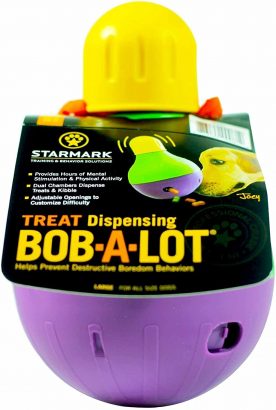 The StarMark Bob-A-Lot Interactive Dog Toy is made of safe and long-lasting rubber material. A large chamber fits up to three cups of dog food, which is enough for a meal.
The top and bottom features adjustable openings to hold different types of dog food. It is easy to regulate the difficulty level to suit your dog.
An anti-slip bottom makes it wobble-free. This makes it easy for your dog to play while getting his treat.
Advantages:
Easy to customize
Anti-slip bottom
Can hold different types of food
Long-lasting rubber material
Disadvantages:
Only suitable for small dogs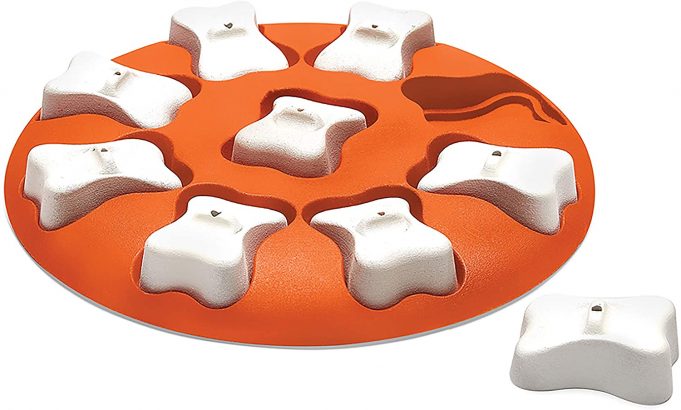 The Nina Ottosson by Outward Hound Dog Smart Toy is a level one interactive toy. It is ideal for all dog sizes and breeds. Use it to stimulate your dog mentally.
It reduces destructive behavior and boredom by keeping your dog engaged. It has 9 unseen compartments covered by the bone pieces where you can hide the dog's treat.
The toy is made of PVC, BPA, and phthalate-free materials making it safe for dogs.
Advantages:
Exercises your dog mentally
Safe materials
Many compartments
Suitable for all ages, sizes, and breeds
Disadvantages:
Not challenging for smart dogs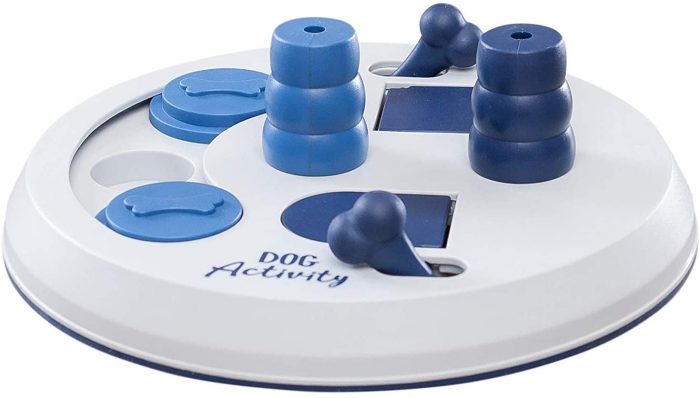 The TRIXIE Dog Activity Flip Board offers your dog fun, hide- challenges as he figures out the right combination of actions that lead to his treat.
Small dogs and pups that have already mastered level one puzzles can use this toy. The interactive flip board engages your dog's mind thus reducing bad behavior and boredom.
Hide the treats in a sliding disk or under the doors to make it more challenging. A non-slip rubber keeps it firmly in place.
Advantages:
Ideal for smaller dogs
Interactive flip board
Reasonable pricing
Non Slip rubber for stability
Disadvantages: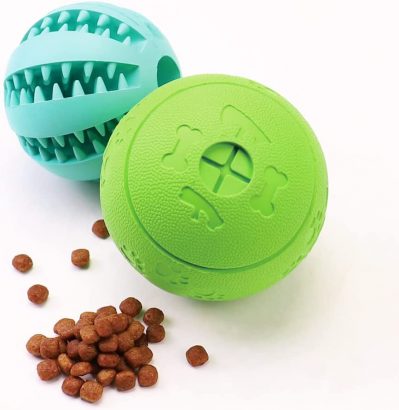 Improve your dog's IQ and keep them active with the Dog Puzzle Toy 2 Pack. The balls are made with non-toxic rubber material boasting excellent elasticity.
The toy is bite-resistant, non-abrasive and non-toxic. An anti-skid surface matches your dog's teeth shape. The surface cleans their teeth without hurting their gums.
The toys not only improve your dog's intelligence but also attract their attention. Each toy has grooves where you can add food or treats to keep them well-entertained and active longer.
Advantages:
Helps to clean your dog's teeth and gum
Easy to carry outdoors
Anti-skid surface
Non-toxic materials
Disadvantages:
Room for improvement in durability
Buyer's Guide: Best Puzzle Toys for Dogs
Consider the following factors when in the market for the best puzzle toys for dogs:
Dog's Size
If your dog is large or an aggressive chewer, get bigger-sized puzzle toys that are hard for them to swallow. Aggressive chewers need strong and durable toys.
Small-sized dogs need small toys that are comfortable for them to handle. The toys should also be soft for their sensitive jaws.
Safety
Most puzzle toys feature removable parts. For small dogs, avoid toys with removable parts to prevent choking hazards. The same is true to active chewing dogs.
Always check if the puzzle toys are made of non-toxic and BPA-free materials. You should also check if the toys have sharp edges that can injure your dog during rough plays.
Ease of Cleaning
Puzzle toys require regular cleaning for the overall health of your dog. Avoid puzzle toys with many crannies and nooks because they hold dirt and food making cleaning a challenge.
Durability
Another factor you should consider is durability. Invest in durable puzzle toys from top brands so that your dog can use them for a longer time. Avoid too flimsy puzzle toys for dogs.
Difficulty Level
Puzzle toys for dogs come in different difficulty levels ranging from one to three. Level one, which is easier, basically includes holders that your dog needs to knock over to get a treat.
Level two toys are harder since your dog needs to remove pieces to get the treat. Level three is more difficult as it can involve opening doors or removing parts to test your dog's intelligence.
Dog's Temperament
Most importantly, consider your dog's temperament and chewing style. Aggressive chewers and large dog breeds can destroy soft toys so it is prudent to buy those made of rubber.