Fidget toys are not only ideal for kids but adults too. Kids and adults can manipulate these physical and sensory toys to help them concentrate, focus, and improve productivity.
When you're bored, or anxious, fidgeting can affect your production and concentration. You also end up developing awkward habits like skin picking, shaking legs, checking your phone, or biting nails.
You can solve all these problems with the best fidget toys. Fidget toys are available in different sizes, textures, and shapes.
Quick Summary: Best Fidget Toys
Here is a quick summary of the best fidget toys:
Reviews: Best Fidget Toys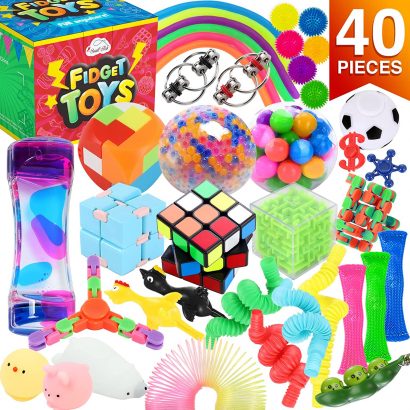 The Sensory Fidget Toy Set has 25 pieces of multi-purpose travel toys. These toys are suitable for both kids and adults. You can squeeze, stretch, flip and play with them in different ways for fun.
The toys are made from high-quality durable material to withstand frequent use. The material is thermoplastic rubber, silicone, and ABS plastic that is non-toxic, therefore safer to play with.
With a variety of toys and many fun games to play, this set of toys is a great way to reduce stress and anxiety for both kids and adults. It is helpful for autistic, ADHD, and people with OCD.
The fidget pack is highly portable so you can enjoy outdoor fun activities with the whole family. The toys are small and easy to carry to school and the office.
Advantages:
Great value for money
Suitable for kids and adults
Non-toxic material
Super cute
Disadvantages: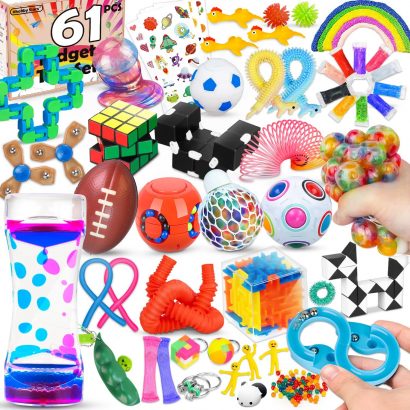 The Hhobby stars 61 pcs Sensory Fidget Toys Pack has 61 pieces of different toys. Playing with the toys helps kids stay focused and enhances their creativity.
The fidget toys come in handy for autistic and ADHD kids to help them stay calm and relieve stress. Kids can also use them to combat boredom while indoors.
The toys are good for the classroom, parties, and office to keep you alert and focused throughout the day. Fidgeting with the toys eliminates habits like nail-biting or shaking legs.
You can easily carry these toys anywhere because they are small in size. They are tested and approved to be safe for kids and adults.
Advantages:
Contains a variety of toys at a great price
Helps kids stay focused on tasks
It is a great set for daycare and home-based learning
Highly durable
Disadvantages: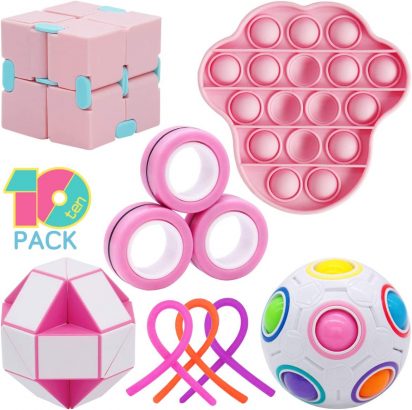 The Figetget Fidget Toys Pack consists of 10 sets of different toys to play with. You get popping sensors, fidget rings, stretchy strings, cubes, and a twister puzzle to exercise all your senses.
The fidget toys offer a variety of options to have fun for the whole family. They keep all your senses busy hence good to help kids stay calm.
The toys are light and compact making them easy to carry. You can use them outdoors with family, while waiting for someone, or sitting in a car to kill boredom.
These toys meet the play needs of different people. They are suitable for all occasions.
Advantages:
Up to 10 pieces
Excellent brain teasers
Durable and fun to play with
Suitable for various occasions
Disadvantages: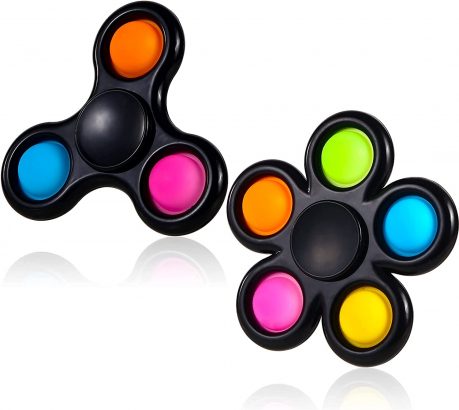 GOHEYI Pop Fidget Spinner Toys are a great way to relieve stress, and anxiety, and provide comfort to kids. They are fun to play with in the classroom, office, or on long trips.
The popping sound and spinning of the fidget toy attract your kid's attention thus keeping them calm. The fidget toy reduces anxiety and relieves work stress in adults.
The toys have a steel bearing that makes them rotate smoothly without producing sound. You can use them anywhere without disturbing others.
The toys are made from high-quality material that is safe for children. They are durable and reusable. You can easily clean the toys after use.
Advantages:
Fun and vibrant colors
Durable and reusable
Reasonable pricing
The pop-it and spinner all in one is a good feature
Advantages: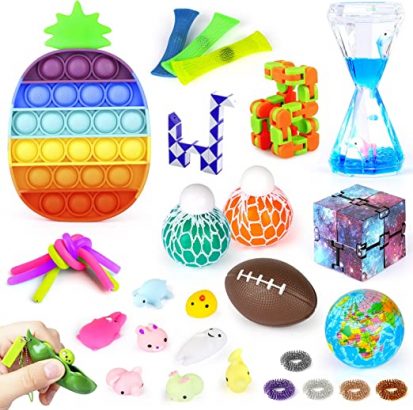 The Cifaisi Fidget Toys set 30PCS includes a variety of toys that can relieve stress and reduce anxiety for users of all ages. They are a good choice for kids with autism and ADHD.
The toys are of different colors, shapes, textures, and sounds, drawing attention away from discomfort and helping kids and adults relax. Playing with the toys increases your concentration.
These toys are small and portable so you can take and use them anywhere. They can be used at school, in the office, or when going on long trips for fun and stress relief.
The fidget toys are safe to use since they are made from non-toxic materials. These durable toys don't break or get worn out easily.
Advantages:
A variety of colors, shapes, and textures to choose from
Enhances concentration
Ideal for users of different ages
Non-toxic material
Disadvantages: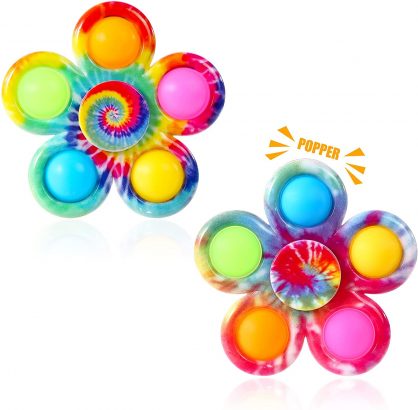 The Gigilli Pop Fidget Spinner Toys are perfect gifts for kids to relieve stress and anxiety. The two-pack spinners improve children's concentration. They are suitable for autistic and hyperactive kids.
The sensory spinner is made from safe and durable materials. They can be used by adults, kids, and the elderly to stay focused.
Kids can play with this set of giftable toys at home, in cars, while camping, and in the office. The toy is small, lightweight, and portable.
High-quality bearings rotate at high speed. When gently flicked, the toy can rotate for a long time without sound. Use your finger to make continuous strikes to keep it spinning.
Advantages:
Comfortable to use
Exceptional pops and spins
Sturdy
Colorful and bright
Disadvantages: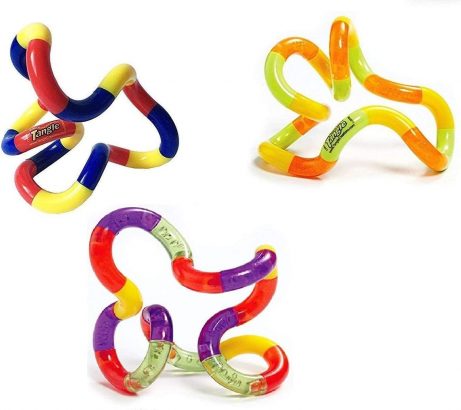 The TANGLE set of 3 jr. Original Fidget Toy is a good way to be creative and have fun. You can twist and manipulate it in different ways. These fun tools can be used by both kids and adults.
The fidget toy brings out artistic creativity and imagination. They also help kids remain calm and focused. Use them to distract kids' attention away from electronics.
The Tangle set comes in 3 different colors which you can mix to make various exciting patterns. Their durable material is non-toxic and follows high-quality manufacturing.
Advantages:
Helps relieve stress and keep calm
Can be used to teach science concepts in school
Works well for kids with anxiety
Durable construction
Disadvantages:
Difficult to put them back together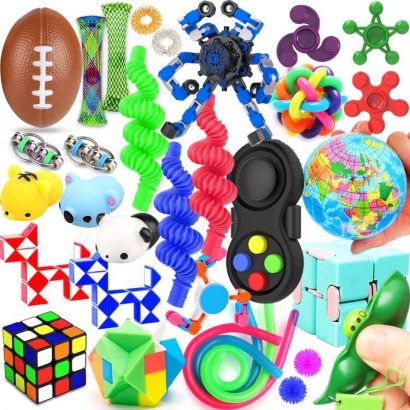 The PP PHIMOTA Sensory Toys Set is a suitable gift for birthdays or classroom rewards. Each pack contains 28 sensory toys for a variety of fun games.
The sensory toys can relieve stress, help stay calm and increase focus in both children and adults. They are quite useful for people with ADHD, OCD, and autism.
The fidget toys are fun to hold and keep your hands busy. They are great tools to eliminate habits like nail-biting, hair twirling, and others
The toys are made from non-toxic materials that meet all safety standards. The material is made of good quality to provide long-lasting use.
Advantages:
They are durable and child-safe
Keeps hands busy and brain focused
Small enough to fit in kid's pockets
Many fidget toys for the price
Disadvantages:
Buyer's Guide: Best Fidget Toys
Consider the following factors when in the market for the best fidget toys:
Texture
Always consider the feel and texture of a fidget toy. In addition to being sturdy, the parts of a good fidget toy are the ones that move smoothly and offer a good feel.
Choose one with multiple textures because they keep your fingers occupied. The texture should be smooth without irritating your hands.
Assembly
Regardless of the size of your fidget toy, the assembly should be easy. Look for well-made fidget toys that can withstand regular use without breaking or wearing out.
Entertaining
The main aim of buying fidget toys is to release excess energy as compared to diverting your attention to the toys. Look for toys that are entertaining without distracting you. If brightly-colored fidget toys distract you, go for one with discrete features.