Whether drinking from bottles, teething, blowing raspberries, or eating solids, babies are always making messes. Baby bibs reduce the need for constant outfit changes. They are a good solution for parents that do not want mushy food and bodily fluids all over them, their babies, or their home.
Different types of baby bibs are available majorly depending on their fabric. For instance, drool and milk bibs are mainly made of cotton or other fabric that's great at soaking up liquid. Food bibs, on the other hand, are made of synthetic or silicone materials to be effortlessly wiped clean.
Are you tired of ugly baby messes? Looking for heavy-duty and adorable baby bibs? Protect your baby's skin and clothes with our recommendations for photo-worthy cover-ups.
Quick Summary: Best Baby Bibs
Here's a quick rundown of the best baby bibs:
Reviews: Best Baby Boy Bibs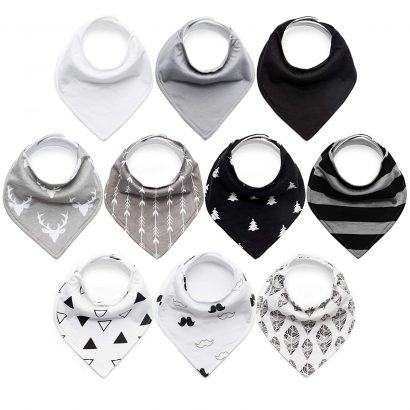 The Upsimples Baby Boys Bibs are great for teething, drooling, and other messes. They are super absorbent. You can use them for both boys and girls.
The package has ten stylish bibs with some cute prints. Not only do they handle messes well, but they make a great option to add to your baby's daily outfits.
These bibs feature a front layer made of 100% organic cotton that is highly absorbent. It holds the spit-ups, dribbles, and drools perfectly.
The back layer is made of thick polyester that ensures to prevent soaking on your baby's clothes. Therefore, your baby will stay clean and dry all the time.
The bibs have two sets of nickel-free snaps that are easy to adjust without harming your baby's sensitive skin. The bibs are machine washable and durable.
Advantages:
100% organic cotton
Super absorbent material
Comfortable for your baby
A great addition to your baby's outfits
Disadvantages:
The fabric feels low quality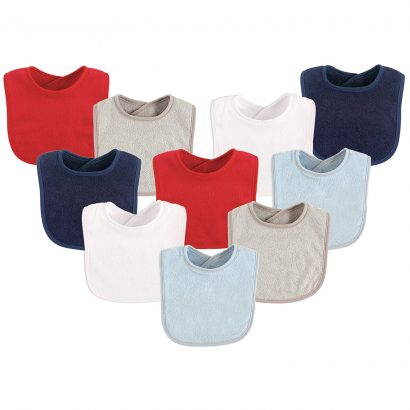 Ideal for everyday use, the Luvable Friends Unisex Baby Cotton Terry Bibs are high quality and affordable. The 5-pack bibs absorb spills and drools ensuring your baby's clothes are dry and clean.
You will love the fun colors of the bibs. Although large and soft, they are comfortable for your baby. The bibs will not harm their soft and sensitive skin.
Available in one size, these are made of cotton and polyester material. In addition to having multi-layers, the bibs feature gentle fabric that works amazingly well to hold various messes.
Advantages:
Affordable
Fun colors
Super soft
Ideal for both boys and girls
Disadvantages: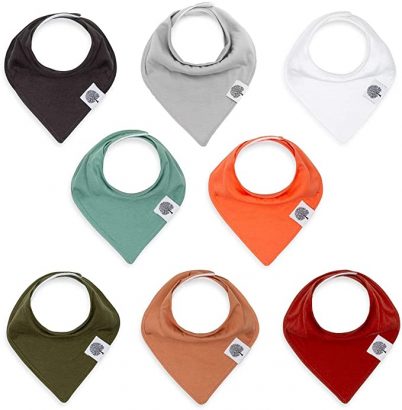 Drooling and messes are common at the teething stage. Use the highly absorbent Parker Baby Bandana Drool Bibs. It is made of 100% soft organic cotton and polyester.
With the bibs keeping clothes dry, you can say goodbye to drool rings on your baby's clothes. The bibs are comfortable, stylish, and fashionable. They have a professional design to suit any outfit.
Available in a 4-pack, the bibs are adjustable, with two nickel-free snaps to suit your baby's size. You can use them for babies from 3-24 months.
They are also gender-neutral, making them ideal for boys and girls. Pick from an array of colors to match your baby's outfits.
Advantages:
Adjustable sizes for comfort
Reasonable pricing
Stylish and fashionable design
Available in different colors
Disadvantages:
The back doesn't look nice after washing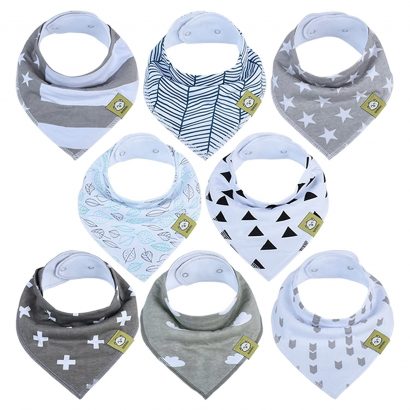 The Organic Baby Bandana Drool Bibs are versatile and feature a unisex design. The package has eight stylish bandana bibs with different styling options.
These super absorbent bibs come in a variety of neutral colors. They have a dual-layer material with 100% cotton for optimum absorption.
The bibs have a soft polyester fleece material for added protection. Regardless of how frequently your baby drools, he or she can remain clean and dry throughout.
Quality stitching is another good attribute of this product. Additionally, they have an ultra-soft fabric material to keep your baby comfortable. The material doesn't scratch or irritate your baby's skin.
Advantages:
Quality stitching
Dual-layer material
Ultra-soft fabric
Stylish
Disadvantages:
Room for improvement in absorption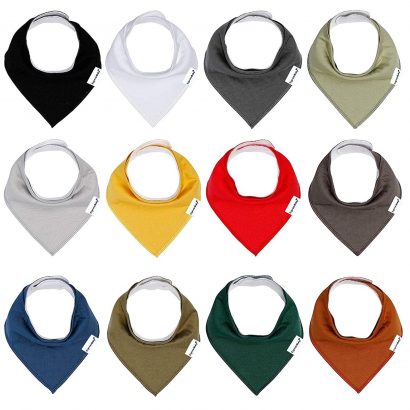 The Baby Bandana Drool Bibs are ideal for boys and girls. On top of being super absorbent, they are also made with high-quality and comfortable materials.
100% organic cotton and polyester fabric enhance absorbency. They are adjustable to suit your baby's size. The bibs have 2 easily adjustable nickel-free snaps.
The classic set of bibs 12 unisex bibs is comfortable and stylish. The neutral pattern and cute design make them suitable for all genders. If you're into a baby bib with neutral earth tones, then you should consider this one.
Advantages:
Adjustable
Soft and highly absorbent materials
Fleece-backed to keep clothes dry
Stylish, comfortable, and attractive
Disadvantages:
Instances of fabric shredding even on countable washes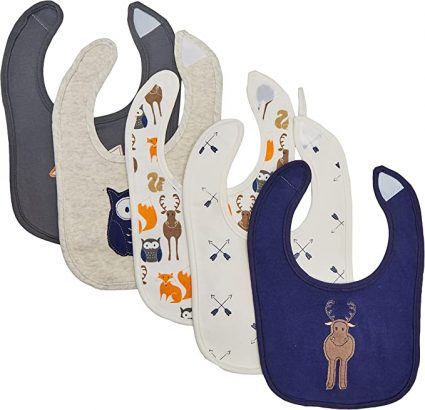 Say goodbye to changing your baby's clothes frequently with these bibs. The Hudson Baby Unisex Baby Cotton Bibs are designed with terry backing that absorbs any liquid from the baby's clothes. They also protect the baby's neck.
Using it is easy because they have a hook and loop closure. The hook and loop closure is easy on your little one's skin.
Whether you're using them for drooling, bottle feeding, or even food feeding, you can rest assured that these bibs have the quality to deliver.
Advantages:
Convenient hook and loop closure
Machine washable
Multi-layered fabric
Cute prints and patterns
Disadvantages: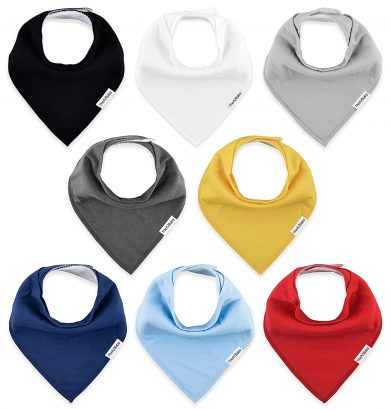 Prevent drooling, and other food messes with these spongy baby bibs. The bibs are made of cotton and polyester fleece materials that keep your little one completely dry.
Even if your baby drools a lot, they will stay comfortable with these bibs. The pack has several trendy bibs with some fashionable designs to match different baby outfits.
The bibs have nickel-free adjustable straps for comfort. They also have a double-layer fabric that prevents fluids from reaching the baby's clothes.
You can use the bibs on newborns and toddlers from 0-to 24 months. They have secure snaps, so it will be hard for babies to take them off but easier for the parent.
Advantages:
Stylish and trendy baby bibs
They have a beautiful design and non-allergic printing
Comfortable and adjustable snaps
Super absorbent to keep kids' clothes dry
Disadvantages: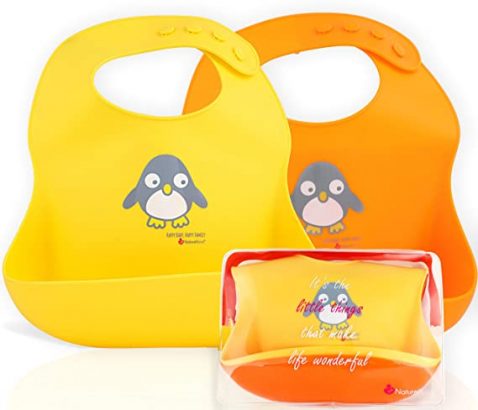 If you need easy-to-clean bibs, then consider the NatureBond Silicone Baby Bibs. They are made of waterproof material to make cleaning a breeze.
The bibs come in a nice impermeable pouch that makes them great for outdoor use. You can travel with them, and other items without worrying your diaper bag will get dirty from messes.
The bibs are made of BPA-free and food-grade silicone material. This makes them safe for babies from 4 months and above.
Advantages:
Easy to clean
BPA-free
Skin-friendly
Comes with a waterproof pouch
Disadvantages: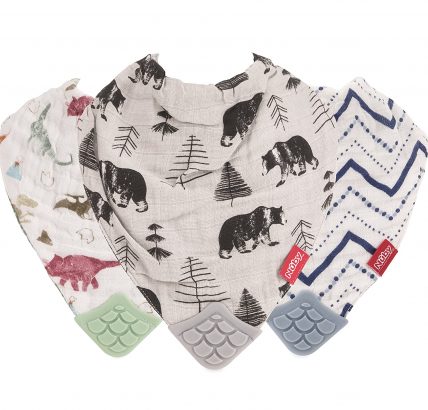 Keep your baby's clothes clean and dry with the Nuby Reversible 100% Natural Cotton Muslin Teething Bibs. They are great for teething babies. These feature natural fibers safe for a baby's sensitive skin.
The bibs are made of 100% cotton with high absorbency qualities. You can use these bibs not only on newborns but also on those a few months old. They have a secure and convenient Velcro fastening that keeps them in place without irritating your baby's skin.
The bib also features a teething corner with multiple textured patterns where your baby can chew. All the bibs are also BPA-free, making them safe for babies.
Advantages:
Cotton material keeps your baby dry
It has a teething corner with multiple textures
Made of BPA-free materials
Designed with fun prints and patterns
Disadvantages:
Shrinking issues after washing
Buyers Guide: Best Baby Boy Bibs
Consider the following factors when in the market for the best baby bibs:
Material
Baby bibs are made of a different material. Some of the most common include:
Cotton
This is an absorbent and soft material that is mostly machine washable. You can find them in both organic and non-organic models, and they can hold up regular use.
Plastic/polyester
Bibs made of these materials are waterproof and easy to wipe clean. Some are machine washable and dishwasher safe but not dryer safe.
Muslin
This is another softer and highly absorbent material. It is also more breathable, unlike cotton, but you need special care because it only has handwash.
Additionally, bibs made of muslin material are expensive and last longer than cotton.
Silicone
This is one of the best materials that are easy to clean. You can hand wash it, put it in the dishwasher, or wipe it clean. The silicone material is also durable, expensive, sturdy, and flexible.
Paper
This can be a good option if you are traveling and need a disposable bib. However, they might not be economical if you need something for everyday use.
Good Fit
The best baby bib should provide a comfortable fit for your baby. In addition, it should cover the chin perfectly to protect the underneath clothes from messes.
It can be tough to choose the right neck fit, considering how some babies have multiple chins that result from the baby fat.
Depending on the size of your baby, you can avoid newborn bibs and look for larger ones that offer a comfortable fit. The neckband should also be adjustable so that you can use it for some years.
Soft Material
Babies have sensitive skin, so you should consider a bib with a soft material because it will rub on your baby's skin. A rough bib can make your baby's skin rough or itchy.
Size
Baby bibs come in different sizes, so you can get some small ones and larger bibs. I would recommend baby bibs covering the entire torso to protect your baby from drool rashes and other messes.
Firm Closure
With time, your baby boy will grow stronger to the extent they can manage to remove the bib. In this case, you need to choose a bib with a firm closure to prevent your baby from taking it off.
There are various types of closure you can choose buttons or snaps, which are easier for you to open but hard for the little ones.
Waterproof
With the busy schedules and packed household chores, it can be hard to have enough time for laundry. Baby bibs will save you laundry time, especially if you choose a waterproof bib.
You can easily wipe the bib clean if the material doesn't soak too much liquid. In addition, most cotton bibs feature a waterproof inner layer that ensures they don't soak food smells.
Fashionable
While the main aim of bibs is to protect your baby's clothes against messes, who would want a fashionable bib? You can get some cute baby bibs with different fun writing or pictures.