Who doesn't love a good pair of crocs? They're an extremely sturdy, versatile, and long-lasting shoe. Every pair provides much-needed support and breathability whether you're working in the garden or running errands. Not to mention they're one of the most comfortable shoes on the market.
They're an awesome shoe to have on-hand for all sorts of events throughout the day, from a stroll to get the newspaper, to a drive to the grocery store, to a walk with the dog, and everything in between. They'll keep your feet feeling supported yet breathable.
If you're looking to get yourself a pair of Crocs or two but don't want to shell out full-price for them—typically about fifty dollars for the classic clog and climbing upwards of seventy dollars for specialty clogs—then there are a few options to find Crocs for women and cheap Crocs for men with a much more affordable price tag, without skimping on quality.
So where to get cheap Crocs?
Amazon and Wal-mart are two of the leading online sellers of affordable Crocs. And if you're willing to go without the name-brand we'll cover a few of our favorite affordable knockoff Croc brands as well.
Crocs On Amazon
Amazon offers an abundance of Crocs. Whatever type of Croc you are looking to buy, you'll likely be able to find the pair in your preferred style, color, and size, on Amazon.
If you aren't quite sure exactly what Crocs direction you want to go in just yet, browse through the plethora of options on Amazon. Not only will you be getting your Crocs at a great price but you can also be sure that you've gotten to see all of your options and choose the one that fits your style the best.
For reference, the Crocband Clog is currently one of the most affordable clogs that you'll find on Amazon, with prices as low as about twenty dollars. Additionally, many of the Classic Crocs sold on Amazon are under forty dollars.
Here are a few things to keep in mind when trying to decide what type of Croc is going to fit your brand and lifestyle best:
Color
Solid or patterned
Shiny or matte
And don't forget accessories! A current Crocs trend is adding adornments to your Crocs. This is a way to add your unique personality to the shoes.
Turning Crocs into your creation can be a fun activity that helps you to express your individuality and align with your unique vibe as a person.
Knockoff Crocs On Amazon
There are also many fantastic knock off Crocs options to choose from and you won't have to compromise on look or comfort. The benefit of going knockoff is typically a lower price.
Here are a few great knockoff brands to keep an eye out for on Amazon:
Amoji Unisex Clogs
Hobibear
FZUU Unisex Breathable Crocs
Each of these brands offers a range of colors, sizes, and styles to choose from that very closely resemble a pair of Crocs.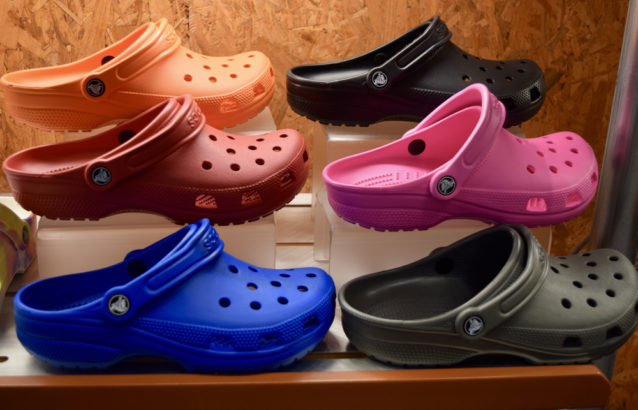 Other Places To Buy Cheap Crocs
If you're willing to shop around a bit, there are many other sweet Crocs deals to be found.
Here are a few places that you can find a great pair of Crocs for a less expensive price than if you bought Crocs full-price on crocs.com:
Crocs online sale – If you want to buy directly from Crocs but aren't willing to pay full-price, check out their online sale rack. If you aren't sure exactly what style and color Crocs you want this is a solid, cheap browsing option.
Walmart.com – Walmart's online store has Crocs for a very competitive price. They offer many of the different Crocs options at a lower price than on Crocs.com
eBay.com – On eBay you can bid the exact price that you are willing to spend on a pair of Crocs. Of course, the con is that someone might outbid you, meaning they are willing to pay more for the Crocs so the sale will end up going to them but there's a chance that you can get them for the price that you want.
Join the Crocs Club – When you first join the Crocs club you automatically get 25% off of your first purchase. Moving forward you will be alerted about new products, sales, and special deals that Crocs is offering. This is a great way to stay in the Crocs' know and make sure you can jump on any exclusive offerings that are sent your way.
Rock Your Crocs (and Smart Savings) with RebateKey
RebateKey is one of the fastest-growing cashback websites around. When you make purchases with any of our Amazon Marketplace partners you can get money back. The more money you save using RebateKey, the more money you'll have to shop at your favorite online stores, so start saving today!
Sources:
Wearably Weird. 15 Cheap Crocs Knockoffs. https://wearablyweird.com/cheap-crocs-knockoffs-alternatives/
Crocs. Love Crocs? Join the Club. https://www.crocs.com/on/demandware.store/Sites-crocs_us-Site/default/Customer-CrocsClub irgwc=1&adid=aff_impact_US_529223_x_x_10451_10451_x_x_10451_x&clickid=QbZylt22UxyIRpBwoBx3K3OmUkBVtJS5Q1-KSw0