Plants are a great way to add energy and life to any space inside your home. Much like framed photos, pillows, and throws, plants are an easy and quick way to inject some personality into your space. With plants, it is effortless to switch up the feel and look of a room.
Although a beautiful plant remains beautiful in the most elementary receptacle, the appropriate plant stand makes it shine. Plant stands serve many other purposes apart from holding house plants.
They blend in with house furniture and décor. They add an aesthetic feeling to your living space, bedroom, office, yard, porch, or kitchen. Plant stands are also handy for holding framed photos, toys, books, kitchen supplies, trash cans, and other household collections.
From lean and tall to short and stout, plant stand options are in their hundreds if not thousands.
Quick Summary: Best Plant Stands
Here's a quick summary of the best plant stands:
Reviews: Best Plant Stands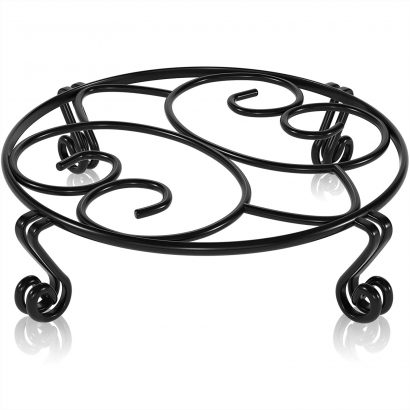 The Yimobra Metal Plant Stand is a metal, round stand that can be used indoors and outdoors. It has a circumference of 11.8 inches and a height of 3.1 inches.
The stand can carry a weight of up to 310 lbs., making it a suitable stand for heavy and large potted plants.
The stand has four strong legs that provide enough support to your plant pot without giving way or tilting it.
Molded from high-quality iron metal, this stand is stable, strong, and rust-resistant. It does not destroy floors.
Place it outdoors, on the balcony, in the office, in the living room, or even in the kitchen. Use it for potted trees, large flower vases, trash cans, whiskey barrels, and other kitchen supplies.
Featuring a mounting-hole design, the plant stand is available in black and brown colors.
Advantages:
Two-color options
Mounting-holes design
Stable and strong
Rust-resistant
Disadvantages:
The diameter is smaller than it looks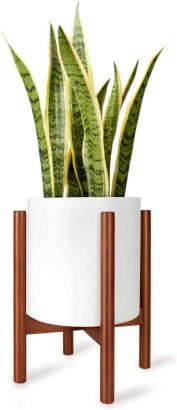 The Mkono Plant Stand is a simple yet modern designed plant stand. It has a height of 16 inches and an inner diameter of 10 inches.
The design of the plant stand is inspired by the classic mid-century style. It fits well with most of the decorations and furniture in a mid-century house.
The metallic plastic stand features a powder coating to protect the floor against scratches. In addition to being easy to assemble, the stand provides firm support to the plants in such a way that they cannot be knocked off by children and pets.
The plant stand is best for use in the house, porch, garden, and office.
Advantages:
Classic mid-century style
Easy to assemble
Powder coating
Sturdy metallic material
Disadvantages:
Room for improvement in the finish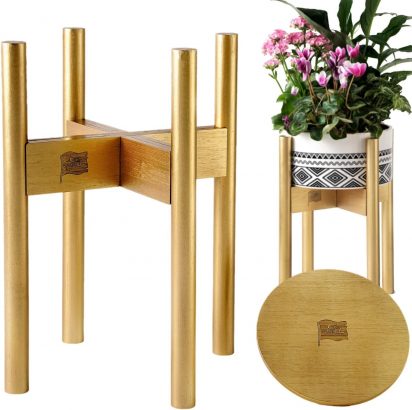 The ZPIRATES Plant Stand is made from hardened bamboo. It is lightweight and durable. This plant stand is a good alternative for heavy and rusty metal plant stands.
It can hold plant pots of up to 44 pounds. The plant stand has an adjustable width and height to fit the requirements of your plant pot.
It comes with a plant tray to support, balance, and increase the beauty of your plant holder.
Advantages:
Plant tray
Adjustable width and height
Sturdy, hardened bamboo
Lightweight, yet durable
Disadvantages: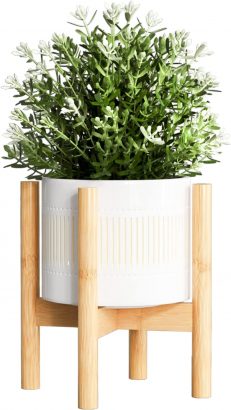 The BAMFOX Plant Stand is made from bamboo plants. Its design is inspired by the mid-century style. It is an elegant accessory for the living room, bedroom, and dining room.
The bamboo materials used to make the stand are of high quality. The stand is easy to assemble. You can adjust its height by reversing the top to the bottom.
The plant stand of 8 inches can be used for a variety of plants such as cacti, snake plant, fiddle leaf tree, among others.
It is available in cherry, chestnut, or wooden natural colors.
Advantages:
Variety of colors
Easy to assemble
Adjustable height
Elegant design
Disadvantages: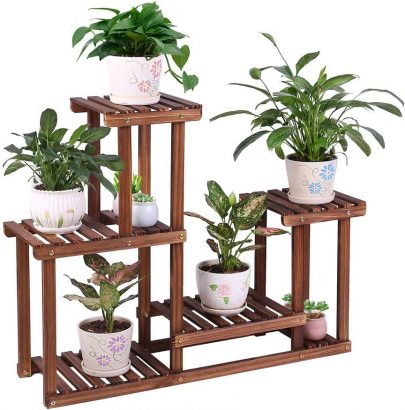 The COOGOU Plant Stand is made from renewable pine wood. It is treated through high-temperature carbonization to eliminate excess moisture content in the wood. This makes them long-lasting.
The stand houses a maximum of seven plant pots. The shelves are designed to be at four different height levels. This ensures that the plant pots do not overshadow each other.
The stand structure is stable, hence you do not have to worry about your vases and plant pots tumbling over. It has 8 sturdy legs that are fitted with a sustain at the bottom to increase stability.
This stand has a length of 33.9 inches, a width of 14 inches, and a height of 9.8 inches. The frame of the stand has been carefully crafted into neat proportions that add beauty to your living space.
It comes with tools and a manual on how to assemble it. You can use the stand to hold things such as shoes, books, toys, knick-knacks, and other small items and supplies.
Advantages:
Renewable pine wood
Long-lasting
Stable
Attractive design
Disadvantages: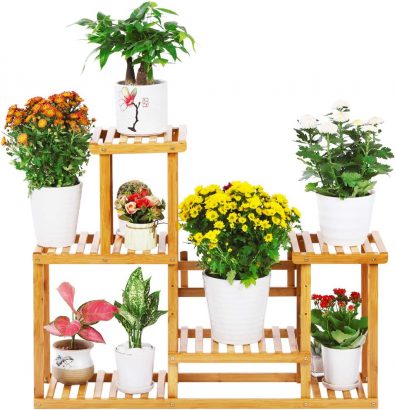 The Gar-Life Plant Stand is made from eco-friendly, durable bamboo. This 9-tier plant stand can carry a weight of up to 150 lbs. It can accommodate 17 plant pots.
The shelves are high enough from each other to allow each plant enough space to grow.
The plant stand can be used both indoors and outdoors. Use it for house plants, flowers, books, toys, framed photos, and other small collections.
The stand comes with a detailed manual on how to easily assemble it. It has wheels for easy moving from one place to another when cleaning or when in search of sunlight for your plants.
Advantages:
Easy to assemble
Wheels for easy movement
Eco-friendly
Durable
Disadvantages:
Some spikes aren't sanded
Buyer's Guide: Best Plant Stands
Consider the following factors when in the market for the best plant stands:
Number Of Plants
The number of plants determines the size of your plant stand. For instance, if you have more than three house plants, a stand with 2-9 tiers of shelves is a good option.
Plant Size
Large plants such as house trees require a stand that does not hinder their growth. Additionally, they need a stand that can handle heavy weight without breaking.
One-tier stands and those whose shelves are independent of each other are great choices. They allow enough space for your plant to grow.
Room Size
For a small room, an equally small plant stand is the best. You don't want a stand that takes up unnecessary space.
A spacious room can accommodate a big plant stand that can hold many plants and flowers.
Material
Wooden plant stands are normally durable because of the high-temperature treatment and polish finish.
Metallic plant stands are another great option. They are best for heavy plant pots as they can carry heavier weights. Ensure yours has a rust-proof coating to survive water drops from watering the plants or humid conditions.
Outdoors vs. Indoors
An outdoor plant stand should be rust-proof, waterproof, and easy to assemble and move. An indoor plant should be portable and durable.