Carrying your laptop and other valuables from one point to another needs a quality backpack. Whether you are going to work or school, you need a quality laptop backpack with ample space.
Laptop backpacks come in various styles, sizes, and shapes. The type of laptop backpack you choose depends on the number of items you intend to carry and where you want to go.
The below laptop backpacks are suitable for business, holiday, travel, school, or work. They boast functionality, looks, and comfort.
Quick Summary: Best Laptop Backpacks
Here is a quick summary of the best laptop backpacks:
Reviews: Best Laptop Backpacks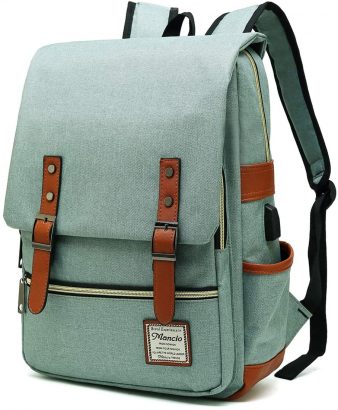 The MANCIO Slim Laptop Backpack is ideal for travel, school, college, and casual daypacks. Suitable for both men and women, it can hold laptops from 13-inch up to 15.6-inch.
The backpack is made of lightweight and tear-resistant fabric. There are multiple pockets and five compartments to keep and organize your items safely.
It has two front zippers to keep your phone, keys, wallet, pens, books, and much more. This laptop backpack is padded and features adjustable shoulder straps for comfort.
The multi-purpose bag has a fashionable look and durable design. The USB charging port on the outside makes it easy to charge your phone with a power bank.
Advantages:
Durable construction
Adjustable and comfortable to wear
Affordable and fashionable
Easy to charge your phone while on the go
Disadvantages:
Initial strong chemical scent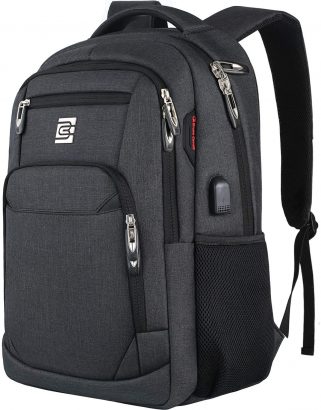 The Volher Laptop Backpack is a water-resistant bag with an anti-theft design. Spacious compartments and several pockets provide ample room to store your laptop and other things.
The laptop compartment can fit 15.6, 14, and 13-inch laptops. The sides have mesh pockets where you can put your umbrella or water bottle compactly.
In addition to being comfortable, it has nice airflow with the ventilated padding on the back. You can adjust the shoulder straps to ease tension on your shoulders for comfort.
The top handle is also padded to maximize comfort. A built-in USB port design helps you to charge your phone conveniently when traveling.
This backpack is safe and functional since it has a luggage strap that enables it to fit in your suitcase.
Advantages:
Strong and sturdy
Good-looking
Convenient external USB connection
Sufficient storage
Disadvantages: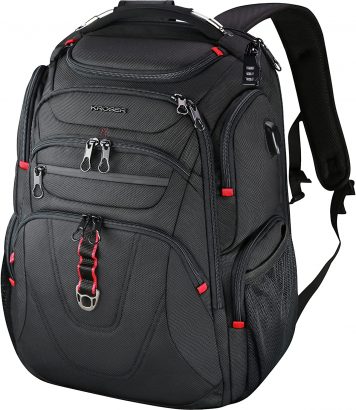 The KROSER Travel Laptop Backpack boasts a sturdy construction. It can fit laptops up to 17.3 inches.
If you need a secure place to keep your sunglasses, this backpack has a hard-shell zone. Charge your phone easily on the way with the USB port but it doesn't include a power bank.
The backpack has a convenient luggage strap that makes it easy to fix on your luggage trolley for easy traveling. The back has thick padding and nice airflow for the utmost comfort.
This large backpack is durable and suitable for outdoor activities, travel, school, work, travel, and business. It has RFID pockets featuring an identity protection function.
Advantages:
Sturdy construction
Quality zippers
Comfortable
Several compartments
Disadvantages: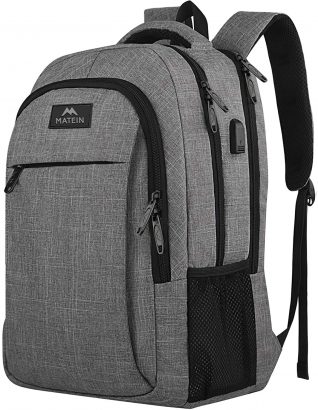 Travel with your laptop safely with the Matein Travel Laptop Backpack. The separate laptop compartment can hold 13, 14, and 15.6-inch laptops.
A soft multi-panel ventilated padding provides optimal back support. The shoulder straps are adjustable and breathable for comfort.
A luggage strap makes it easy to slide in over your luggage for easy carrying. If you need to keep some valuable items away from thieves, an anti-theft pocket comes in handy.
Advantages:
Ideal for mini-backpacking
Multiple pockets to accommodate all your essentials
Soft padding for optimal back support
Lightweight and comfortable
Disadvantages:
Room for improvement on the quality of straps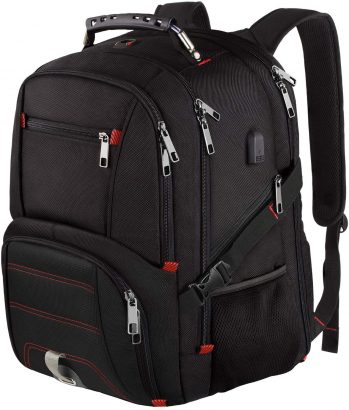 The LTINVECK Extra Large Travel Laptop Backpack is TSA-friendly. Although highly versatile, it is ideal for airplane travel hence easy for you to go through airport security without removing the bag.
You can use this laptop for travel, camping, vacation, mountaineering, occasional travels, and weekend getaways. It has a USB charging design for convenience.
The backpack has a large capacity courtesy of more than 20 organizer pockets. Its large compartment can fit different laptop sizes from 13 to 17.3 inches.
It is made of durable polyester fabric combined with two-way waterproof zippers for long-lasting use. The mesh back panel is padded and breathable to prevent overheating.
Advantages:
Durable and TSA-friendly
Over 20 organizer pockets
Comfortable and ergonomic design
Sturdy and well-constructed
Disadvantages: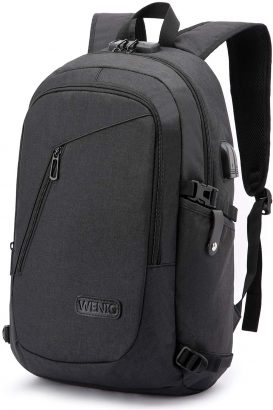 The WENIG Laptop Backpack has a large compartment that fits 14, 15, and 15.6-inch laptops. The main pocket is ideal for a charger, binders, clothes, books, etc.
You can use it to commute or as a carry-on. It features a USB port and headphone jack to charge your phone and access your earphone faster.
Its anti-theft design makes the backpack safe and practical for business travel. You can be sure that your valuable items inside the anti-theft pocket are safe.
This backpack is made of durable and water-resistant cloth with quality metal zippers. It is designed with wide, breathable, and comfortable shoulder straps with more sponges to relieve shoulder pain.
Advantages:
Modern design
Safety lock to prevent theft
Water-resistant
Breathable and comfortable shoulder straps
Disadvantages: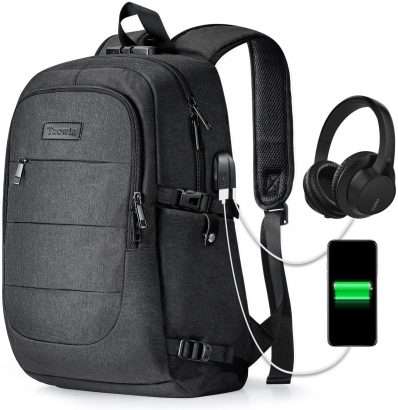 The Tzowla Travel Laptop Backpack has two main compartments and nine inner pockets. Its compartment can hold laptops up to 15.6 inches.
An anti-theft design keeps your items safe from thieves. Metal zippers and a fixed password lock provide extra safety.
The backpack is lightweight and highly breathable. It is made of durable and water-resistant polyester fabric.
Use this multi-purpose bag as a school bag, travel backpack, casual backpack, computer backpack, and hiking backpack.
Advantages:
Beautiful look and durable design
Anti-theft design
Reasonable pricing
Water-resistant and lightweight fabric
Disadvantages:
The bottom part is not padded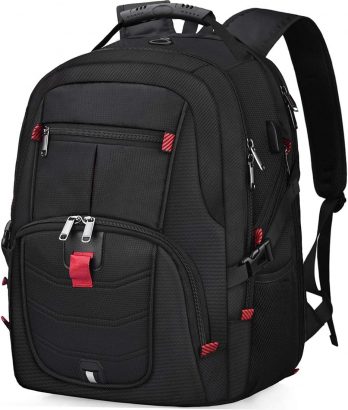 The NUBILY Laptop Backpack has two padded main compartments with a dual zipper. It can accommodate a laptop from 15.6 inches to 17.3 inches.
15 pockets are handy for keeping personal items in an organized manner. Quality waterproof polyester fabric prevents water from getting into your laptop.
A dual-sided zip with quality stitching guarantees durability. The dual metal zippers are designed for daily commutes.
Access your portable power easily with the included USB charging port. A convenient headphone interface makes it effortless to access earphones whenever you need to.
Advantages:
Padded compartments
Ergonomic design
Sturdy and durable
Many pockets
Disadvantages:
Small for big-size laptops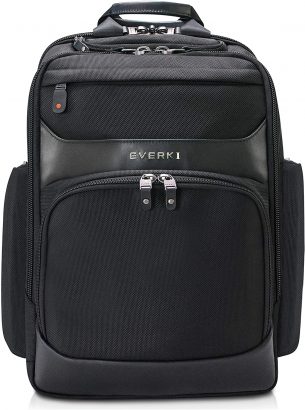 The EVERKI Laptop Backpack is another travel-friendly bag. The backpack is made of leather and ballistic nylon material for unmatched durability.
This laptop compartment can hold up to 15.6-inch laptops. The bag has a hard-shell case for your sunglasses.
This section is designed with patented corner guards for more protection. Keep your passports, docs, credit cards, and other items in the easy-to-access RFID blocking pocket.
This backpack is designed with strong shoulder straps to provide enough support and comfort.
Advantages:
Proper weight distribution
Stylish design
Strong shoulder straps
Plenty of pockets
Disadvantages: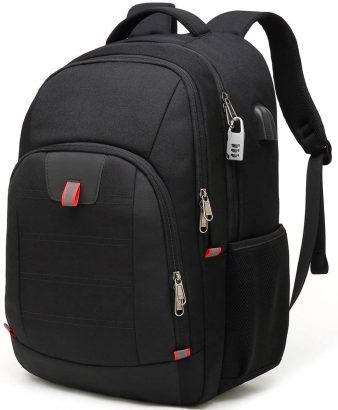 Keep your laptops and other items secure and organized with the Della Travel Laptop Backpack. It can hold laptops from 13 inches to 17.3 inches. The laptop compartment is padded to protect your machine.
This bag has an anti-theft design, durable sippers, and a combination lock. You can travel confidently without worrying about anyone stealing your items.
The bag is padded and breathable for the utmost comfort. The shoulder straps are padded to relieve stress.
A night light reflector at the front keeps you safe in the dark. A USB charging port is handy for charging your phone.
Advantages:
Padded compartments
Night light reflector
Spacious interior
Breathable and comfortable
Disadvantages:
Doesn't have many accessory pockets
Buying Guide: Best Laptop Backpacks
Consider the following factors when in the market for the best laptop backpacks:
Size
Every laptop backpack has a dedicated place to hold your machine. Depending on the size of your laptop, you should get a bag that is large enough to hold it and other items.
Common standard compartment dimension sizes are for 15, 16, and 17-inch laptops. The backpack should have a padded compartment to keep your laptop safe.
Check the internal compartments for ample room to keep your charger, phone, keys, glasses, wallet, and other essential items.
Material
The material of a bag affects its overall durability. Some materials hold up better in wet weather or in case of dropping.
The best laptop backpack should be made of waterproof or water-resistant material. Additionally, it needs to be abrasion-resistant.
Comfort
If you will be wearing your laptop backpack for several hours, then choose one with comfortable straps. Moreover, it needs to be well-padded for comfort.
Chest straps are handy in distributing weight. Choose a laptop bag with efficient airflow to prevent sweating.
Compartments and Pockets
A good laptop backpack should have several compartments and pockets. Compartments need to be padded to keep your machine safe.
Weight
Some laptops are heavy. For this reason, opt for a lightweight backpack without compromising on the quality.
A lightweight laptop backpack makes it easier for you to move since it doesn't weigh you down or strain your body.
USB Charging
Another useful feature you should consider when buying a laptop backpack is the USB charging port. This feature makes it effortless to charge your laptop.