Unlike trendy beauty ingredients that come and go, argan oil has remained a constant in improving hair health. It is rich in fatty acids and antioxidants that help increase shine, repair damage, and strengthen hair.
The fact that it aids hair growth explains why many brands are including the oil in their formulas. You can benefit from this miracle ingredient by incorporating the best argan shampoo set into your routine.
Quick Summary: Best Argan Shampoo Sets
Here is a quick summary of the best Argan shampoo sets:
Reviews: Best Argan Shampoo Sets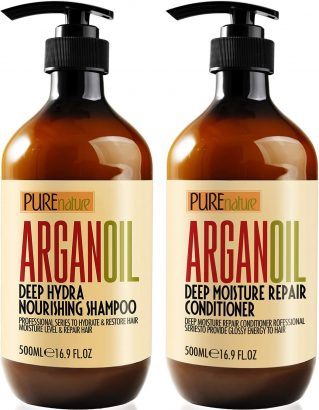 The PURE NATURE Moroccan Argan Oil Shampoo and Conditioner hydrates the hair and scalp while restoring moisture levels. This safe set doesn't contain any toxic and harmful ingredients.
Besides restoring health to your hair, it also makes it grow longer and thicker. The shampoo is especially ideal for frizzy, curly, fine, wavy, or thick hair.
Once you begin using this set, your hair will have a beautiful structure, and look stronger, thicker, and younger. It also leaves your hair soft and manageable with incredible shine.
Advantages:
Easy to use
Leaves your hair silky smooth and thick
Nourishes and repairs your hair
Natural ingredients
Disadvantages:
Takes some time to start showing desirable results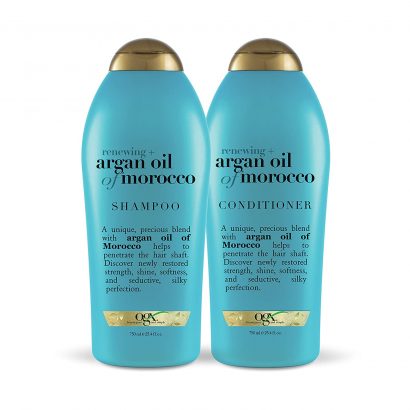 A smart choice of a shampoo and conditioner set can give life to your hair. The OGX Renewing + Argan Oil of Morocco Shampoo & Conditioner is a gentle combination to your hair and scalp.
It works well with locks, giving them the silkiest potential. It is infused with essential oils to add shine. If you want real quality, beauty, and originality, choose this shampoo and conditioner set.
In addition to protecting color-treated hair, the set provides moisture for curly and dry hair making it look fuller.
Advantages:
Irresistible smell
Rich in essential oils
Gives locks their silkiest potential
Helps restore strength and shine to your hair
Disadvantages:
Conditioner is not good for long, thick hair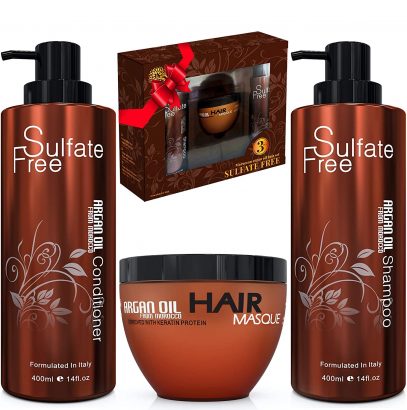 When hair loses moisture, it becomes troublesome. Suitable for all hair types, BINGO HAIR CARE Moroccan Argan Oil Shampoo Conditioner fights against dryness, loss of elasticity, and dehydration.
It contains high amounts of antioxidants, essential fatty acids, and Vitamin E. With its 100 percent pure natural Moroccan Argan oil, it helps revitalize your hair.
Use it to improve your hair's elasticity and restore shine. It is a great product for those with dull and lifeless hair.
Advantages:
Promotes hair growth
100 percent pure natural Moroccan Argan oil
Makes your hair fuller
Nourishes your hair with vital vitamins
Disadvantages: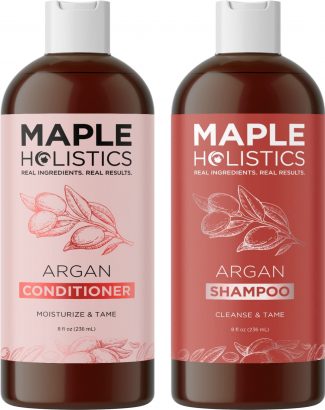 Maple Holistics is largely associated with top-quality and safe products. The Maple Holistics Argan Oil Shampoo and Conditioner Set is no exception.
This hair shampoo and conditioner set is rich in Vitamin A and E, which together give you fuller hair. This combination also makes these products suitable for everyday use.
If you're looking to repair damaged hair and encourage growth, use this shampoo and conditioner set.
Advantages:
Repairs damaged hair
Designed for everyday use
High-quality natural ingredients
Thicker fuller hair
Disadvantages: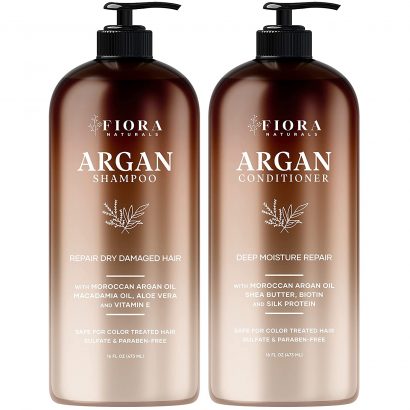 The Fiora Naturals Moroccan Argan Oil Shampoo and Conditioner restores dry and damaged hair within no time.
It contains beneficial ingredients such as argan oil, aloe vera, coconut oil, and keratin. You can use it on color-treated hair, bleached hair, natural hair, and even curly hair.
Generally, this set is designed to improve hair manageability.
Advantages:
Protects hair from damage
Restores damaged hair
Natural ingredients
Suitable for all hair types
Disadvantages: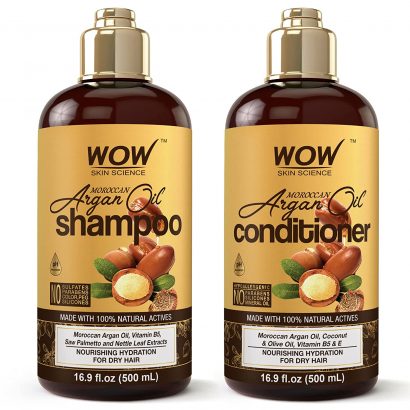 The WOW Moroccan Argan Oil Shampoo and Conditioner Set gives you the full potential of the healing effect of the argan oil from Morocco. This set contains all the nutrients that will free your hair of destructive elements.
The product protects, cleans, and nurtures your hair thereby improving its health. It is rich in essential ingredients including protein to help make hair smooth and silky.
This set moisturizes all your hair strands. Everything about this set is geared towards improving the condition of your hair.
Advantages:
Long-lasting results
Restores hair strength
Reasonable pricing
Stimulates thick and natural hair growth
Disadvantages: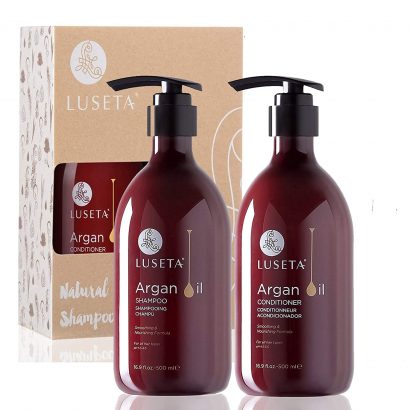 Save your hair from destructive elements such as UV rays with the Luseta Argan Oil Sulfate Free Shampoo and Conditioner Set.
This product will help restore your hair's softness, shine, and strength making it stunningly beautiful again.
The lusted argan oil series feeds your hair with all the necessary nutrients to make it fuller.
Advantages
Restores hair softness and strength
Suitable for both normal and treated hair
Infuses moisture into your hair
Promotes healthier hair
Disadvantages: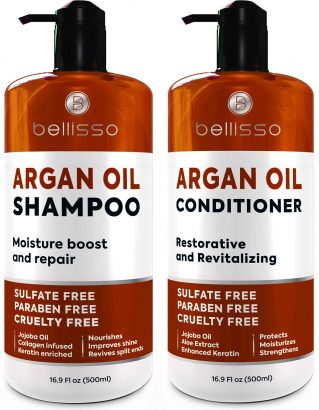 Your classy and sassy hair deserves top-notch hair products. The BELLISSO Argan Oil Shampoo and Conditioner Set for its outstanding quality.
Use this set for a stunning shine and unrelenting hair. It creates a protective coating from exposure and pollution.
This set works well to replenish dry follicles and split ends. It works deep to hydrate your hair on cellular levels thus restoring strength and flexibility.
Advantages:
Hydrates stressed hair
Refreshes your hair and scalp
Protects hair against pollution and exposure
Restores hair flexibility
Disadvantages:
Room for improvement on moisturizing
Buyer's Guide: Best Argan Shampoo Sets
Consider the following factors when in the market for the best argan shampoo sets:
Ingredients
You must consider the ingredients used to make the shampoo and conditioner. The materials put into the shampoo can mean a lot, including safety, quality, effectiveness, and more.
The ingredients are usually listed on the bottle or package. Keenly check them and do some research to establish if they're effective and good for your health.
Hair type
Your hair type should guide your choice of a shampoo and conditioner set. Although most of the products are suitable for all hair types, it is prudent to do your due diligence.
Safety
The last thing you want is to buy a product that reacts with your hair or skin. Ensure the product does not cause harm or allergic reactions of any kind.
Begin by checking if there are any toxic or harmful elements included in the shampoo. The safest shampoos are the ones that contain all-natural ingredients.