Choosing the right plants can greatly transform your indoor or outdoor space. Since you don't want to keep your plants in the plastic nursery pots they came with, the best pots and planters come in handy.
You should invest in a larger and more decorative pot to make watering easier. It should drain well to prevent roots from getting soggy. Moreover, choose a planter that doesn't get too hot when outside.
Quick Summary: Best Pots and Planters
Here is a quick summary of the best pots and planters:
Reviews: Best Pots and Planters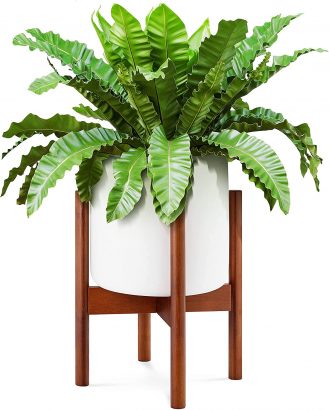 Improve your indoor look with the EdenHomes Mid Century Modern Indoor Plant Stand. It is a good holder for cacti, succulents, flowers, and snake plants. You can also use it for fiddle leaf fig trees.
Unlike many others made of ceramic, this round pot is made of fiberglass which makes it durable. It can handle temperature changes, falls, and scratches. The pot comes with a stopper and drainage.
The pot and stand measure 17 inches and a width of 10 inches. The pot alone is 10 inches tall and has a diameter of 9 inches. If you need it higher from the ground, simply flip the bamboo stand over it.
Assembling the two pieces is easy. It comes with a screw and a screwdriver tool. You also get four pads to keep the legs well-balanced.
Advantages:
Good-looking and affordable
Drainage hole at the bottom
Sturdy construction
Durable and lightweight
Disadvantages:
The paint cracks in less than two weeks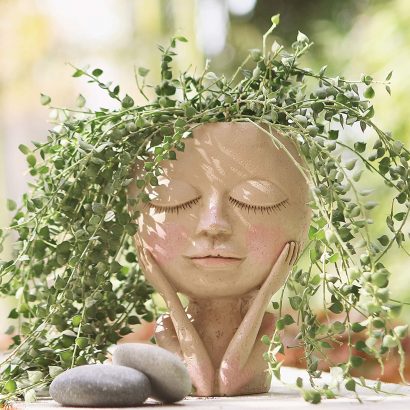 The AIMEBBY Face Flower Pot Head Planter is made of quality resin material for the utmost durability. The lightweight pot is a great addition to your home or office décor for growing small cute plants like cacti, succulents, or herbs.
The opening diameter of the planter is 3.74 inches, the height is 6.7 inches, and the bottom is 2.76 inches.
The planter features a drainage hole to get rid of excess water. This promotes healthy root growth.
Advantages:
Attractive design
Highly versatile
Durable
Great for small plants
Disadvantages: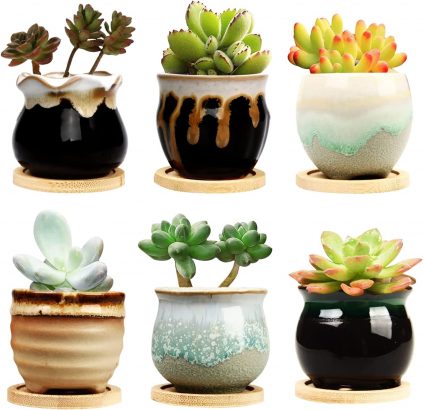 If you love mini-plants, the Brajttt 2.5 Inch Ceramic Succulent Planter makes a great choice. The planter is made of ceramic which is sturdy and durable.
These pots come in 6 different shapes that you can use to decorate desk tables, balconies, dining tables, and windowsills. Their colorful and modern look also makes them ideal for the bedroom, kitchen, or living room.
Each pot features drainage holes for efficient drainage. The pots hold succulent plants, flowers, small plants, herbs, and cacti plants.
Advantages:
Sturdy construction
Elegant design
Ideal for small plants
Features bamboo trays
Disadvantages:
The Classic Home and Garden Patio Pot Honeysuckle Planter is a round-shaped planter, featuring a floor-standing design. It is made of a resin material that resembles stone or ceramic.
The planter is lightweight, yet durable. You can use it both indoors or outdoors to plant your favorite plants. The weather-resistant pot has a UV-coated finish to prevent its beautiful color from fading.
This planter comes without drainage holes. If you need some holes, simply drill some at the bottom. The planter is ideal if you need a traditional or minimalist style for your home.
Advantages:
Neutral color matches many colors schemes
Lightweight and sturdy
Weather-resistant
Stable floor-standing design
Disadvantages: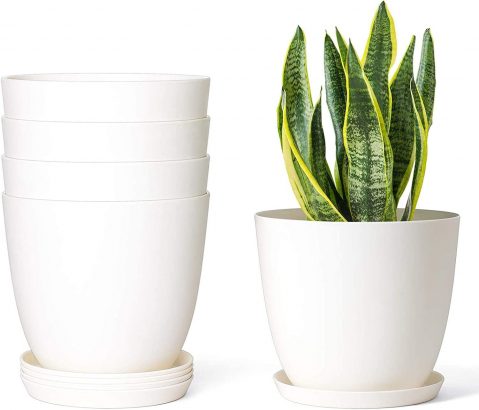 The Mkono 6.5″ Plastic Plant Pots come in a set of 5. The plant pots are great for herbs, house plants, and flowers. Made of plastic material, these pots have a floor-standing mounting design.
These pots are a good choice for those that love minimalist design. The exterior features matte color finishing to match well with your home décor. The interior is glossy which makes cleaning easy.
The bottom of the plant pots has drill holes for effective drainage. Detachable saucers hold excess water.
While they are lightweight, the pots are made of thicker polypropylene walls to withstand drops and breakage.
Advantages:
Thick polypropylene walls
Detachable saucers
Glossy interior
Matte color finish
Disadvantages: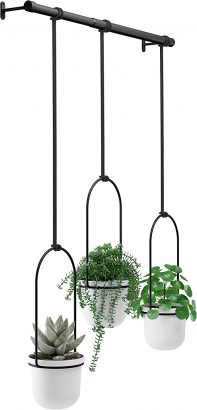 If you are into hanging planters, the Umbra Triflora Hanging Planter makes a good option. They are great for an indoor herb garden or displaying your plants in the window.
Simply hang the planters using the metal rod for better display and easy watering. This design also minimizes space. You can choose to adjust them vertically or horizontally.
Sliding the Triflora's ropes on the rod makes length adjustment easy to help you customize the hanging planters. The planters are durable and fit perfectly in standard pot sizes.
They come with the required mounting hardware to make your work easier. You can hang it on the ceiling, or 24-inch kitchen window, or mount it on the wall.
Advantages:
Space-saving
Sturdy
Effortless to adjust
Easy to hang
Disadvantages: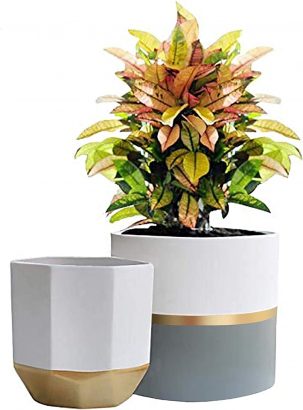 Enhance the look of your indoor space with the LA JOLIE MUSE White Ceramic Flower Pot Garden Planters. The medium-round containers feature a painted finish. Color options available include white, grey, and gold color.
Sturdy ceramic material adds a great accent to your home. The planters are of different sizes.
Apart from indoor use, the planters are also ideal for outdoor use. You can put them on your patio. Their versatility makes them stand out from the rest.
Each pot features a pre-drilled drainage hole to prevent overwatering your plants. Excess water comes out through the drainage hole to promote healthy plant growth.
Advantages:
Ideal weight and size
Highly versatile
Beautiful and modern design
Effective pre-drilled holes
Disadvantages:
Moisture seeps through the bottom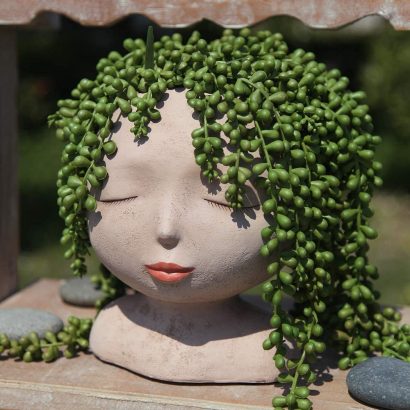 The YIKUSH Female Head Design Succulents Plant Pot is made of a quality resin material that is durable and lightweight. The pot has a tabletop mounting design. It is best suited for succulent plants.
It has a drainage hole featuring a removable rubber stopper. Four invisible rubber feet at the bottom keep it in place.
Round risers work amazingly well to drain excess water thus preventing stains on the pot's surface. The base is wide and sturdy so it doesn't move when changing plants, watering, or pruning.
It has a multi-purpose design where the head acts as a soil holder. You can plant various plants like herbs, cacti, small green plants, and succulents.
Advantages:
Four invisible rubber feet
Tabletop mounting design
Attractive look
Wide and sturdy base
Disadvantages:
Buying Guide: Best Pots and Planters
Consider the following factors when in the market for the best pots and planters:
Size
If you choose a pot that is too small, then the plants get root bound faster. This makes it hard for the soil to retain adequate moisture when watering which leads to plants wilting or drying out.
On the flip side, too big pots make your plants spend more energy to develop roots and little on growth. The rule of thumb is to choose a medium-sized pot.
If you need to plant shallow-rooted plants like herbs, pepper, and lettuce, a planter with a diameter of 6 inches and 8 inches in width is ideal.
Material
Pots and planters are made from different materials. The most popular materials are plastic, clay, and terra cotta. Plastic planters are affordable, lightweight, and colorful.
They retain moisture so you don't have to water your plants frequently. Terra cotta pots are heavier, cost more, and have beautiful patterns. Because they are porous, you need to water the plants frequently.
Weight
Heavier containers are hard to move because moist soil gets heavy. When checking the total weight of a pot, consider the weight of the plant, water, soil, and pot.
Weight is an important consideration if you intend to change the look of your garden from time to time. Lightweight materials make mobility easy.
However, you still want to keep the pot's stability in mind. It should be heavy enough to withstand heavy winds.
Drainage
A planter with poor drainage causes the roots to get soggy and eventually rot. If your planter has limited drainage, you can drill one good-sized hole to improve the drainage.