Vegan protein powders are becoming a darling of man because of their incredible taste and clean ingredients. Using them is an effective way to boost your body's protein levels.
The fact that they are vegan means that the main source of protein is from plant sources rather than an animal. Think legumes, grains, seeds, and nuts.
Some of the popular vegan protein powders include peanut, rice, pea, hemp, and soy. Of these, soy is the only all-around or complete vegan protein. It contains all nine essential amino acids.
The others miss at least one essential amino acid. Therefore, if you aren't into soy products or are allergic to them, you need to settle for a vegan powder that features a combination of different protein sources such as rice and peas.
Alternatively, you can mix your vegan protein powder with another food. For instance, you can combine hemp protein powder with oatmeal or pea protein powder with a nut butter smoothie.
Some people aren't into a vegan powder's aftertaste. You can get rid of this aftertaste by adding things such as cocoa powder, pumpkin pie spice, or citrus-like grated orange peel. Extracts like lemon, almond, or vanilla can also work.
Looking for the best vegan protein powder? Here's a quick summary of the best in the market currently:
Quick Summary: Best Vegan Protein Powder
Here's a quick summary of the best vegan protein powder:
1. KOS Organic Vegan Protein Powder – Best Overall
2. Garden of Life Organic Vegan Protein Powder – Best for Faster Recovery
3. ALOHA Organic Protein Powder – Best Tasting
4. NOW Sports Pea Protein Powder – Best Low Carb
5. Vega Sport Premium Protein – Best for Athletes
6. Anthony's Premium Pea Protein – Best for Weight Loss
7. Iron Vegan Athlete's Gainer – Best for Weight Gain
Reviews: Best Vegan Protein Powder
Let us now have a more detailed look at the best vegan protein powder.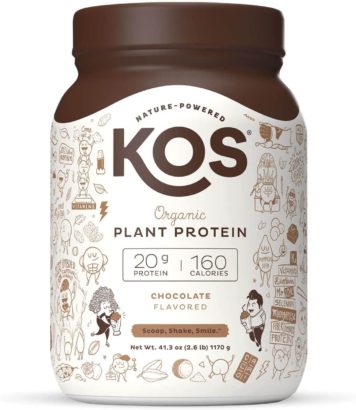 The KOS vegan protein powder brings with it a smooth and chocolatey flavor that is infused with monk fruit, organic coconut milk, and cocoa. Every serving has 20 g of protein that is sourced from a mix of pea protein, chia seeds, pumpkin seeds, quinoa, and flax seeds.
Another good attribute about this protein powder is that it is free of genetically- modified organisms, artificial sweeteners, soy, dairy, and gluten. It comes in several flavors like chocolate chip mint, chocolate peanut butter, and vanilla.
Advantages
Amazing flavor
Great for weight management
Incredible digestion support
5 protein blend
Disadvantages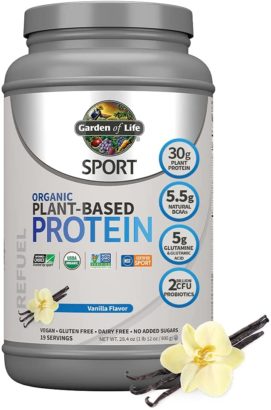 Garden of Life vegan protein powder is an effective, convenient, and tasty product containing high-quality nutrition for anyone desiring great performance.
Looking for a protein powder to take before your workout? Without a doubt, this is the cleanest pre-workout powder. It contains all the ingredients you need for a great performance.
Enjoy quick bursts of energy from organic beets, spinach, and kale. This powder has essential nutrition to help fuel your body after working out.
It is handy when it comes to repairing and refueling your muscles. Moreover, it promotes faster recovery.
It contains BCAAs amino acid that features more than 2 billion CFU probiotics to ensure your immune system remains strong even when you're training.
Advantages
Certified USDA organic
Great for post-workout recovery
Immune system support
Sharpens mental focus
Disadvantages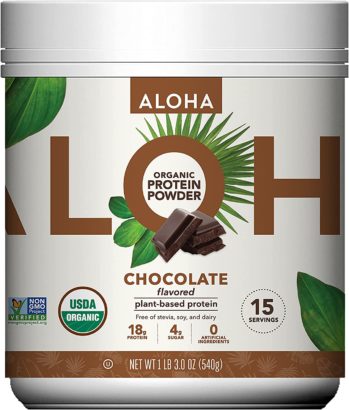 Two impressive attributes about this product are its low sugar and high protein nature. It features whole-food ingredients that not only nourish but also sustain you.
All ALOHA products are vegan, gluten-free, soy-free, stevia-free, non-GMO, and organic. Additionally, this product is free of artificial sweeteners, sugar, and alcohol. It also doesn't have preservatives, coloring, or dyes.
You will fall in love with the delicious nature of this protein powder in terms of its flavor. It was built on the tenet that sacrificing taste for nutrition isn't necessary. With natural and real ingredients, the company delivers a powder that not only tastes good but is also great for your health.
Advantages
Nothing artificial
High in protein
Delicious flavor
Low in sugar
Disadvantages
Gastrointestinal sensitivity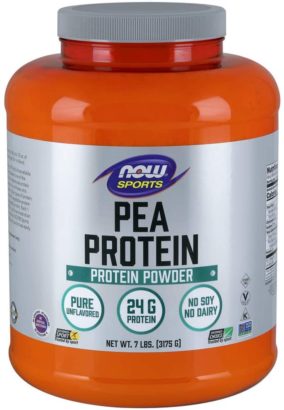 Peas are popular for their high content of bioavailable protein. Moreover, they aren't one of the major dietary allergens. Collectively, these attributes make them incredible sources of post-workout nutrition.
This is especially true for those athletes with difficulty in supplementing other protein types. The Now Sports Pea Protein Powder features 24g of easily digested protein.
Every one scoop serving of this non-GMO protein isolate features more than 2000mg of arginine and 4200mg worth of branched-chain amino acids.
On top of being natural and pure, this product is unflavored. It mixes effortlessly with your favorite beverages.
Advantages
Pure and natural
Unflavored
GMP quality assured
Non-GMO
Disadvantages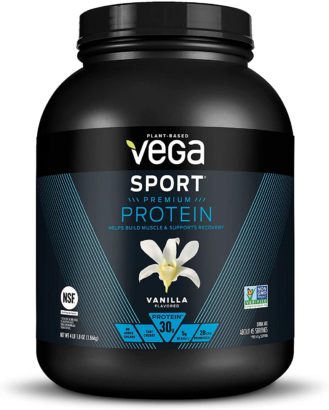 This protein powder is the best choice for athletes. It is NSF-certified for sport. Moreover, it is gluten and artificial flavor-free. It doesn't contain preservatives or GMOs.
On top of this powder's 30g worth of plant-based protein, every scoop serving features 5g BCAAs and more than 2 billion probiotics. Every cherry extract plays a role in your recovery.
Power your athlete and workout story with this incredible plant-based nutrition. Boasting a smooth texture and taste, all you need to do to use this product is shake or blend it with water. You can also mix it with your preferred beverage to enjoy a good-tasting post-workout drink.
An incredible attribute about the company producing this powder is that they package their products in PCR plastic to prevent the landfills from getting filled.
Advantages
Great for building muscle
NSF-certified
2 billion CFU probiotics
Smooth texture and taste
Disadvantages
Doesn't mix well (you have to use plenty of powder)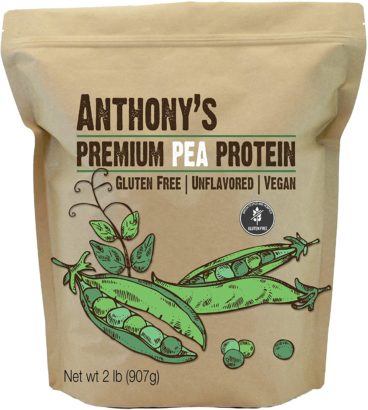 This unflavored, gluten-free, vegan protein powder from Anthony's Goods is a great choice for vegans and vegetarians. It features pea protein that is made by removing the fiber and starch content of yellow peas then grinding them into a fine powder.
In addition to being gluten-free and unflavored, it is also unsweetened and doesn't have any artificial additives.
It can act as a base for protein shakes. Alternatively, you can add it to protein bars, baked goods, and yogurt. If you're into smoothies, you can blend this protein powder into smoothie bowls.
Using it is an efficient way to incorporate pea protein into your meals. This plant-based protein powder is low in carbs.
Advantages
Non-GMO
Low carb
Great for baking and smoothies
High protein
Disadvantages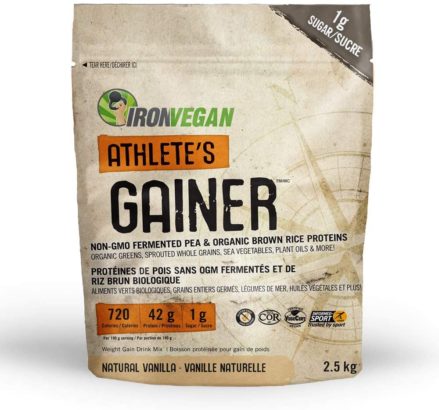 Iron Vegan is a great choice for athletes in mind. Every serving of this powder has 42g of proteins derived from organic brown rice and pea protein isolate. This product is a remarkable source of dietary protein that is handy at helping repair body tissues and build strong muscles.
There is more to it than just providing protein. Every serving of the powder contains 1g of sugar, 3g of fiber, and 700 calories. Additionally, it has a 2.85:1 carb to protein ratio.
An extended list of plant-based ingredients characterizes this powder. They include oils and sprouted whole grains, organic sea vegetables, fruit concentrates, and organic greens.
This natural formula is certified gluten-free, kosher, and vegan.
Advantages
Non-GMO
Great for muscle repair and growth
The impressive carbohydrate to protein ratio
Tested for banned substances
Disadvantages
Types of Vegan Protein Powders
Commonly used protein powders are made from dairy. The ones made from plants include:
Soy Protein Powder
This is a plant-based protein powder made from soy protein isolates.
It comprises about 90-95% protein but doesn't contain carbohydrates and fats. Most soy protein brands contain around 20 grams for every serving.
You may find that the protein count varies in different brands. Soy contains all the essential amino acids which the body does not make but needs.
These amino acids are important when it comes to muscle and tissue development. Soy protein powder is a great choice for athletes.
They find it handy especially during the training seasons. Benefits of soy protein powder include:
Similar to egg protein
The isolate form does not contain phytoestrogens
Does not have EAA methionine
High mineral content
It is cholesterol-free
Higher amount of carbohydrates
Pea Protein Powder
Pea protein powder comes from the yellow split pea. This legume powder contains all essential amino acids except for one.
Pea protein powder contains (BCAA) in high amounts. These are branched-chain amino acids.
They are important in that they prevent or lower muscle degradation. They also promote the synthesis of protein.
This in turn leads to the repair of worn-out muscles. This is entirely beneficial to athletes who may injure their muscles during intense exercise.
Research proves that this protein powder has similar benefits to those of whey protein. For each serving, pea protein contains around 30 grams of protein.
Benefits of pea protein powder include:
Rich in BCAAs
Low cost in extraction
Rich in iron
Good for athletes and sports training
Brown Rice Protein Powder
This is the best protein powder for those with allergies. This suits athletes or sports-minded people who have stomach issues.
It contains 4-6 grams of protein per serving. Brown rice does not contain high amounts of protein or BCAAs.
The only reason it is preferred is that it is easy on the stomach. For sportsmen and women with sensitive stomachs, brown rice is their solution. Pros and cons of brown rice include:
Easy to digest
Low allergy risk – hypoallergenic
Rice leucine has high bioavailability
Lower amounts of BCAAs and EAAs
Can be combined with pea protein
Hemp Protein
Hemp protein powder is made from hemp seeds. Its consumption is becoming more and more popular. In the near future, hemp protein consumption is projected to be higher than that of soy protein.
Hemp protein contains high amounts of EAAs, omega minerals, and polyunsaturated fats. The quality of protein in hemp powders varies.
Research shows that pure hemp has low amounts of protein and does not have enough lysine, unlike pea protein.
The advantages of hemp protein are that it has a high bioavailability and is easy on the stomach. Every 30 grams of hemp protein contains 8 grams of fiber.
It is important to note that hemp protein is destroyed by high temperatures. When purchasing hemp powders go for cold-pressed powder.
Other than the listed benefits hemp protein contains iron and magnesium. In summary, hemp protein is:
Rich in albumen
High in fiber and easy on the stomach
Has fewer BCAAs than soy but more than brown rice
Cold-pressed is healthier
Mixed Proteins
To get all the EAAs like animal proteins, plant-based protein powders have to be combined. Combined plant proteins are usually the best.
This is because they offer more EAAs than a single protein. Anyway, not unless you need a single protein, say soy or hemp, you should always go for mixed proteins.
Mixed protein powders have several added protein sources. They may include sources such as alfalfa, amaranth, buckwheat, quinoa, chia seeds, pumpkin, sunflower, and others.
It is important to note that one can go for a single plant protein or go for mixed plant proteins depending on several factors. Such factors to consider include food allergies, personal taste, effects on the stomach or gut, and GMO soy.
Has a complete EAA profile
Best for sports training and physical training
Very beneficial
Animal Protein Powders vs Plant Protein Powders
A known fact is that animal proteins have a high bioavailability compared to plant proteins. This means that animal proteins are easily absorbed and utilized efficiently by the body.
However, some people find plant proteins as easy to digest as animal proteins. Whey is the commonly used animal protein but still, some people may find it difficult to digest.
Another difference is that plant proteins do not have all the amino acids. Except for soy, other plant proteins lack the nine essential amino acids (EAAs).
For this reason, plant proteins cannot be said to be complete proteins. The good thing is that mixing plant proteins gives a complete protein.
Blended protein powders are similar to animal proteins with the same benefits. However, plant proteins have low cholesterol and fats compared to animal proteins.
Plant Protein Powders vs Meal Replacements
Meal replacement powders should offer around 200-400 calories. At least a third of a meal replacement powder should give 15 grams of protein with the essential amino acids.
A meal replacement powder should have a full spectrum nutritional profile. For meal replacement powders, it is compulsory to have a profile complete with the essential nutrients (33%DV) fat, and fiber.
Plant protein powders contain minerals apart from only just proteins. Those from animal sources like casein, whey, egg white, and bone broth have fewer nutrients other than normal.
The normal includes carbohydrates and fats. Plant protein powders contain a wider range of nutrients when compared to animal proteins.
Best Vegan Protein Powder Buying Guide
Consider these three important factors when shopping for the best vegan protein powder:
Check the Ingredients
It is important to always read the label before purchasing your protein powder. The label has information on the ingredients and also contains instructions.
Keep in mind that not all ingredients are usually pure. Most protein powders in the market contain additives like artificial sweeteners, artificial flavors, and zero-calorie sweeteners.
The reason why additives are discouraged is that they may cause stomach upsets. Bloating and gas are usual complaints with those taking protein powders with additives.
Unsweetened powders are a good option as you can sweeten them yourself. An example is the use of unsweetened protein powders to bake, make a smoothie, or make pancakes.
Read the Nutrition Label
Different protein powder brands have varying protein stats. Some have included probiotics, omega 3s, and BCAAs. Reading the label helps you understand the used ingredients.
If the ingredients are beneficial to you, the better you can go on and purchase them. Check the labels, especially when checking out mixed protein powders.
This is because they are prone to have other ingredients.
Check for Third Party Testing
Protein powders are not controlled by the FDA. For this reason, a third-party tester becomes necessary.
The best third-party tester is NSF International (National Sanitation Foundation) certified for sports seal. This institution ensures the ingredients are pure, are the same as what the label reads, and are manufactured at a safe facility.
Summary
Vegan protein powders help supply our bodies with the necessary amino acids needed to enhance the synthesis of proteins in the body. They also promote muscle growth and repair.
The main source of vegan protein in powders include seeds, legumes, and grains. They are made by removing carbs and fat while isolating protein components. As we have already observed, common vegan protein powders include soy, brown rice, hemp, and pea.
Seed protein powders comprise sacha inchi, chia, sunflower, and pumpkin. Except for quinoa and soy, plant proteins are usually low in some essential amino acids. However, this shouldn't be an issue if you frequently consume an array of plant foods.
Alternatively, you can purchase a vegan protein powder that features a mixture of complementary proteins. After extensive research, we settled on the KOS Organic Vegan Protein Powder as the best vegan protein powder.