Are you in the market for a dog probiotic? Amazon is a great place to shop for one. In this article, we highlight some of the best dog probiotics on Amazon.
According to this research study, probiotics could help combat and prevent gastrointestinal issues in dogs.
Good bacteria present in a healthy gut breaks down food particles to help with digestion. However, if the gut becomes unhealthy or unbalanced, bad bacteria can affect the healthy microorganisms that ought to be present in your dog's intestine and stomach in general. The best dog probiotics help restore and maintain a healthy balance of good and bad bacteria.
Dog probiotics also have other benefits such as:
· Improved skin
· Increased energy
· Prevents urinary tract infections
· Boosts the immune system
· Treats IDB and intestinal inflammation
· Management of allergies
Quick Summary: Best Dog Probiotics on Amazon
If you're in a hurry, here's a quick summary of our recommendations:
1. Purina FortiFlora Probiotics – Best Overall
2. Zesty Paws Probiotics – Best for Allergies
3. Amazing Nutritionals Probiotics – Best for Older Dogs
4. Honest Kitchen Probiotics – Best for Puppies
5. NUSENTIA Probiotic – Best Budget
6. Florazil + MultiProbiotic Food Spray – Best for Spraying
7. PetVitalityPRO Probiotics – Best Chewable
8. TummyWorks Probiotic – Best Soy-Free
9. VetriScience Laboratories – Best for Flatulence
Reviews: Best Dog Probiotics on Amazon
Here's a comprehensive review of our recommendations: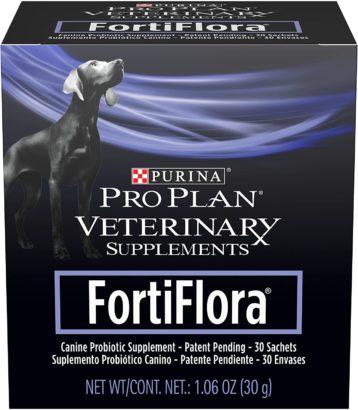 Looking for an all-in-one, well-rounded probiotic that features digestive enzymes for dogs, as well as minerals, antioxidants, and vitamins? On the hunt for one with an adequate number of gut-friendly bacteria? If yes, then consider the Purina FortiFlora Probiotic.
This formula is available in sachets. Each one has guaranteed levels of Enterococcus faecium, a probiotic strain. This strain is a naturally-occurring living microorganism within the canine gut. Feeding it helps reduce flatulence and enhance your pup's overall gut health.
Another striking attribute about this product is that it comes loaded with antioxidants, as well as Vitamins C and E. The formula also constitutes beta-carotene, magnesium, and zinc. All these are handy at boosting your dog's immune system.
The fact that it is easy to administer is another big plus. All you need to do is sprinkle it on your pup's food. It doesn't ruin the meal's taste, but rather improves it. You can use it on both adult dogs and puppies.
Other remarkable benefits of this product include reducing gas, better management of diarrhea,
All these positive attributes make it our best overall dog probiotic.
Advantages
Proprietary microencapsulation process for improved stability
Simple to administer
Many antioxidants
Reduces gas
Disadvantages
Inconsistently filled sachets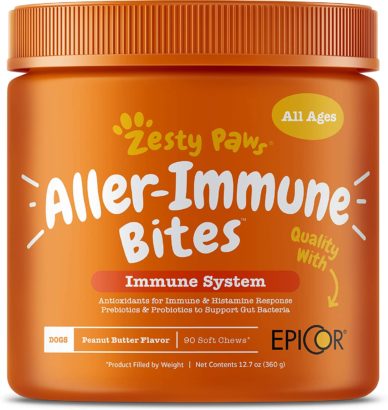 These are functional chewable supplements featuring premium ingredients to support your pet's gut health. They have up to six probiotic strains that comprise DE111, which is a clinically researched Bacillus subtilis.
In addition to supporting gut function, they also maintain proper gut flora. This goes miles to support normal digestion. The best part about these probiotics has to do with the fact that they are great-tasting.
They contain papaya and pumpkin to help your dog's stomach break down proteins and fats, as well as improve the general functioning of the digestive tract. Therefore, if your pet is constantly grappling with tummy trouble or digestive distress, then you should consider giving him or her these probiotics.
On top of helping enhance elimination and digestion issues, this probiotic is also magical in helping dogs that grapple with extreme lethargy and lack of appetite.
Advantages
Grain-free
Improved with EpiCor to boost the immune system
Alaskan salmon oil for quality skin
Natural ingredients to help with skin
Disadvantages
Room for improvement on smell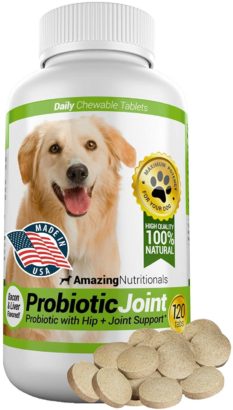 As your pet gets older, issues such as joint pain and digestive dilemmas become common. The good thing is that you can tackle developing digestive issues or joint pain in your senior dog with probiotics such as this one.
Coming in tablet form, this product is effective for handling issues in older dogs, such as stiffness, arthritis, and even joint pain. It doesn't contain most of the ingredients that cause allergies in dogs like gluten, egg, soy, corn, and wheat.
The Amazing Nutritionals Probiotics features more than 7 billion CFU worth of beneficial bacteria. Additionally, your dog gets doses of glucosamine, chondroitin, and MSM to help support cartilage and joint health.
By taking these tablets, you can rest assured that your senior dog will not only feel comfortable but also get around easier. The tablet is also a remarkable choice to treat digestive issues, such as constipation and diarrhea.
Another striking attribute about these probiotic tablets is that they boast a sumptuous bacon/liver taste.
Advantages
Sumptuous taste
Easy-to-chew tablets
Great for sensitive stomachs
No by-products
Disadvantages
Might cause slight diarrhea issues in younger dogs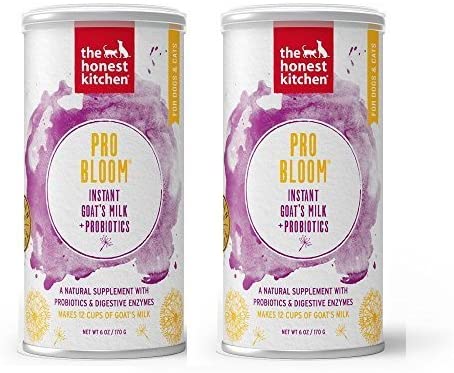 Coming in the form of nourishing milk, all you need to do with this probiotic is pour it on their food for extra moisture. Alternatively, you can utilize it to hydrate another type of food.
The Honest Kitchen probiotic is an incredible choice for growing kittens and puppies to help support issues touching on the development phase like digestive issues and overall gut health. The fact that it is effortless to digest makes it an incredible choice for puppies.
Every serving contains over 5 billion active cultures. This highly beneficial bacteria not only helps strengthen the immune system and ease elimination but also relieves any form of upsets in the tummy that might come because of unsupervised snacking or diet changes.
In terms of usage, all you need to do is add some water into the milk and let your dog enjoy the ready-to-serve probiotic treat. As aforementioned, you can also pour the concentrate on dehydrated or dry food before you serve.
Indeed, it is a nourishing and healthy way to support the healthy development and growth of your pet.
Advantages
More than 5 billion active cultures
Easy to administer
Easy on growing puppies
Affordable
Disadvantages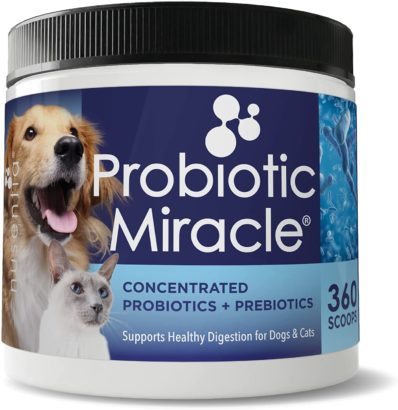 The pocket-friendly nature of this probiotic is the first thing that grabbed my attention. In addition to that, it brings with it more than 360 billion CFU for every serving. It has six probiotic strains that work together to make this probiotic among the best ones in the market for dogs.
It is formulated incredibly to support your pet's gastrointestinal health, as well as get rid of any signs and symptoms touching on poor digestive health. It is used to better manage common issues in puppies such as skin rashes, vomiting, diarrhea, body odor, and fur loss.
Most importantly, this product is strictly natural, meaning it is free from any artificial additives, dairy, gluten, and sugar, making it an excellent choice for pets of all ages and breeds.
Because it comes in powder form for optimal results, all you need to do is sprinkle just a single scoop over your pet's food once daily.
Advantages
No rice, soy, filters, or flavorings
Non-GMO
GMP-certified
No preservatives or chemicals
Disadvantages
Room for improvement on taste

Looking for the best spraying dog probiotic? If yes, then you need to consider this one. In terms of convenience, it's incredibly hard to beat this one. Dispensing it is effortless. Use it to supply good bacteria to your pet daily.
It is worth noting that refrigerating it is unnecessary. For this reason, you can always store it at your location of convenience away from children. Every serving of this liquid formula has at least 750,000 CPU worth of probiotics.
The size of your dog determines the number of sprays contained within one dose. Smaller canines can get up to three sprays at one time, while bigger ones can get 4 – 6 sprays for every meal.
It works well to support healthy digestion and improve the palatability of food. It has natural microorganisms that enhance the healthy bacteria in your dog's digestive tract.
Advantages
Enhanced palatability
Easy-to-use spray bottle
Natural microorganisms
Long-lasting
Disadvantages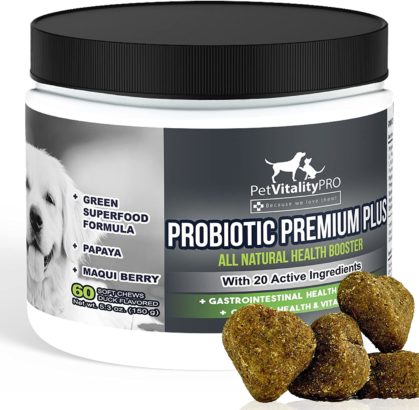 The PetVitalityPRO Probiotics comes in an appetizing duck flavor that your dog will certainly fall in love with. It contains natural digestive enzymes that provide various approaches in boosting your pet's gastrointestinal health, vitality, canine immunity, and general well-being.
Rather than manufacturing a somewhat concentrated form, manufacturers of this product incorporate other nutrients to its blend to ensure your dog enjoys nothing short of positive results..
Along with the five different microorganisms, this product also contains extracts from maqui berry and papaya. On top of that, it also has a proprietary mixture of green superfoods. The net effect of this is that you get more than 2 billion CFU per serving complete with nucleotides, digestive enzymes, fructooligosaccharides, and antioxidants. This means that, in total, this probiotic has 20 active ingredients.
Advantages
Certified safe (GMP and SQF-certified)
Tasty duck flavor
An incredible combination of FOS, nucleotides, phytonutrients, and probiotics
Easy to chew
Disadvantages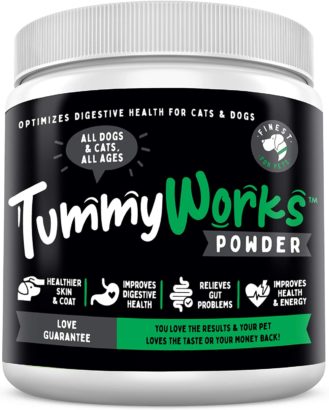 TummyWorks comes loaded with six digestive enzymes and ten powerful probiotics that collaborate well to ensure your pet is always performing at his or her best. The healthy bacteria help relieve your dog's gut from diarrhea, bad breath, and gas.
Other ingredients in the product are great at boosting a strong immune system as well as helping with scratching, itching, hot spots, yeast infections, and allergies. Digestive enzymes help extract more minerals, energy-giving carbs, and essential vitamins.
This probiotic is also a great choice for pet owners that desire to strengthen the immune system of their pets. Using it goes miles to protect your pet against disease and germs.
It does not contain any preservatives or additives. The powder mixes effortlessly with food to spruce the flavor making sure your dog loves consuming it.
Advantages
Great for energy boosts
No preservatives or additives
Mixes effortlessly with food
GMP-certified
Disadvantages
Some ingredients might be sensitive to your dog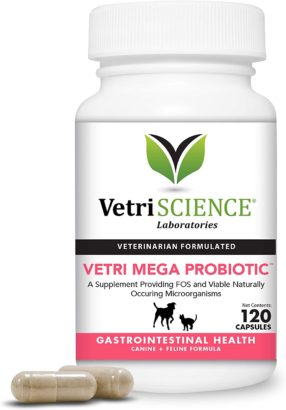 Tired of constant flatulence issues with your dog? Then consider using VetriScience Laboratories probiotics. It has over 5 billion CFU capsules coupled with an array of Bifidobacterium and Lactobacillus species. Additionally, this product has fructooligosaccharides to reduce gassiness and enhance the digestive health of your pet.
The VetriScience Laboratories formula has eight strains of highly essential bacteria emanating from non-dairy sources. This means that you can rest assured it will help the digestive system or health of your dog. Use it to manage issues like coat/skin issues, food intolerances, gas, bloating, vomiting, and loose stools.
Each bottle contains 120 capsules. Dogs that weigh more than 40 pounds need to consume two tablets per day. With this product, you can be certain that your dog is consuming a probiotic without any harmful ingredients or additives.
Advantages
Non-dairy formula
More than 5 billion microorganisms
Helps maintain fresh breath
Provides neurological support
Disadvantages
Takes time to start working
Types of Probiotics for Dogs
There are three types of probiotics for dogs. Understanding their differences is paramount. They include:
Soil-based probiotics (spore-forming, they produce vitamins and antioxidants)
Lactobacillus and Bifidobacterium (dairy-based probiotics)
Saccharomyces boulardii (beneficial species of yeast)
Soil-Based Probiotics (or Organisms)
These are spore-forming probiotics. They are Bacillus strains found in soil and water. Since they are spore-forming, they can withstand different conditions such as heat, antibiotics, and stomach acids.
Their hard coat gives them this ability. Most antibiotics are made from soil probiotics due to this feature.
Another remarkable feature about soil-based probiotics is the fact that they are hypoallergenic. This means they're helpful to allergy-prone dogs.
Finally, yet importantly, this type of probiotic does not require refrigeration.
Lactobacillus and Bifidobacterium
Most of these probiotics are manufactured from fermented milk with the main ingredient being lactic acid. Usually, the strains and species used in the probiotic are listed on the label. Lactobacillus species are listed as L and Bifidobacterium species are listed as B.
Typically, you may find the names on the label as L. acidophilus or B. Longum. These probiotics remain in the body for 24 hours.
Saccharomyces Boulardii
This probiotic type is yeast and not bacteria like the rest. However, its functioning is similar to the other two. It is used to treat yeast and candida.
In humans, it treats chronic and acute diarrhea. Saccharomyces boulardii is also used to treat digestive problems. This is especially true in issues caused by inflammation. It works by altering the pathway the cells signal in the immune system.
It is worth noting that antibiotics cannot alter Saccharomyces, meaning that it can be taken together with an antibiotic without causing any harm. Saccharomyces boulardii is a great probiotic for your dog as it is a friendly yeast.
Dog Probiotic Buying Guide
Here are some of the factors you should consider when in the market for a dog probiotic:
Should Contain Multiple Strains
Each strain of bacteria in a probiotic boasts different benefits. Purchasing a probiotic with multiple strains is more beneficial compared to one with a single strain. The different strains contained are usually listed on the label. They commonly begin with the words Bifidobacterium or Lactobacillus.
Consider Number of Colony Forming Units (CFU)
The higher the number of colony-forming units, the better. A high number of colony-forming units enhances the survival of the probiotic in the gut. Remember, a dog's stomach is very acidic and could destroy the probiotic.
A quality probiotic should have at least 3 billion CFU. Cheap ones have less CFU.
Consider the Format (Soft Chews Vs. Powders)
Two different formats of probiotics exist – soft chews and powders. Soft chews are loved by dogs as they take them as treats. However, soft chews lose their potency quite fast. This could happen when they are being manufactured or opened of the package.
The powdered form is a great alternative. However, the easy attraction of moisture is their downside as an entry of moisture may end up destroying the probiotic. Select powdered probiotics come in an individual single packaging. This prevents the entry of moisture.
Consider What's Used for Flavoring
To make probiotics more palatable, manufacturers add flavors. Most brands have an added ingredient that increases palatability. An example is a probiotic made by Purina.
It contains an added ingredient called "animal digest." Avoid probiotics with undefined proteins. The best probiotics to go for would be those with one flavor. Popular ones are chicken liver or beef.
Consider A Product That Also Contains Prebiotics
Probiotics need to be fed to work best. They feed on fiber referred to as prebiotics. Natural prebiotics is found in peas, chicory root, beans, and artichoke.
Feeding your dogs this natural prebiotics can be challenging. To solve this issue, purchase probiotics that contain prebiotics. Doing this ensures you get the maximum benefits of probiotics. An example of such a probiotic is Inulin.
Digestive Enzymes Are an Added Bonus
The digestive system of a dog needs to be active to digest food properly. Dogs fed on kibbles lack digestive enzymes. This is because the high heat while cooking destroys them. A good probiotic for a dog should also contain digestive enzymes. Digestive enzymes boost digestion in your dog's GI tract.
Probiotics for Dogs vs. Humans
It is not unusual to find pet owners that give their dogs human probiotics. Although it is not bad to do so, it is not advisable. Most human probiotics come in the form of pills.
Pills are quite difficult for dogs to ingest. It is common to find a dog spitting pills. Probiotics formulated for dogs are easy to administer. Moreover, such probiotics are flavored with meat. This motivates the dog to ingest without having to force it.
Having established these facts, it would be best to avoid giving your dog human probiotics.
Conclusion
As we have already established, dog probiotics are highly useful microorganisms that offer plenty of benefits to a man's best friend. If you want to enhance the quality of your dog's skin and coat, reduce his or her gastrointestinal issues, and boost his or her immune system, invest in a dog probiotic.
When shopping for one, it is paramount that you check a product's strains and CFU quantity. Clarity of labeling and potency guarantee are also important parameters. Doing this will help you land the best product for your dog. After extensive research, we can authoritatively conclude that the best dog probiotic on Amazon is the Purina FortiFlora Probiotics. It boasts an array of features that will enhance the overall health of your dog.