To maintain a good coffee taste, proper storage is essential. Improper storage of coffee beans results in a stale and flavorless drink.
Sunlight and oxygen reduce your coffee's shelf life and tampers with its flavor. It is necessary to keep coffee beans in a dark vacuum-sealed container.
Choose a container that is airtight to not only ensure the beans remain fresh, but to also maintain their sumptuous flavor.
Whether your preferred canister choice is made of glass, metal, or plastic, we have settled on the best ones to meet your coffee storage needs.
Quick Summary: Best Coffee Canisters on Amazon
Here is a quick summary of the best coffee canisters on Amazon:
Reviews: Best Coffee Canisters on Amazon
Let us look at individual reviews of the best coffee canisters on Amazon.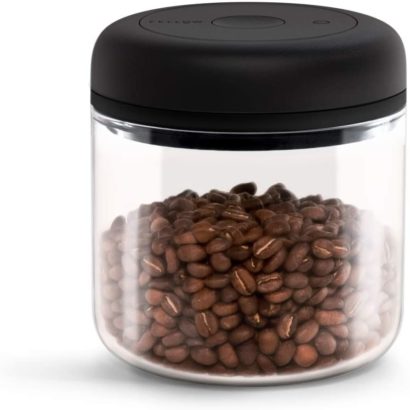 We kick off our reviews with the Fellow Atmos Canister as the first best coffee canister. It has an airtight seal, which is achieved by twisting the lid back and forth.
It also has a handy vacuum lock indicator that glows green to indicate prevention of oxygen from getting inside.
According to reviews, this canister increases coffee's shelf life by 50%. In terms of freshness, ease of use, and style, it beats many others on this list.
The canister comes in different sizes. Popular ones include 4, 7, and 1.2 liters. When it comes to materials, you can choose borosilicate glass or stainless steel.
Regarding color, the available ones are matte black and matte white. 
The only disadvantage associated with the Fellow Atmos Canister is that it does not have a valve to release carbon dioxide. This means that you need to roast or grind coffee before storing it in the canister.
The degassing process might be lengthy, which might affect your coffee's flavor. Air may also be released by twisting the lid often.
Despite these drawbacks, there is no doubt that the Fellow Atmos is one of the most trusted and high-rated canisters you can use.
Advantages
Sleek design
Comes in two colors and different sizes
Light indicator for vacuum seal
Easy twist to remove
Disadvantages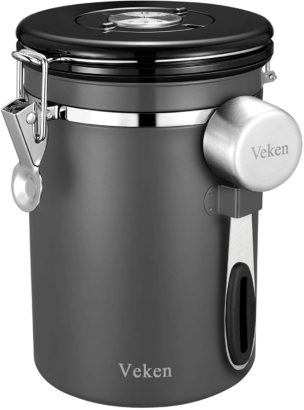 Veken is among the best producers of premium, high-quality and functional products. Regularly, the company improves its products based on the needs of users and current industry trends.
This coffee container, made of high-quality stainless steel, keeps your coffee beans fresh to ensure you enjoy your beloved cup of coffee.
Compared to other coffee canisters, it has the best air-tightness.
This robust coffee container features a BPA-free silicone rubber seal. It meets the necessary requirements (a sealed, dark, dry atmosphere) for fresh, great-tasting coffee.
You can also use it to store sugar, tea, flour, and nuts.
Advantages
304 stainless steel
Free scoop
Date tracker
Ideal size and scale line
Disadvantages
The rubber gasket starts to be faulty after extended use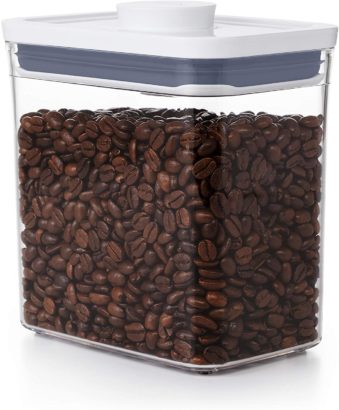 This 1.7-quart POP coffee container is an unbeatable budget pick. Although pocket-friendly, it still has awesome features that give it an edge over others.
It has a button that forms an airtight seal once you press it. When raised, you can use the button as a handle.
The canister holds a 1-pound bag of coffee, whether ground or whole bean. Its slim nature means it doesn't take up much space in your kitchen or office.
Made from BPA-free material, the canister's corners are round for easy pouring. This is especially true if you do not have a measuring scoop.
Cleaning it is a breeze.
One disadvantage is that it is transparent, meaning it does not block UV rays, thus affecting coffee freshness.
Cleaning it is a breeze.
Advantages
Big capacity
Dishwasher-safe
Value for money
BPA-free
Disadvantages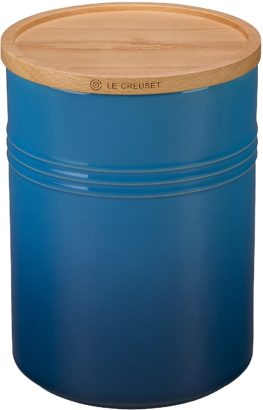 Le Creuset is popular for its colorful, top-notch cast-iron cookware. Just like their high-quality cookware, their canisters capture the brand's sleek and modern style.
They come in different eye-catching colors. Cherry red and elegant white are the most popular. They match with most modern kitchen décors.
The beechwood lid adds a touch of artisanship and makes a good accent to your decor, which also allows for easy stacking on your counter or cabinets.
These canisters have a silicone gasket seal to ensure your coffee beans remain fresh for weeks. They are available in different sizes (from 12 ounces to 2.5 quarts) to meet your storage needs.
The canisters are dishwasher-safe for quick, easy cleaning.
A hard-wearing enamel finish not only gives them a stylish look but also makes them functional.
Advantages
Many colors to choose from
Dishwasher-safe
Dense stoneware to prevent moisture absorption
Airtight silicone gaskets
Disadvantages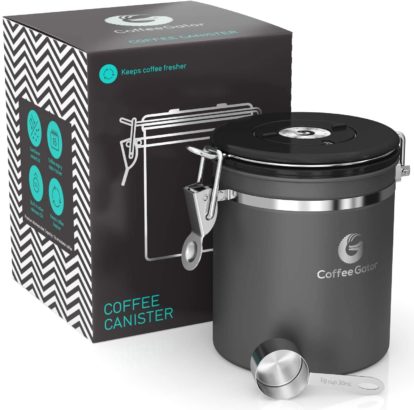 Coffee Gator was founded for one purpose – to provide great tasting coffee!
This model has an airtight seal, making it a great choice, especially for those that need to store ground coffee.
It has a one-way carbon dioxide valve to protect the freshly ground coffee from oxygen, and to allow degassing to take place.
To help you track how long your coffee has been stored, it has a handy wheel date at the top of the lid. The canister comes with a stainless-steel measuring scoop, an essential tool for brewing delicious coffee.
It is available in three sizes (30.4, 44, and 64.6 fluid ounces) with multiple colors. The medium-sized canister can hold one pound of both ground and whole bean coffee.
Advantages
Highly durable
Calendar wheel to track freshness
Sturdy
Effortless-to-use clasp
Disadvantages
The dial can be challenging to move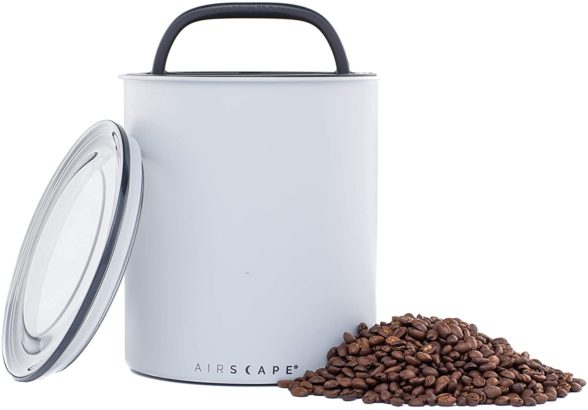 The Planetary Design Store Coffee Canister is next on our list. This canister is made with food-safe, galvanized steel to prevent coffee staining and odor. The ceramic material is effortless to clean.
It is large enough to store 2.5 pounds of ground or whole bean coffee, making it one of the largest canisters. In addition to being large in size, it also looks sleek on the countertop.
It comes in two colors; ash and charcoal.
The container comes in two sizes – a small canister that can hold 8 ounces of coffee, and a medium-sized one to hold up to one pound of coffee.
Advantages
Reasonable pricing
Airtight seal
Useful for other forms of storage
Durable and sturdy
Disadvantages
Delicate exterior (susceptible to scratches)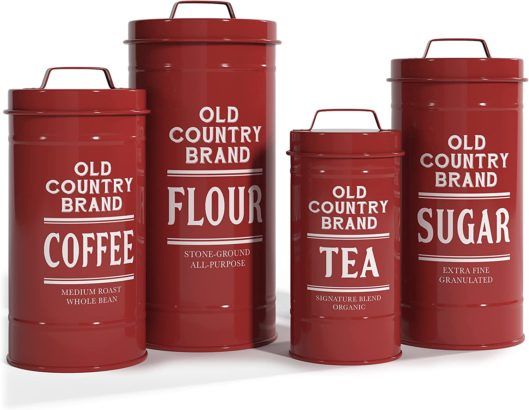 The Barnyard Designs Decorative Coffee Canister has an idyllic countryside look. It is a four-piece set made from an old-school tin with bold lettering for flour, tea, sugar, and coffee.
It comes in four different colors (muted white, mint, striking red, and teal).
This canister has an airtight silicone seal to guarantee coffee freshness. Its galvanized metal is sturdy for durability.
They are durable, easy to clean, and cost-effective.
Its metal nesting invokes a country farm feel in your kitchen. The entire set fits into each other for easy packaging and storage.
Advantages
Airtight seal
Numerous color options
Varying sizes
Great storage capacity
Disadvantages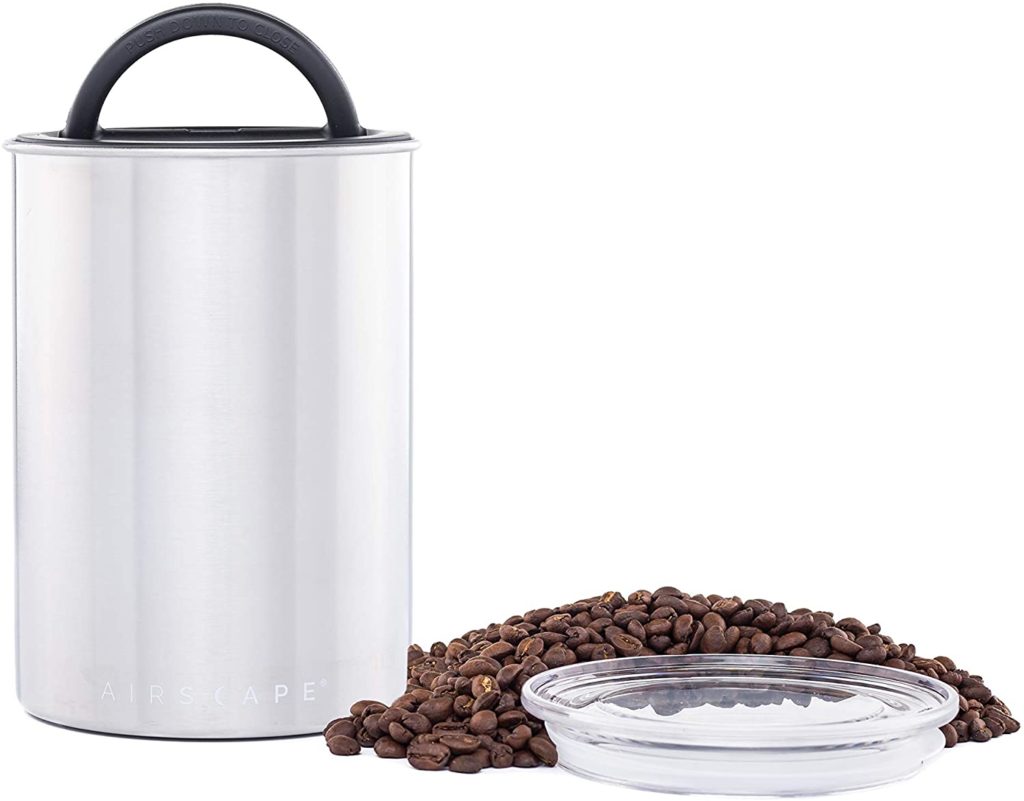 The AirScape Coffee Canister is made of stainless steel for the utmost durability. It can handle both whole bean coffee and grounded coffee.
Its versatility gives you plenty of possibilities of what you can store, including coffee, tea, sugar, cereals, cookies, seeds, and many other products.
The canister's functional design is also worth noting. To reach the contents, all you need to do is press the inner lid down.
Its sturdy base keeps your coffee fresh, while its BPA-free lid adds an extra layer of protection.
Advantages
AirScape lid offers protection from UV rays
Does not stain
Hand-wash
Available in different colors
Disadvantages
The pump seal is somewhat suscept
Best Coffee Canisters on Amazon Buying Guide
The best coffee canister's needs are characterized by the following features:
Airtight
Having an airtight canister maintains your coffee freshness, as no oxygen gets in. The tightness also keeps dampness away, especially if you do not have a fridge.
Opaque
As aforementioned, light affects the freshness and flavor of your coffee. Avoid choosing transparent containers, and instead choose opaque ones.
The same is true to plastic, see-through canisters. Stainless-steel canisters make good choices for coffee storage.
Appropriate Size
The size of the canister you settle for depends on the amount of coffee you need to store. The storage period can also determine the canister size.
Choose a container that you can store all your coffee without leaving any in the bag.
Fits Your Pantry
The last thing you want is to choose a canister size that does not fit in your pantry. While it needs to be big enough to store all your coffee, it should also be one that fits your countertop or in your cabinet.
Keeps Carbon Dioxide Away
Oxygen can substantially harm the flavor and freshness of your coffee, as we have already established. For this reason, settle for a container with a carbon dioxide release valve to keep oxygen away.
Because some canisters do not have a carbon dioxide valve, you can opt for those with an airtight seal. This feature also prevents oxygen from getting in.
Attractive
Who said coffee canisters need to be dull? Your choice should be attractive to spruce up things your kitchen décor.
FAQs
Can coffee be stored in a clear container?
To ensure that your coffee bean's fresh-roasted flavor remains as such for long, you need to store them inside an airtight and opaque container as we previously mentioned. On top of that, you need to place the canister at room temperature.
Although coffee beans are beautiful to the eyes, you need to avoid placing them inside clear canisters as they allow light to compromise your coffee's great taste. It's best to keep the beans inside a cool and dark location.
Often, a cabinet close to your oven is too warm. The same is true to choosing a location on your kitchen counter as it tends to get strong afternoon sun.
For long-term storage, avoid coffee's retail packaging. To be on the safe side, always store your coffee inside canisters with an airtight seal.
How long does coffee stay fresh after grinding?
Naturally, coffee beans tend to last longer compared to their ground alternatives. A coffee bean packet lasts around 6 months when you store it inside a pantry.
When stored inside a freezer, it can last for up to two years. Ground coffee, on the other hand, lasts approximately 3 – 5 months once you have opened it. This is regardless of whether you have put it in a freezer or not.
It is worth noting that one of the major factors to determine how long coffee lasts is its form – beans or ground. Other factors include the storage type in use, packaging method, and roasting process.
Is it cheaper to grind your coffee?
Not much difference exists in terms of price when it comes to purchasing whole coffee beans or pre-ground coffee. The thing is, most brands usually sell their coffees at similar prices whether it is whole beans or pre-ground.
A normal 12-ounce coffee bag retails for around $6 – $18. Some retailers sell whole beans and pre-ground beans at roughly $8 – $13 each for 12-ounce packs.
Is ground coffee cheaper than instant?
Instant coffee tends to be considered affordable compared to ground coffee. On average, a cup of instant coffee costs roughly $0.07, while ground coffee is $0.37.
The cost for preparing ground coffee is increased further using the specialized equipment necessary to brew coffee.
The million-dollar question is, if instant coffee is more affordable, what makes it less popular? Instant coffee is second-hand coffee because it has been brewed more than once, meaning it lacks the freshness related to ground coffee.
Most of the store-purchased coffee is a mixture of robusta and arabica coffee beans whose combination guarantees a tastier filter coffee cup.
Are coffee beans cheaper than coffee grounds?
Typically, whole bean coffee costs more compared to ground coffee. Why?
Well, the main reason is that the former is better coffee. They come from better crops. This results in a better cup of coffee.
For sure, paying for the difference is worth it.
Is it okay to freeze your coffee?
Different views on refrigerating or freezing coffee abound. The major consideration is that coffee absorbs tastes, odors, and moisture from the air because it is hygroscopic.
Unfortunately, many storage containers at home allow tiny amounts of oxygen. This explains why the food you store for an extended time inside a freezer suffers from freezer burn.
If you're to freeze or refrigerate your coffee beans, make sure you strictly use an airtight container.